Grout is an essential ingredient that helps the tiles adhere to the floor. So, it's necessary to keep grout away from dirty factors.  However, the matter here is how to clean the grout effectively and productively.
In fact, either vacuum cleaners or spin mops are useless. You are exhausted because of the traditional way – using brushes- requiring more time and effort, right?
So, have you considered using a steam machine to clean grout among tiles? Have you ever desired a beautiful floor or tile without mold, fungi, or stains on it?
If you have difficulty in dealing with these matters, don't worry.
Let me show you how to do it by some simple steps below.
What Is Grout?
It's vital to spend a few minutes collecting all necessary information about grout.
Grout is known as a mixture of sand, cement, and water, which is typically employed in building and constructing.
It allows you to fill in the thin between tiles and make them be in a unit, especially in the shower floors or in the kitchen.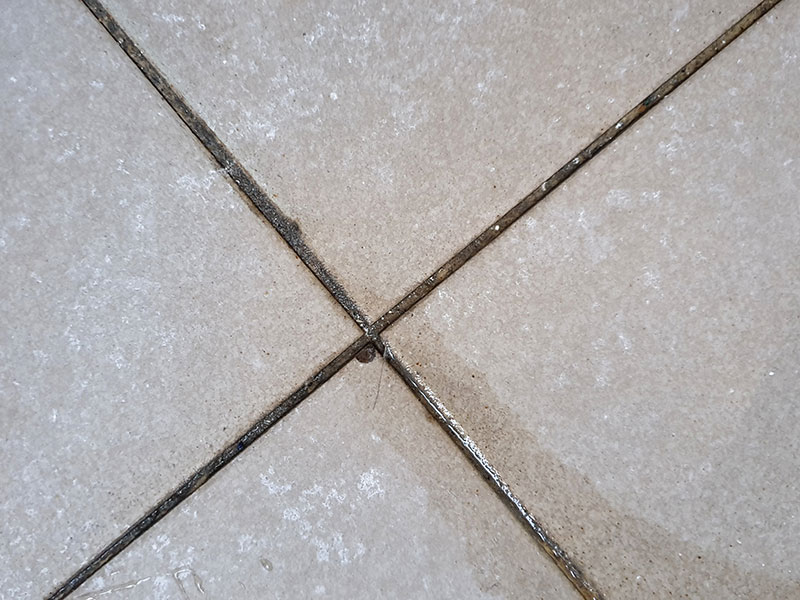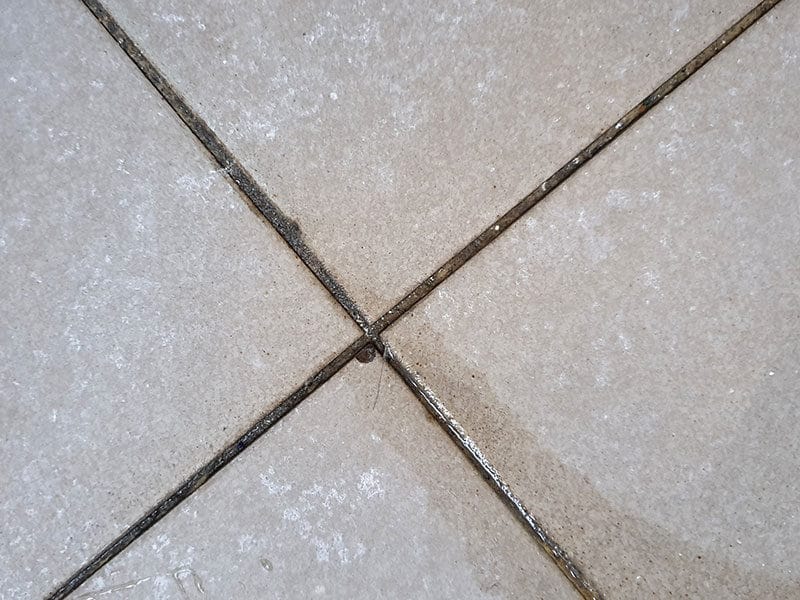 Why Does Grout Need Cleaning?
Many kinds of harmful living things such as parasites, mildew, and other bacteria are grown in a moist environment. In other words, sand, dust, and dirt in humid conditions make the grout become a good environment for all types of microorganisms.
For a long time, these creatures gradually might become more difficult to remove by using normal tools without special chemicals, simultaneously, it's no doubt that they will affect your health negatively whether you touch them accidentally.
Moreover, how embarrassed you are when guests or visitors are invited to your house. How disgusting the house's appearance is when there is some black mold or grime in the corner, on the wall, and others. This makes your own residence old and ugly. Especially, both wall and floor tiles will be timeworn.
Hence, grout needs to be cleaned to protect your health and keep your house's appearance spotless.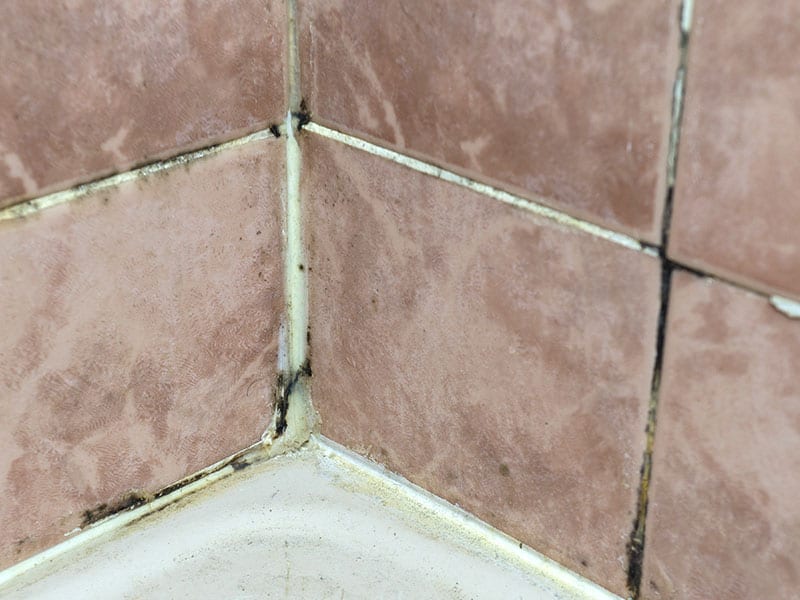 Besides your tiles and floors, walls in the bathroom are considered a good place for harmful microorganisms, stains to form, and growing mold due to the humid environment. Therefore, it should be better to clean your bathroom twice or three times a week.
Why Should You Use Steam Cleaners For Grout?
A steam cleaner is a cleaning device using steam to keep wall tiles, floors, or carpets clean by sterilizing and cleaning these surfaces without using any chemicals.
With a little water, this appliance can remove all the dirt and dust including germs or other microorganisms – a huge plus to save water and keep yourself robust.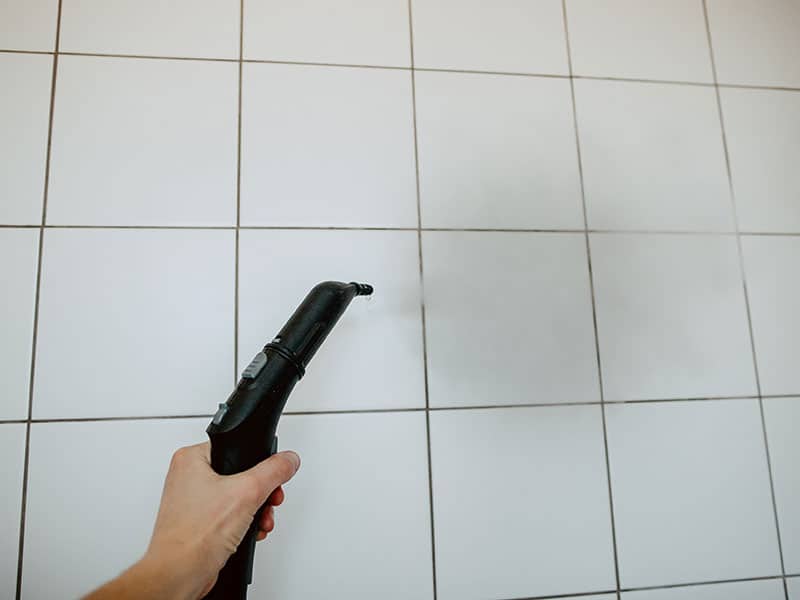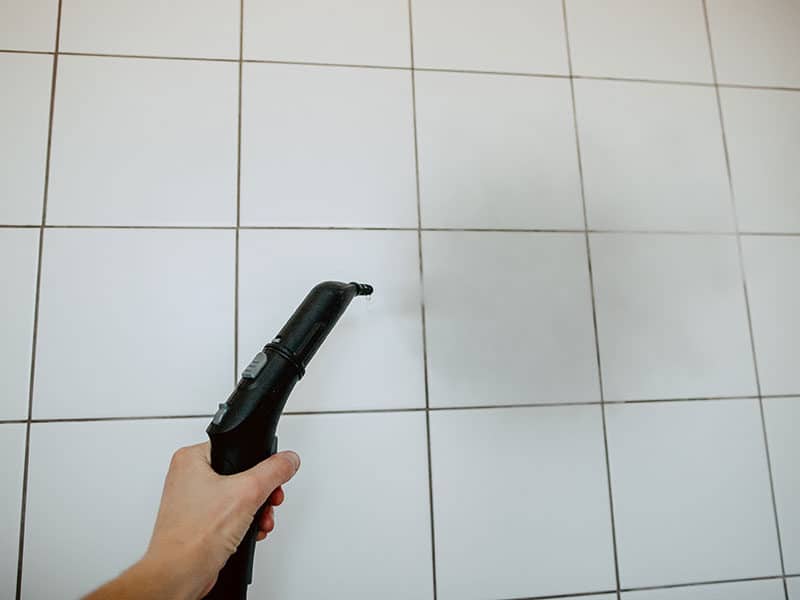 It is created to deal with problems related to "grout" with the absence of chemical ingredients and toxic substances.
These incredible advantages below are the main reasons you should employ a steam cleaner. Let's review!
Environmental Friendliness
A steam cleaner is a green product. Its essential ingredient is completely pure water, which does not release any gases or fume.  Besides, without using any chemicals or toxic ingredients, this machine is totally suitable for you in case you are sensitive or allergic to smell.
Obviously, the range of price is absolutely suitable for you. There are currently many manufacturers producing a variety of cleaning steamers from high-end goods to the early- bird ones in order to meet the demand. So, if you have a limited budget, an inexpensive machine may be an intelligent choice.
Apparently, the vaporability is simply green and friendly regardless of leaving a mark or without changing the internal appearance of your house, specifically, floor tiles colors.  So, it's a necessary tool for any type of tile: hardwood, linoleum, ceramic, marble, and so on.
With high pressure from heating water, steam machines are made sure to kill nearly 99% of household bacteria which most of the usual cleaning tools cannot solve. The high level of steam emission is hot enough to blast most grout containing these microorganisms.
Don't worry if you are a beginner. Steam cleaning systems are designed with superb uncomplicated functions- you can excel at cleaning with steam machines in a short time.
Fast Heating And Ease Of Use
Based on the rapid speed, water which is filled in an empty tank is quickly transformed into steam. This process lasts only 20 seconds. So, let's enjoy sipping your morning coffee and water immediately boils.
Steam High Temperature And Pressure
The highest temperature in this steam machine is probably more than 100 Celsius Degree. And the maximum one is measured at 130 Celsius Degree.
In terms of pressure, a steamer with high pressure will allow you to "blast" grout together with dirt in the initial time.        
Does The Steam Cleaners Really Work?
For several reasons, I'm totally sure that steam cleaning machines are wonderful tools. It provides me with a lot of advantages.
Initially, these machines are quite versatile and have a variety of attachments for diverse situations. They're frequently used in most cleaning cases. And their accessories are really incredible as well.
Besides, according to some surveys, it is recorded to be one of the best cleaning systems due to its high pressure and sanitization without chemical ingredients or toxic substances.
Frankly, it's an effective and productive way that you should take into consideration.
What Are Necessary Accessories To Steam Clean Grout?
The main equipment we need to prepare includes:
A broom or a mop
A steam cleaner with its attachments
A rag or a sponge
A scraper
A pair of gloves
How To Steam Clean Grout – Step-By-Step Cleaning Instruction 2022
Here I will give you four short and precise stages to solve grout cleaning. And now, are you ready to steam clean grout?
Step 1: Clean The Surface
Before starting a steam cleaning of the grout, the surfaces need to be clear to get rid of removable obstacles. To put it in another way, everything on the floors or walls ought to be removed so that you can clean the surface easily. This step helps you to empty the whole space as well as protect your device from sharp items.
In addition to these removal objects, grime needs to be cleaned as well. On the floor tiles, a broom and a mop are quite useful. As regards wall tiles, a soft rag or a piece of sponge –should be employed in order not to crack the tiles- is usually used to make them free of dust.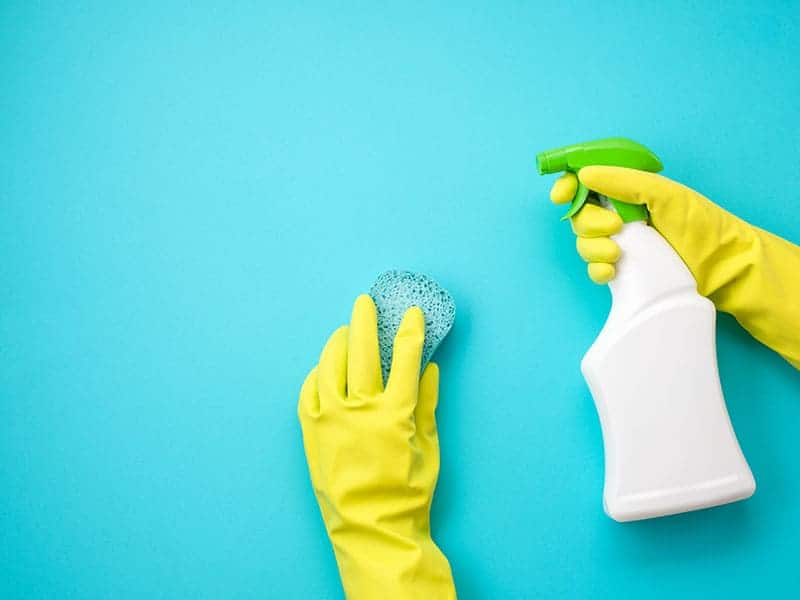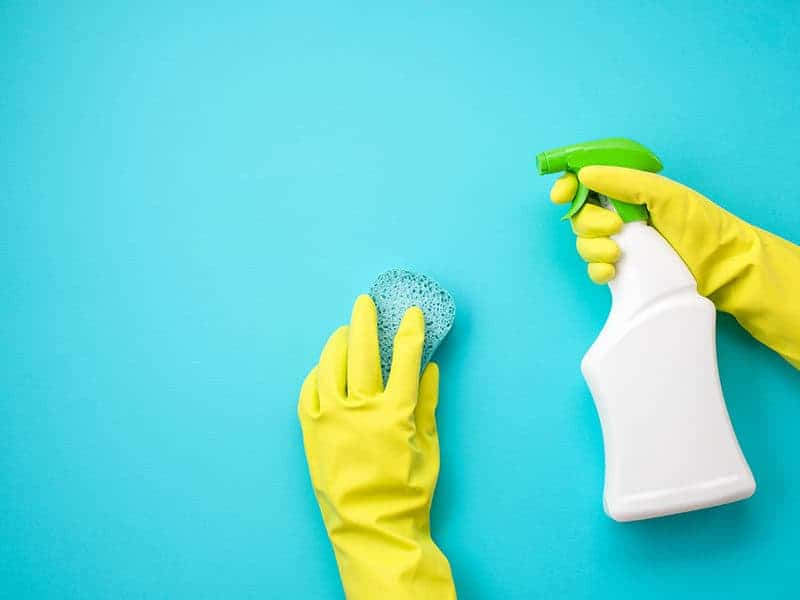 Step 2: Dry The Surface
Using a rag or small tower to make the surface dry well.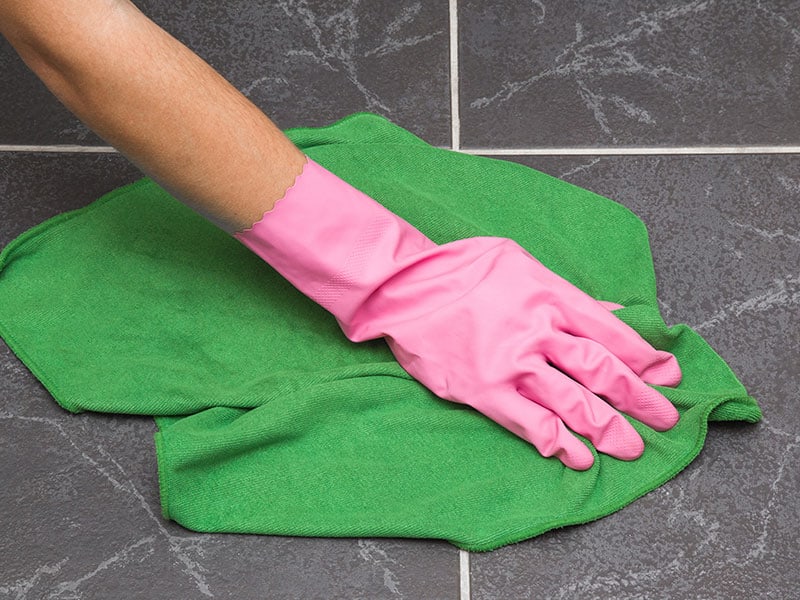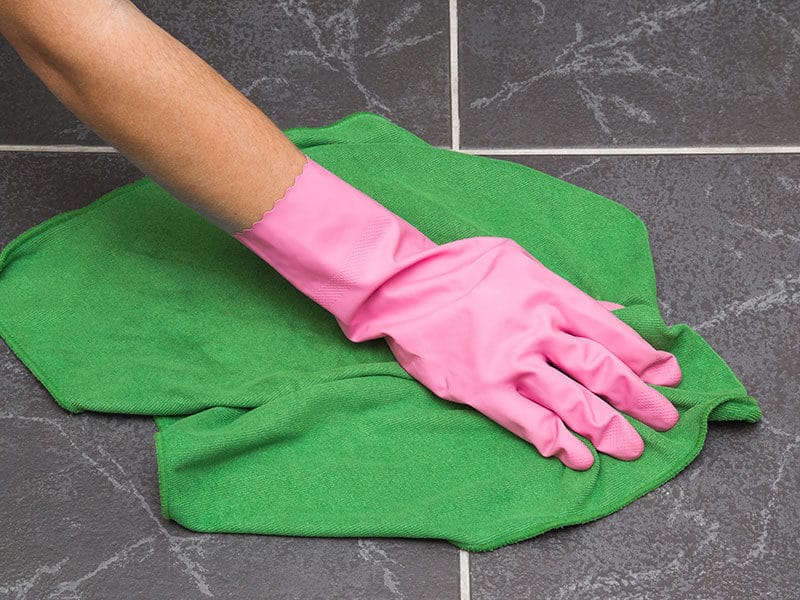 Step 3: Prepare The Steam Cleaner
Firstly, I need to remind you about water. The machine's container needs to be filled with clean water and locked firmly so that the inside process possibly happens. And the heating process inside lasts within 20 seconds.
Water can be led into the tank through an inlet pipe connected to the steam cleaner or you can pour it directly into the tank and cover it with a lid. It depends on what product you are using
After connecting the necessary pipe with the steam cleaning machine and the cord is plugged in the source of power.
There is always a start button on the steam cleaning machines. This button is used to know the source of power by flipping the switch "on" or "off". In some cases, your machine has a light-hidden button, just touch it to turn on and do it again to turn it off.
Steam cleaners take 20 seconds to boil water whilst other devices may consume much more time. This is a huge benefit of steam cleaning systems.
Adjust The Level Of Steam
The pressure of steam is freely controlled with 3 main modes:
The high mode (Hi): The high pressure is released through the steam nozzle. You can "blast" all the grime or old stains the first time.
The medium mode (Med): The average pressure output is shown in this level.
The low mode (Low): The pressure is released with the lowest level. It possibly takes more time to clean the grout. However, it's absolutely safe for sealed surfaces.
Step 4: Steam Clean The Grout
After finishing the aforementioned fundamental steps, it's time to focus on grout. There are 4 steps:
Push the steam trigger to release the steam while using. It is probably attached to the steam machines or the steam handle pipes.
The steam nozzle, which is connected to the copper or plastic brush, is put close to the old grout. Then scrub the whole line slightly and smoothly at a certain time to make sure all old stains are removed.
Stop to scrub and clean up the dirty water in the cleaned sections. It's better to use a mop, a rag, or a sponge before these stains settle back into their initial positions and dry.
Do Scrub The Grout Again Before Moving To Other Gaps
This stage makes the tough stains disappear completely.
In terms of the wall tiles, a lengthen pipe may help you to clean the high points easily. Moreover, a plastic brush should be considered so as not to harm the wall's appearance. It's much simpler to do from the highest location to the lowest one.
Finally, you take time to clean all the messes, make the tiles clear and enjoy your performance.
In case you stop using the steam cleaner, please remember to turn off the machine. Then, make sure that the leftover water in the container is eliminated. Furthermore, both brushes and other equipment should be cleaned for the next time.
A short video training on how to clean grout with a steam machine:
In fact, there are some stains on the grout that are embedded for a longer time. And the steam pressure is probably unusable. And if the dirty grout is so tough that even your steam cleaners cannot solve it, think about using other special cleaners for your floors and tiles.
How To Seal Cleaned Grout
You have finished the aforementioned cleaning steps and want to maintain the cleaned grout much longer, don't you?
To protect cleaned grout from dirt and keep its colors, you should think about sealing it again. These are 4 steps to seal it.
Step 1:  Clean And Repair Grout
Firstly, grout is made sure to be cleaned. You ought to clean it thoroughly.  If there are any cracks or crumbles in the lines, please repair them.
Step 2: Remove All The Old Sealers
Apparently, the previous sealers are not able to be used, so remove them and make the spaces clean. A scraper is useful in this step.
Step 3: Choose Your Sealers and Applicators
It's better to decide which sealers are stable and durable. And the ones that can keep their original colors in a long term should be considered as well. High-quality products are highly recommended in this situation.
Step 4: Apply Sealer
Apply sealer carefully and slowly
Let it dry for more than one hour.
Test the areas with some drops of water
Apply the second coat
Although your grout is cleaned with high-quality sealers, it should be replaced regularly in order to remove the harmful microorganisms. Please remember to check the colors of both sealers and grout tiles every 6 months. 
In case you are in trouble handling these steps, please review this video to seal grout easily.
Frequently Asked Questions
These are some common questions that I think they're useful for you in case you clean grout.
Bonuses
By the way, there are two bonus tips that you can apply to steam clean grout much more effectively.
Firstly, you can use hot water instead. In this case, the heating time is faster and the pressure of steam is much hotter. This brings a huge benefit to killing all germs and other bacteria on the grout efficiently.
Secondly, add some baking soda to the water and mix it into a washable ingredient. This is useful for cleaning at home. In the initial step, you can use this mixture with old brushes to clean the surfaces easily.
Enjoy Your Performance
Have you done your work? Is it easy and faster? I hope this article will be beneficial to you. Please remember that there is no longer time to save your "sweet nest". Don't let your wall tiles be timeworn.
It may take a little bit of time and effort to clean grout but it makes your house's appearance brighter.
Do you like my guide about how to steam clean grout? Do you have any tips or methods to make the grout clean? Feel free to share with me through comments!