Barbecue parties are fun, but you may be wondering how to clean grill grates. It can be an annoyingly slow and tedious process. If you love hosting barbecue parties but hate dealing with dirty grill grates, then this article is for you.
After a cookout, grill grates accumulate a lot of debris from food and particles in the air. This makes them a perfect breeding ground for mold and bacteria which is why cleaning them after each use is important for health and sanitation.
As tedious as the process is, it becomes simpler if you know certain life hacks for cleaning grill grates. In this article, I show you a few ways to help you get the job done faster and easier.
Quick Answer: How To Clean Grill Grates?
Follow the steps on how to clean the grill grates and make your grilled food delicious and safer.
Start by firing up your grill on high and leaving your grill grates in there for 15 minutes. The heat will help loosen food and other residues from your grates and give your cleaning a head start.
Once the grates have cooled, use a stiff brush, metal scraper, or steel wool to get rid of any debris that came loose with the heat.
Soak your grates in hot soapy water for an hour.
If your grates still have dirt you can't remove, put them back in a heated grill to loosen any remaining food particles.
After the grates have cooled, continue to brush away at the residue.
Once your grates are clean and free of dirt and grime, give them an oil rinse. Wipe them down with a cotton ball lightly dipped in Canola or vegetable oil.
Things You Need To Clean Grill Grates
You're all set to give your grill grates a good cleaning. Why not get the tools you'll need ready? Here are a few things that are commonly used for cleaning grill grates.
Shopping List For Getting You Grill Grates Clean
Pick and choose which items you'll need based on which method you plan to use.
Metal grill brush
Steel wool
Plastic or metal scraper
Long-handled wire brush
Grill grates cleaning liquid
Wire bottle brush
You don't have to buy all the items for cleaning your grill grates. You probably already have items at home that you can use such as:
Gloves
Cotton balls or tissue paper
Cleaning pads
White vinegar
Grease-cutting dish soap
Spray bottle
5-gallon bucket
Canola or vegetable oil
See how you can use a combination of common household items like baking soda and vinegar to clean your grates:
Common Problems When Cleaning Grill Grates
In this section, I go over some common issues that you will likely encounter when cleaning grill grates. I also show you how you can deal with them.
1. Rust
Rust is one of the biggest enemies of iron tools like grill grates. Here are some ways you can try to salvage a rusted grate.
Manually scrape off rust with a screw drive or metal scraper. Finish with fine-grained sandpaper to remove any leftover particles. However, this can be tedious if there is too much rust.
Soak grill grates in vinegar for a few hours. After soaking, brush them thoroughly to remove rust.
Make a paste with baking soda and water and spread it on your grill grates. After a few hours, scrub off the paste and rust with a brush and hot water.
Apply salt and lemon on your grill grates and wait for a few hours before brushing it off.
Note that these methods may not work as well for overly rusted grill grates. If your grates have too much rust, it may be best to just replace them.
2. Mold
Mold tends to grow on grill grates that haven't been thoroughly cleaned and haven't been used for some time. Mold can be caused by humidity in the air which creates a favorable condition for them to grow.
The good news is that mold is easy to remove with heat. If you switch on your grill and heat your grates for about 45 minutes on high flame, it will get rid of most of the mildew.
Once your grates have cooled, take a metal brush and scrape off any loose particles. For good measure, rinse it with water before using it for cooking.
Watch how heat is used to clean a grill grate:
3. Charred Food
You will inevitably have to deal with residue from charred food when using your grill. Once they've hardened and are allowed to stay on your grates for some time, they can be harder to remove. There are different ways you can try to get rid of charred particles.
Heat your grill grates before cleaning to make charred bits easier to remove.
Use a lemon and salt solution to dissolve the charred food.
You can also try hot water and steam to aid the cleaning process.
Many of the methods share similar techniques with small differences in the cleaning agents used. You can mix and match bits from each method to find a way to clean your grill grates that suit you.
How To Clean Grill Grates?
If you enjoy hosting delicious barbecue parties, cleaning grill grates is part of the deal. Unfortunately, it's far from being a pleasurable experience which is why I'm giving you different tips and tricks that you can use to make the chore less taxing.
I outline different tools and steps, but the rules aren't set in stone. You can mix it up and do what suits you best in getting your grill grates clean.
Deep Cleaning Method For Grill Grates
Deep cleaning grill grates is more extensive and entails more work than the other methods. To deep clean your grates, you'll need a stiff plastic or metal brush, a metal scraper, a cleaning solution, and vegetable or Canola oil.
Since it's more thorough than the other methods, you won't need to do this every time. Rather, it's something you need to do every once in a while when your grill grates have accumulated a lot of dirt that can't be removed using simpler methods.
1. Turn On The Heat
Before cleaning, switch on the heat. Keep it on full flame with the lid off for at least 15 minutes. The heat helps loosen the leftover fat, spices, meat pieces, and other debris or particles that are stuck to the grill grates.
2. Use A Brush To Clean Grill Grates
Turn off the heat and wait a few minutes for the grates to cool down. If you want, you can wear rubber or cotton gloves while cleaning. Use a stiff plastic or metal wire brush and brush down the length of the grills to remove debris and charred particles.
Keep brushing until most of the debris comes off. This is a tiring step, but it needs to be done thoroughly. For faster results, you can make a paste from vinegar, salt, and lemon and apply it to the areas with the most dirt.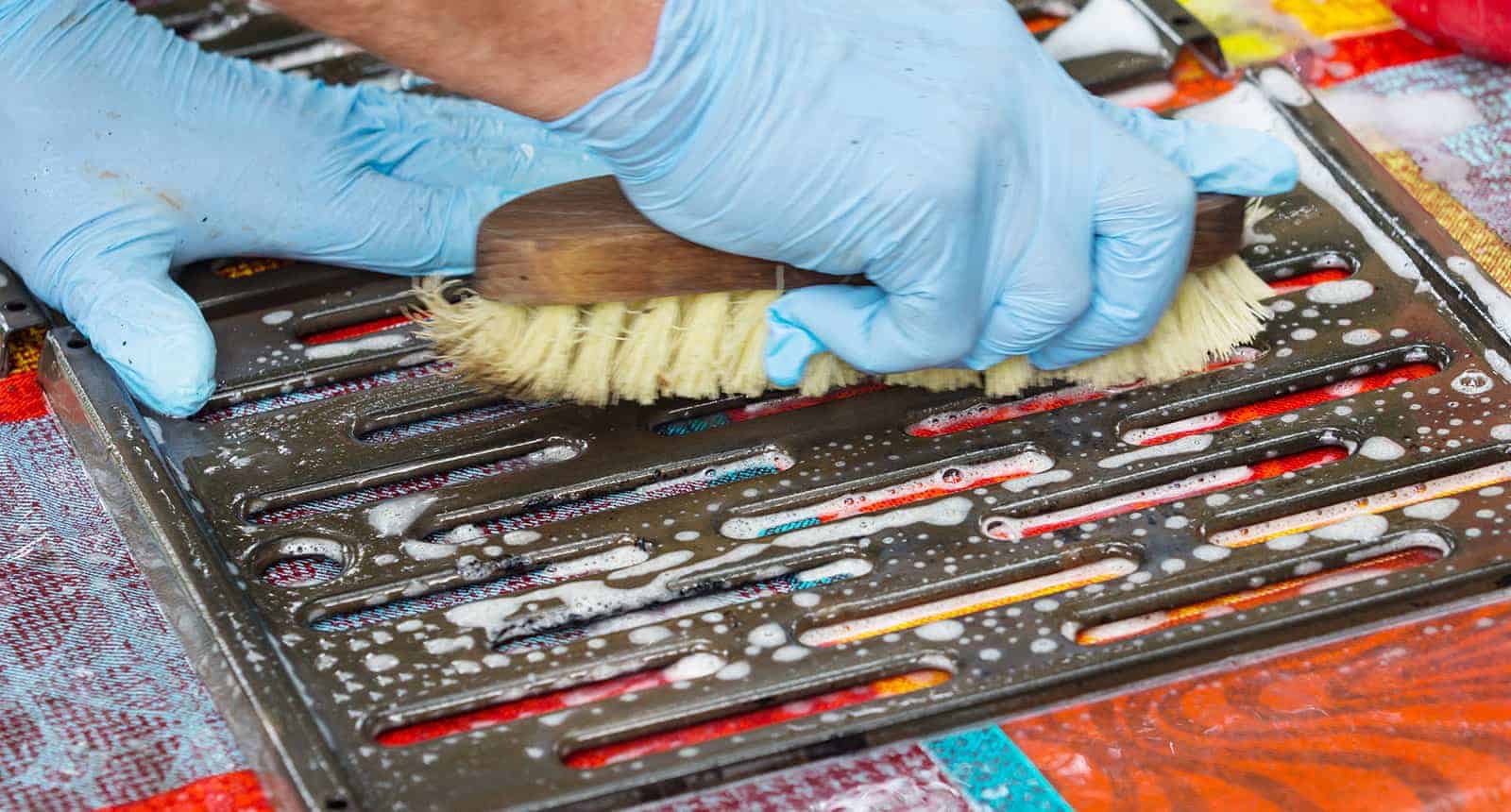 3. Use A Metal Scraper
Use a metal scraper to remove stubborn leftover debris that didn't come off with the brush. Use force to remove as much debris as you can.
4. Dust It Clean
Check if any debris is left on the grill. Keep scraping until most of the dirt comes off. After removing as much dirt as possible, collect the debris and dust it clean.
5. Spray With A Cleaning Solution
Once you have scraped the grill grates and brushed off the debris, you can use a cleaning solution to loosen any remaining debris. Spray the grates with the solution and let it soak in for a few minutes. Once it has been absorbed by the remaining dirt, you can go for a second round of brushing.
6. Second Round Of Brushing
Using a grate brush, steel wool brush, and a metal brush, clean it thoroughly and collect all the debris. Discard the debris and spray the solution again for the third round of brushing.
7. Third Round Of Brushing
This is the final round of brushing. Once you have brushed your grill grates a third time and dusted them off, it should look shiny and clean.
8. Give It An Oil Rinse
Finally, after three rounds of brushing, you can proceed with the last step. Dip some cotton or paper towels with vegetable or canola oil and wipe your grates with it. This helps your grates last longer, makes meat cook better, and keeps food from sticking to it the next time you use it.
Considering the work that goes into deep cleaning and how tedious it is, you can do this once every 6 months or every 3 months if you use your grill frequently.
Give your grill grates a deep clean with a few essential tools:
Light Cleaning Method For Grill Grates
You need to clean your grill grates every time you're done grilling. This prevents food and other dirt from contaminating food the next time you use it. Since the deep cleaning method is too tedious to do frequently, you can use this light cleaning method in between deep cleaning.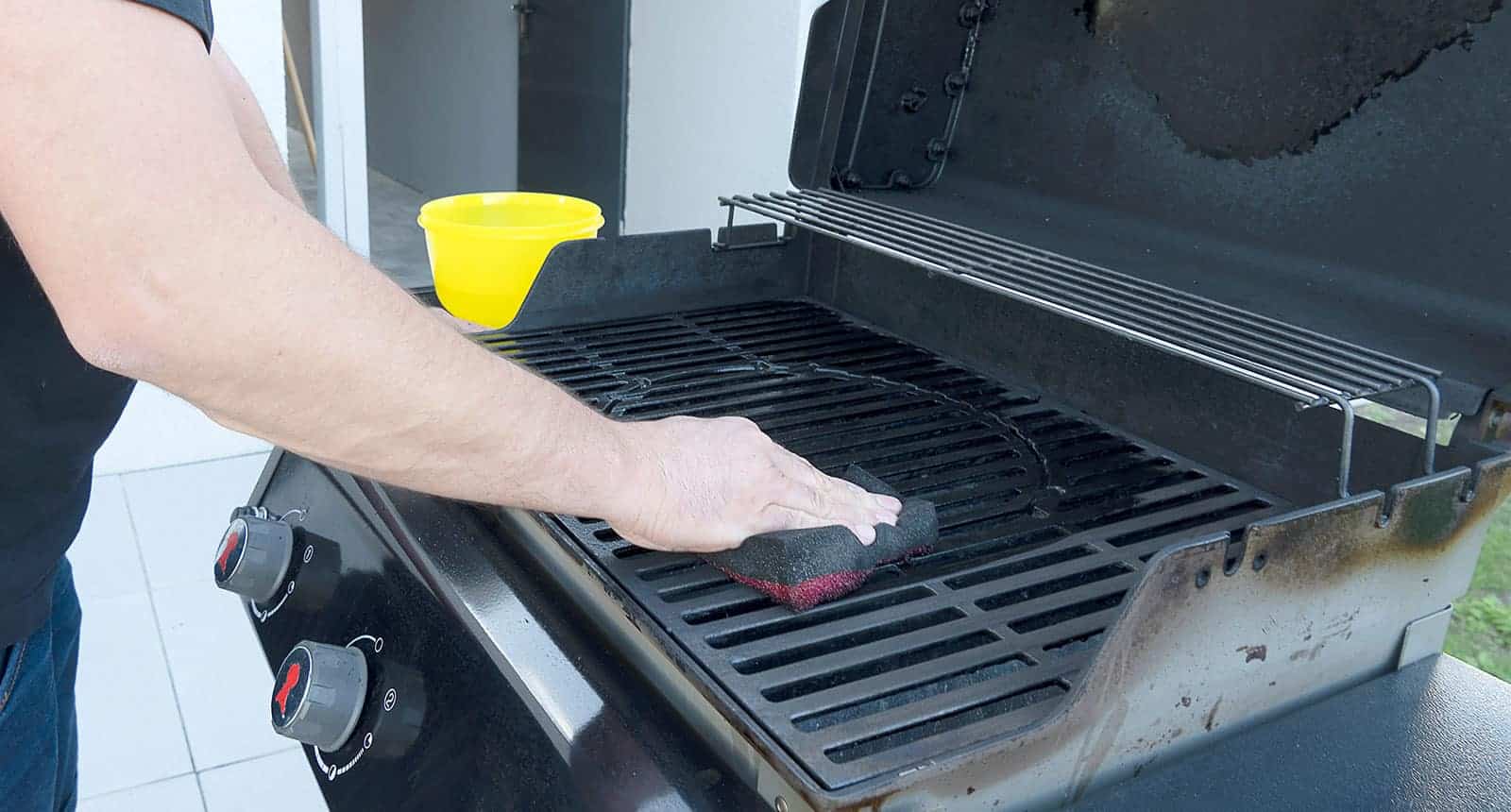 1. Turn On The Heat
Turn on the heat in the same way that you would in the deep cleaning method. Leave the grills over full heat for about 15 minutes. This process makes it easier to get rid of food stuck to the grates.
2. Use A Brush Or Foil To Clean Grill Grates
Wait for the grill grates to cool. Once they're cool enough to handle, use a brush or foil ball to remove any leftover charred meat pieces, and fat. You can apply a salt and vinegar solution to your grill to make removing burnt food easier. Wipe away all the loose food bits.
See how to use a foil ball to clean your grill grates:
3. Use A Metal Scraper
Remove more stubborn rigid food that is stuck to the grill with a metal scraper. This will help you to remove superficial food residues.
4. Rinse With Hot Water
To help soften more stubborn dirt stuck to your grates, put some hot water in a spray bottle and spray it all over the grates.
5. Use Cotton Pads Or Tissue
Use cotton pads or tissue to remove any leftover debris. Keep spraying with hot water and wiping the dirt away until the remaining dirt comes off from your grills.
6. Oil Rinse
Once all the dirt has been removed, take a cotton swab or tissue paper dipped in oil to coat the grills with it.
Doing an oil rinse for your grill will help you get those gorgeous grill marks on your meat the next time you cook.
This light cleaning method is much shorter than the deep cleaning method described. It takes less time and uses fewer items for cleaning.
Quick Cleaning Method For Grill Grates
This method is the easiest of them all. It entails soaking or letting your grill grates sit in a cleaning solution to remove the dirt and grime.
1. Turn On The Heat
Start by turning up the heat to loosen food particles from the grates just as you did in the first two cleaning methods. This can be conveniently done after you're done grilling.
2. Get Rid Of Food Particles
Use a grill brush to get rid of charred food that came loose from the heat.
3. Use A Cleaning Solution For Persistent Hard-To-Remove Food
There are different cleaning solutions that you can use to help get rid of whatever remains on your grill grates after brushing:
Mix hot water and dishwashing liquid to create a hot soapy mixture. Soak your grates in this solution for about an hour before rinsing. After rinsing, put your grates back in the grill and heat them up again uncovered for about 15 minutes to coax any remaining dirt loose. Once it's cooled down, use your grill brush to separate any burnt food residue from your grates.
You can also clean your grates without soaking. In this video, the grates are rubbed down with steel wool in soapy water. Watch the dirt and grime come off the grates:
Alternatively, you can also use vinegar to clean your grates. Mix equal parts water and vinegar in a spray bottle. Spray the mixture onto your grill grates and let it soak for 10 minutes. Once the remaining charred food loosens, you can brush it free from the grates.
4. Oil Rinse
As with every cleaning method, I recommend that you wipe your grates dry and give it a light coating of Canola or vegetable oil. This helps your grates last longer and will help the meat cook better the next time you grill.
There are many ways to clean grill grates. While a deep cleanse every now and then is essential, giving them a light clean after every use will significantly cut down the time and effort you spend deep cleaning them. Regularly cleaning your grill grates is more sanitary and will prolong your grates' lifespan.
Importance Of Cleaning Grill Grates Properly
Cleaning grill grates is a chore that requires patience and a lot of elbow grease. It may not be one of life's more enjoyable tasks, but it is an important one for health and sanitary reasons.
The best time to clean your grill grates is after you have used them so that debris and charred food particles do not have time to harden and solidify. Grill grates that are well taken care of will have a longer service life and will cook better than dirty uncared for grates.
General Tips For Cleaning And Maintaining Grill Grates
Whether you try the methods I described or decide to go with your own cleaning method, here are some general tips to keep in mind when cleaning your grill.
Use the heat from the grill to loosen food residue from your grate.
Wear gloves.
You can use onion, vinegar, soda, lemon, or salt.
Look out for rust, mold, and other dirt.
Avoid using harsh chemicals. Chemical cleaning solutions can make your food toxic.
Steam and hot water are effective for cleaning.
Clean Grill Grates = Good Barbecue
Who doesn't love a good barbecue? Many people may not realize that one of the keys to good barbecue is the preparation that begins way before the meat is put on the grill.
Keeping your grates clean after every use and giving them an oil rinse don't just ensure that your food is clean, they also make a delicious difference when it's time to eat.
If you enjoyed this article, get more household tips, product reviews from Mtoclean.