You may suffer a lot of pain from cleaning baked-on grease. Looking at sets of shiny brand-new pans is a satisfying feeling. But all these pans, after several times being used, will get a coating of gunk. Honestly, these sticky substances look disgusting.
It is a pity that not a single pan, even the non-stick one, can firmly avoid falling into this dreadful situation. Though you may be in an impotent rage when trying to rub your sticky stuff strictly with soap, the coatings are too stubborn to be moved.
Luckily, I am here now to show you how I win all the intense fights against baking on grease. Pans with different materials need different ways to approach.
Sometimes you just need some heat and hot water to have a shiny pan but if the substance is a little tougher to remove, don't worry because my key weapon is the mixtape of baking soda, salt, and some. So try to address your problem by using some of my recommendations for the best result.
Let's find out the best solutions ever to remove not only dread dunks but also your dissatisfaction toward them.
Cookwares Often Suffer Baked-On Grease
Annoyed baked-on grease is usually stuck on some distinct cookwares. It is essential for you to learn about these specific kitchen stuff before starting to remove gunks.
Non Stick
Non stick pans are one of must-have items in your kitchen. This kitchen essencial is used for all range of dishes. I can easily clean up these items when no food can stay on the surface.
However, non-stick ones still need to fight against baked-on grease sometimes due to previous improper cleaning processes which have damaged the Teflon coatings gradually.
This coating layer of non-stick items starts to dissociate when heated upto 350°C (660°F). If you overheat your stuff, you will not only ruin the Teflon surface but also be affected harmfully. So be careful with the temperature!
The surface of these items is vulnerable so be gentle with them. Keep steel wool and other harsh scrub pads away if you don't want to buy new ones after scrubbing.
After cleaning, your pans need to be dried carefully. Additionally, make sure other items do not impact and scratch the pans during storage. You could put a dry soft towel between them to keep the non-stick surface safe.
Take care of your non-stick pans! This video will show you how.
Enamel
Enamel stuff is popularized due to its great heat conducting ability. Besides enamel cookware has several aesthetic looks with different pastel shades. So just a little gunk sticking in these lovely items is enough to annoy your eyes. That's why I am here to tell you how easy it is to remove baked-on grease from enamel.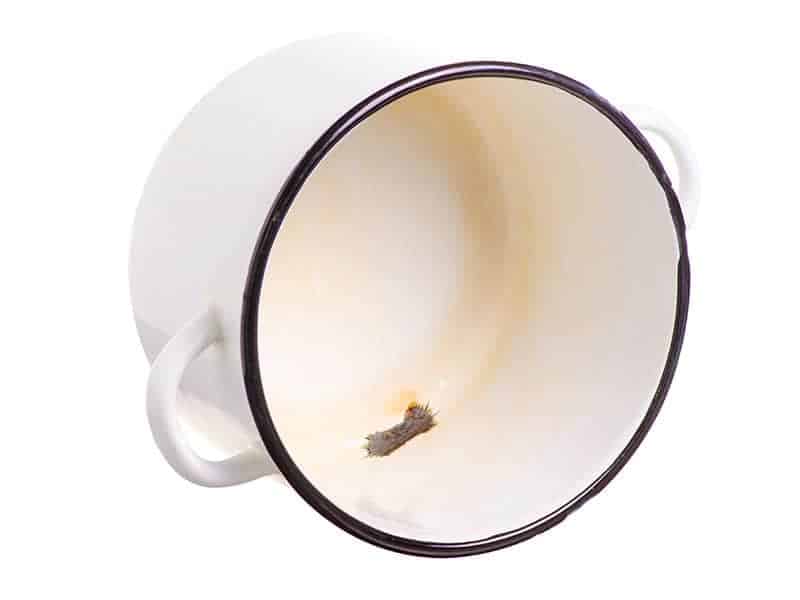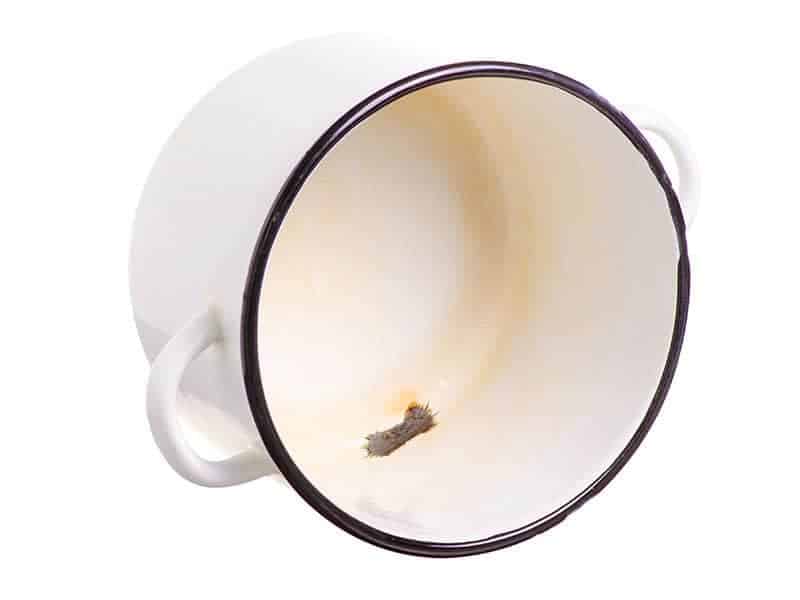 Enamel cookware is extremely durable. After a long time being used, these items are unable to avoid appearing some stains.
However, even the best enamel pan could not sustain extreme temperature changes. Heating up your cookware gradually is required to protect the coatings and prevent them from getting gunks.
The protective surface of enamel items is similar to those non-stick ones. Therefore, scratchy pads are detrimental. Pay attention to these items.
Absolutely no need to replace your old pans. Watch this video and just use baking soda.
Stainless Steel
Stainless steel is favored in kitchens due to its ability to resist corrosion and rust. However, stainless steel cookwares still get gunks.
You totally can mix some green ingredients which are always available in your kitchen in this case. Baked on grease may stay longer than you'd like; however, homemade mixtures from baking soda, vinegar, lemon juice, sea salt and ketchup definitely wins these messes.
While cleaning these stainless steel items, you may need to follow some certain rules to keep everything alright. Stainless steel cookware is made to resist corrosion and rust; however, improper cleaning could pose a risk to these items to lose their advantages.
To not damage the finish, carefully wipe in the direction of the grain and do not use steel wool or brushes. Abrasive cleaners or cleaners with chlorine will definitely damage your stainless steel cookwares.These tricks will help to not scratch the surface or make it more vulnerable to being rust and stain.
There are sometimes stiff gunks on your stainless steel cookware which are too hard to remove.  However, notice that abrasive cleaners or cleaners with chlorine will definitely damage your stainless steel cookwares. These powerful cleaners for stainless steel can help you to remove all baked-on grease on your pan.
Cast Iron
Cast iron is tough as nails. This material is used in kitchens because it retains heat beautifully. Cast iron doesn't spread heat evenly; however, when it becomes hot, it stays hot effectively.
A cast-iron pan is perfectly suitable for rearing steak to serve your family in a lovely dinner. Yet cast iron pans can't escape from baked-on grease. Below are some tips to help you to treat your cast iron pans that stuck in a bunch of gunk better.
While trying to remove baked-on grease from cast-iron cookwares, please not soak them in water to protect them from rusting. Before used to cook, cast iron pans are usually seasoned well to prevent rust spots. Seasoning layer could be damaged if you wash it with soap, dishwasher or harsh scrubbing pads. Therefore, avoid using these things.
When rust occurs, you can use non abrasive pads and baking soda to get them out. After all, you really need to re-season your pans.
After cleaning, you may need a soft towel or stove to dry them up. A cast iron pans protective solution which beautifully works is oil them. All you need to do is coat your pans with a thick vegetable oil or shortening layer both inside and outside of the pans. Letting it dry completely is required.
Make sure to store cast iron pans in dry and cool places.
Stove Top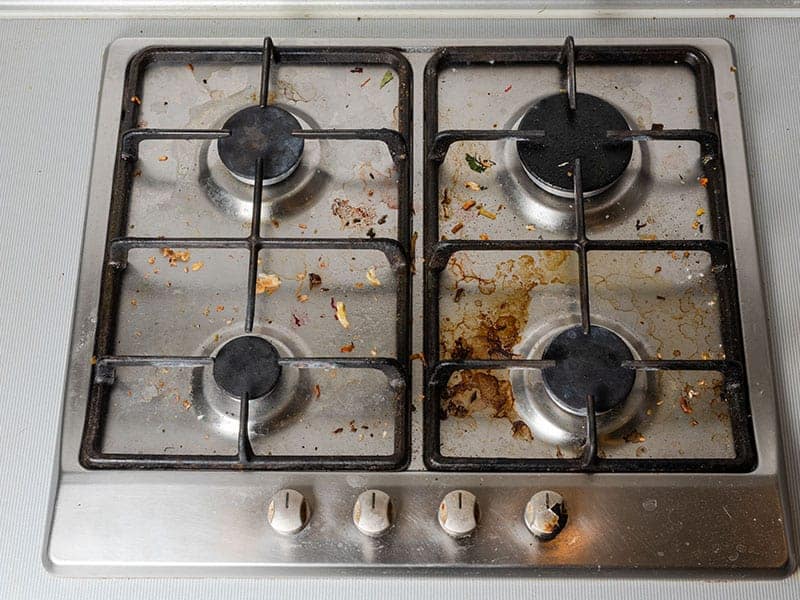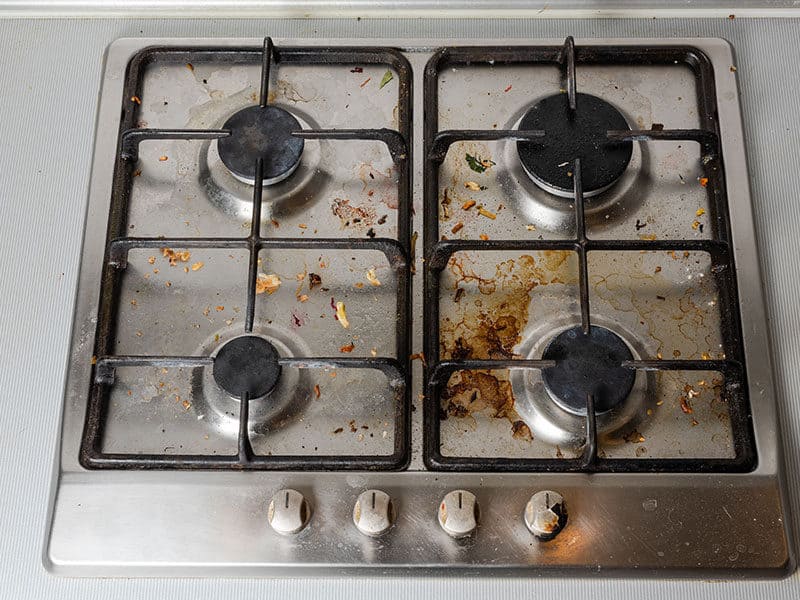 Cleaning stove top is always the hardest part of the kitchen tidying process. You may have tried to wipe the top immediately after finishing cooking. But keeping stove top sanitized is not that easy when things are stuck and become baked-on grease. Don't worry, where there's a will, there's a way.
Before starting to clean, you have to remove metal grills for deeper cleaning. Then you need to figure out what material your stove top is made of, which really helps to accomplish your task properly. Each material will have a distinct solution to try and tips to avoid so try to learn from features of the material that I have shown above to improve cleaning processes.
You are a busy person and you don't have much time to search? Maybe, you should try effectual cleaners for stovetops to save your time.
About metal grills, let's get to the following part.
Grill
Barbecue in summer parties is sweet but baked-on grease stucking in grills is a terrible nightmare. Follow me and my cleaning guides will end your hard time.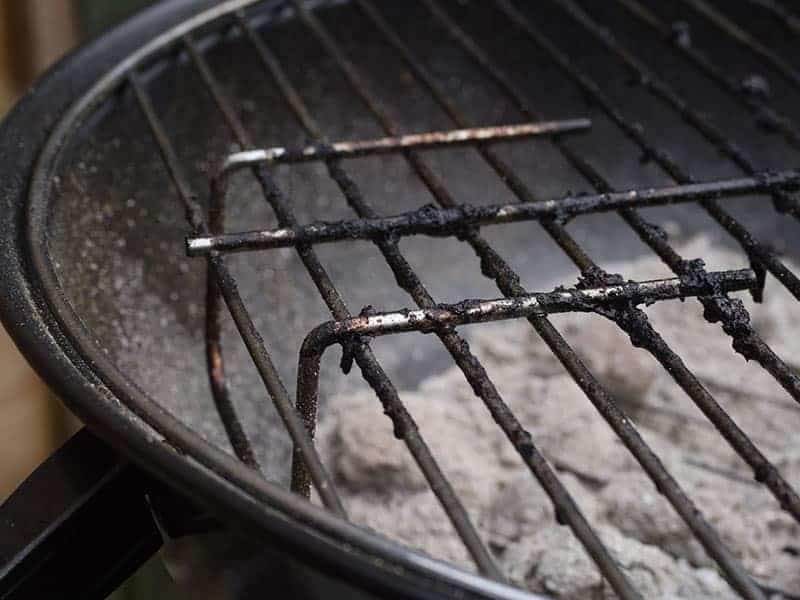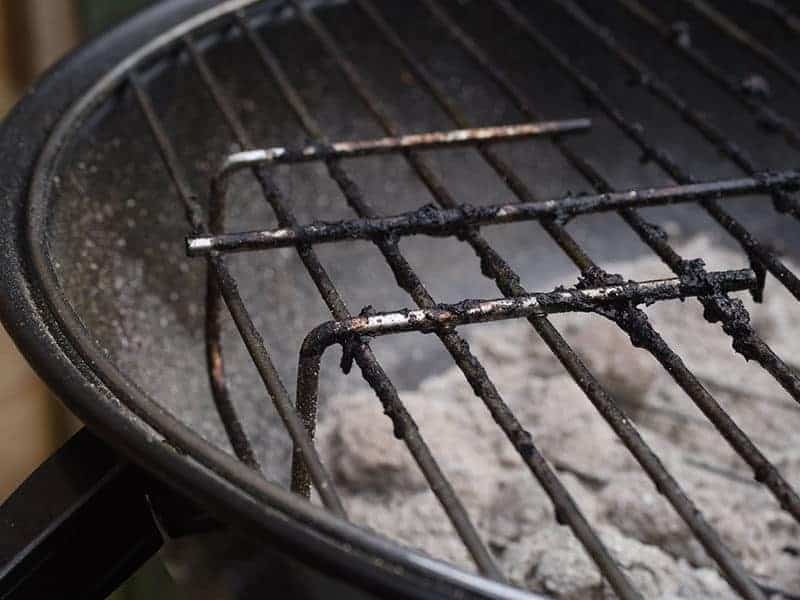 Cleaning grills certainly when things have done is the best recommendation I want to tell you. Time passing makes it hard to remove all the greasy parts.
While trying to remove ugly gunks from the grime, it may require some scrubbing, even a little serious elbow grease in tough cases. I recommend you to use a bottle brush which is ideal for cleansing grates.
Heat always works in the grill cleaning process. Heat makes grime and gunks softer and easier to wipe off. You can submerge the grill into warm water between continuous scrubs for better effects.
To get quick solutions to have a rest after BBQ parties without leaving everything messy. Use the specific cleaners for grills will magically help.
Cooking spray or cooking oil performs greatly to prevent your grills from rusting. So take it as the final step to protect grills.
What Is Useful For Cleaning Baked On Grease?
Removing baked-on grease significantly makes everything in the kitchen look tidy or even shiny. Follow these guides and sanitize your cookwares.
The main cleaning solution I would recommend is using some recipes containing acidic or alkaline substances like baking soda, vinegar, lemon juice, ketchup, sea salt however you would need a huge amount of them.
But how to clean baked-on grease by mixing  these things in a correct way? Follow my footprints to discover a cleaning method that is perfectly suitable for you.
Let's use simple things around your kitchen to deal with baked-on grease first. I bet it will reduce your fatigue while cleaning.
Method 1: Dealing With Baked-On Grease By Heat
Put the pan on the fire to heat up the grease with super high temperature to ease stiff baked-on grease. Let it there for a while (about 10 minutes) then let your pan submerse on warm water. It's necessary to keep the water remain enough heat without burning your skin. Now wait for the pan to cool down a little bit.
Heat can ease the stiffness of these annoying baked-on grease so that it may take you less time to scrub. Remember to submerse your pan into warm water not cold water to reduce temperature gradually. Because not only are some items unbearable with extreme temperature changes but also cold water may reverse the effect.
Finally, using non-scratch pads with dish soap to scrub the grease. Don't forget to wear heat proof gloves if needed. This tip is also the easiest way to wash up right after cooking to keep everything always tidy.
This method works with cookware made from all materials above except cast iron. As you know, you must not soak cast iron items into water to protect them from rusting.
See how it works here and let's get your hand in cleaning now in this video.
Method 2: Use Artificial Rags
Boil your disgusting pan with dishing water. Instead of scrubbing by scouring pads, use artificial rags to clean the surface. Remain the high temperature while rubbing the pan. Lower heat may take reverse effects.
This solution works well on most pans with different materials without damaging the protecting layers of your stuff.
Method 3: DIY Natural Cleaning Recipes
Homemade green recipes from substances which are always available in your kitchen will not upset you. I will show you how they work right now.
Baking Soda + Hot Water:
Baking soda is a versatile substance that fits perfectly for different situations. Baking soda is not only essentially used for baking but also performs well at cleansing things like bleaching shoes, clothes, washing dirty surfaces and so on.
In this case, let's use baking soda paste mixed up with hot water. Hot water will help to activate the baking soda for a more effective cleaner. Let's follow these steps:
Step 1: Spread the paste in the baked-on grease area.
Step 2: Allow the substance there to do its own task for at least an hour. I bet it works better if you let it sit in the place for a longer time.
Step 3: Try scrubbing the surface to force out the stubborn stains.
Step 4: Rinse again with dish soap liquid.
You may use hydrogen peroxide instead of hot water if needed. Make sure you do not put this mixture of baking soda and hydrogen peroxide in a closed bottle. Everything may explode because of the amount of carbon dioxide created through the reactions.
Vinegar, Baking Soda and Sea Salt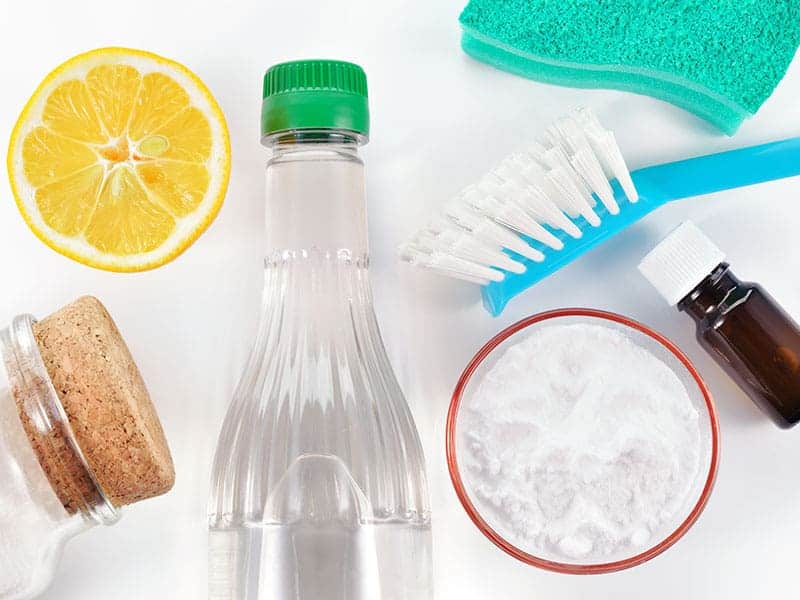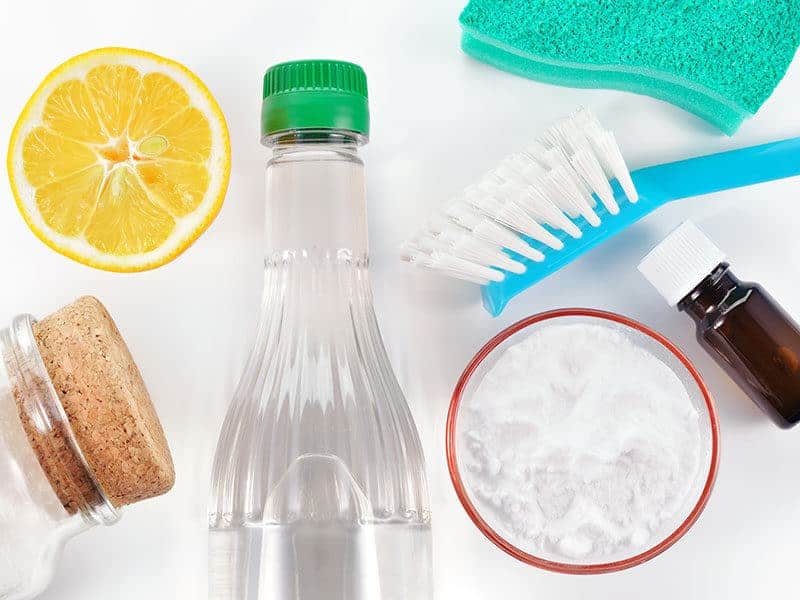 These recipes don't allow you to mix all the things together. You may need to particularly follow this step-by-step guide.
Step 1: Sprinkle a thick layer of baking soda
Step 2: Add another layer of sea salt.
Step 3: End up these layers by spraying vinegar above.
Step 4: Leave it for 10 minutes, even longer if needed
Step 5: Scrubbing.
Step 6: Rinse again with dish soap liquid.
It is considered that acid-contained substances are the best choice for cleaning things. Vinegar has a level of acid that helps a lot in cleaning baked-on grease processes. Lemon juice similarly works so you can use it either.
Sea salt is harsh and abrasive so it's a pretty great scrubber. Sometimes it is also used for skin with much more gentle chafes. Moreover, when sea salt is mixed with an acid, like vinegar or lemon juice, the cleaning power of the mixture will be elevated to the next level.
However, because sea salt is harsh, in some green recipes, you should carefully consider whether you could add it on while cleaning vulnerable cookwares.
Method 2 would comfort you. Check it out this helpful video to see it amazingly works.
Ketchup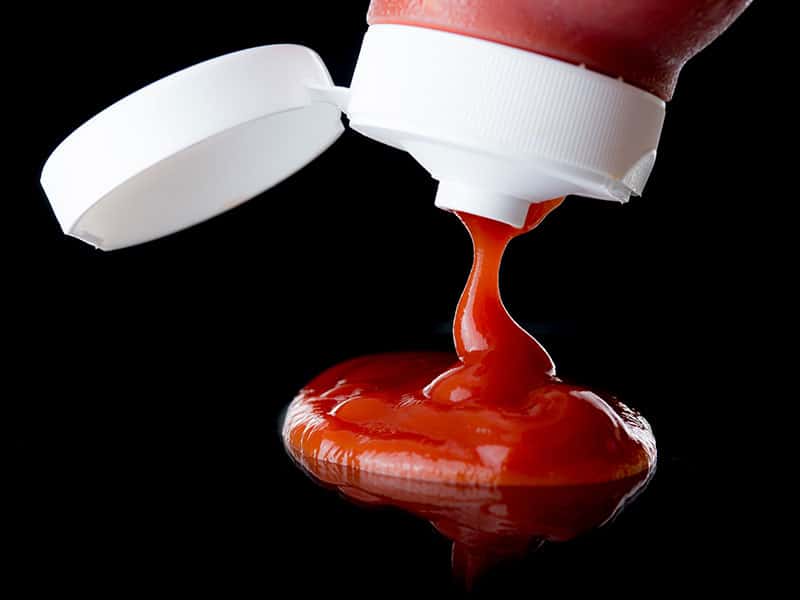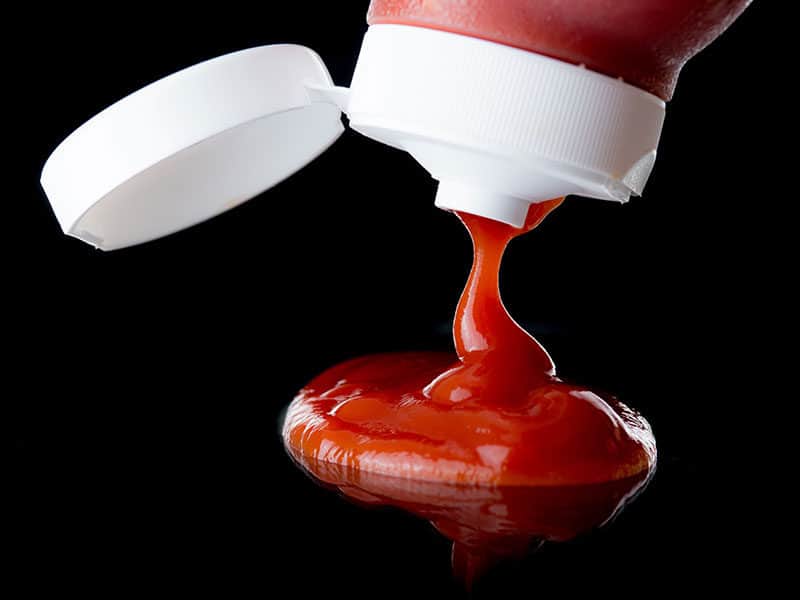 Though cleaning baked-on grease with ketchup seems odd, it works surprisingly. It is turned out that ketchup has a certain amount of acid and acid in ketchup would erode grease parts gradually.
However, this way takes much more time to soak the pan coating with ketchup. Other tricks may need 10 minutes, 30 minutes but with ketchup, let the pan alone for as much time as you can.
Furthermore, if you desire, you could mix up a ketchup paste with a high proportion of vinegar. Then you can whip up a powerful cleanser. Put the mixture in gunks, let it sit for a while, then rinse again with dishwater to finish the single process.
You can not only erase baked-on grease but also keep everything clean with ketchup. Try these hacks out:
Notice: All the green ingredients I have mentioned like baking soda, vinegar, ketchup and hydrogen peroxide above perform amazingly in homemade cleaning mixtures. But not every substance really should be combined.
For example, vinegar and hydrogen peroxide should not be put together because the combination forms strong acid. The corrosiveness of the strong acid not only damages the surface of your stuffs but also causes severe irritation to your eyes, skin and even the respiration system.
So carefully keep yourself away from mistakes.
Method 4: Cleanser From Cleaning Brands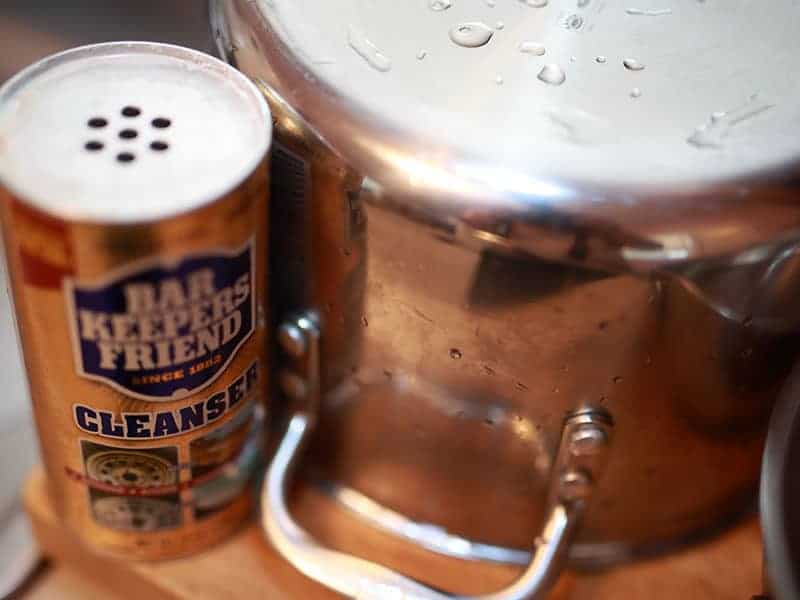 In the final effort, you would need cleaning brands such as Cif, Bar Keeper's Friend, Easy Off, Goo Gone, so on. However, I do not recommend you to use these cleansers because they bring with them toxic substances with an uncomfortable smell that may harm your health.
It can be denied that removers from cleansing brands work like magic from fairies. They not only expel most baked-on grease parts but also are divided into different types specialized for diverse kitchen things (pans, pots, cookies baked sheet, stoven top, oven and grill…), and for several materials (non-stick, aluminum, stainless steel, glass,…)
Rinse and wash carefully to avoid keeping chemicals. Make sure you wear face masks and gloves while trying this method to protect yourself.
Should Not Be Ignored Tips
I bet you finally have a broad view of how to clean baked-on grease cleaning after reading all the hacks above. Here are some tips to enhance the effectiveness of the cleaning process.
#1 No pans should be put in dishwashers even if the introduction says it's "dishwasher-safe". High heat and harsh conditions are detrimental for your items.
Unfortunately, dishwashers may also suffer baked-on grease. In this case, you may need help from dishwasher cleaners while cleaning.
#2 You should not use abrasive scouring pads or scrub too hard on the surface of any cookware, especially non-stick and enamel ones if you don't want to scratch the pan. I suggest replacing it with soft towels or nylon scrub brushes.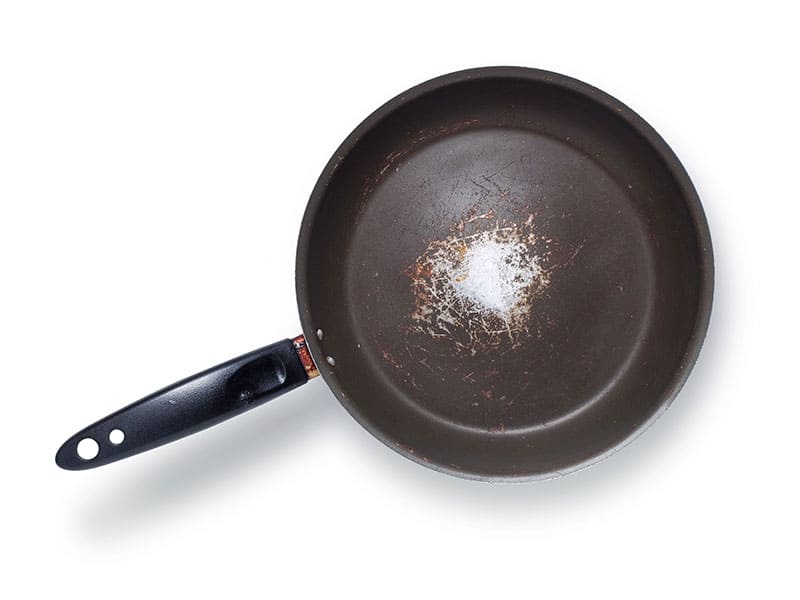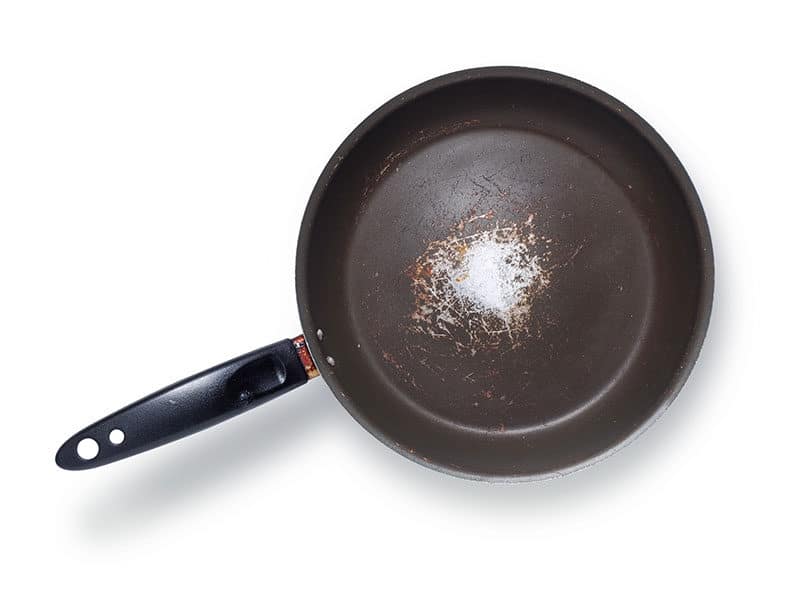 #3 If the effect still does not satisfy you, just repeat the process with a small amount of substance each time.
#4 You would need rubber gloves to prevent your hands from being ruined while scrubbing. My cleaning guides refer to many acidic substances and alkaline chemicals which may cause burns on your skin. So be careful!
#5 Wash your pans right after cooking with soapy water while it is still hot or warm to prevent baked-on grease from sticking in your pans. Regularly cleaning your kitchen stuffs will keep your kitchen tidy and shiny.
#6 If you don't have time to have immediate cleaning, soak in hot water to keep greasy areas from drying up (except cast iron ones of course).
#7 Dry thoroughly, store in cool and safe places. As I mentioned in the non-stick cookware part, mild dish towels may avoid each item to touch or even scratch others.
Expectation & Reality
There are always suitable ways to deal with dirty stains on your pans. I have shared both cheap and simple guidelines on how to remove baked-on grease. But nothing changes if you don't start to act.
Not only are grease stains annoying, but also other types of stains may provoke you in your day life. Anger does nothing but read these general tips of removing stain in a blink of an eye  do.
I am sure you won't be disappointed using these hacks. Don't be shy to share with me and others your thoughts in the comment section below. Hope you successfully get cursed stains out of your kitchen.