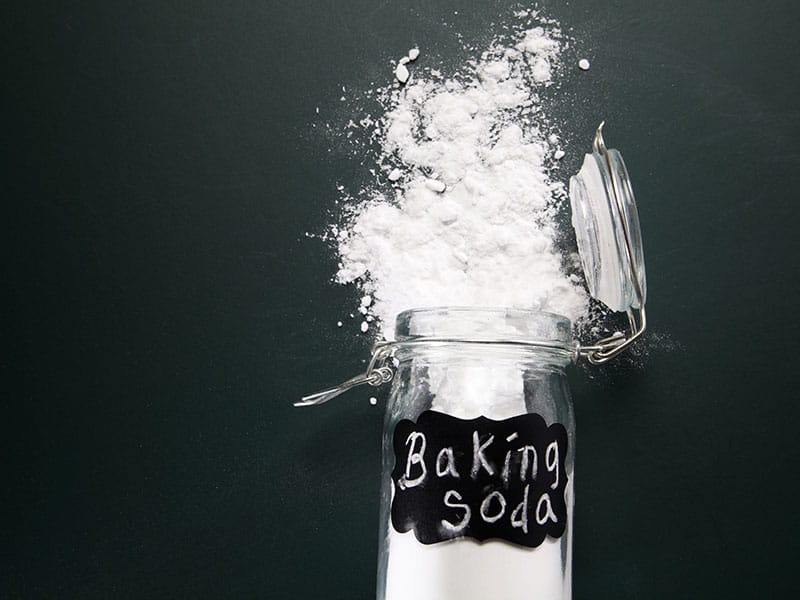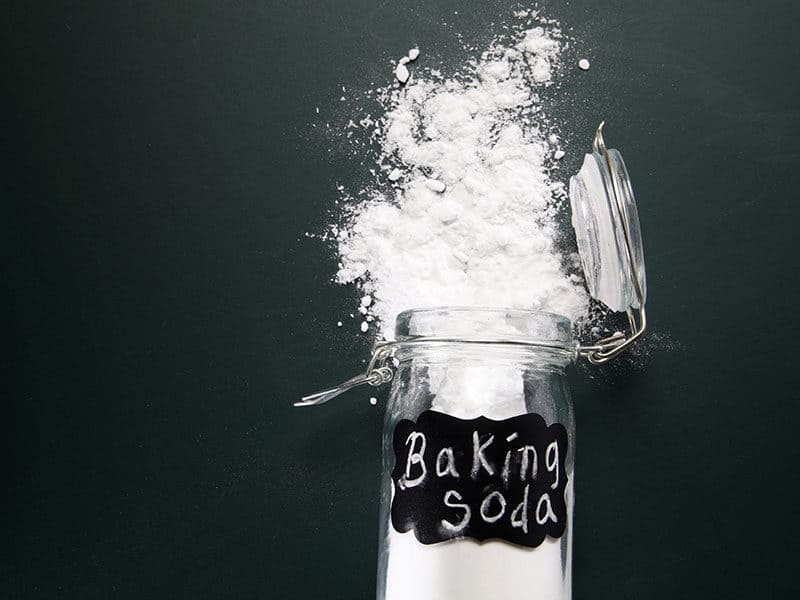 You've just stumbled upon the ultimate guide on how to clean carpet with baking soda.
Baking soda is a common kitchen ingredient, but after reading this article, you'll look at it with different eyes. Bicarbonate of soda is a natural yet super powerful cleaning tool that can do a lot for you.
It makes itself quite useful in almost every room of your home. In today's article, I will focus on cleaning carpets with baking soda and answer your frequently asked questions associated with the topic.
After experimenting with baking soda for a while, I'm here to share my advice, so let's begin.
Can I Use Baking Soda To Clean My Carpet?
Of course, you can. This household ingredient makes a great carpet cleaner. It's one of the ingredients in many homemade cleaning recipes and can do so much good all over your house or apartment.
It absorbs the smell and dampness and adheres to the fibers and backing of most carpets and once it's in your carpet backing and fibers, it will remain for a long time. Despite how often you vacuum your carpet and clean your home, you can't remove baking soda completely. So, use this ingredient properly.
In the following section, I will share my secrets about how to clean carpet with baking soda. So, dive into this article to find out all the answers to your questions about baking soda, and so much more.
How To Clean Carpet With Baking Soda?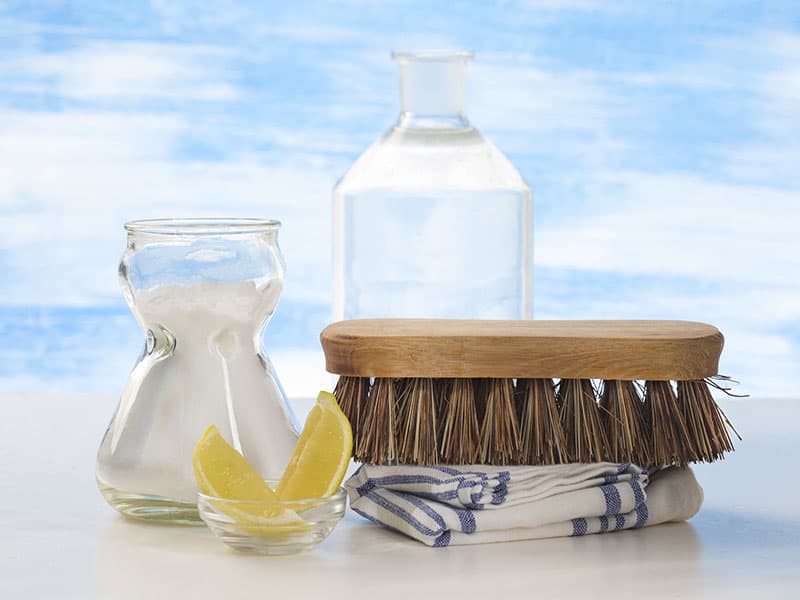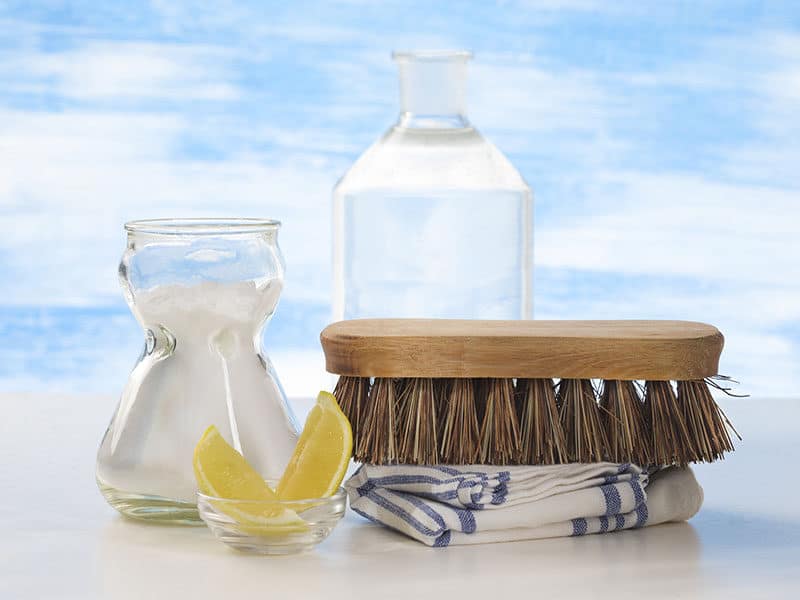 First and foremost, gather hot water, dish soap, a spray bottle, sponge, paper towels or old rags, and of course, baking soda.
Prepare Your Carpet
Preparing your carpet before cleaning is the key to successful cleaning. This way, you will avoid creating new stains that come from dirt and debris already trapped in your carpet.
Thus, grab your trusted vacuum cleaner and get to work. Make sure that you've covered all the parts of your carpet, clearing all the larger particles.
If you skip this step, applying anything to the stain can lead to a brand new, deeper stain you'll also need to deal with. Another thing you need to remember is to tackle stains on carpets immediately. The longer you wait, the harder it will be to remove later, so act quickly and save some damage.
When you encounter a liquid mess, get a paper towel and blot it gently to remove the liquids. Never rub as this can spread the liquid around and cause the fibers to take in the liquids quicker.
The next thing you need to do is notify your loved ones that you'll be using baking soda so that they can avoid these places of the home. Yes, baking soda is a natural product. However, it's best if you can move your children and animals to another room. Make sure there's as little traffic as possible.
Now, you're ready to start. The reason why I push for using baking soda for cleaning carpets is that it's a harmless way to freshen and revitalize your carpets. And it's a cheap solution, so why not?
The next bullet points explain how to remove both non-greasy and greasy stains as well as strong odors. Lastly, you can either sprinkle baking soda or use it in carpet cleaning machines.
Remove Non-Greasy Stains
Some stains aren't a nightmare to clean because they don't have an underlying residue to them. Thus, if you're handling a non-greasy stain, just sprinkle a proper amount of baking soda on top of it.
Then, lightly mist the affected area with hot water and let it stay on the stain for a few hours. The longer it stays on the stain, the better. This can be something you do at night right before you go to sleep.
When it's time to remove the baking soda, vacuum your entire place with a bagged vacuum cleaner and watch the stains disappear. Repeat the process if necessary and enjoy a clean, fresh carpet.
Remove Greasy Stains
If you're dealing with greasy stains, prepare for some battle. Not all stains will handle the war easily. So, if there's a grease stain, you will need to take a slightly different approach to help remove it.
Start by taking a paper towel or rag. You will need to start blotting up as much of the grease as possible before you proceed with the next steps. You must avoid rubbing the stain because this can help it to set in your carpet. When you're done, sprinkle some baking soda on the stain and let it stay overnight.
Again, the longer the baking soda sits on the stains, the better. In the morning, you will want to vacuum the carpet and determine if you need to take extra steps. If there's still grease there, take your dish soap and start to blot it into the stain to help decrease the amount of grease. Then, obtain clean towels.
Add some water and slowly remove the soapy residue using the towel. However, don't scrub as this can cause the stain to spread and enter the fibers even deeper. Once you're done, dry the affected area and sprinkle a second layer of baking soda. Let it stay for a few hours. Then, vacuum the carpet again.
Strong Pet Odors
If you're a pet owner, then you know how strong their smell can become in the property. Luckily, baking soda can help to neutralize the odor and leave your home smelling fresh again.
Just apply some baking soda on the carpet that's usually used by your pets and allow it to sit for a couple of hours. This can be something you do late at night right before you go to sleep.
Afterward, vacuum the carpet up with a handheld vacuum cleaner and it should smell fresh once again. Repeat the process as frequently as you need to, depending on the situation.
You can see this video to know more:
What's The Best Homemade Carpet Cleaning Solution?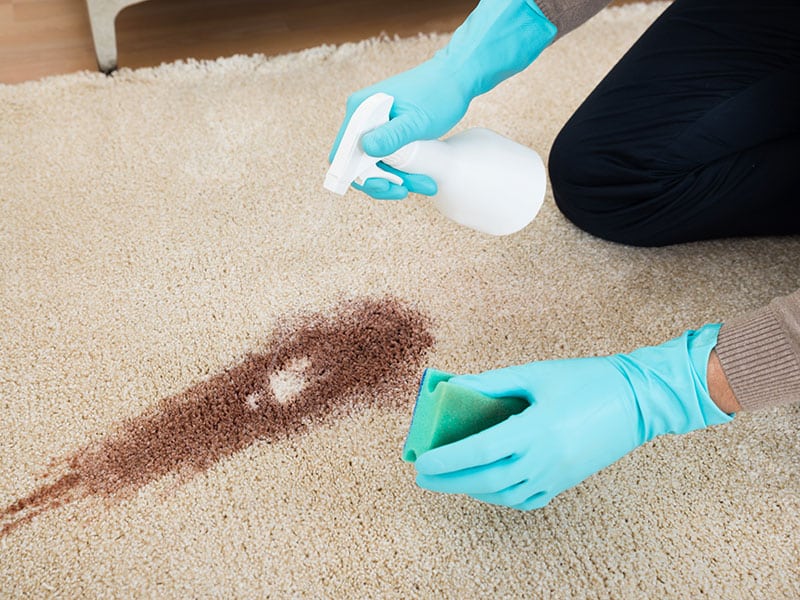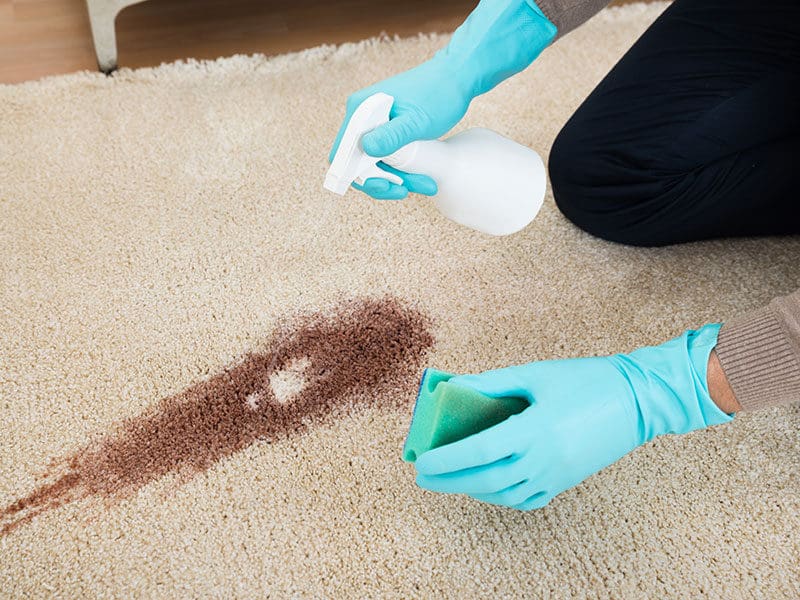 If you prefer to stay up off the ground, there's a solution. You can mix baking soda into plain water and use this carpet cleaning solution to help you clean your carpet.
Additionally, depending on what you want to achieve, you may want to apply a small amount of soap to help fight grease. Then, you can proceed to clean your carpet with a vacuum cleaner.
Afterward, your carpet will look and smell fresh, without the use of any dangerous chemicals. In a home with children and pets, this can be one of the safest ways for you to clean your carpets.
Keep in mind that when you vacuum, this will influence the results you have, so you need to invest some time to clean and deodorize your vacuum as well. Add a bit of this natural ingredient to the replacement bags to preserve the fresh odor that comes with your floors and avoid future problems.
You can also do a routine carpet cleaning once a month when you replace the pouch and utilize that as a time to enhance the smell at home. That way, you will have fresh carpets each month.
Consider mixing baking soda with cloves, cinnamon, and your favorite dry herbs or essential oils in equal parts, and then sprinkle it on the carpet for even better results.
You can see this video to know more:
Pros And Cons Of Cleaning With Baking Soda
Now that you know how to clean carpet with baking soda, let's take a closer look at both the advantages and disadvantages of cleaning with baking soda.
Pros:
This natural cleaning agent removes stains from carpets easily and effectively.
Baking soda is a multi-purpose product that you can utilize in any room of your home. So, don't worry if you buy a big package because it will always be handy in one way or another. It's a great product for use in your laundry, living room, toilet, and kitchen, both to deodorize or clean.
The biggest advantage of baking soda is that it's a natural cleaning agent. Avoiding strong toxins and chemicals is the best way to ensure the safety of your loved ones. The best part? Upcoming mothers, people with allergies and skin conditions don't have to stress about using baking soda.
You can feel safe using baking soda among animals and children. It's a natural item that people consume, so you can also use it on your carpets while you have pets and children in your home.
Baking soda is a super cheap cleaning product. You can purchase a large bag and it will still cost you less money than other chemical cleaners. Meaning, it's very versatile and highly affordable.
This compound won't irritate your eyes or skin, unlike other chemical products.
Cons:
Baking soda won't fully remove old and stubborn stains. Meaning, if this is a stain that you made ages ago, but didn't feel like cleaning back then, baking soda won't always complete the job. Use a spot cleaner for stains or let professionals handle this type of stain.
If you have a silk carpet, stay away from baking soda carpet cleaning solutions. Leave silk carpets to be taken care of by experts.
If you utilize too much of this natural cleaning product on your carpet, it can end up in your floor cracks or slab. And that's when things get complicated. Meaning, you'll find it difficult to remove it from these narrow spots. This is why I always suggest applying proper amounts when cleaning.
The greasier and bigger a stain is, the less this natural compound will do to fix it. Therefore, for a serious stain, you might want to turn to commercial stain removers.
How Long Do You Leave Baking Soda On Carpet?
The longer you leave baking soda on your carpet, the better. Sprinkle proper amounts of this compound on the affected area or sprinkle the whole carpet to ensure you don't miss any odors or stains. Let it stay for a couple of hours or overnight, depending on how smelly or dirty your carpet is.
Does Baking Soda Ruin Carpet?
Absolutely not. On the contrary, baking soda will clean and refresh your carpet. However, it can damage the underlay or your floor beneath because it's hard to remove every bit of baking soda from the carpet afterward. Baking soda is safe for people and pets and won't cause fading or discoloration.
Does Baking Soda Kill Mold?
Unlike commercial mold removers that contain strong chemicals, baking soda is mild (pH of 8.1). So, it's safe for people and animals. And besides cleaning your carpet, baking soda can also kill mold.
Baking soda takes in moisture to help keep mold at bay. Apply a quarter tablespoon of baking soda to a spray bottle of water. Spray the affected area and use a brush or sponge to get rid of the mold.
Watch this video to know more:
What Happens If You Leave Baking Soda On Carpet?
You can leave this ingredient on your carpet overnight. As I already stated, the longer you let it stay, the greater it can work to absorb moisture and odors.
However, if you don't have that much time, you can still utilize this natural compound for fast 15-minute cleanup and deodorize your carpets in a short time.
Show Your Carpet Some Love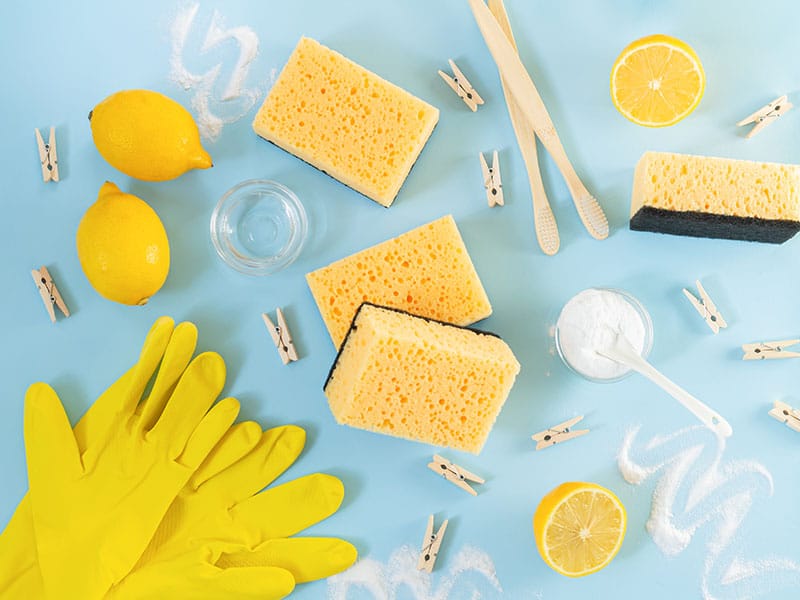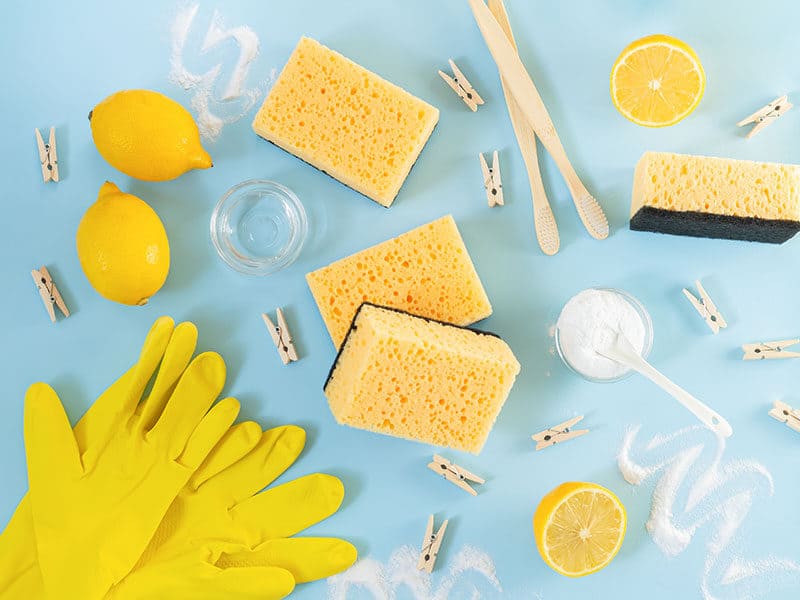 No matter if you want to tackle stains or deodorize your old carpets, this detailed guide on how to clean carpet with baking soda can come in handy.
I've used this ingredient for different purposes including cleaning carpets. It's very effective for new and smaller stains but can't handle old and stubborn ones.
What's your experience with baking soda? Drop a comment below. And don't forget to share this useful information with your social media friends.