Maintaining your carpet without tools and devices is possible, and you should learn how to clean the carpet by hand. You can apply any of my following techniques and DIY homemade carpet cleaners in between two professional cleaning services.
That way, you will save money and keep your carpets looking new and clean for longer.
Luckily, you don't have to buy or rent a carpet cleaner. You can deep-clean your carpet using things you already have at home. Today, I will share my favorite methods to clean carpets – large and shag, remove stains, and clean carpeted stairs.
How Often Do You Need to Deep Clean Your Carpet?
It depends on several factors. For example, if you own pets and have children who crawl, you will have to deep clean carpets more frequently.
If that is the case, I recommend deep-cleaning carpet once a month. Children and pets are messy and can spill things, and bring dirt on their feet.
If you don't have children and pets, you can clean your carpets once every three months.
Still, vacuum every other day or once a week, deepening on your habits and family members.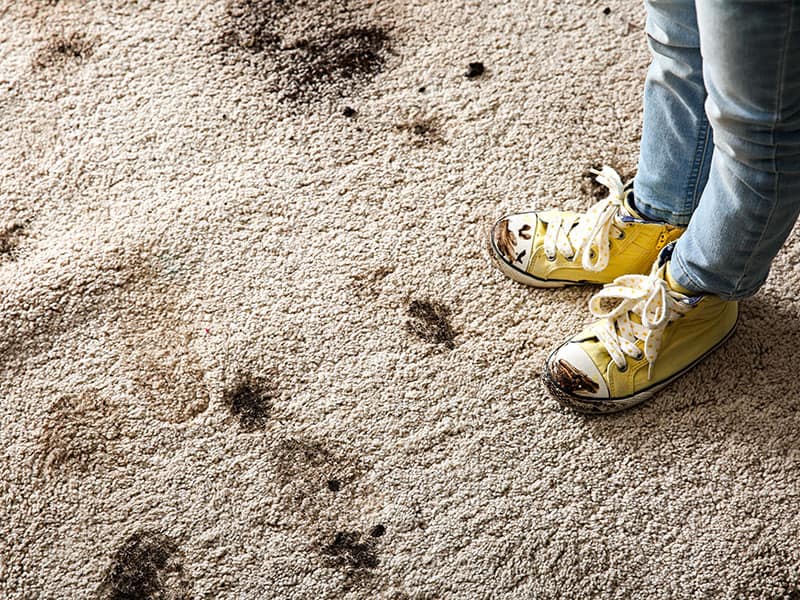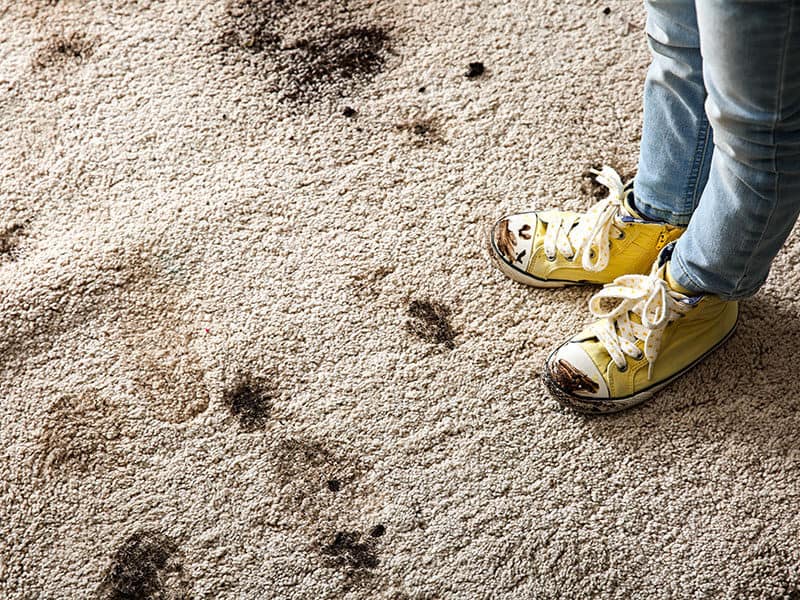 Why Should You Never Skip a Carpet Cleaning Task?
Carpets can be a source of infection and bacteria if you don't clean them often. Kids often pick things from the floor and carpet and put them in their mouths. Dirty carpets can cause stomach flu, diarrhea, etc.
Additionally, people prone to allergies need to take good care of their carpets. A vacuum for carpet might help, but occasionally carpet needs to be cleaned by hand.
Shaggy carpets collect a lot of dust and can irritate the respiratory system. When dirty, a carpet can develop a musty odor that can only be eliminated by deep cleaning.
What Can You Find in Your Carpet?
If you still aren't concerned about the hygiene of your carpet, maybe this will motivate you for deep hand cleaning. Did you know that a carpet in an average household contains more bacteria than a toilet and mold is easy to build up? Some researchers even believe that a carpet has 200.000 bacteria on one square inch of fabric. Therefore, finding ways to dry wet carpets dry and beat up mold is also crucial.
If you take a closer look at your carpet, you can find:
Food and drinks leftovers
Dust, pollen
Hair and skin cells
Dirt from the children and pets
Are you ready? It is time to learn how to clean your carpet by hand! Watch this video to know more:
How to Clean Carpet by Hand – Top 5 Methods
Cleaning a carpet by hand requires you to get on your knees and manually clean all the dirt from it. It isn't easy, but it is worth it. Not only will your carpets start looking like new again, but they will also be safe and free of all nasty germs.
Find your scrubbing brush and take notes! Here are the five most effective methods for cleaning the carpet without a vacuum and a carpet cleaner!
1. Hydrogen Peroxide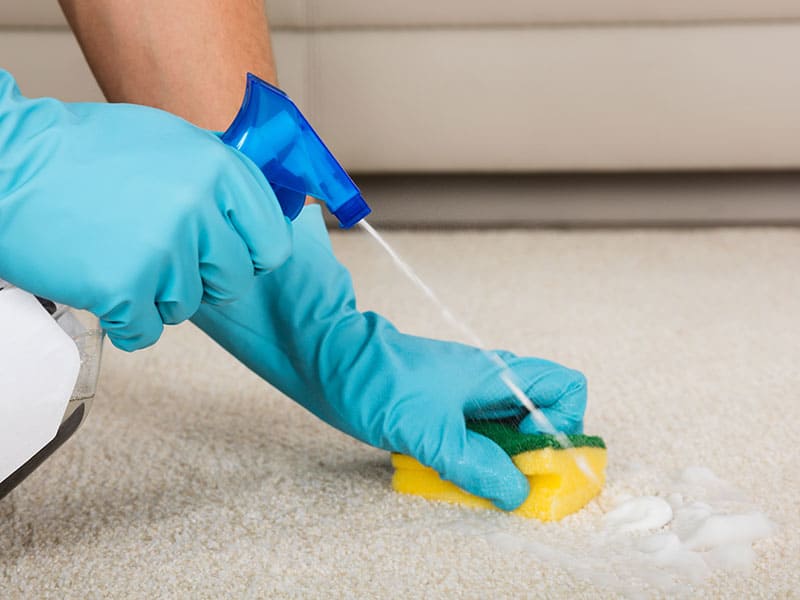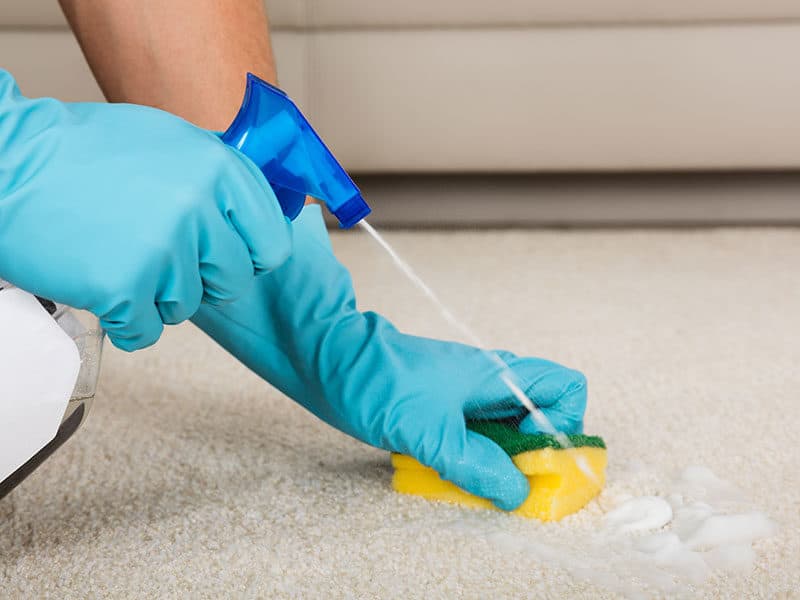 Hydrogen Peroxide is a powerful antiseptic and versatile cleaning solution. It can even remove older stains.
Things you need:
3% Hydrogen peroxide
Spray bottle
Scrubbing brushes
Paper towels
Bucket of water
Toothbrush
Move the furniture from the carpet to have a black canvas to work on. The first step to do when cleaning the carpet without a vacuum is to scrub the carpet while it is dry. That way, you can remove debris without vacuum. Use a broom and a dustpan to collect larger debris.
Next, pour hydrogen peroxide into a spray bottle and start working on one corner of the carpet. When cleaning the carpet by hand, I recommend working in small areas to get the best results.
Spray hydrogen peroxide onto the carpet and scrub vigorously to remove the dirt. Make sure that the carpet is wet with peroxide, but not soaking.
If you own a dark-colored carpet, dip the second scrubbing brush in a bucket of water and rinse the area you are working on once you complete scrubbing with hydrogen peroxide.
If left too long, hydrogen peroxide can change the color of darker carpets and slightly bleach them.
Continue to spray hydrogen peroxide and scrub alternately, until you cover the entire carpet.
Hydrogen will kill all bacteria in the carpet and refresh it.
Additionally, if your carpet has stains spray hydrogen generously on the stain and cover it with a paper towel. Let it sit for ten minutes and remove the paper towel. Scrub the stained area with a toothbrush and rinse with water.
2. Baking Soda
Baking soda is excellent for cleaning and removing odors from carpets. There are a few techniques with baking soda you can apply to clean the carpets. However, I recommend this method if you own a smaller carpet.
Things you need:
Baking soda
Bucket of water
Scrubbing brushes
Broom and a dustpan
Sprinkle baking soda generously on top of your carpet and let it sit overnight. Baking soda will absorb odors over the night, and work as an abrasive product tomorrow.
This baking soda method works even if you don't own a vacuum cleaner for the carpet. Start in the corner and dip the brush in the bucket to scrub the carpet.
Baking soda will dissolve in contact with water, and you can use a scrubbing brush to get undissolved crunches out of the carpet. You can collect it with a broom and a dustpan.
Slowly work your way around the carpet and rinse the brush as you work. It will get the deepest dirt out from the carpet, including hair and food leftovers.
Once you go over the entire carpet, let it air dry, and that should be it!
Check out this video to know more:
3. White Vinegar for Shag Carpets
Shag carpets are beautiful with their long piles. They give the room a luxurious look and add warmth to every interior.
However, these can hold even more dirt and bacteria than short-pile carpets. Also, you should pay attention to the tool, because a brush with harsh bristles can do more harm than good. It can damage the carpet fibers, leaving your beautiful shag carpet frizzy.
Things you need:
White vinegar
Microfiber cloth
Scrubbing brush with rubber bristles
Remove the furniture from the carpet and shake it out to get rid of larger debris, and lift the dirt. White vinegar is gentle on carpet fibers but kills bacteria and helps you kill other germs.
Mix water and white vinegar in a 1:1 ratio and damp microfiber cloth in it.
Wipe the dirt off the carpet working in smaller squares. Use a brush with rubber bristles on parts with tough stains and highly exposed carpet areas.
You don't have to rinse the solution, because the smell will evaporate as the carpet dries.
White vinegar is especially useful for families who want non-toxic and safe cleaning solutions with antifungal, antibacterial and antiviral properties. It is also a cost-effective method.
I recommend cleaning your shag carpet by hand once a month.
4. Using Ammonia to Clean Large Carpets
Cleaning large carpets, for example, 12 x 15 feet is troublesome. You cannot shake it out easily, and it takes more time to clean it.
The most effective method is ammonia, as it can clean larger areas more effectively than some other ingredients.
It is also effective against common household stains, such as gravy, mayo stains, milk stains, pet urine stains, etc. But, ammonia is an alkaline cleaning solution, so it has the best results on natural fiber carpets.
Things you need:
Ammonia
Bucket of water
Scrubbing brush
Broom and dustpan
White cloth
Spray bottle
To make your cleaning solution, use one teaspoon of ammonia on every cup of water. If you have a large carpet, you will need to prepare a large amount of cleaning solution.
However, before you start cleaning with ammonia, you need to remove larger debris from the carpet. You can vacuum the carpet, or use a scrubbing brush to lift the dirt and collect the dirt on a dustpan.
Spray the ammonia and water solution on the carpet and let it sit for two minutes. Then, blot the area with a white cloth.
Let the carpet air dry, and you are done!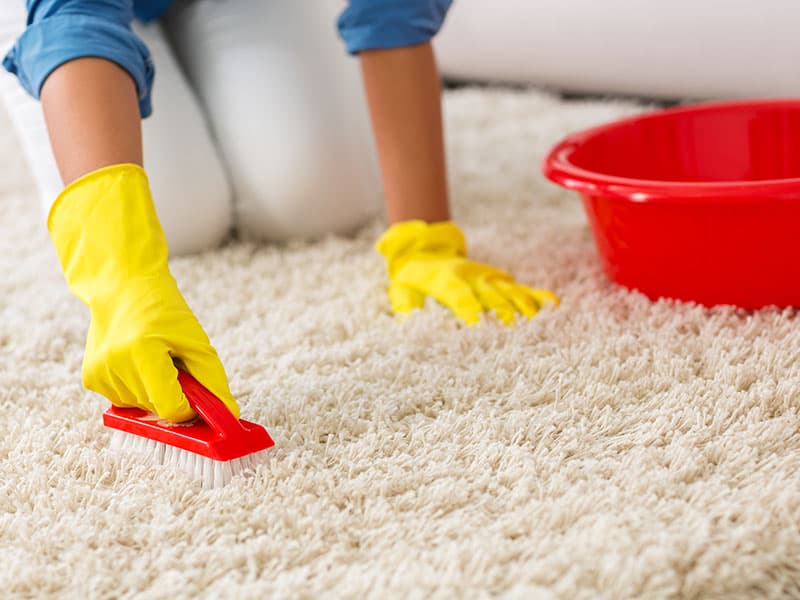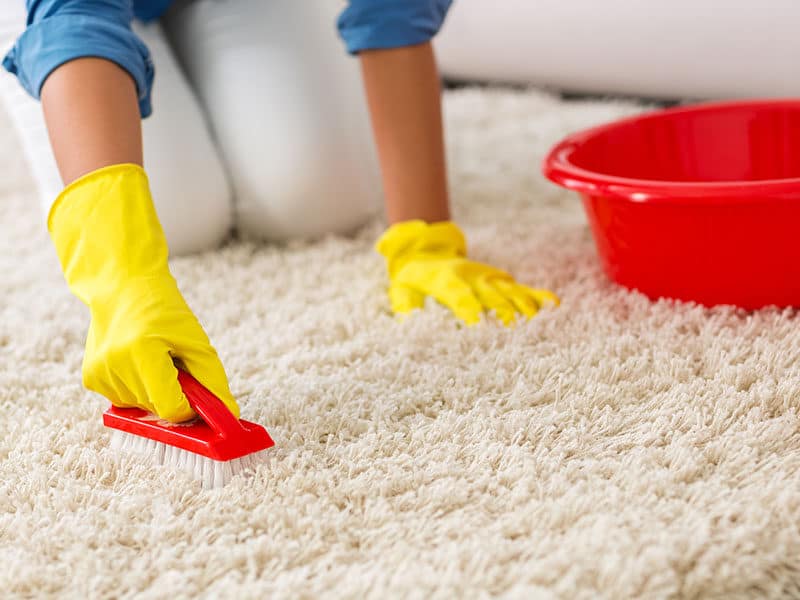 5. White Vinegar, Borax, and Salt for Carpeted Stairs
Stairs are possibly the dirtiest part of your floors. They are dusty and can be difficult to reach and remove all dust the carpeted stairs can contain.
You can make a powerful cleaning solution for carpeted stairs using white vinegar, borax, and salt. I already covered the benefits of white vinegar in the carpet cleaning method, but borax and salt can improve the cleaning results.
Borax is a natural cleaning solution and contains no phosphates. It helps absorb odors. Salt has deodorizing properties and penetrates deeper, so it is excellent for your stairs.
Things you need:
Bowl for mixing ingredients
Borax
Salt
White vinegar
Scrubbing brushes
Bucket with water
Dustpan
For this method, you don't need to pre-scrub the stairs.
Mix equal amounts of borax powder, white vinegar, and salt. The consistency should be thick, almost paste-like. Apply the paste to your stairs and let it sit for several hours. The paste will dry in the meantime, and then it is time for scrubbing. Scrub vigorously to remove the paste leftovers from the stairs and collect them in the dustpan.
Once you go through the entire stairs, rinse the brush and repeat the scrubbing process.
Your carpeted stairs will be clean, fresh, and stain-free with this method!
Removing Carpets Stains by Hand
Steam cleaner for carpet is a highly useful device. If you don't have it, don't panic and rush to the store to rent or buy it. You can use a laundry iron to create a similar effect for removing the stains on your carpet.
This method can be useful for a variety of stains, such as food stains, cosmetic product stains, drinks, etc. Using a laundry iron is one of the most effective methods for cleaning stains out of the carpet.
Things you need:
Dish detergent
White towel
White old towel
Bucket of water
Mix one teaspoon of dish detergent in a cup of hot water. Stir the solution until the dish soap isn't fully dissolved in water. Then, turn the laundry iron on the highest setting.
Saturate the stain with dish detergent and water solution and soak the stain. Next, soak the old towel in water, but squeeze it well to remove the excess water.
Place the wet towel over the stain and use a laundry iron to go over the towel for 15 seconds. If your iron has the steam option, do it and go over the stain again.
Once you are done, the stain should be on the white towel.
Let the carpet dry and repeat the process if you aren't satisfied with the results!
Bonus tip: If the stain is old, use a toothbrush to apply dish detergent and scrub before you go over the stain and towel with an iron.
Watch this video to know more:
What Can Ruin Your Carpet?
Did you know that you can clean carpet by hand more frequently than with a steam cleaner? Frequent carpet steam cleaning can cause damage to your carpet, so you can stick to the hand cleaning.
Let's see what else can ruin your carpet.
Abrasive Detergent
Abrasive detergent is great for cleaning rust or tough dirt from hard surfaces. However, abrasive cleaners can damage your carpet fibers. Instead of harsh abrasives, you can use baking soda or salt.
Laundry Detergent
Laundry detergent is highly concentrated and can be difficult to rinse. Also, laundry detergent is formulated for fabrics and isn't suitable for thick carpets.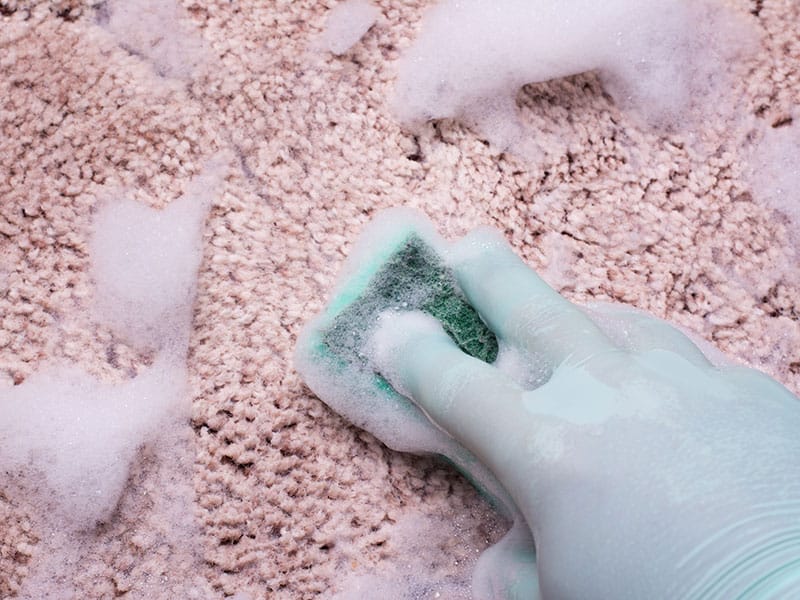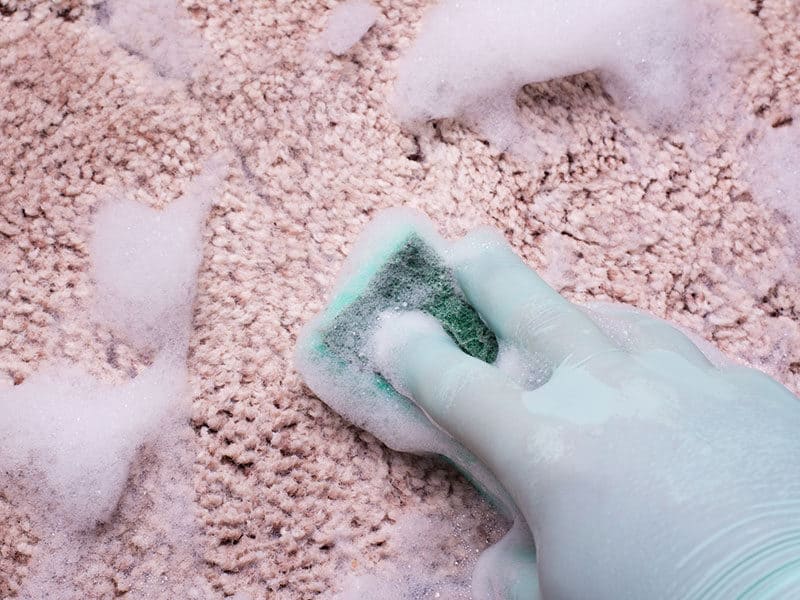 Bleach
Bleach is a powerful cleaning product and should be handled with care. If you don't want to change the color of your carpet, stay away from bleach.
Watch this video to know more:
Cleaning Carpets by Hand is Easy with Right Products
Maintaining your carpets at home is cost-effective, and almost as equally effective as professional service. You can remove stains, refreshen, and deodorize carpets with the things you have at home, such as borax, hydrogen peroxide, baking soda, vinegar, etc.
These home-made cleaners are safe to use around pets and children and can remove bacteria, fungus, and dirt.
Are you motivated for a comprehensive carpet cleaning by hand by now?
If you are, please like and share the article to promote clean carpets and healthy homes!