Jewelry is always an indispensable accessory for anyone, any age. Jewelry not only increases your beauty but also is the perfect item for each fashion set. However, not everyone knows how to use and keep them shiny and durable.
From your everyday jewelry to unique accessories, you can only wear on special occasions to be polished and cleaned. Soap and dirt cause jewelry to oxidize rapidly and cause stones, necklaces, and pearls to dull and lack vitality.
When it comes to jewelry cleaning, everyone is thinking of bringing in jeweler shops, but you don't always have the time or have a jeweler near your home. Let's clean your jewelry at home, and it's a lot easier than you think.
Types of Jewelry
Jewelry is an accessory and a symbol of the owner's artistry, luxury, and sophistication. The most significant difference between different types of jewelry is the material. To create jewelry, handcraft makers often use four natural gemstones: silver, gold, diamond, and pearl. Different types of jewelry will have other characteristics, properties as well as cleaning methods. Read this article to learn how to clean these four jewels.
What Causes Jewelry Tarnished?
Any jewelry can be tarnished. Please find out the reason for the loss of its original shiny beauty in this part.
Silver
Black silver is caused by a chemical reaction between silver and sulfur to form a precipitate of silver sulfur salts attached to the surface of the jewelry. This residue is dark gray, the thicker the residue, the darker the silver jewelry. And sulfur is present everywhere, in the air, in hot springs, and especially in the human sweat glands.
Silver that is not worn for a long time is still black because sulfur in the air will react with silver to oxidize silver, making them black. Ideally, when not wearing rings, necklaces, or silver bracelets, you should cut them into sealed boxes.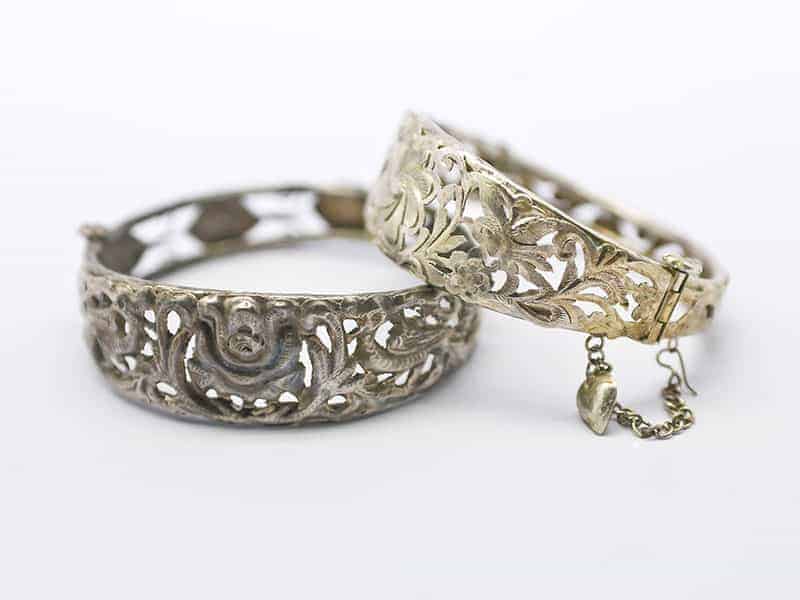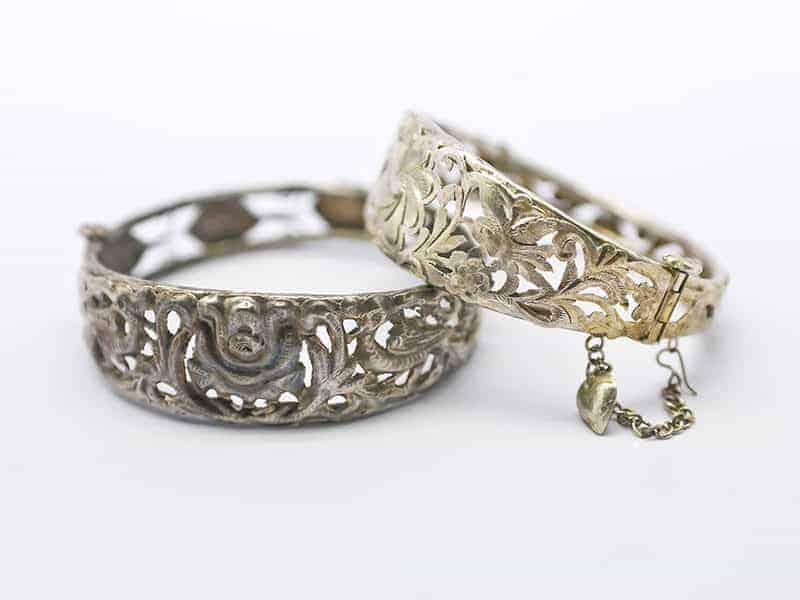 Gold
Pure gold is one of the noblest and least chemically reactive. Pure gold stays shiny, does not rust or tarnish because it does not combine with oxygen easily. For example, 24 karat gold will not tarnish as it is pure gold.
However, gold is a soft metal, it must be alloyed with other metals to produce solid and durable gold jewelry. This is why it's hard to find jewelry made from pure gold. The lower the karat of your gold jewelry piece, the more quickly it will tarnish. The metals mixed with the gold usually have properties that tarnishable due to the sulfur – oxygen chemical reaction just like silver. Besides, cosmetics, hair spray, hand cream, perfume, acidic foods also cause your gold jewelry to tarnish.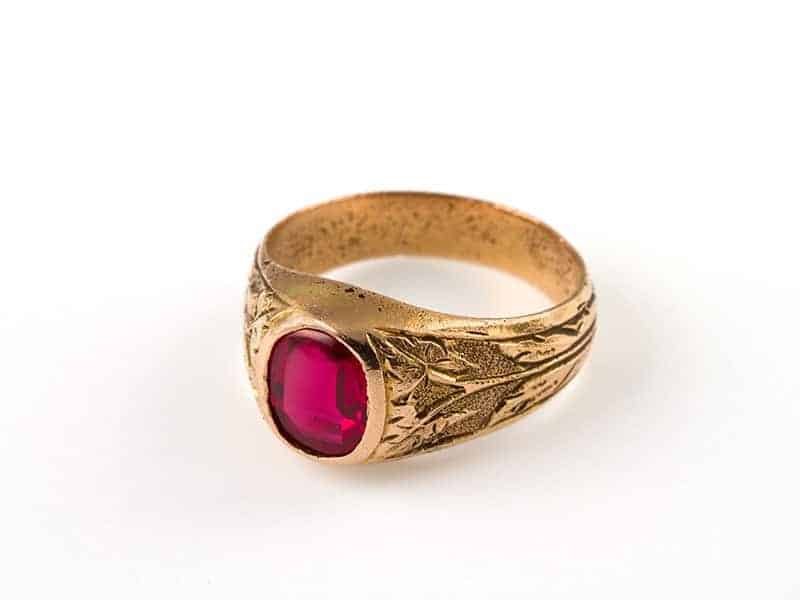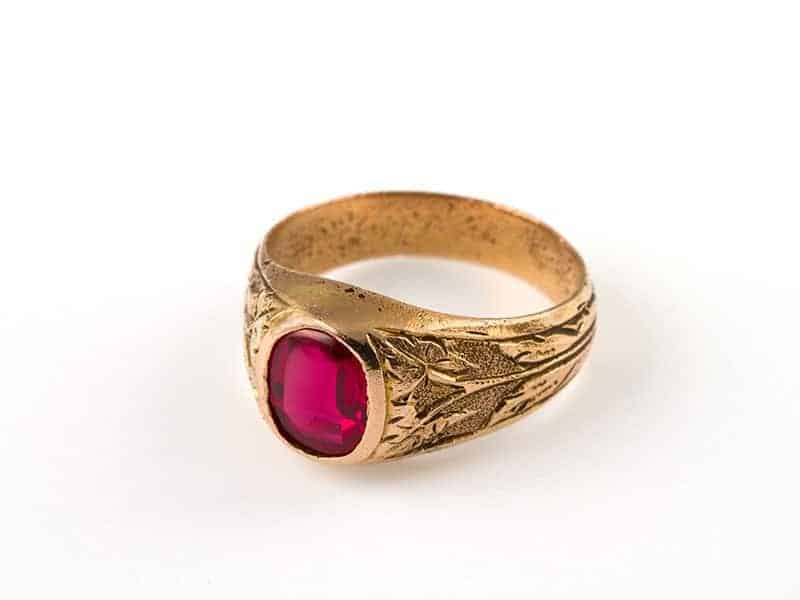 Diamonds and Pearls
There are many causes of diamond jewelry and pearls being blurred and no longer sparkling. The first is probably the influence of chemicals. Daily cleaning chemicals such as chlorine must have a direct effect on diamonds and pearls. When exposed for long periods, they will cause diamonds and pearls to be dull, quickly wear out and stain.
The next is the wearing of diamond rings and pearls when doing housework. Many women have a habit of wearing diamond and pearl jewelry when doing housework. This can cause diamonds and pearls to be impacted, affecting quality and aesthetics.
Diamonds and pearls can be scratched or collided with other jewelry materials. It causes diamond and pearl jewelry to deform or affect product structure. Therefore, you need to know how to preserve diamond and pearl jewelry properly.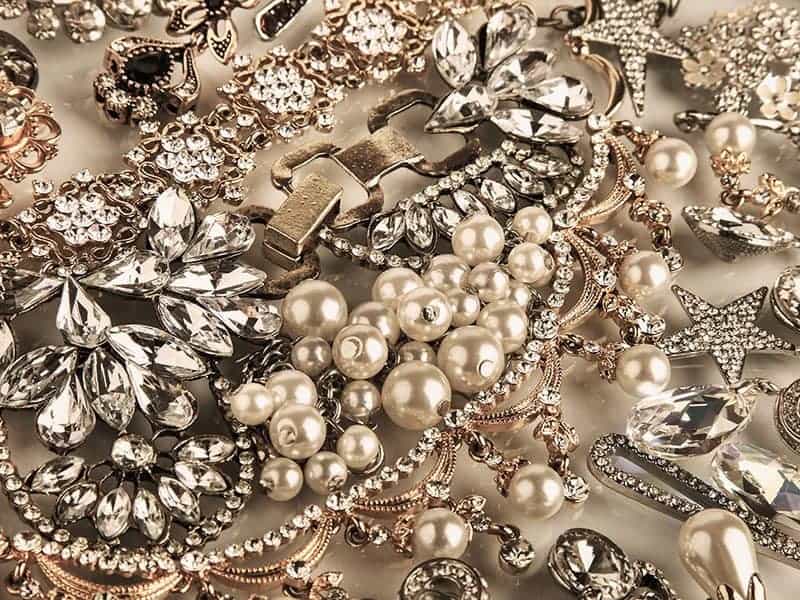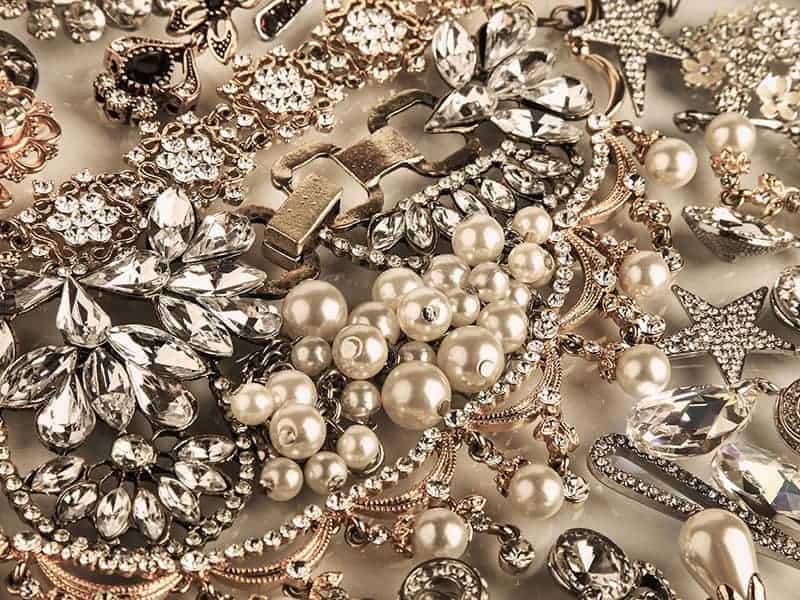 How Often Should You Clean Jewelry?
In the process of using the jewelry will be dull, you need to clean them regularly. How often should jewelry be cleaned? According to experts, 3-4 weeks is a reasonable time to clean your jewelry to keep them shining like new. However, it would be best if you refrained from polishing your jewelry too often as this will cause them to wear and easily scratch.
As a general rule, the more you wear it, the more often you need to clean it. It would help if you cleaned your jewelry after you wear it or when it starts to dull.
How to Clean Jewelry at Home?
As you have known, all fashion jewelry rings, bracelets, earrings, or necklaces are capable of tarnishing and lose their shine over time. Fortunately, there are several ways to store the brightness back to your jewelry, and you can make it at home. Just using some household ingredients and my easy-to-follow guide, these methods won't let you down.
Homemade Silver Cleaner for Silver Jewelry
The recipe I'm about to show you is a typical homemade silver cleaner.
Method 1: Warm Water and Soap
If using a specialized jewelry cloth that does not help remove the stains, this is the first and easiest method to clean silver jewelry that has not been tarnished much. However, not all soap can be used to clean silver, you need to choose a mild detergent that does not contain ammonia and phosphate, mix with warm water and clean your silver jewelry. This is also the first cleaning step that should be applied before using other silver jewelry cleaning methods.
Soak the silver dish in this solution for a few minutes before you start cleaning, if it is too dirty, you need to soak for a longer time, then gently scrub it off with a soft toothbrush. After scrubbing is complete, put in a new tub of warm water to wash it. The water must not be too hot or too cold because some gems with jewelry cannot withstand sudden changes, leading to cracking.
Dry with a paper towel or lint-free soft cloth, you should not use buckets to wipe the jewelry, as fibers may hook into the prongs of the jewelry if you have one.
Method 2: Foil, Baking Soda, and Salt
This is the essential way of cleaning silver jewelry, capable of removing stains thanks to the chemical reaction between foil and baking soda. This is how you can remove large jewelry items such as large silver necklaces or even silver items such as spoons, knives, scissors.
You need to prepare a bowl or tray made of porcelain or glass, absolutely do not use metal trays to avoid unnecessary chemical reactions. Next, mix baking soda in water at the ratio of 1.5 teaspoons of baking soda to 1 liter of water, add a little salt, boil this solution and pour into a tray lined with foil, add silver jewelry to soak for about 5-10 minutes depending on dullness.
Remove silver jewelry from hot water or drain. Rinse jewelry off with water, then dry and polish again with a soft cloth. If the color is stained for a long time, you can reinstall it for another 15 seconds.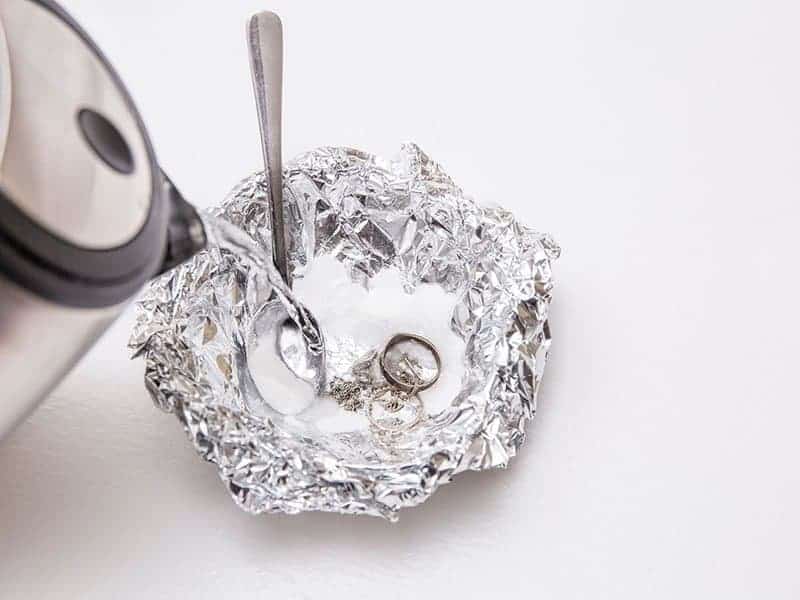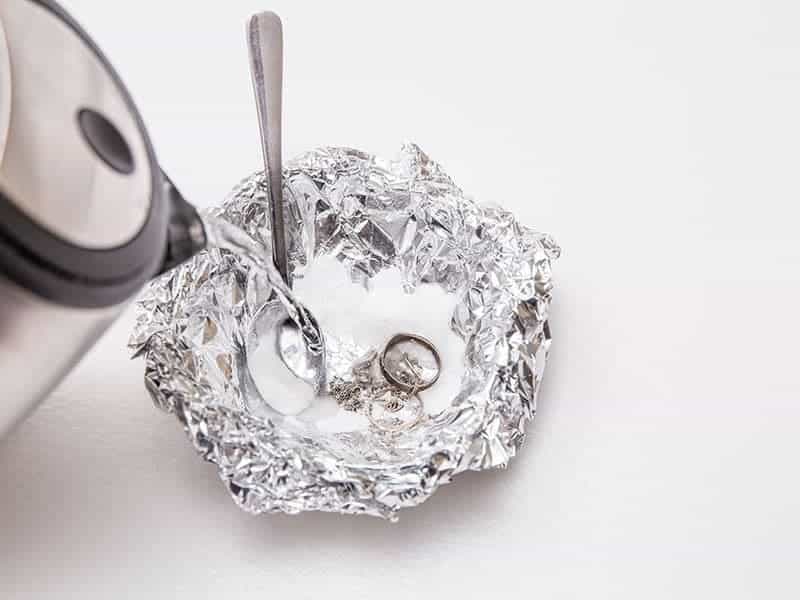 To make it easier to visualize the cleaning process, you can check on this video.
Note: If this way does not work on your silver, you can use silver cleaner products to do the job.
Method 3: Use Toothpaste
Toothpaste can help clean silver jewelry. Put some white, traditional non-gel toothpaste on your jewelry, and then use a soft cloth or gentle finger motion to polish and remove any dullness. Let it sit for 5 minutes and then rinse with clean water, your jewelry will shine like new.
Method 4: Lemon and Salt
This is a simple way told by jewelers. You need to prepare a lemon, squeeze the water and mix well with a pinch of salt, add it with water and boil this mixture.
After the water boils, you put the jewelry in and boil until you see the dullness disappear, then take it out, rinse it, and hit it once with a soft, specialized cloth. It is strictly forbidden to apply this method to silver jewelry studded with stone because high temperature can cause the stone to crack or break.
Homemade Silver Cleaner for Gold and Diamond Jewelry
Dishwashing cleaner is known as a multipurpose cleaning solution. It also works well for both gold & diamond jewelry cleaning.
What You'll Need:
An empty bowl
Warm freshwater
Dishwashing liquid
A soft white cloth
A very soft bristle toothbrush
Introduction:
Step 1: Start with pouring the warm water into the bowl, and mix in some dishwashing liquid.
Step 2: Let your gold or diamond jewelry soak in the solution for about 15 minutes.
Step 3: When the time is up, pick that jewelry up and use a very soft bristle toothbrush to scrub off the tarnish, dirt, grimes, fingerprints, or anything that's accumulated on your jewelry. Take your time to get all the surfaces.
Step 4: Finally, give your jewelry a good rinse in warm water. Carefully dry it with a soft cloth. You can already see the shine coming back.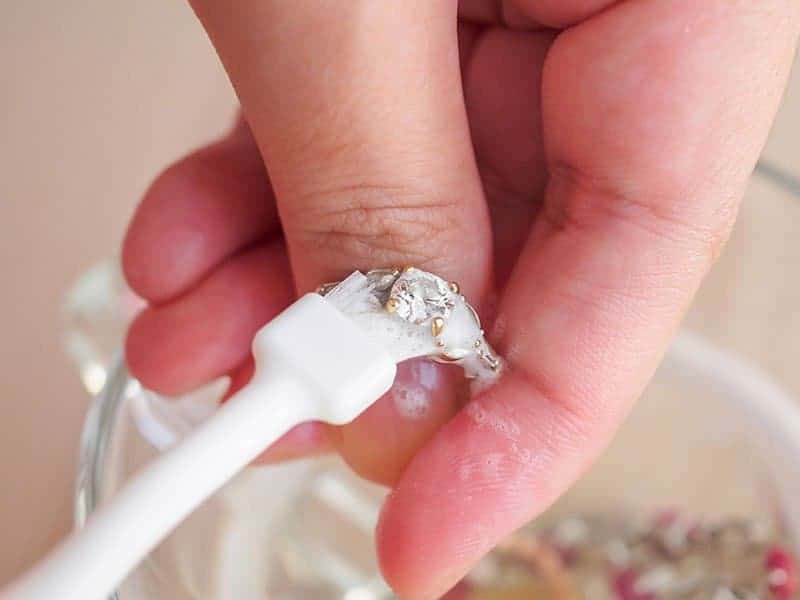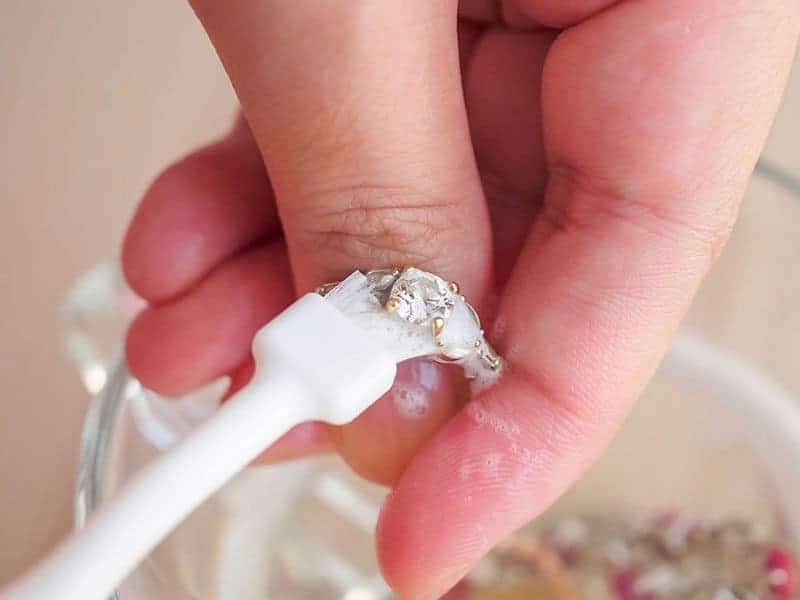 Homemade Silver Cleaner for Pearl Jewelry
Pearls are an organic gem, they're soft, fragile, and scratched easily, so we need to treat them somewhat differently. They discolor easily, so you have to be careful not to leave your pearls in direct sunlight. The heat will damage the surface and make it lose the luster. They're also harmed by everyday things like moisturizers, makeup, hair spray, perfume. Those things are terrible for the surface of the pearls. So if you've got something on your pearls, it's better to give them a quick clean at home, but don't over-clean them.
What Should You Prepare?
Pure soap (choose the one that doesn't have a lot of coloring and perfumes in it)
Distilled or boiled water
A soft white cloth
Let's Do the Job
Step 1: Damp a part of the cloth in the water and rub it lightly onto the soap to get a tiny bit of a lather.
Step 2: Rub it gently all over the surface to remove all the dirt, fingerprints, or oils. Make sure you can get the whole of each pearl.
Step 3: Damp another part of the cloth in the water and immediately rub the soap off your pearls. Finally, use an arid area of the fabric and gently dry your pearls.
Remember not to put any pressure while cleaning the pearls, especially with the necklaces and bracelets, because you don't want to stretch the string. Don't let your pearls soak in liquid, and avoid using abrasive cleaners that contain ammonia or other harsh ingredients.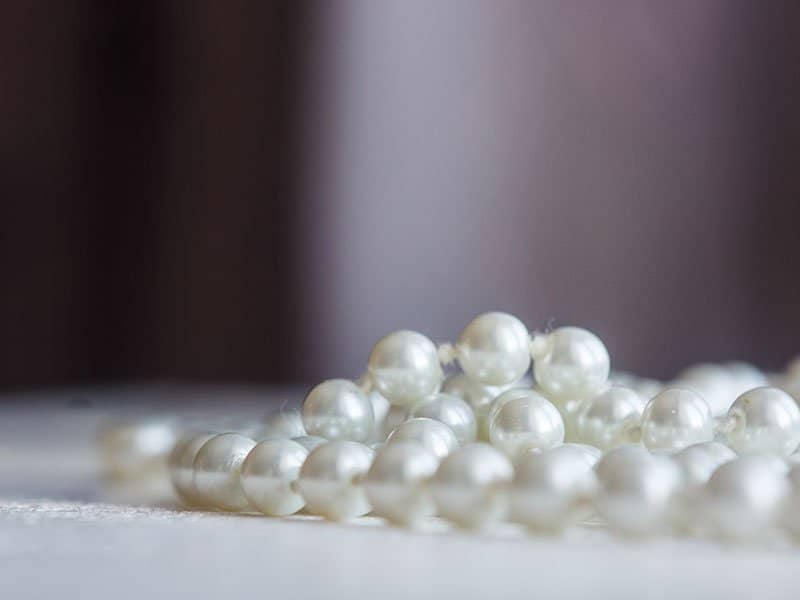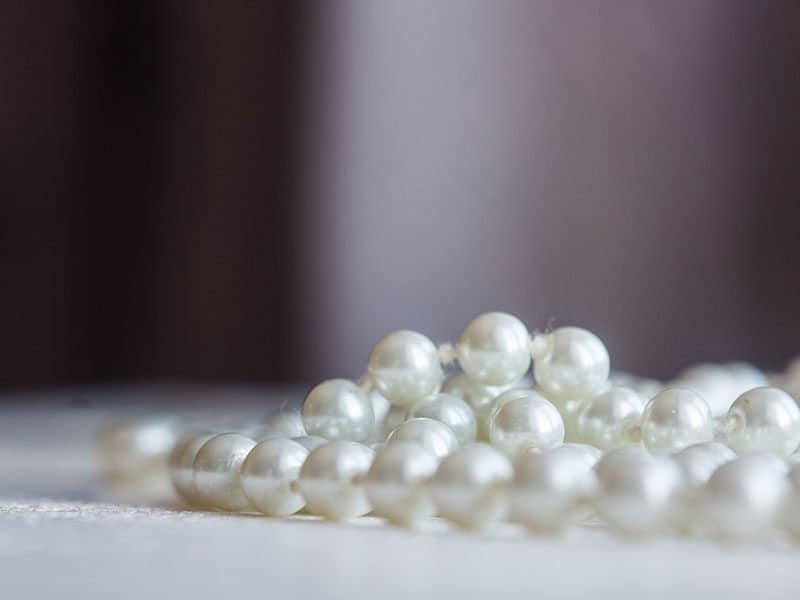 Note: Now, you've got all your tips to clean your jewelry at home, I recommend taking it into professional once a year to get it all cleaned.
In case no homemade cleaner can help your tarnished silver, you can try ultrasonic cleaners, they're suitable for cleaning and restoring your jewelry.
How to Take Care of Your Jewelry?
If your jewelry is used and stored correctly, then you can reduce the chance it gets tarnished, dull, dirty, or have a lot of grimes build upon it. Here are some tips on taking care of your jewelry and dealing with some problems while storing them:
Jewelry Box
When you are not wearing your jewelry, it's best to keep it in a closed box away from sunlight and air. Jewelry boxes like the ones your grandma has, for example, are the best, so you can store all your jewelry in one place but separate them inside the box. Since they are kept away from humid environmental conditions or harsh chemicals, the jewelry (metal and diamond) will not deteriorate with time. This way, they're carefully protected, and you're making sure your jewelry remains beautiful.
Chalk
If you put a piece of chalk or a back of silica inside your jewelry box, it will absorb moisture. Change it for a new one every couple of months.
A Quick Clean After Each Wear
To make your periodic jewelry cleaning easier, you can clean your jewelry gently with some water and a soft cloth after each wear. Just make sure that the jewelry is dry before storing it in a jewelry box. Maybe you don't need to do this for the jewelry you wear everyday but for the jewelry you wear on special occasions and store it for a longer time, this is a real time-saver.
Straw Hack
If you have problems with chain necklaces that get tangled up, use a straw. This might be a super tip. Open the lock of your chain necklace, put one side of the chain in a straw and the other side out, and close the lock again.
To store tiny ear studs, you can use a bottom to make sure you don't want to lose one piece of a pair.
Take Off Your Jewelry While in Water
Whenever you're taking a shower, going to the beach, swimming pools, hot springs, jacuzzi, hot tub, sauna, remember to take off your jewelry. You don't want your jewelry to be damaged or dull due to the water and its sulfur.
Don't Wear Jewelry When You're Sweating.
When the weather is too hot or when you're exercising, playing contact sports, doing household chores, or anything else that makes you sweat, my recommendation is better to take your jewelry off. Because amino acids and sulfur in sweat can dull your jewelry's brilliance. So if you want to keep your jewelry in pristine condition, minimize the chances, it exposes to sweat.
Avoid Cosmetics Lingering on Jewelry.
Hand cream, hair spray, cosmetics, perfumes are the enemies of jewelry. They'll make your jewelry dull, tarnish and lose its shine. So after applying, wait for these products to completely dry, then put your jewelry on.
Frequently Asked Questions
When it comes to cleaning jewelry at home, people tend to be very cautious because they are precious. So there's a lot of questions are frequently asked on the internet. I will answer some of them, I hope they can help you out in your cleaning process.
Should and Shouldn't When Cleaning Jewelry
In the process of cleaning your jewelry, you should and should not do the following.
You Should:
Soak jewelry before and after cleaning: It is advisable to soak the jewelry in a solution of water with a mild detergent, such as dish soap, to help stain layers to be removed gently and easier to peel off. After cleaning, you should soak the jewelry in hot water to remove all chemicals and dry it.
Use specialized fabrics to clean your jewelry: Fabrics designed with soft and lint-free cloths will make cleaning your jewelry more accessible.
Learn about the stones you have: usually, on jewels have gems, each stone will have different properties, so you should learn about each stone before cleaning to avoid reducing substance quality or damage the stone.
You Shouldn't:
Cleaning with a brush that is too large: Do not use large brushes with stiff bristles. You should use a children's brush, use the new one, the bristles will be softer, limit scratching gold jewelry.
Do not use soap and unknown origin detergents: You will not know how many chemicals in unknown source bottles? Is it harmful to jewelry? It is best not to use it.
Expectation Vs. Reality
The above are viral jewelry cleaning tips, easy to do, and you do not have to spend much time. If you are a fan of jewelry accessories or want to clean your wedding ring to keep the jewelry always clean and shiny, apply the above methods. With the above suggestions, you already know how to quickly and efficiently clean jewelry.
For heavily dulled jewelry, you should bring it to a number of stores that have cleaning services. Lots of places will accept free cleaning for you. Depending on your conditions, choose the most convenient one.
Extra Tips on Cleaning Jewelry
If you clean your ring and your metal is a little bit dull, matted, it probably does need a professional claim. But if you can't get that done, platinum cloth would be a perfect choice. It's pretty impressive for polishing at home. Just rub it over your jewelry, try to get all the surfaces. It shouldn't take longer than a couple of minutes, and your jewelry should shine again.
Another excellent household ingredient to clean jewelry that is all metal or has crystalline gemstones such as rubies or diamonds is glass cleaner. You need to spray it on your jewelry and gently scrub it with a soft-bristle toothbrush, then the jewelry should be shiny all over again.
For costume jewelry, you can coat the inside of it with clear nail polish, which will form a defensive barrier and prevent reaction between your skin and the jewelry. Rub once every ten days. If you want to remove the nail polish, soak it in rubber water and rinse it off with water.
Thank you so much for reading my post. Hope you can apply these methods successfully. If you have any questions or other tips, please leave a comment down below. And I would appreciate it if you can share this post with anyone who needs it. Good luck and have a nice day!