Are you stuck with the filthy concrete floor, and it is driving you insane because there is no easy way to clean it? Well, you have come to the right place. This article will cover all the guidelines, steps, and tips to help you keep your concrete floor hygienic!
People usually relate concrete floors with the outside constructions such as sidewalks, driveway, basement, or garage. However, the concrete foundation has become a trendy material nowadays with various uses both outside and inside.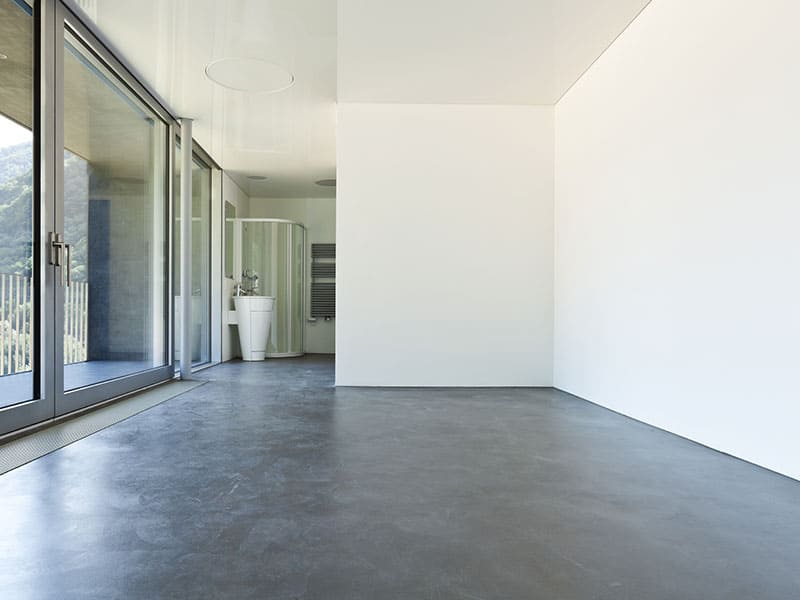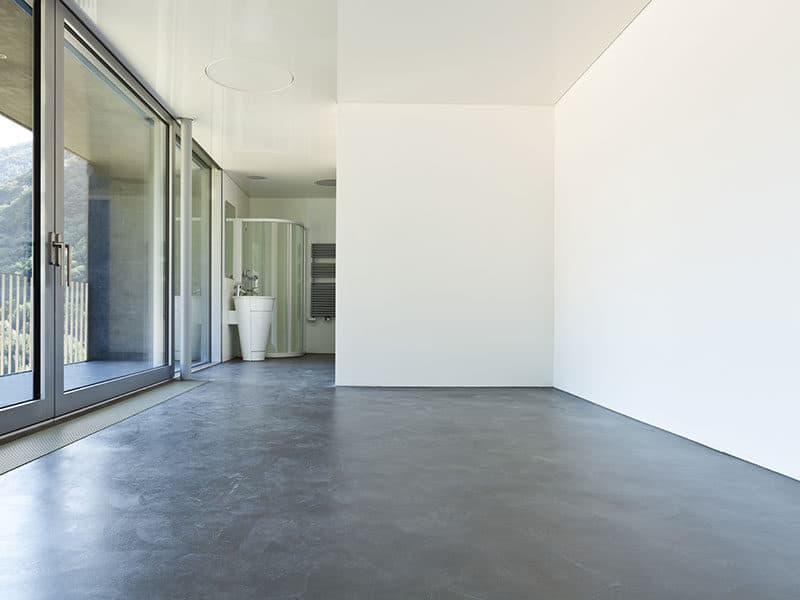 So what is the difference among those different types of concrete floors? And how to clean them quickly and effectively? Stay tuned because you're about to get all the answers in a very concise yet informative guideline.
Before You Start
Seem overwhelming at first, right? Don't worry because I will help you step-by-step from preparing to the ending. But before that, let's read some valuable and related information that you need to know before cleaning your beloved concrete floor.
How Many Types Of The Concrete Floor?
You might wonder why we need to know many types of concrete floors. That is simply because each style has its cleaning method and detergent. We can not apply one for all the concrete floors.
Unsealed
The Unsealed concrete floor is one of the most popular materials for garages, basements, or workrooms. This is also called the bare concrete floor because it is poured and set.
With this concrete floor, you don't have to worry about maintenance because it is super durable and naturally porous. However, the liquid can still stain the surface because of its absorbent feature.
Cleaning the unsealed concrete floor requires removing the stains out of the surface before other usual cleaning steps.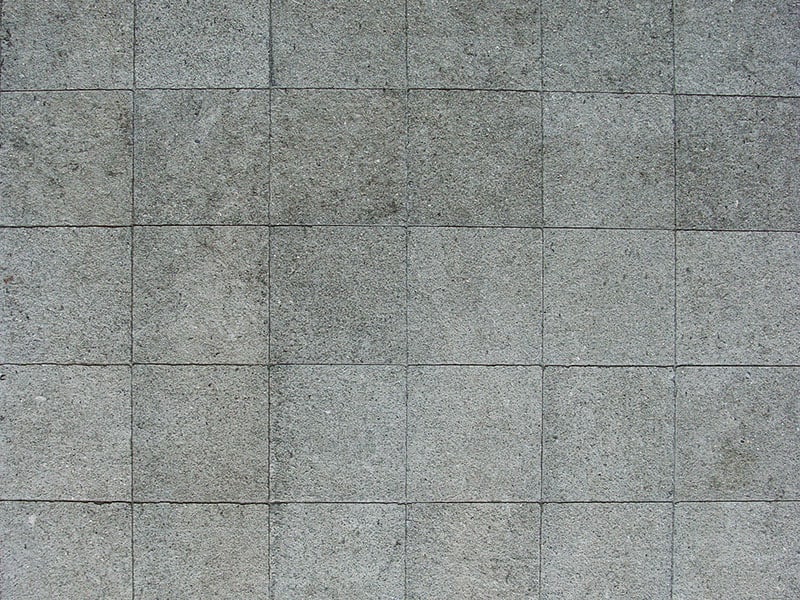 Sealed
As you can probably guess from its name, the sealed concrete floor is the bare concrete floor with a sheen. That layer not only prevents the surface from abrasion but also gives a better look for the floor.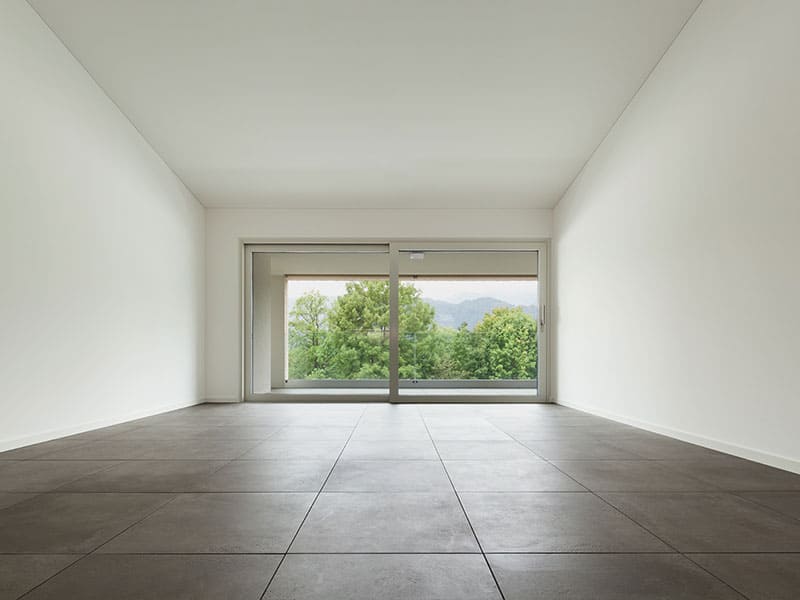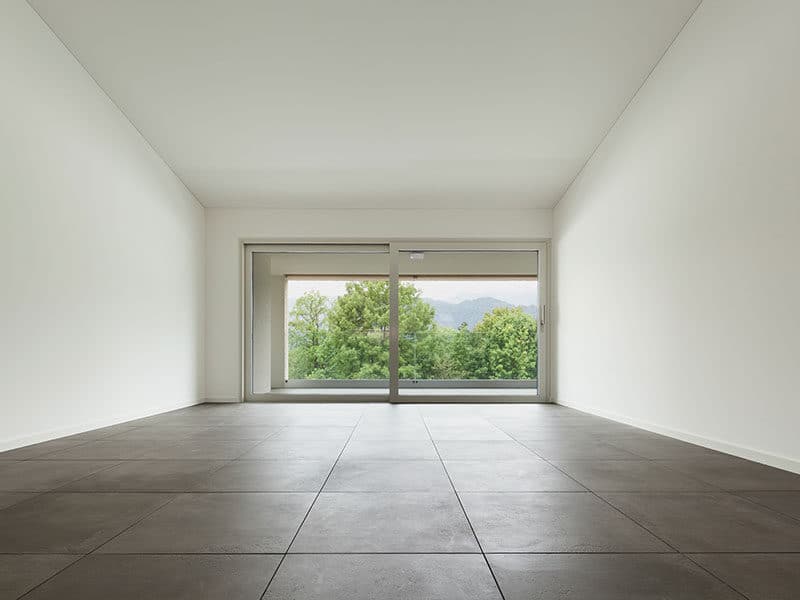 There are three sealed concrete floors: topical sealer, a penetrating sealer, and an integral sealer. The first one comes in both water-based or solvent-based, depends on the finishes, which could be gloss, semi-gloss or matte. The other types don't change the surface but still help resist stains and repel moisture.
Polished
A polished concrete floor does not need waxes or coats yet still keeps the high-luster gloss surface. It levels up the ordinary concrete floors to the high-end floor materials.
There is no doubt that more and more architects or retailers choose the polished concrete surface for the inside constructions such as offices, warehouses, or even personal houses.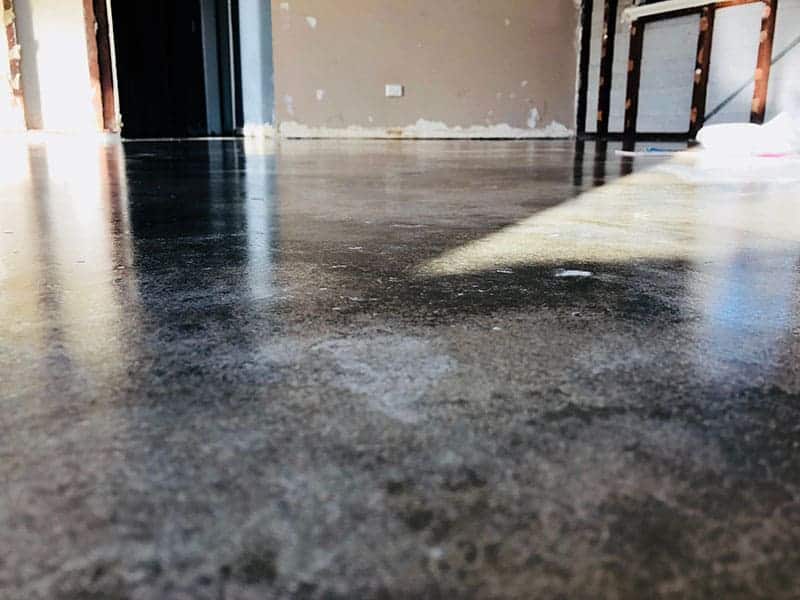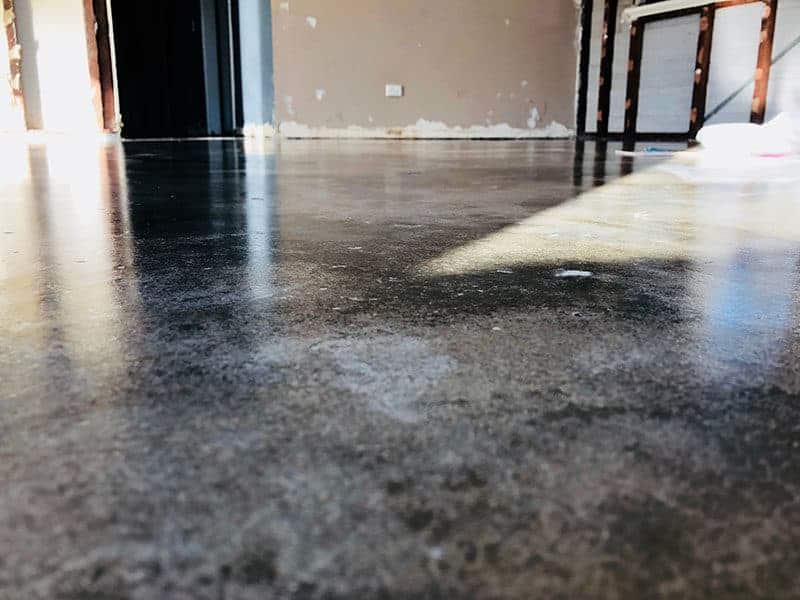 This type of concrete floor has countless benefits such as cost-saving, easy cleaning, and long-lasting. Moreover, there is a wide range of colors and designs for customers to pick choose.
Painted
The painted concrete floor is an upgrade, more stunning version of the unsealed concrete floor. It gives endless inspiration for designer's creativity.
Paint can also turn a dulled concrete floors into a fake wooden floor, which is super helpful if you want to have a gorgeous appearance for the floor but don't want to invest too much money in it.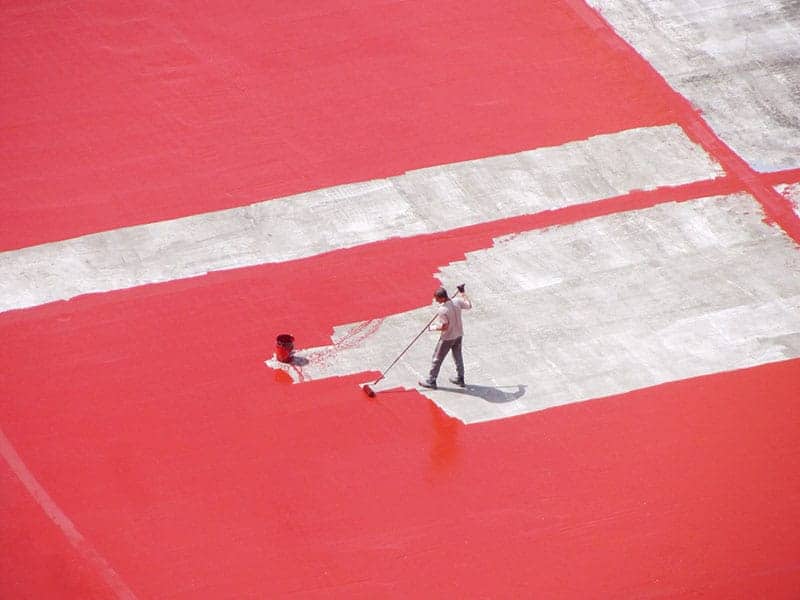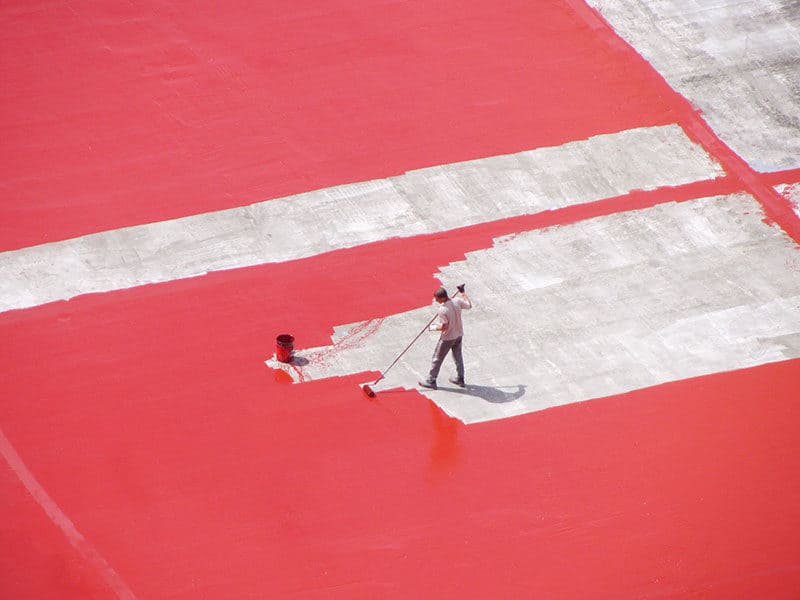 Stained/ Metallic
There are two things that you need to know about stained concrete floors or as we call "Metallic":
Firstly, the stained concrete floor is versatile. The stain penetrates every part of the concrete, creates an almost transparent tone, or any color you like, depending on the application methods (water-based or acid-based).
Secondly, stained concrete floor prevents color change. As I mentioned before, this type permeates the floor creating a long-lasting color that is needless to care.
Stamped
Have you ever wondered what type of concrete floor is applied to the sidewalks, patios, or driveways? Yes, that is a stamped concrete floor.
Stamped concrete floor is an imprinted/ textured concrete floor that resembles stones, bricks, woods. This is usually used for outside constructions.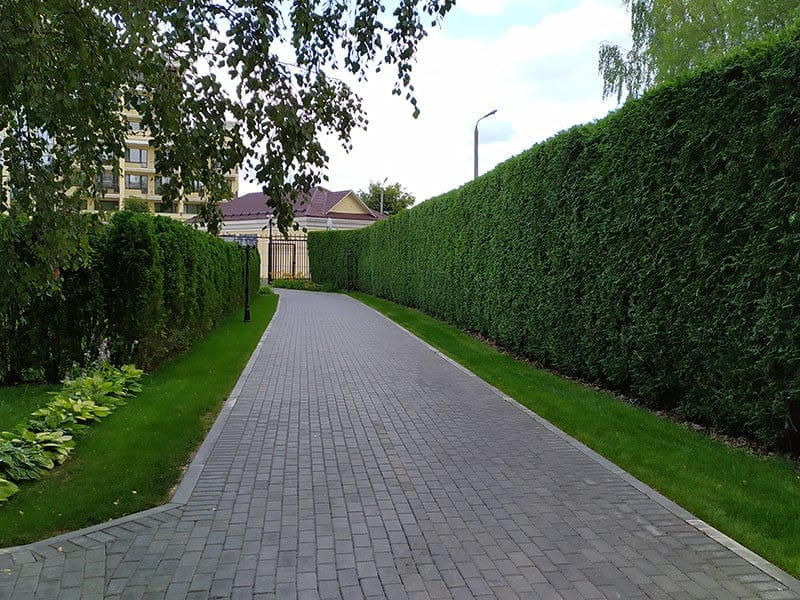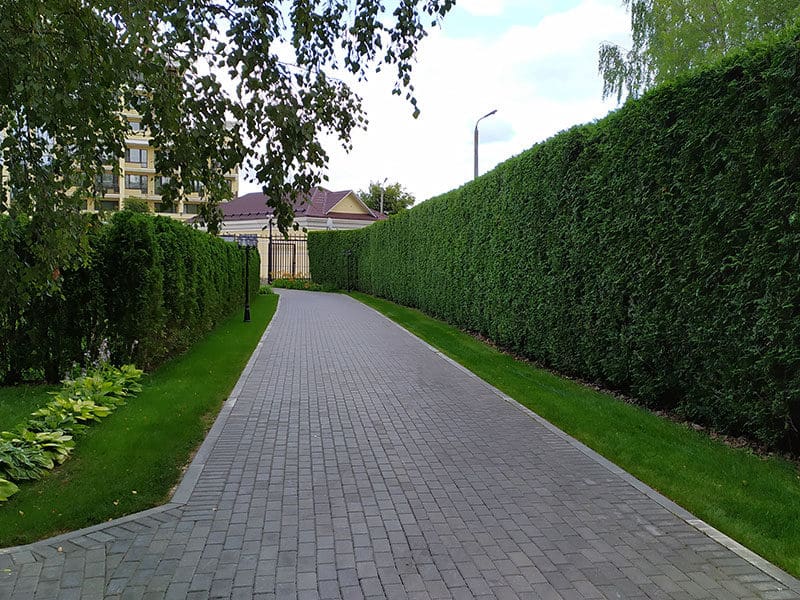 How To Clarify Sealed Or Unsealed Concrete Floors?
After recognizing your concrete floor, there is another vital factor you should pay attention to before getting into the cleaning process to identify if your concrete floor is sealed or unsealed. This is because some of the clean solutions can tremendously affect the sealers.
To distinguish between sealed and unsealed surfaces, the step is amazingly straightforward. You need water to test whether the floor absorbs it or not. If you pour a splash of water on the floor and after 20 minutes, it's still beaded, it's a sealed concrete floor.
On the contrary, if the surface soaks up the water and turns to a darker tone, you can assure that it is an unsealed concrete floor.
You can visualize the process by checking this video.
What Are The Common Detergents To Clean The Concrete Floor?
After knowing what type of concrete floor you want to clean, the next step is to choose which concrete cleaning solution is suitable for yours.
There are some regular detergents to clean the concrete floor:
pH Neutral: This is what I call 3S: soft, safe, and simple. The pH-neutral works best on a sealed floor. The pH Neutral can remove specks of dust, dirty without fading the color or damaging the floor. It's also effortless to use.
You can get to know more about the advantages of the pH Neutral here.
Alkaline: This is a more robust version of Alkaline, usually used for unsealed concrete floors. The pH-neutral is also an excellent oil stain removal solution as it can remove some stubborn stains such as oil or grease build-ups.
Acidic: It's hard not to mention acidic when it comes to cleaning solutions. The Acidic has strong chemicals, so be careful when using it. It can remove dirt on external concrete floors.
Enzymatic/bacterial: This is a more environmentally friendly version of the three other cleaning solutions above. However, the function is the same. Remember to consider whether you should buy the powder or liquid form.
How To Prepare The Surface Before Cleaning The Concrete Floor?
Before thinking of cleaning any floor, the first thing is to prepare a clean and clear surface to apply the cleaning solution, right?
Step 1: Clear the floor
If the floor has many obstacles on the surface, such as rugs and furniture, it will make the cleaning process harder and longer. That explains why clearing the floor is the first and essential step before cleaning.
Step 2: Sweep and vacuum the floor
After cleaning up all the objects on the floor, it's time to blow away the dust and sands with a broom or a concrete vacuum cleaner. Make sure your floor is dust-free, even in the small corner.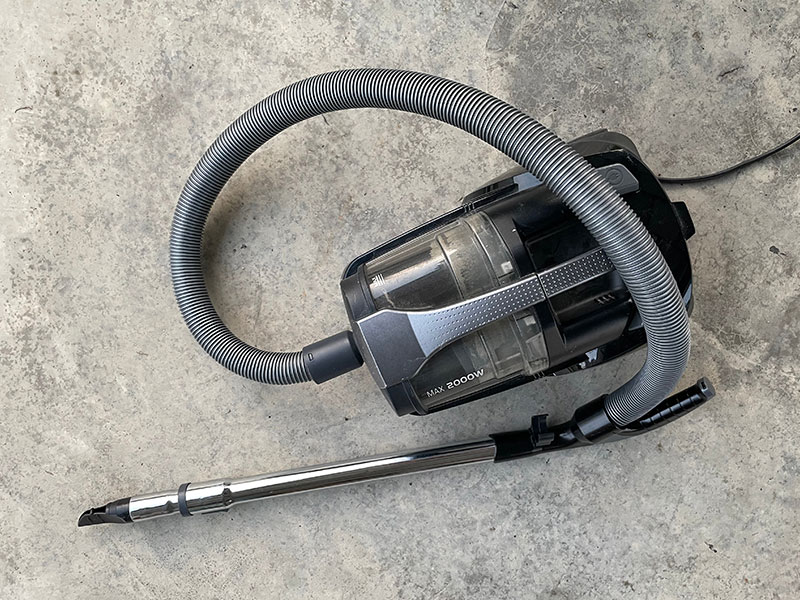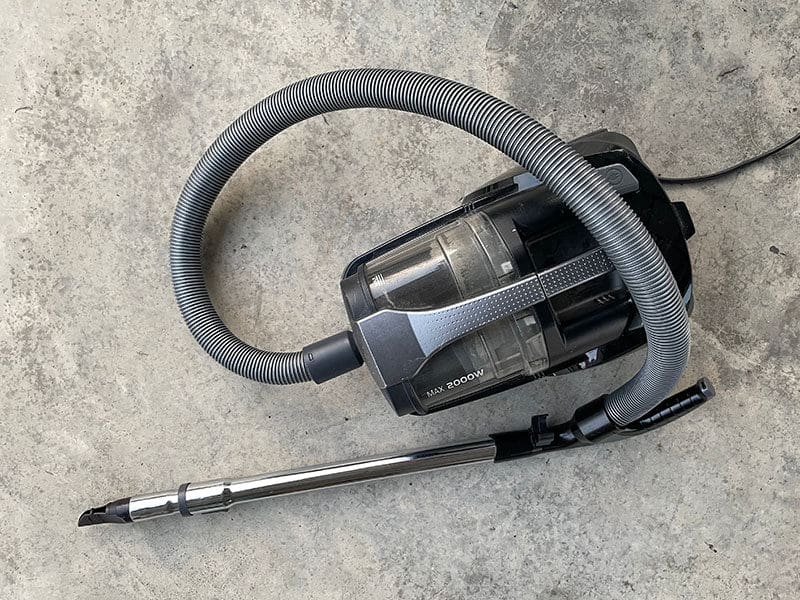 How To Clean Concrete Floors?
It's time to get down to work. I will carefully show you every little detail about cleaning concrete floors, both outside and inside.
How To Clean Unsealed Concrete Floors?
Here I will show you the easiest, yet most effective way to clean the concrete floors both inside and outside your house.
1. Inside Your House
As far as you know, the unsealed concrete floor is highly porous, and it can absorb dirt very fast, especially the liquid stains. My advice is to clean those splotch as soon as possible, prevent any permanent spot on your floor. Because sometimes, it will penetrate your concrete before you even notice.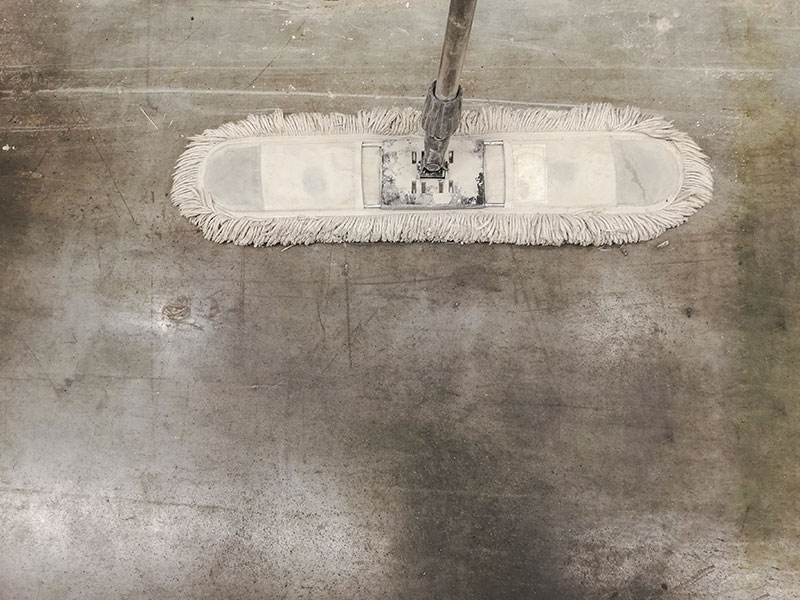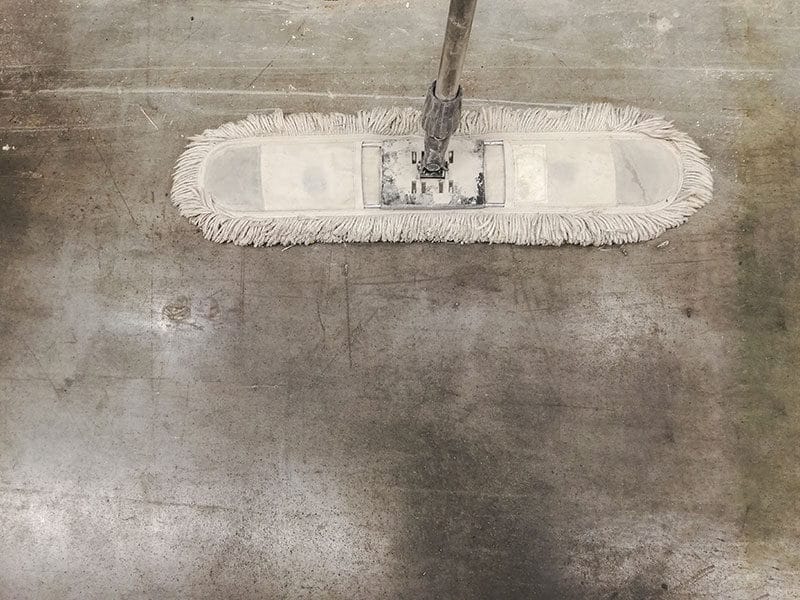 What you need to prepare:
Washing soda (sodium carbonate)
Warm water
A bucket
A mop for concrete floor
What you need to do:
Step 1: With one gallon of warm water, dissolve three tablespoons of washing soda.
Step 2: Dipping the mop in the bucket of washing soda liquid, then distribute the cleaning liquid around the floor.
Step 3: After spreading all the room, refill the bucket with warm and clean water and then start mop the room repeatedly until there is no cleaning solution left.
Step 4: Open the window or turn on the fan to dry the floor.
2. Outside
With the constructions such as the patio, garages, sidewalks, or driveways, people don't usually pay attention to cleaning it. However, it's still essential to take care of it, "renew" it every month.
What you need to prepare:
Acidic or enzymatic cleaner
A scrubbing brush
A bucket
A push broom
A pressure washer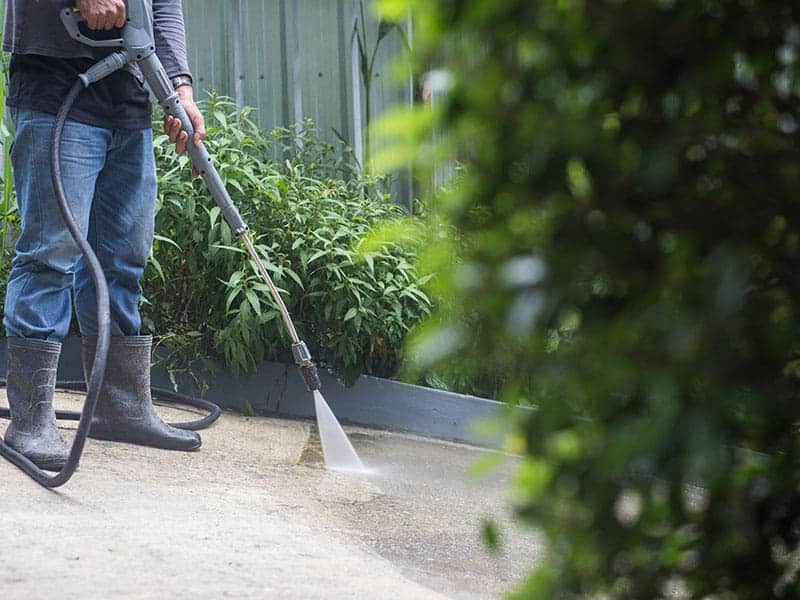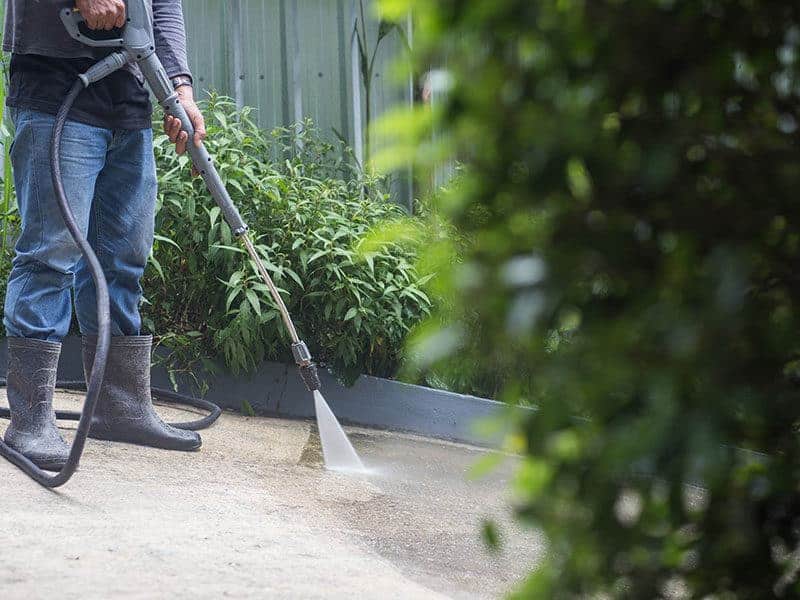 What you need to do:
Step 1: Pick up moss, plants, roots, or any substance on the surface. Then use the pressure washer to remove any dust or rubbish.
Step 2: Hose down the pressure washer and clean the surrounding area. Keep on until the ground is completely wet and debris-free.
Step 3: Mix the clean solution in the bucket. Choosing the proper detergents depends on what kind of stains you want to remove. For every gallon of water, use a quarter cup of the clean solution. With general stains, I suggest using acidic for tough stains and the enzymatic for the normal ones. You can use Alkaline afterward as a neutralization to prevent any degradation.
Step 4: Use a push broom to spread the mixture around the area. Then using the scrubbing brush to scrub the floor. Remember to pay attention to every nook and cranny.
Step 5: Again, use the pressure water to rinse the surface repeatedly until it is spotless.
How To Clean Sealed Concrete Floors?
One reason why more and more people choose the sealed concrete floors for their house is the easy cleaning process. Comparing to the unsealed concrete floor, this one less time-consuming and simpler.
What you need to prepare:
Dishwashing liquid
A bucket
A mop
Warm water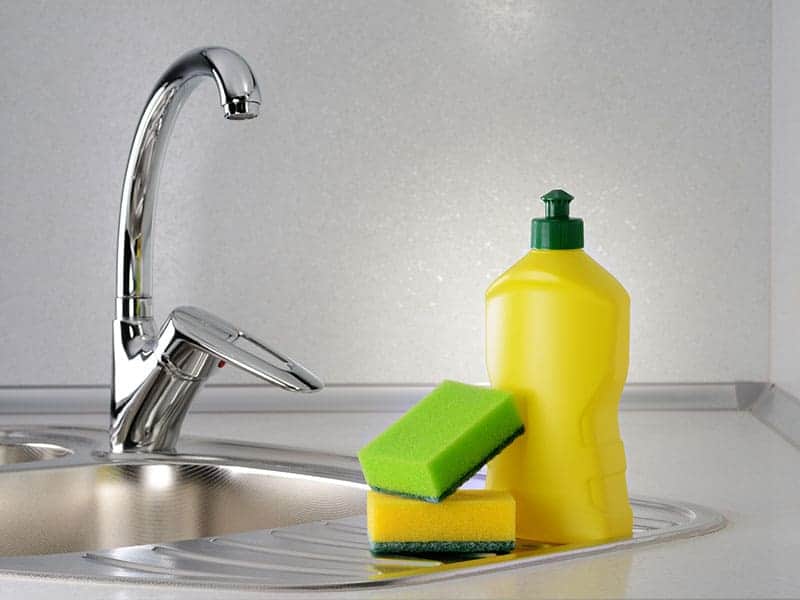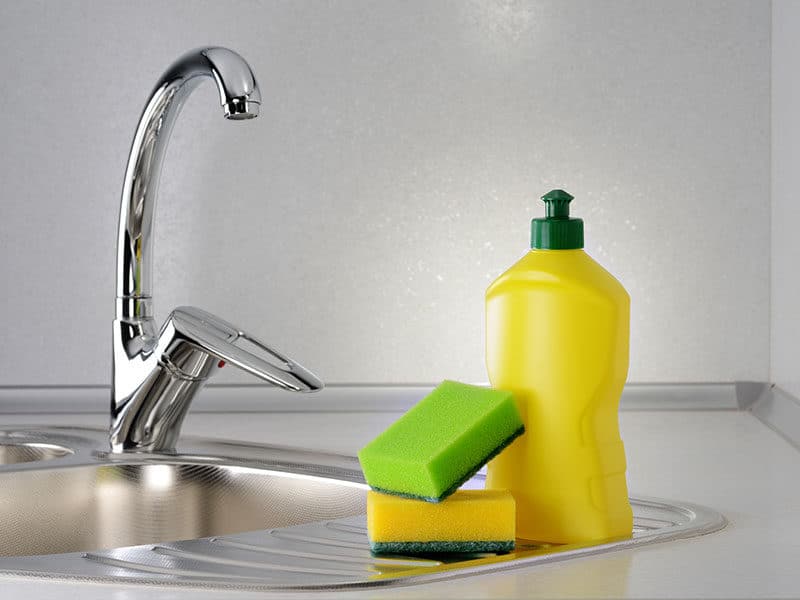 What you need to do:
Step 1: Sweep or vacuum the floor to remove any visible substance.
Step 2: With one gallon of warm water, put two tablespoons of dishwashing liquid in the bucket. Mix it up.
Step 3: Soak the microfiber mop in the bucket. Then spread it out all the surface.
Step 4: Clean the surface with warm and clean water.
Step 5: Open the window to let the breeze in, or open the electric fan to dry up the floor.
How To Clean Polished Concrete Floors?
With an appealing appearance, the polished concrete floor does not require any sophisticated cleaning method. As easy as cleaning the sealed floor with basic steps, you can pave the way for the dirt to go away.
What you need to prepare:
Dish soap
pH-neutral cleaner
Warm water
A mop
A bucket
What you need to do:
Step 1: In the bucket, put 2 to 4 tablespoons of the dish soap or pH-neutral cleaner in the mix with one gallon of warm water.
Step 2: Dip the mop in the mixture. Then clean the dirt on the floor. The chemical of the cleaning solution will help you remove any stain easily.
Step 3: Repeat step 2 again but with clean water. Remember to dip the mop in the bucket frequently and wring it out. Do it until your floor is thoroughly cleaned.
Step 4: Dry the floor by letting the wind in. You can turn on the fan or open the window, or just let it dry naturally.
How To Clean Painted Or Stained Concrete Floors?
With a painted or stained concrete floor, the first thing you have to do is to check whether it is sealed or unsealed. You can follow my steps above to test it.
Be careful with which detergents you will use because it could tremendously affect the sealer. Sometimes, it can damage the color or even peel out the seal. So if you want to have extra care for your floor, it is essential to read the instruction outside the clean solution you use.
What you need to prepare:
A microfiber mop
Warm water
A bucket
Mild dish soaps or any mild detergents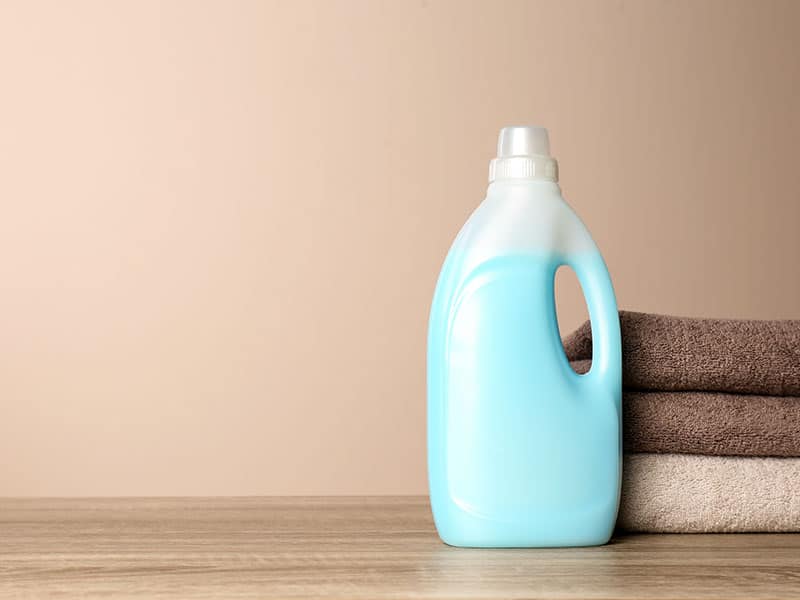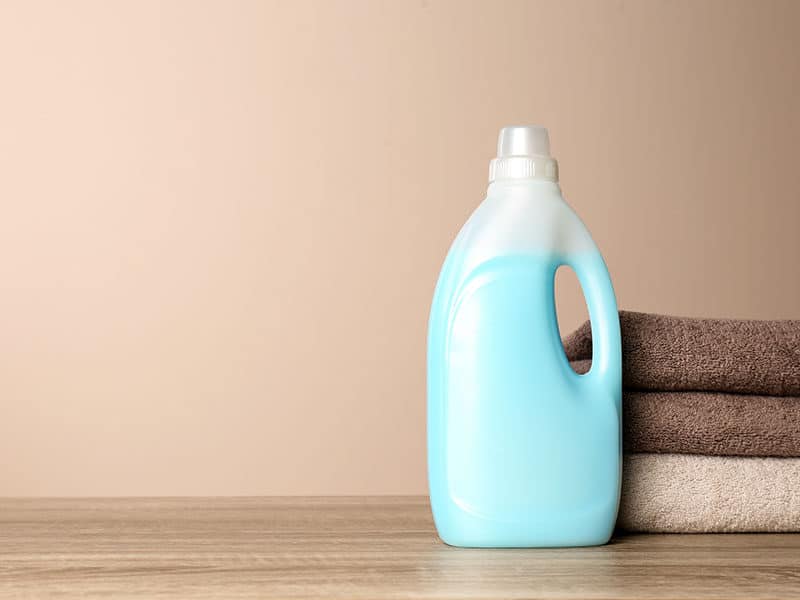 What you need to do:
Step 1: After making sure that your floor is immaculate with two steps in the preparing section, move to the next step, which is mixing a tiny amount of mild dish soaps with one gallon of warm water, all in one bucket.
Step 2: Soak the mop in the mixture, then squeeze it. Make sure to leave out all the water on the mop because it can fade the color on your floor, and in the worst scenario, it could peel your sealer.
Step 3: Like any other floor, you also have to wipe all the soap out with clean water. Still using that mop, but with clean water, you have to go around your room once again.
Step 4: Last but not least, you can use the towel to clean the floor after all three-step above. This step helps speed up the drying process and gives your floor a shiny layer.
Frequently Asked Questions
After Cleaning The Concrete Floors
Make sure to take care of your floor like any other materials in your house. Even with the outside concrete floor, it is also important to clean it at least once every month to keep the stains away.
How do you feel after reading this? Can you apply that in real life? Do you have any trouble cleaning your concrete floor? Share your thoughts and experience in the comment section below.
And remember, if you have any tips or tricks in cleaning concrete floors, feel free to share with our readers and us so we can make the process less complicated and more fun!