Learning how to clean bamboo floors is a must if you happen to own one. Recently, this flooring material has been an excellent substitute for hardwood because of its sturdiness. However, without proper care, your bamboo floor can not last as long as it should be.
How to Keep Your Bamboo Floor Beautiful?
Here are 5 simple steps to clean bamboo floors effectively:
1. Install floor protection. The floor protection tools will protect your floor from scratches.
2. Clean the spill. If you notice any spilled water, wipe it right away.
3. Sweep or vacuum the floor. Use the appropriate mops or vacuums to clean.
4. Clean stains or dried spills. Get rid of it before the damage worsens.
5. Damp mopping the floor. Then, remember to use a dry, clean cloth to wipe the floor.
Aside from these steps, you will also learn what should be avoided while cleaning bamboo floors.
I believe after reading this, you will no longer feel troubled about keeping your floor clean. Let's start now!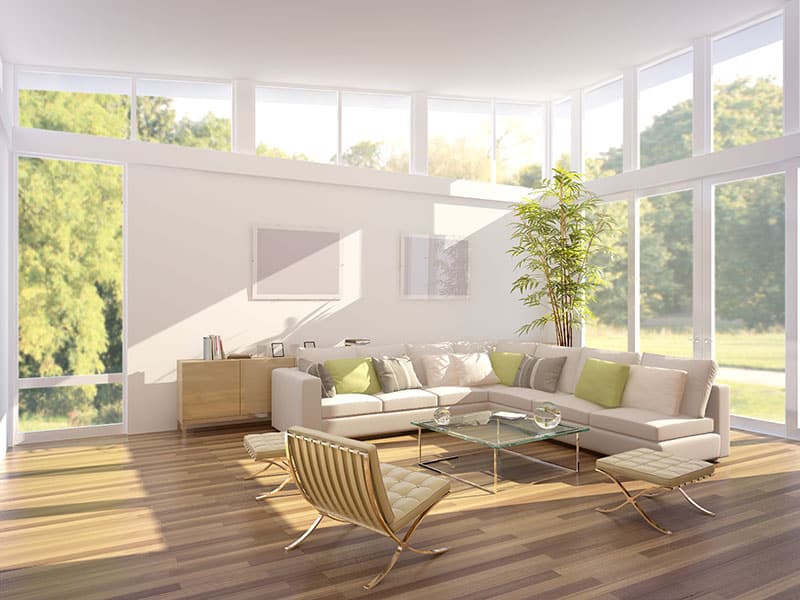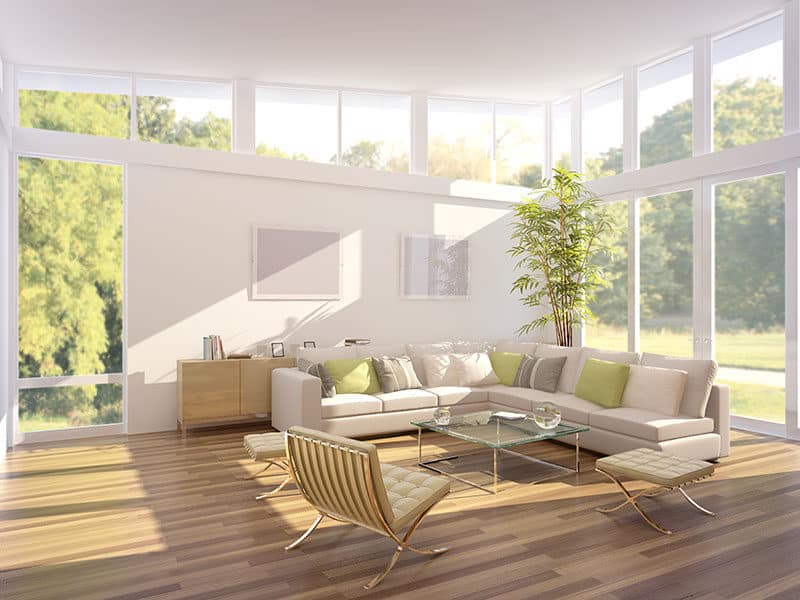 What Are Bamboo Floors?
Recently, bamboo floors have gained popularity as a low-cost substitute for hardwood floors. Bamboo floors are manufactured from the bamboo plant, a native plant growing in Asian countries like China, Vietnam,… After being cut down, the bamboo trees are dried and made into flooring planks. [1]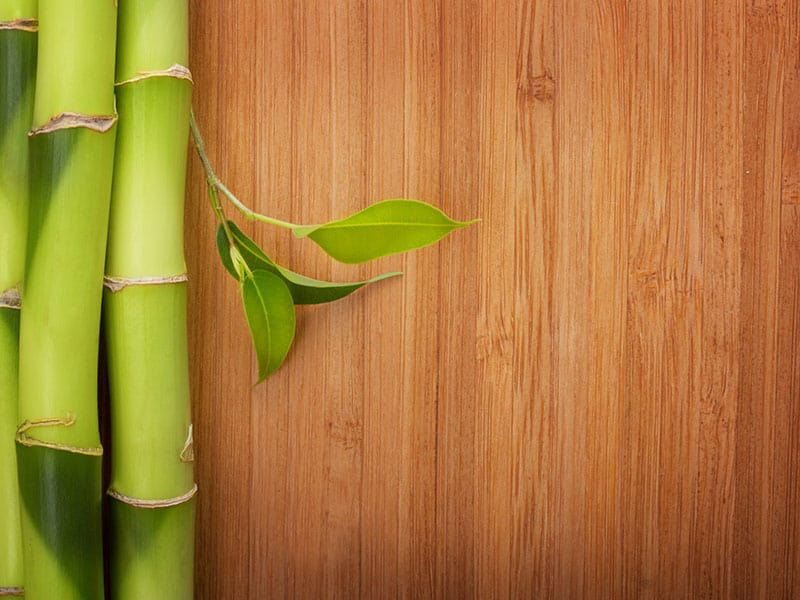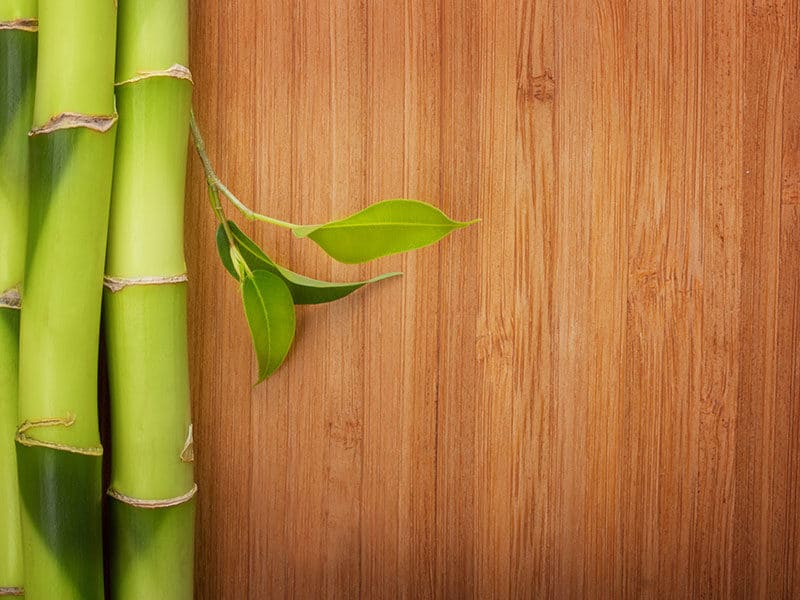 Bamboo Floors' Benefits and Drawbacks
Before getting to the main topic, let's spend some time exploring all the pros and cons of the bamboo floors. You may deem this knowledge unnecessary but let me assure you: The better you know about bamboo floors, the better you can clean them.
Advantages
There's no coincidence that bamboo floors are getting more popular. And here are the reasons why.
Eco-Friendly
Compared to the traditional hardwood made from trees, which usually takes more than a couple of decades to grow back, bamboo is more sustainable material. In contrast, a cut bamboo stalk will grow back to its original height in just 4-5 years.
Durable
Bamboo is one of the sturdiest trees. Hence bamboo floors are considered to be more durable than hardwood ones. In fact, strand woven bamboo is almost three times stronger than oak, saving the repairs and maintenance fee for you. [2]
Versatile
Because of its durability, bamboo can be used as the floor of various rooms, even the kitchen. The only space you should not install the bamboo floor is the bathroom because of its excessive moisture, which even treated bamboo can not handle.
Bamboo floors also have so many different colors and textures, which are suitable for various rooms. You can even choose a bamboo floor style for each separate room to change the atmosphere.
Affordable
Sharing the same features with hardwood floors, bamboo ones are more on the low-cost side. It's because the bamboo trees can regrow more quickly than regular trees, reducing the cost of making bamboo floors.
Moreover, since bamboo's durable, you might not have to worry about the maintenance or replacement fee.
Easy to Maintain
I will mention it in detail later, but cleaning bamboo floors is not a complex task. It doesn't require any special equipment, only regular ones like a vacuum, a mop, soap water, and so on.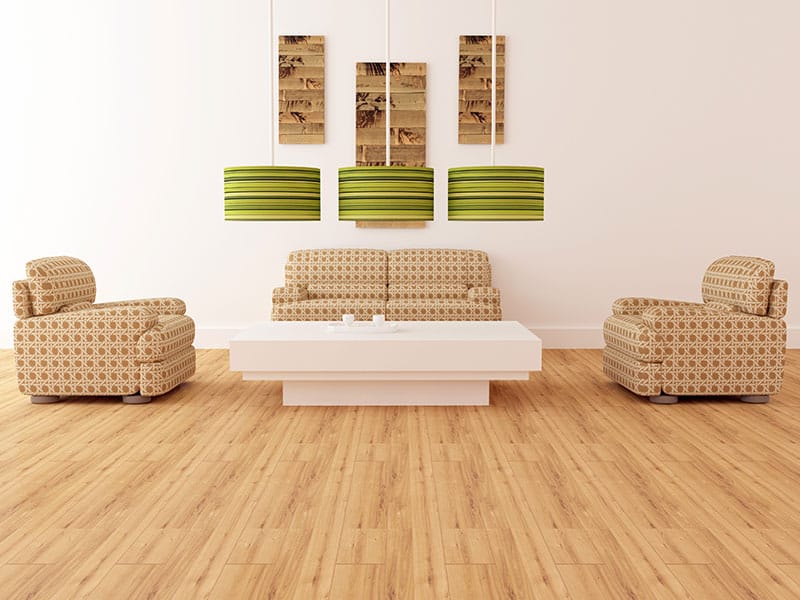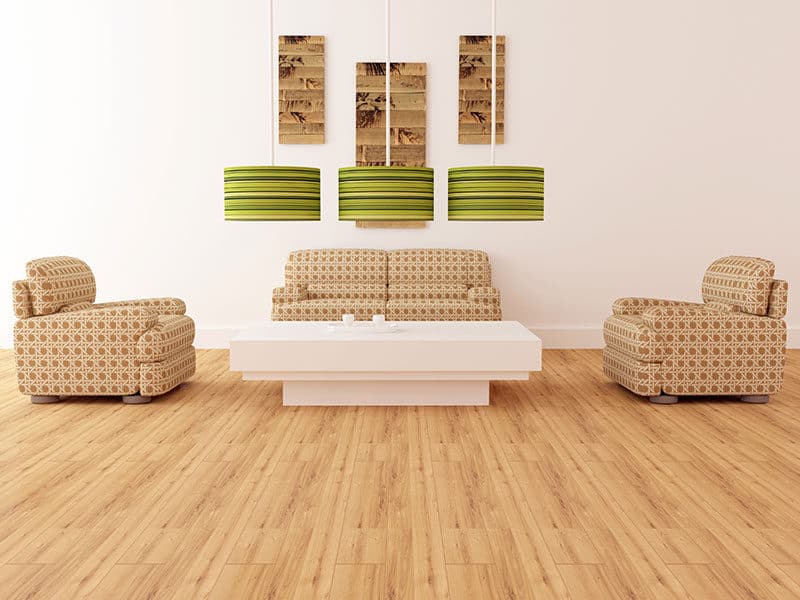 Disadvantages
Any flooring material has its own drawbacks, and bamboo's no exception.
Not Waterproof
Although every recent bamboo floor is resistant to water, it doesn't mean they are entirely waterproof. If you leave your bamboo floor exposed to moisture for too long, warping, discoloration, or even mold growth can happen.
Prone to Scratches
Despite their sturdiness, bamboo floors can still get scratched and marked, especially the low-quality ones. The scratches may come from dragged furniture, pets' claws, shattered glasses, and so on.
Necessary Tools to Clean Bamboo Floors
Cleaning bamboo floors does not require any specialized tools or equipment. However, to be safe, you should remember some caution notes before getting to the central part.
Floor Protection Tools
It's said that prevention is better than cure. No matter how well you clean your bamboo floor, if it's not adequately protected, then nothing will change. That's why we have the floor protection tools here.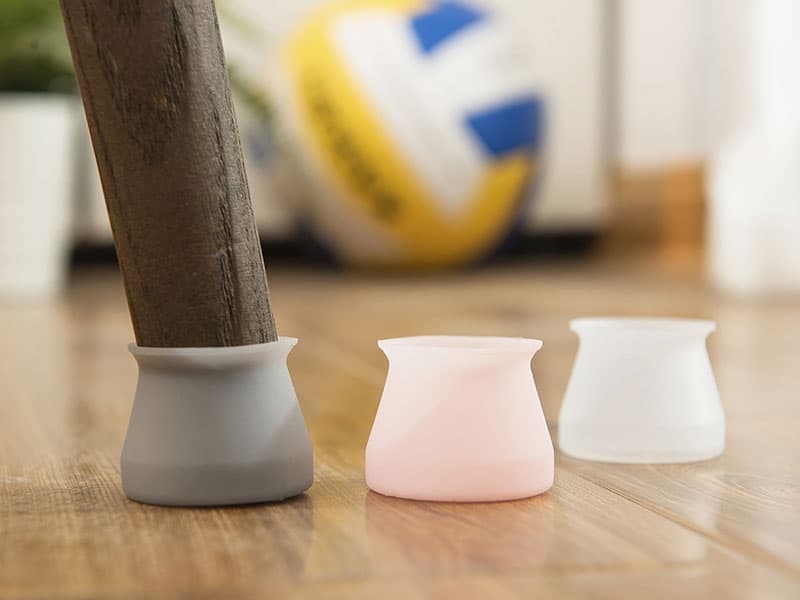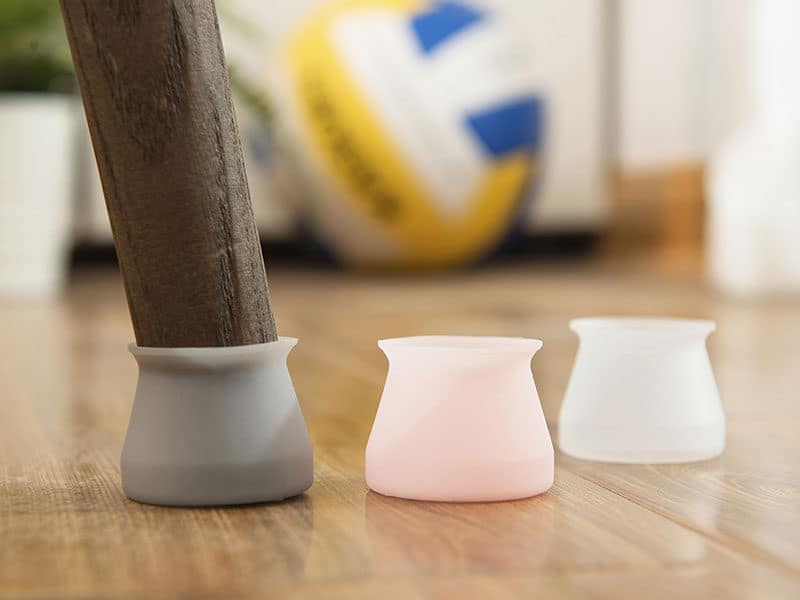 As I said, you can actually use anything to cover the furniture legs, such as rubber caps, felt pads, etc. It would help if you did not ignore even the most minor chair legs. With more significant tools like a piano, you can use a mesh rubber shelf liner.
This tool prevents molds from multiplying in the space between the equipment and the floor. And when you need to move some large pieces of furniture, use furniture-moving coasters or heavy quilted moving blankets to help your floor avoid moving marks and dents.
Aside from covering all the furniture's legs, you should hang curtains on your windows to prevent sunlight from discoloring and distorting your floor's finish.
Mops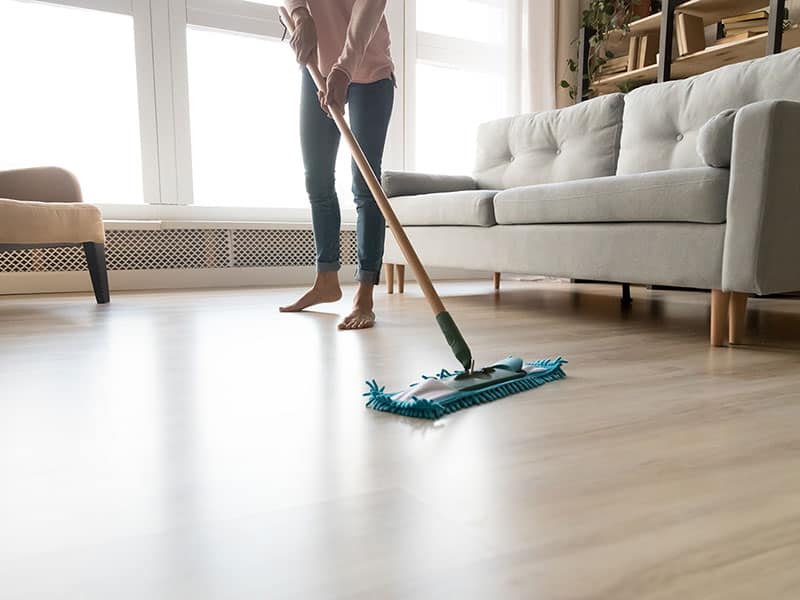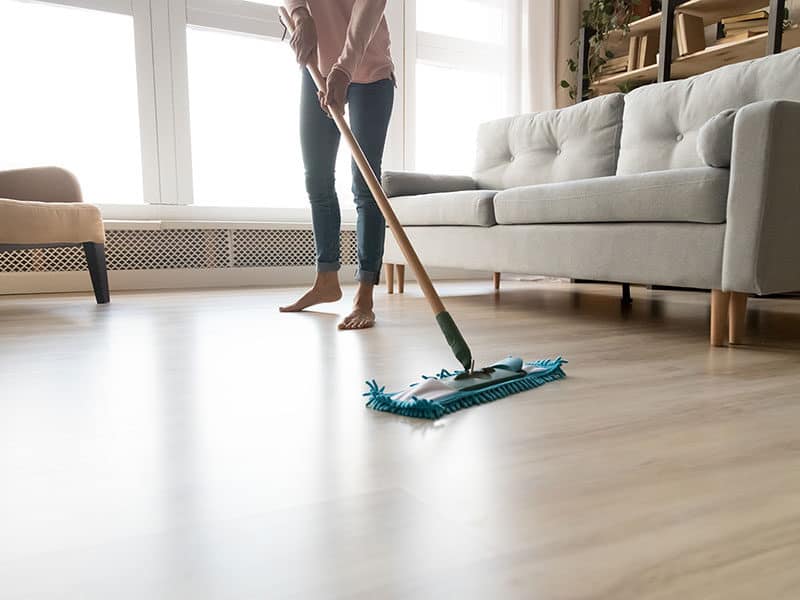 Believe me when I say one mop can save your bamboo floor. However, not any mop can work. Here are some types of mops for your consideration:
Dry Mops (Dust Mops)
Basically, bamboo floors are like hardwood ones, so they can't handle moisture too well. That's why you should avoid as much water in the cleaning process as possible. And dry mops are an ideal option.
Standard Wet Mops
Yes, I've said that bamboo floors can't handle moisture too well. Still, they are water-resistant, so you can use wet mops to clean them. However, make sure to squeeze the mop to get most of the water out.
Mop Buckets
Mop buckets are a better option than wet mops. Their built-in wringers can get rid of the elbow grease from cleaning. Some even protect mop fibers from dust and dirt, helping the floor avoid being scraped.
Spray Mops
You can use spray mops for cleaning bamboo floors; just keep in mind that the spray should be pH neutral. Check the product information in advance to avoid any accidents.
Whatever kinds of mop you choose, there are some factors you should pay close attention to. Get yourself a microfiber-made mop since it's soft and can clean a large surface at once. Apart from that, a mop with a sturdy handle, minimal parts, and a washable head will serve you well.
Vacuums
Nowadays, vacuums have become a regular choice when it comes to cleaning. It saves both time and effort, even improving the cleaning quality. However, with bamboo floors, you should be careful when choosing one to clean.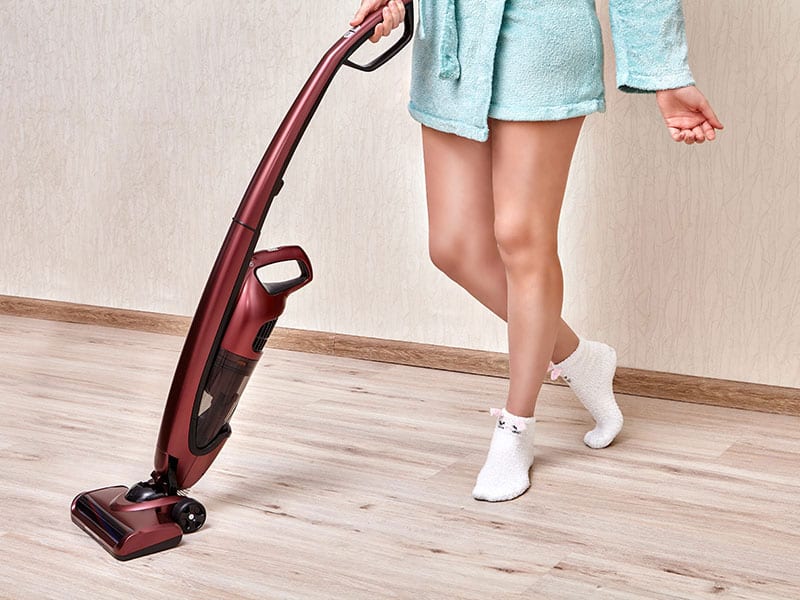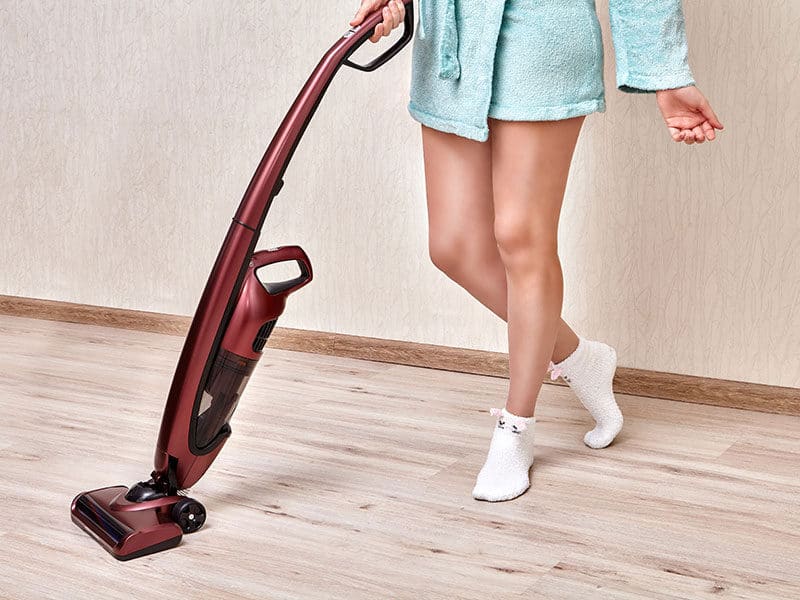 First, your vacuum needs to be so light that you can lift it in one hand. If it's too heavy, it may leave marks or dents on the floor. Ensure your vacuum is non-beater and doesn't have stiff bristles in the brush to save the bamboo floor from being scratched.
And the most crucial part is its suction strength. It should be enough to suck all the dirt on the floor. If you own a pet, then pick a specially-designed vacuum to get all the pet fur.
Brooms
If you own neither a vacuum nor a mop, or just want to clean a small space, then a broom is a decent choice. Even a traditional bristle broom can still wipe away all the dust and dirt. However, it'd be better if you got some mops for exceptional cleaning.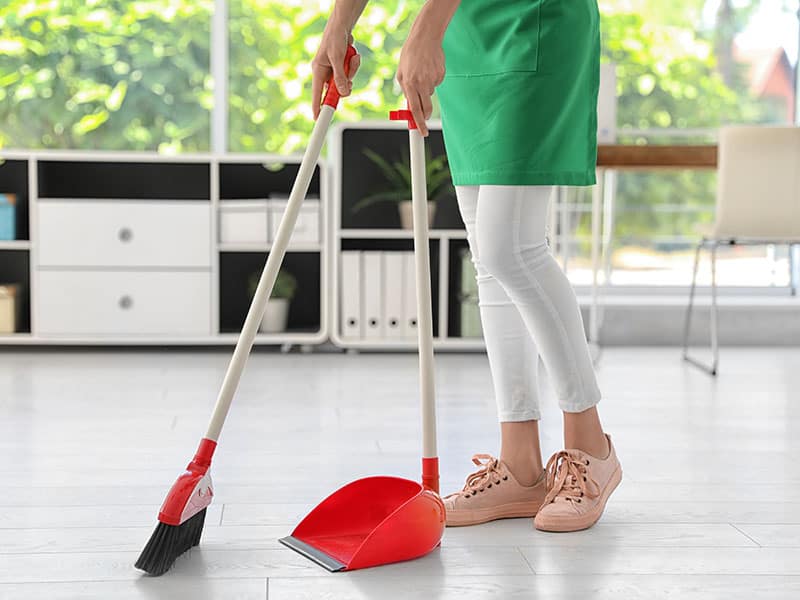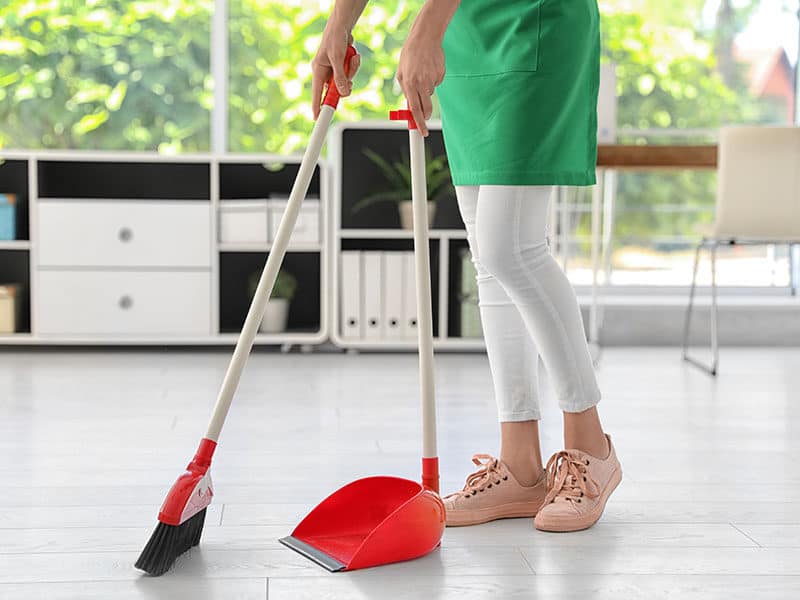 Floor Cleaners
You can choose between the ready-made cleaners or making one yourself.
Store-Bought Cleaners
Before you get lost in all the cleaners, remember that bamboo floors share many similar hardwood floors. So you can take cleaners for hardwood floors as suggestions. There are some suggestions of bamboo floors cleaners:
pH-Neutral Cleaners
Your cleaner should be pH-balanced. Too many acids can damage your floor finish and stain your floor. If you can't find one, dilute it with distilled water before using it. Follow the instructions on the cleaner for the best result.
Specialized Bamboo Floors Cleaners
If you can find one, that would be the most superior choice. With it, you don't have to worry about any damage that can happen to your floor. However, this type of cleaners is rare and high-priced.
Hardwood Cleaners
As I've said, you can use hardwood cleaners for your bamboo floors. However, pay attention to any details, especially the pH concentration, to make sure they can't damage your floor.
Gentle Cleanser
It's acceptable to use other cleaners without abrasive chemicals. Those chemicals can easily tear through the floor's finish and damage your floor.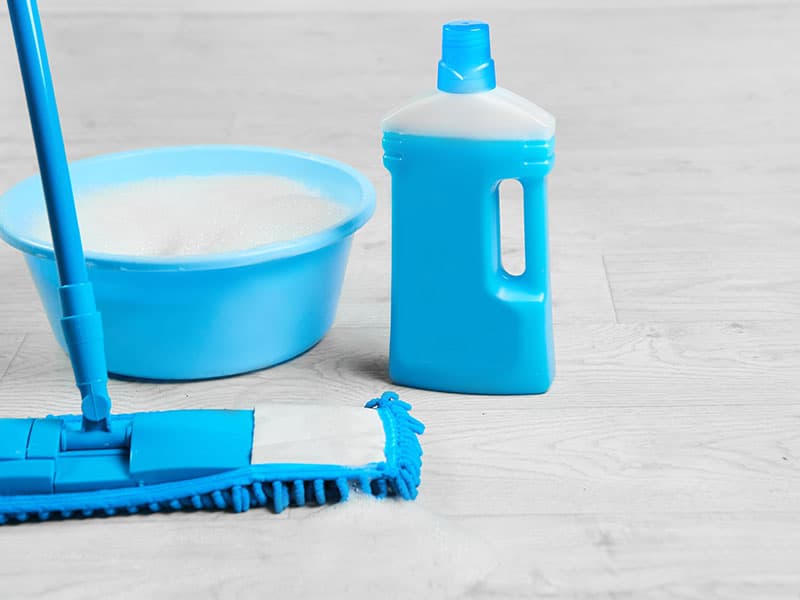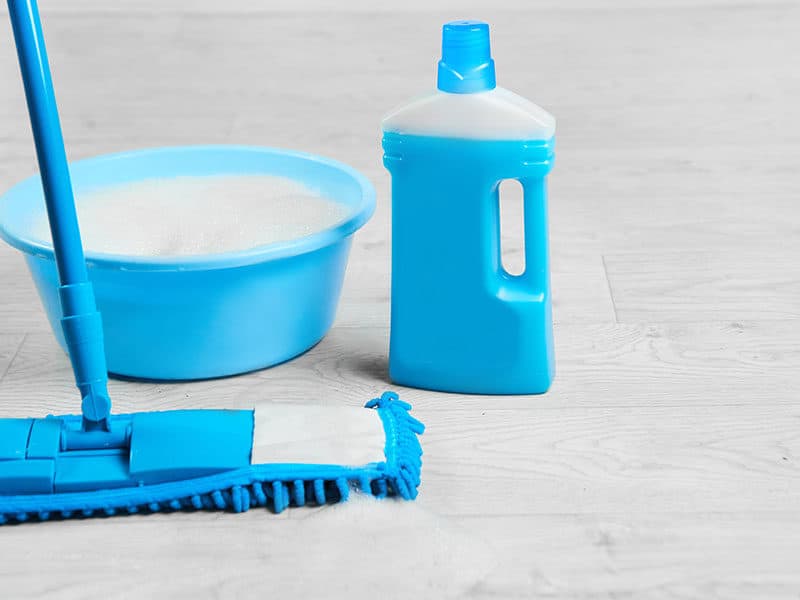 Do-It-Yourself Cleaners
If you are afraid of all the unknown chemicals in the ready-made cleaners, you can make one on your own. Here are some suggestions for your homemade cleaners.
Vinegar
This is the most common ingredient when making cleaners. Mix ¼ cup of white vinegar to one gallon of warm water. However, vinegar's still acidic, so use it only on sealed, finished floors. [3]
Castile Soap
Just one or two drops of castile soap into two cups of warm water, you already have a homemade cleaner.
Dishwashing Liquid
Remember to use a non-acidic one, you don't want your floor to end up in scratches and stains. Adding one or two drops of dish soap into warm water is enough.
No matter which one you apply, remember bamboo floors are not waterproof. So, use a spray bottle to spritz the cleaner onto the floor, avoiding as much moisture exposure as possible.
5 Steps to Clean Bamboo Floors
Once you've prepared all the essential tools correctly, it's time to clean your bamboo floor.
Step 1: Install Floor Protection
If you haven't placed floor protection under your furniture's legs yet, then it's time to do it! Buy some rubber caps, felt pads, moving coasters, and blankets to protect your floor.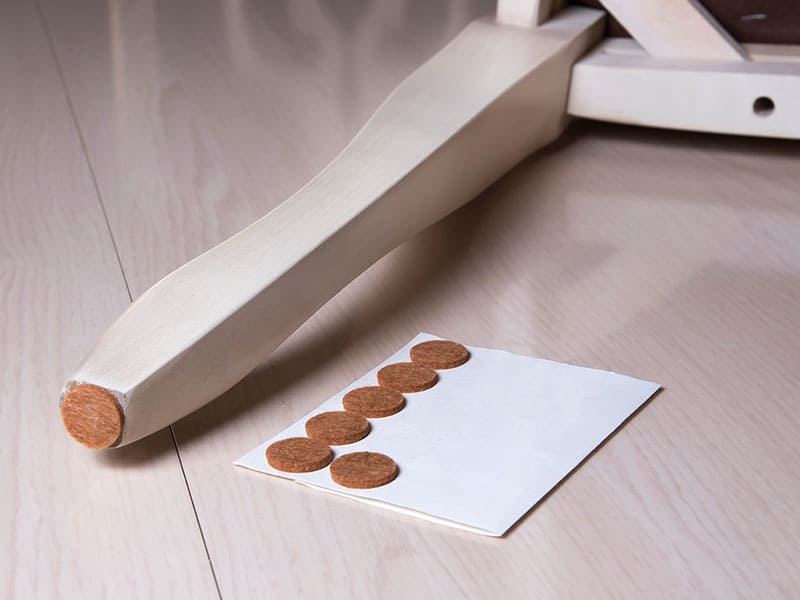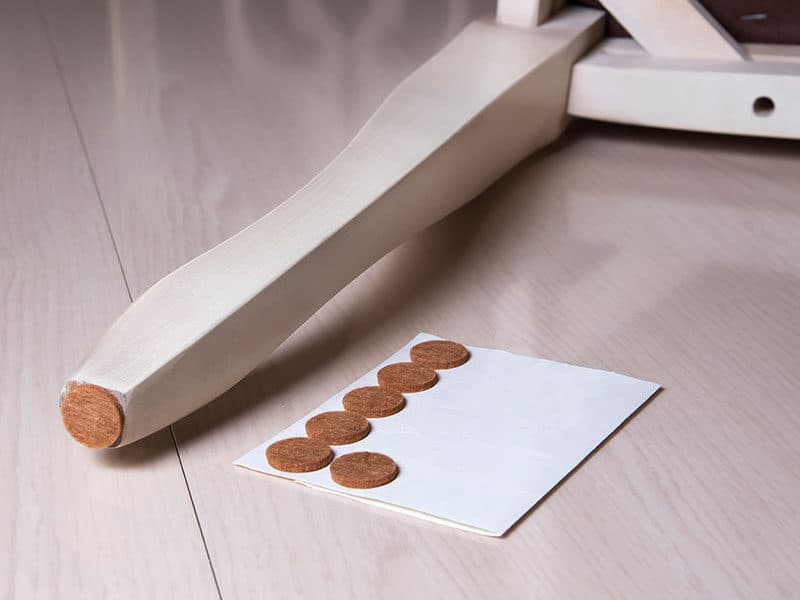 Also, move your furniture (with a coaster or blanket!) to make room for cleaning. If your room is full of appliances, put them on one side of the room and clean the other sides. Then, repeat the process once again.
Step 2: Clean the Spill
If you notice any spills, immediately clean them up. Use a sponge or microfiber rag to wipe it up as much as possible. Then, dry the area with a soft towel.
Step 3: Sweep or Vacuum the Floor
Use any of your mops or vacuums that respond to the requirements above to clean the bamboo floor. You can use a broom if no other options are left.
For a vacuum, check it beforehand to see whether there's any dirt left in its wheels. Those dust can scratch your floor if you don't clean them out.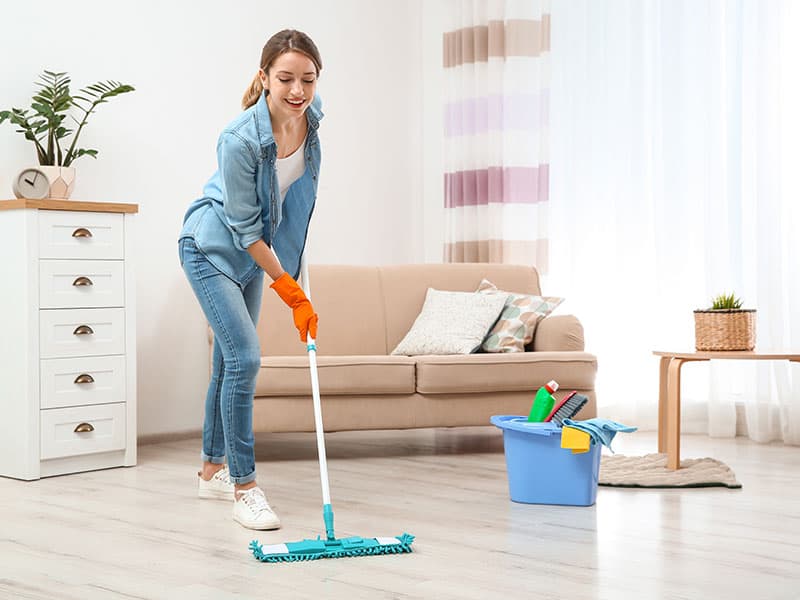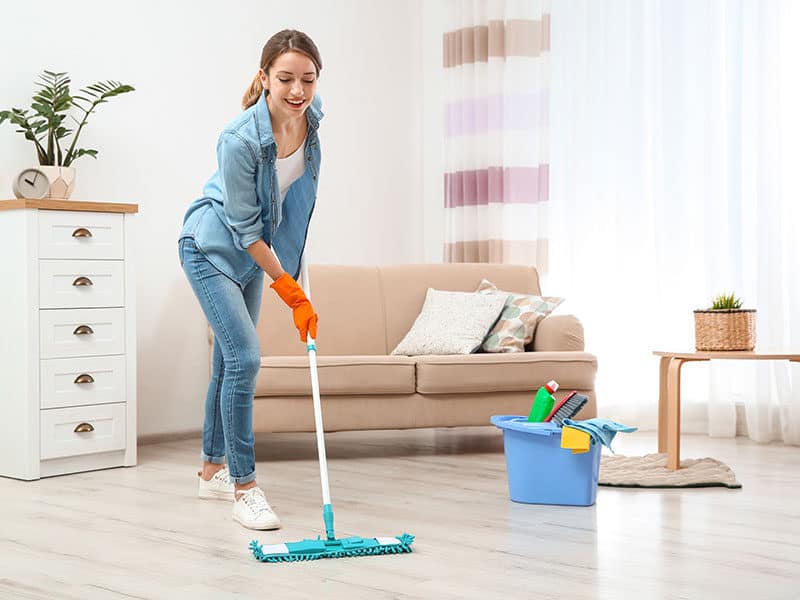 In case you use mops or brooms to sweep the floor, save your effort by following the bamboo's grain. Take a close look at the plank joints as the dirt tends to accumulate in there.
Step 4: Clean Stains or Dried Spills
Even with all the sweeping and vacuuming, there are also some stains or dried spills left. Just damp a microfiber towel with water first to wipe the spot. If it doesn't work out, it's time to use some cleaners.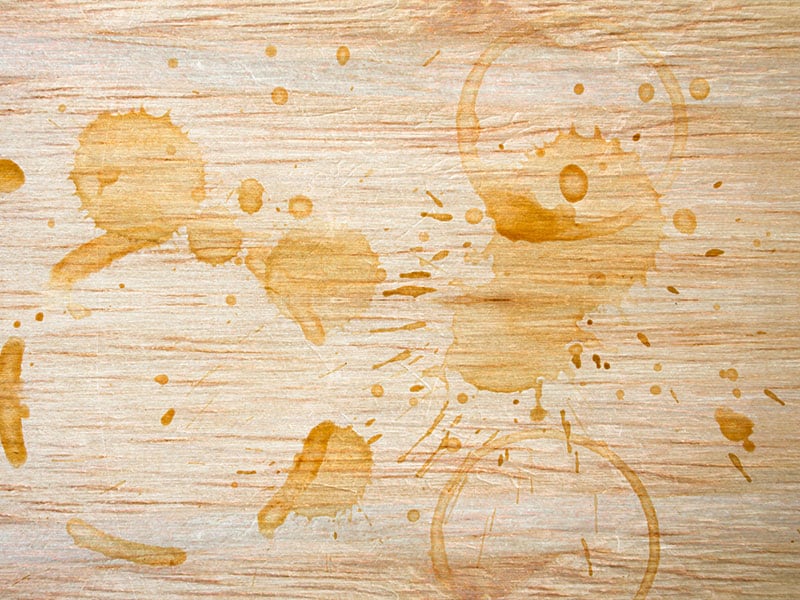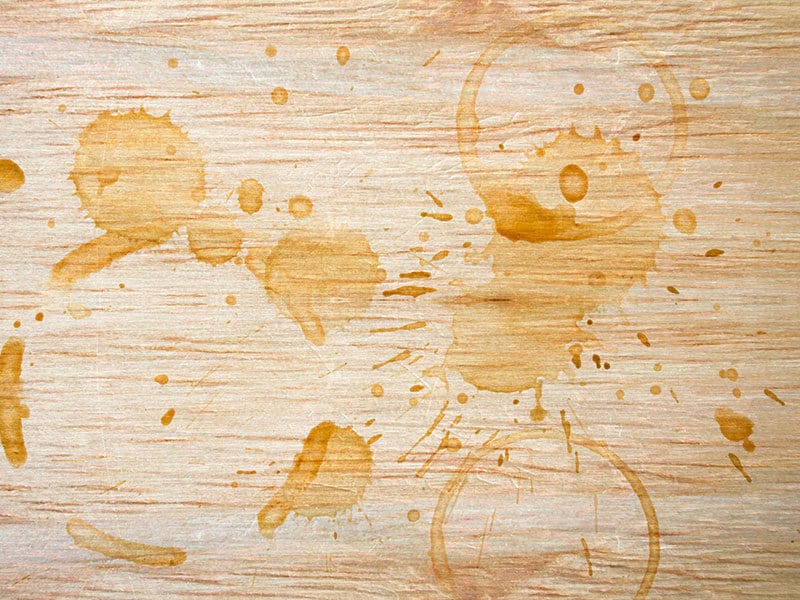 Choose one suitable type and either spray it directly on the dirty area or moisten the towel with it. Then gently rub the floor to remove the stains or spills. Later, use another clean cloth dampened with water to wipe again. After that, dry the spot with a wring-out cloth.
The period between two rubbings depends on the cleaner you use. Some may require a few waiting minutes to get the best results. In comparison, some need to remove immediately. When rubbing, wipe in a circular pattern to get rid of all the stains.
In fact, you should do this step regularly because the longer you leave the stains, the harder it gets to remove them. Sometimes, when it's too late as the stains have completely embedded, the only option is changing the floor.
Step 5: Damp Mopping the Floor
Finally, when you've got rid of all the dirt, dust, stains, and spills, mop your floor one more time. Apply the cleaner to the mop until it's slightly moistened. If the mop gets too wet, wring it dry before mopping the floor.
Move the mop gently following the bamboo's texture to clean the floor evenly. Lastly, use a soft, clean towel to dry any excess moisture spots.
To get a brief look at how to clean the bamboo floor, check this video.
5 Things to Avoid When Cleaning Bamboo Floors
The cleaning process is simple, but you can totally mess it up by making one of those common mistakes. Take note of this list to protect your bamboo floor from yourself.
Abrasive Cleaning Tools
Bamboo floors are durable, but they are still prone to scratches, so please put any rough tools far away from the bamboo floors. Just use a soft towel or soft microfiber mop to clean your floor.
The same goes for the cleaner. Abrasive cleaners can easily corrode bamboo floors, so make sure you read the product components to get the right one.
Heavyweight Vacuums
I've mentioned this when describing the necessary tools, and a heavy vacuum can effortlessly cause dents or scratches on the bamboo floors. So pick a lightweight one instead. Also, avoid vacuums or mops with unremovable beater bars since they can heavily damage your floor.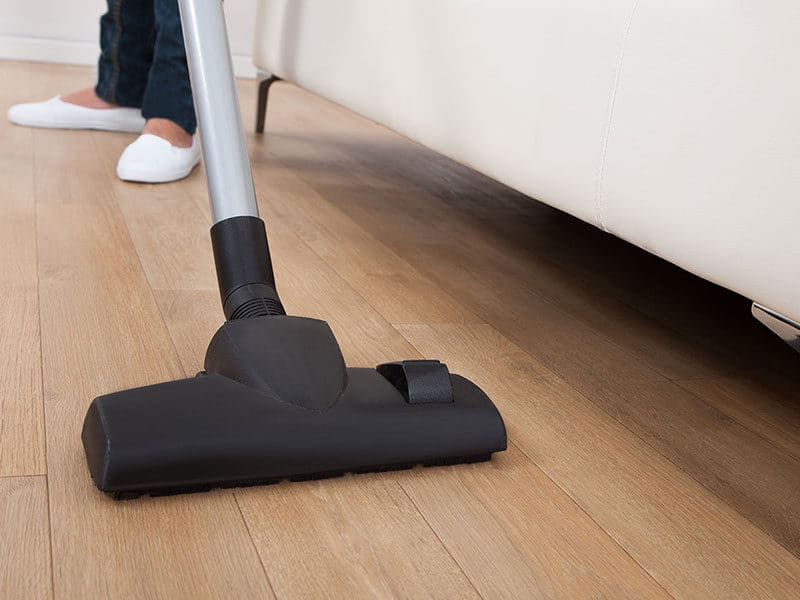 Wax and Oil Soap
Wax and oil soap can clean numerous things, but not your bamboo floor. In fact, instead of cleaning it, wax soaps only stain the bamboo floor more. At the same time, oil soaps will peel off all the protective layers of the bamboo planks, leaving your floor more vulnerable.
Therefore, just stick with the pH-neutral cleaners for safe and effective cleaning.
Wet Mop
If bamboo floors are exposed to excessive moisture for too long, they can be warped, discolored, or worse, and molds can even appear. That's why you just need to dampen the cloth to wipe the floor lightly. Make sure to wring the towel dry before using it.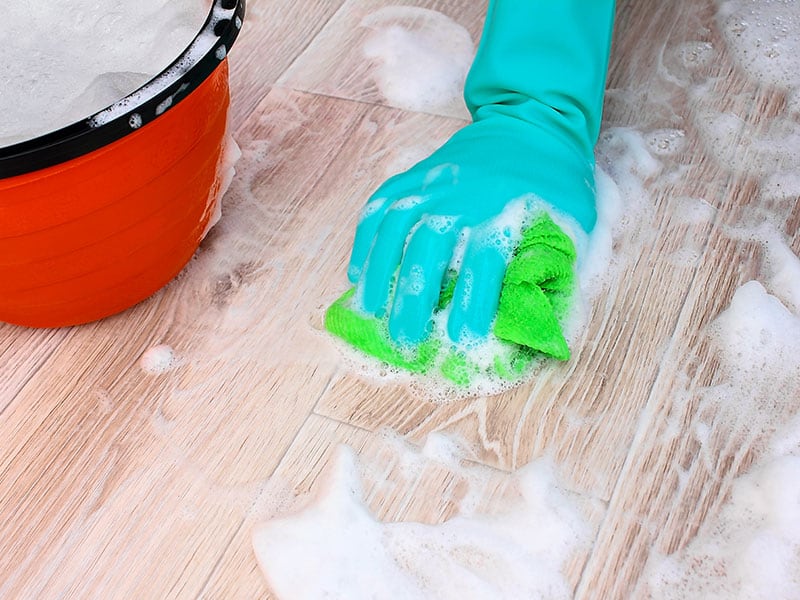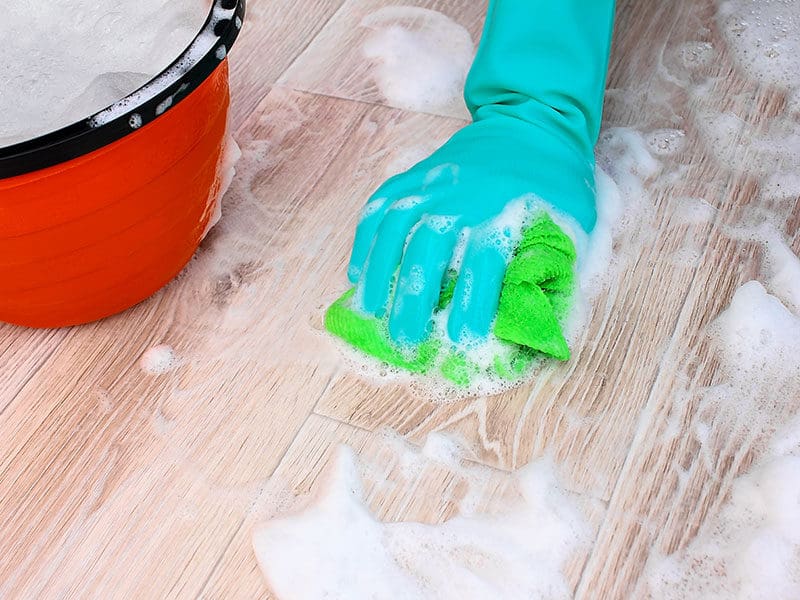 Steam Mop
"I see my friend use a steam mop for his tile floor. Can I use the same mop for the bamboo floors?". Absolutely no! Steam mops produce a high amount of heat, causing the moisture to drive deep into the bamboo floor. Once it happens, the water damage can be much more severe than a typical spill.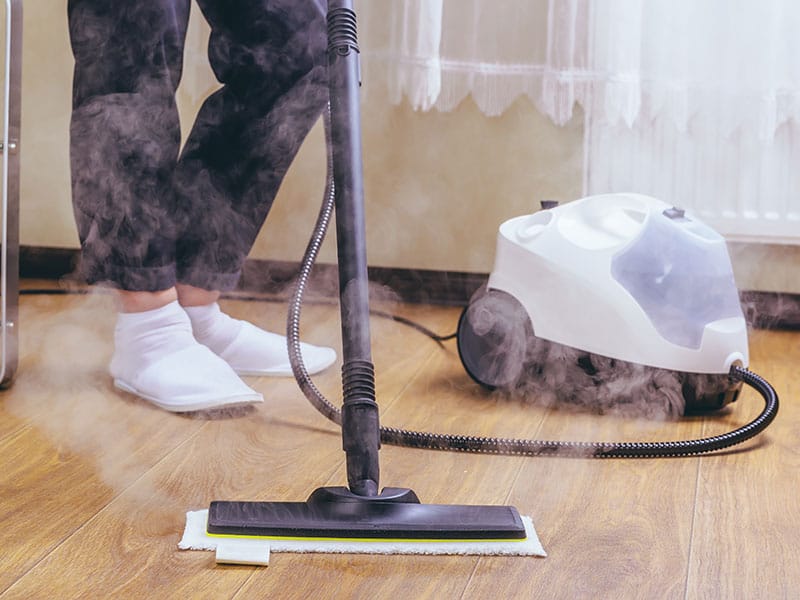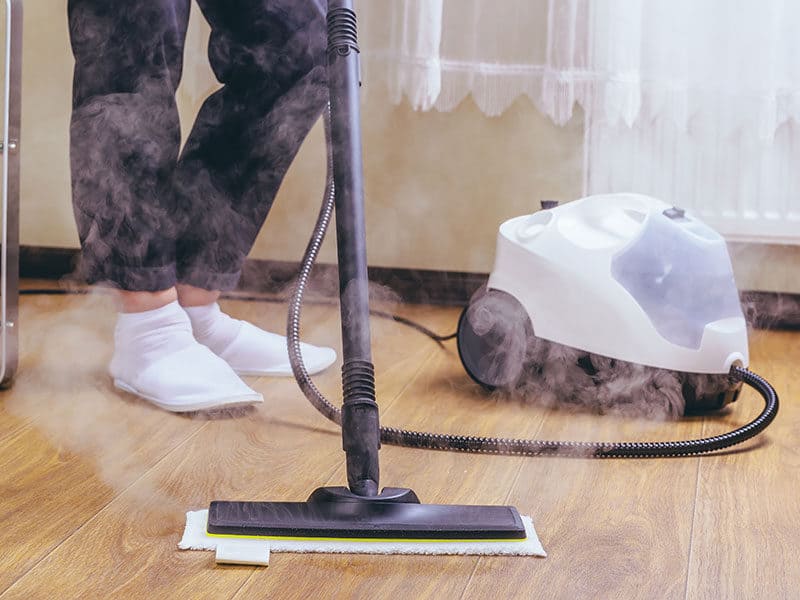 3 Simple Steps to Remove Scuff Marks From Bamboo Floors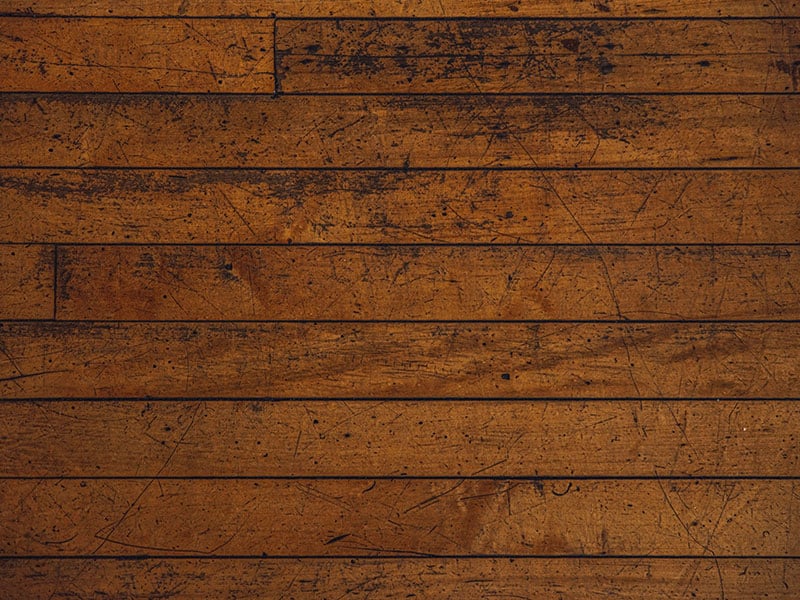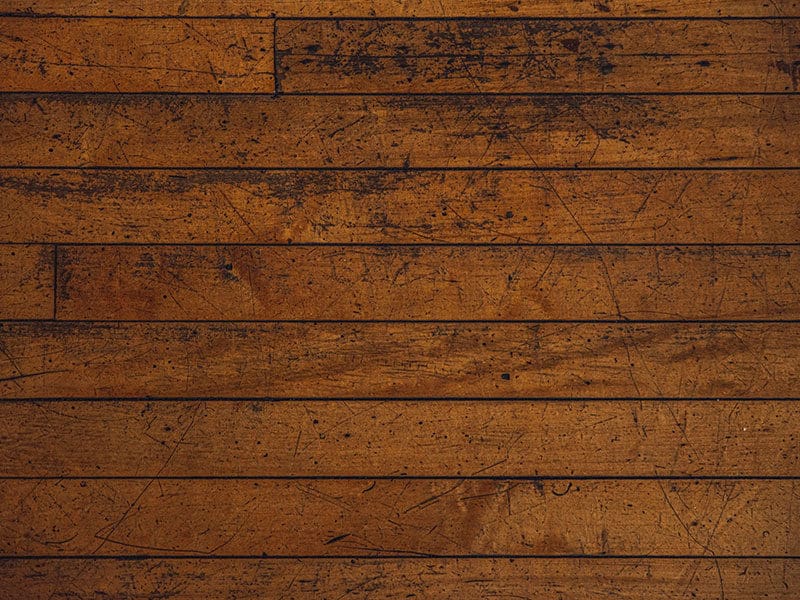 Sometimes, just the regular moping and wiping aren't enough to get rid of the scuff marks caused by dragging rubber heels. But don't worry, with some hardwood floors cleaner and a microfiber cloth, you can remove them in two steps:
Step 1: Spray some of the hardwood floor cleaners onto the cloth.
Step 2: Gentle rub the scuff marks with the moistened cloth. Patiently rub until the spots are gone.
Step 3: Wipe the floor again with a dry, clean towel to avoid excessive moisture.
Maintenance Tips for Bamboo Floors
After all the hard work to install and clean the bamboo floor, of course, you'd want to preserve your floor's beauty. Here are some exclusive tips for you:
Make your bamboo floor a shoeless area. Shoes can bring dust and dirt from outside to your house. Not to mention, the heels can leave scratches on the bamboo floor. A doormat near the entrance can prevent debris from being tracked into your home.
If you own a pet, cut their nails regularly. You don't want to choose between your pet and your bamboo floor's quality.
Keep your house, or the rooms with the bamboo floor, at 60-80°F with 40-60% humidity. Too humid, and the bamboo can swell. But too dry will cause the bamboo planks to crack.
Change your furniture's position once in a while to prevent discoloration over time caused by sunlight.
You can see how people execute some of these tips in this video.
FAQs About Cleaning Bamboo Floors
Despite all this knowledge, I believe you still have some unanswered questions. Keep on reading as I solve some of the most common questions about cleaning bamboo floors.
Further Advice on How to Clean Bamboo Floors
As time passes, your bamboo floor will get duller and duller. Though you can't prevent it, there're still some ways to slow the process down. Besides regular cleaning, you can refinish or rescreen it to preserve the glow.
I hope, through this article, now you can confidently clean your bamboo floor. If you have any questions or recommendations, let me know via comments. I appreciate everyone's thoughts. And don't forget to share this knowledge with your friends and family in case they also have a bamboo floor!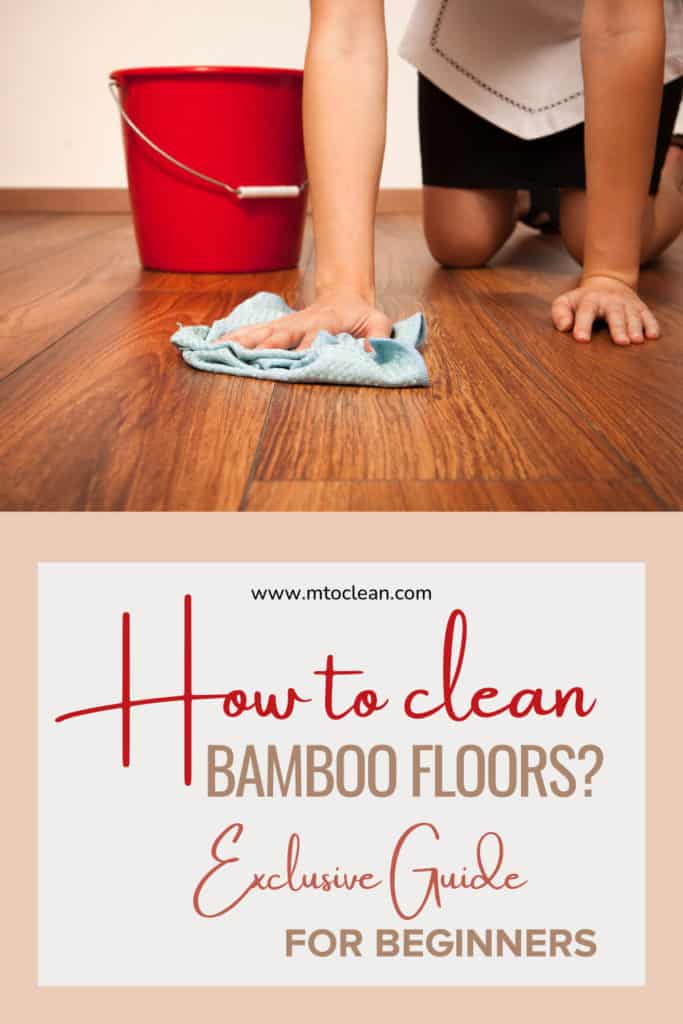 Reference
En.wikipedia.org. 2021. Bamboo floor – Wikipedia.
American, S., 2021. Is Bamboo Flooring Better for the Planet Than Traditional Hardwood?.
Cleaning.lovetoknow.com. 2021.