Thanks to the flooring industry's brilliant technological advancements, you can have a great chance to reach various hardwood floor types and hardwood floor alternatives. People tend to opt for hardwood look-alikes because they come with a low price, and some have the features that traditional hardwood floor does not.
This post will lend you a big hand in finding the best hardwood floor alternatives that have the look of hardwood floors. Each alternative may have its own pros and cons, and their price also varies. Let's start!
Why Choose Hardwood Floor Alternatives?
Although real hardwood floors are timeless, appealing, and durable, they can be quite costly and may not be a practical option for high-traffic areas or homes with pets or kids. The softer the hardwood floor is, the more quickly it scratches and blemishes.
That's why I have come up with the topic today. You can enjoy some significant advantages of having hardwood floor alternatives installed.
Inexpensive Flooring Option
If wood flooring cost is your current problem, you have come to the right place. Most hardwood floor alternatives come at an affordable price that is ideal for those who need to consider their budget.
Since hardwood look-alike floors are not real hardwood, their processing costs less than those made of lumber. There were not too many low-cost alternatives to expensive hardwood floors in the past. Today, however, you can find several budget-friendly hardwood floor alternatives available.
Environment-Friendly
Some hardwood floor alternatives are friendly to the environment since they are made of other wood, plant materials, or wood by-products. For example, Bamboo flooring and cork flooring are two examples of eco-friendly alternatives for hardwood floors.
Mimic The Look Of Hardwood Floor
The most significant advantage of installing hardwood floor alternatives is to achieve the look of hardwood floors in your living space. In case you have already installed hardwood floors in one room of your home, you can choose hardwood look-alike floors in other areas to match the hardwood flooring theme as well as achieve a unified flooring look.
Durable
There are a wide variety of hardwood flooring look-alikes that are not only easy on the pocketbook but also sturdy enough to withstand heavy traffic. Vinyl, laminate, and wood-effect tiles, cork, and bamboo are some durable options that are perfect for a large family with kids or pets.
Water-Resistant
Wood-effect tiles have all the characteristics of tiles so that they can be used in wet areas where you should not install read hardwood floors. The bathroom, laundry room, mudroom, and kitchen are the ideal surface to install wood-effect tiles. Apart from wood-effect tiles, vinyl is also water-proof and, if properly built, can survive floods.
Hardwood Floor Alternative Comparison Chart
Feel free to consult the following comparison chart of the 8 hardwood floor alternatives to figure out the best option for yourself!
Hardwood Floor Alternative
Cost
Lifespan
Water-proof
Scratch-resistant
Laminate
$1 to $11 per square foot
15-25 years
Yes
Yes
Vinyl
$2.00-–$7.00 per square foot
10-20 years
Yes
Yes
Wood-Look Tiles
Ceramic: $0.89 to around $2.80 per square foot

Porcelain: $1.50 to over $5.50 per square foot

100+ years
Yes
Yes
Bamboo
$5 to $15 per square foot
20-25 years
No
No
Cork
$3 to $8 per square foot
40 years or more
No
No
Hemp Wood
$9.99 per square foot
Not specific, but it is 25% harder than real hardwood
Not fully water-proof
Yes
Plywood
$1.50 per square foot
Up to 20 years
Can be sealed and water-proof
No
Wood-Look Concrete
$3 and $6 per square foot
25 years or more
Yes
Yes
Low-Cost And Durable Hardwood Floor Alternatives
It's time to focus on the heart of this article, I will give you a comprehensive guide to some best hardwood floor alternatives available.
1. Laminate – Affordable & Easy To Install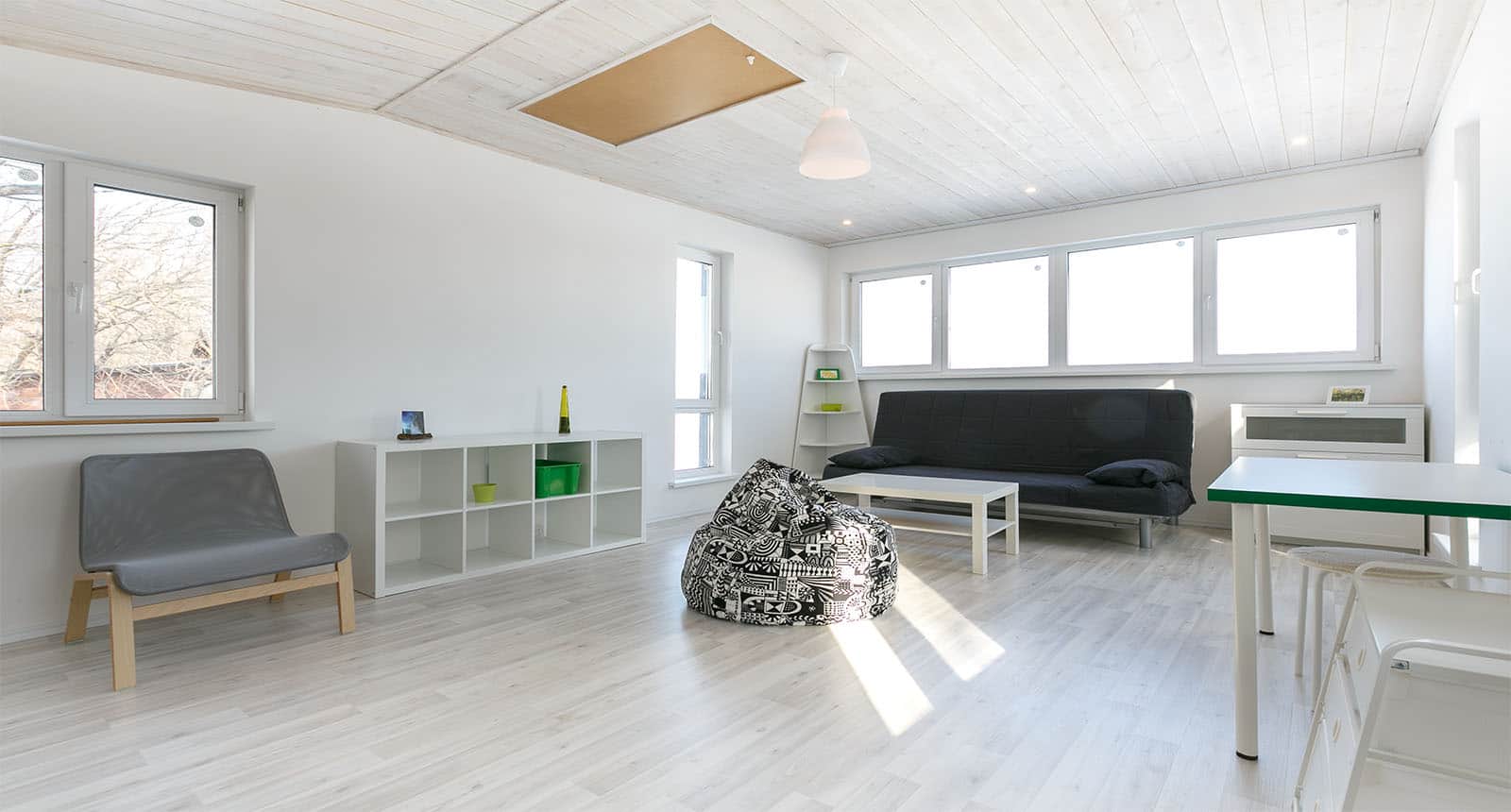 Laminate flooring is also known as floating wood tiles. It is a multi-layer synthetic flooring item that is glued together by the lamination process. Laminate flooring is designed to look like wood (or occasionally stone) and has a photographic applique coating below a translucent protective layer.
Melamine resin and fiberboard fabrics are commonly used in the inner core coat. Laminate flooring has gained popularity, mostly due to the fact that it is simpler to install and maintain than hardwood flooring. With convenient tools like steam mops for laminate floors or laminate floor cleaner, maintaining or cleaning the laminate surface is as easy as pie.
Types
Laminate flooring can be classified into two types: plastic laminate and engineered wood laminate. Although engineered wood laminate may be more costly than its plastic equivalent, engineered wood laminate will last longer with proper treatment.
The width and thickness of laminate flooring planks will also differ. The larger the laminate planks are, the less flooring you will have to purchase to fill your home's space.
Laminate flooring is usually available in thicknesses ranging from 7 to 12mm. Thicker laminate flooring means it is more durable. Therefore, if you need to find a hardwood floor alternative for high-traffic areas, you should opt for thick laminate flooring.
Pros
Budget-friendly price compared with real hardwood
Easier to install, ideal for DIYers
Water-proof laminate options available
Effortless to maintain
Versatile use and can be installed in almost all areas of your home
Comfortable to walk on
Allergy-friendly
Cons
There may be noise
Laminate flooring cannot be refinished
May not increase resale value for your home
May contain toxins such as VOCs
Where To Lay
Laminate adds warmth to living areas and creates a comfortable and welcoming atmosphere in bedrooms. Laminate flooring can be installed in kitchens and bathrooms, but it is not the safest option for these spaces as moisture and laminate do not get along.
However, water-resistant and even water-proof laminate options are available. And they are not cheap, so you should expect to pay more if you plan to install laminate in kitchens and bathrooms.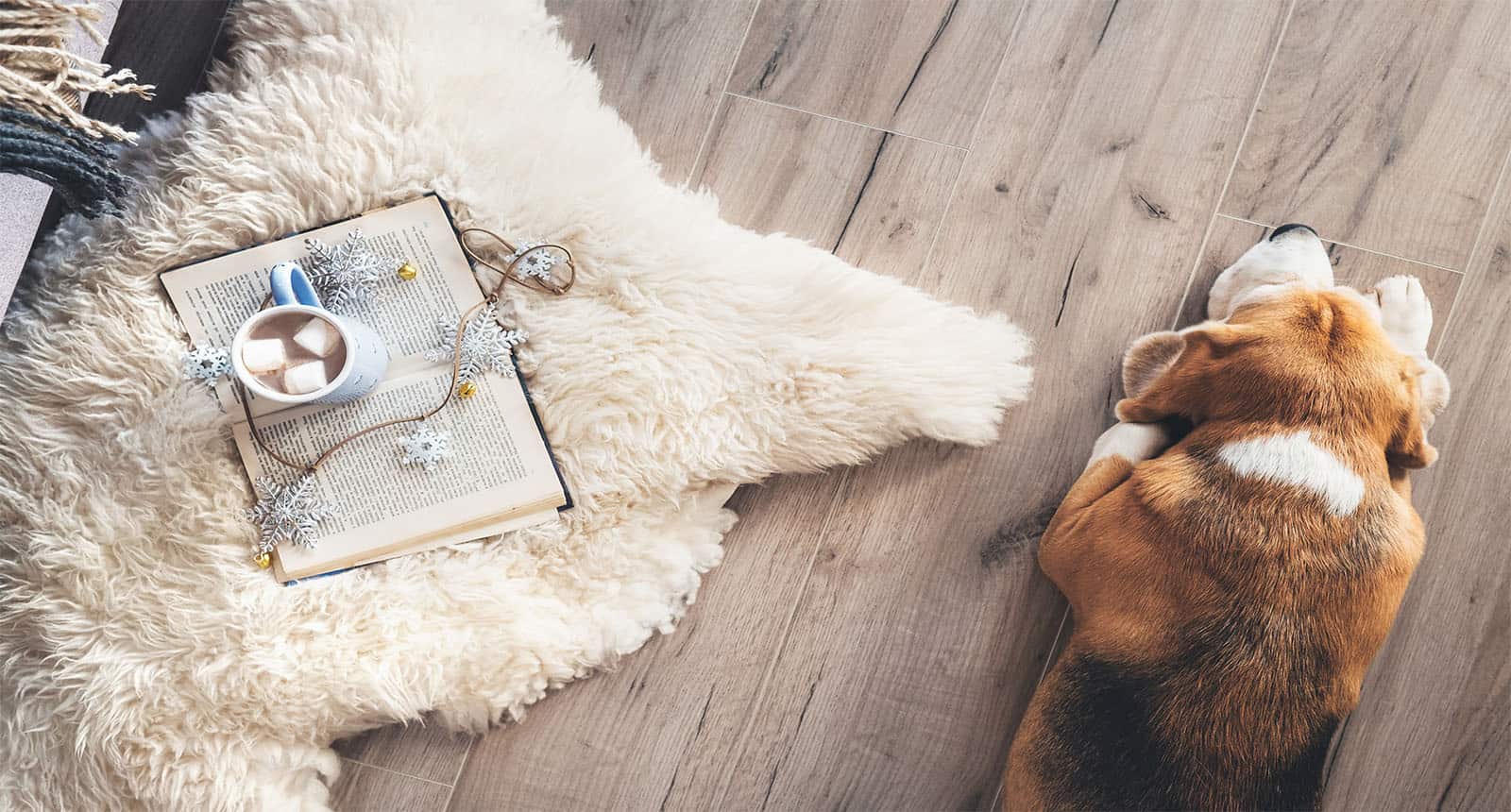 Installation
Laminates are designed for ease of installing. The use of a laminate click-together system simplifies the construction process of this floating floor. You simply need to press the edges together, and there will be no need for gluing, stapling, or nailing down.
With laminate flooring, you can also create a variety of artistic wood floor patterns. If you are fond of installing horizontal parquet floors, you can combine different widths and designs to make beautiful, unrivaled floors.
If you are a newbie, you should consider the following to know how to install laminate flooring!
Some Notable Brands
When choosing laminate flooring, you can consider the Pergo that has produced laminate flooring since the 1970s. In case you need water-proof laminate flooring, you should consider the RevWood and RevWood Plus collections of Mohawk.
My Recommendation
If you want the flooring that imitates the look of hardwood without costing much, you should take a closer look at laminate floors. While laminate flooring is not the most environmentally friendly choice, many manufacturers are developing more eco-friendly options. Moreover, this type of flooring is also durable and easy to care for.
2. LVT/ Vinyl Plank Flooring – Most Popular Option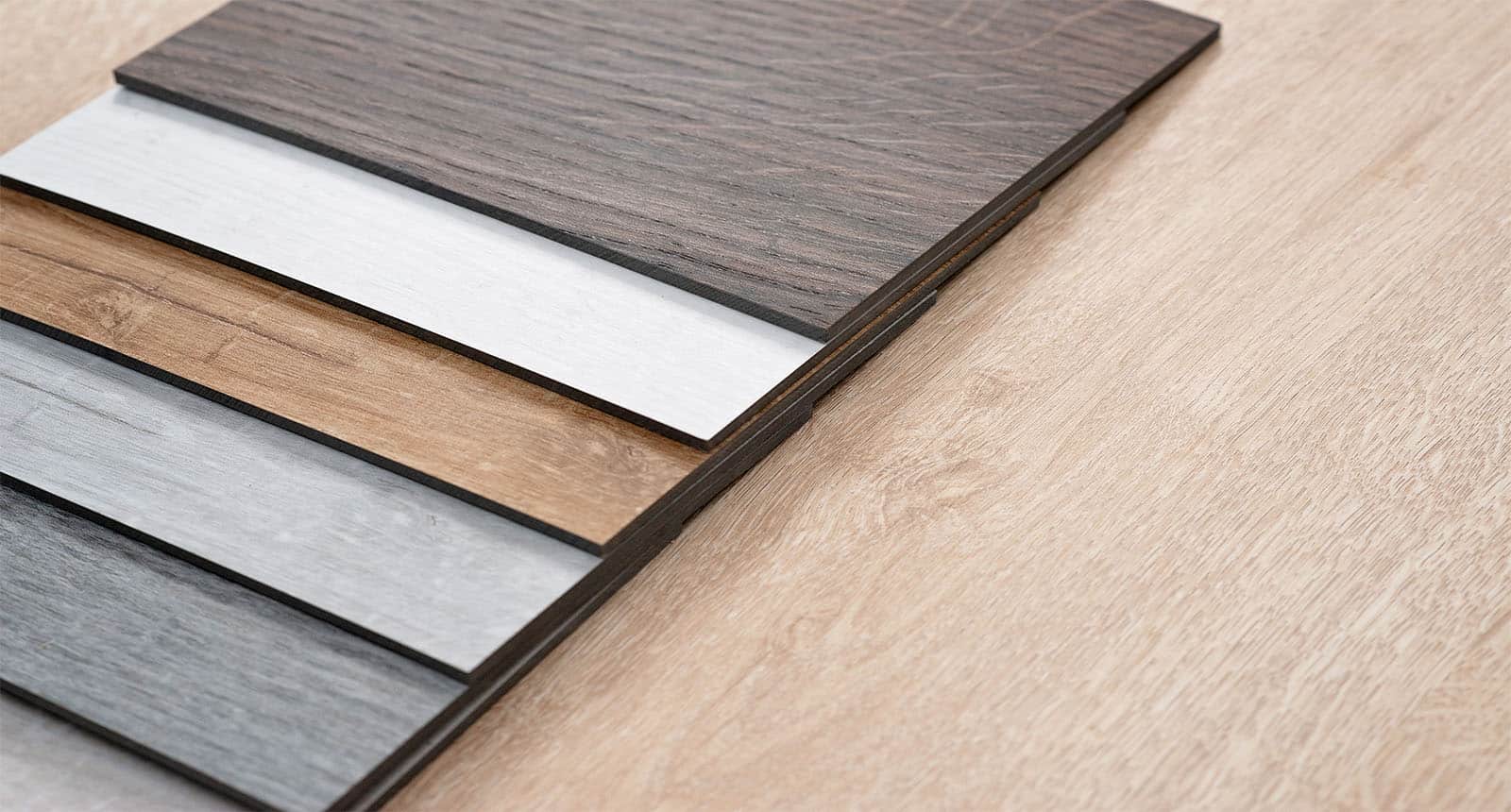 If you've been searching for a new hardwood floor alternative for your house, you've apparently heard that vinyl plank flooring can be a great choice. It features the look and feel of hardwood but costs less.
Vinyl flooring is made entirely of synthetic materials. The base coating of standard sheet vinyl and vinyl tiles is normally fiberglass. Then, it is covered in PVC vinyl and a plasticizer.
Vinyl plank flooring is far less expensive than most other options available, and modern processing methods ensure that it looks more natural. Taking care of this flooring type is not kind of challenging since you can seek the help of a vacuum cleaner specialized for vinyl floors or a steam mop for vinyl floors.
Types
Vinyl planks can be classified into three groups. Please keep in mind that sales professionals often use all three forms interchangeably, so it is critical to explain.
LVP – Luxury Vinyl Plank: LVP outperforms "non-luxury" vinyl planks in terms of durability and appearance.
WPC – Wood Plastic Composite: This type is just similar to LVP. WPC is water-proof, and it can be an ideal choice for bathrooms, basements, kitchens, etc.
SPC – Stone Plastic Composite: SPC is fully water-proof and also ideal for uneven subfloors. Although it is less thick than WPC, it is more durable because they are denser, making them more resistant to attack.
Pros
The endless number of colors, styles, and textures to complement your home decor
Low-cost, yet durable option
Water-proof, safe to install in damp areas like bathrooms, kitchen, laundry rooms, and so on
Soft and comfortable feeling underfoot
Easier maintenance and cleaning
Not absorb noise
Make your home warm and cozy
Cons
May emit gases and VOCs
Cannot raise the resale value of your home
Need level, moisture-free, and clean subfloor
May take much time to remove for re-installing new floors in the future
Where To Lay
Vinyl plank flooring is durable enough to install in heavy-traffic areas. It is also water-resistant, making it suitable for use in wet rooms and humid environments.
Installation
Vinyl plank flooring is one of the most low-maintenance flooring options for your house. Most vinyl plank flooring comes with the pre-fitted form of click & lock installation – the locking systems that work together like a jigsaw puzzle.
Luxury vinyl planks are usually installed with glue and need a level subfloor. WPC vinyl planks interlock to eliminate the need for glue or underlayment. Both WPC and SPC vinyl planks can be installed like a floating floor.
The following video will show you how to install vinyl plank flooring fastly and easily. Let's watch it now!
Some Notable Brands
Some best brands of vinyl plank flooring that you should take into account are Mannington, Armstrong, Proximity Mills, and Mohawk.
My Recommendation
In brief, vinyl plank flooring is an excellent choice if you want a low-cost, long-lasting floor that still looks fantastic. You should look for a vinyl flooring brand that promotes low VOC, phthalate-free vinyl flooring
3. Wood-Look Tiles – Best Options For Bathrooms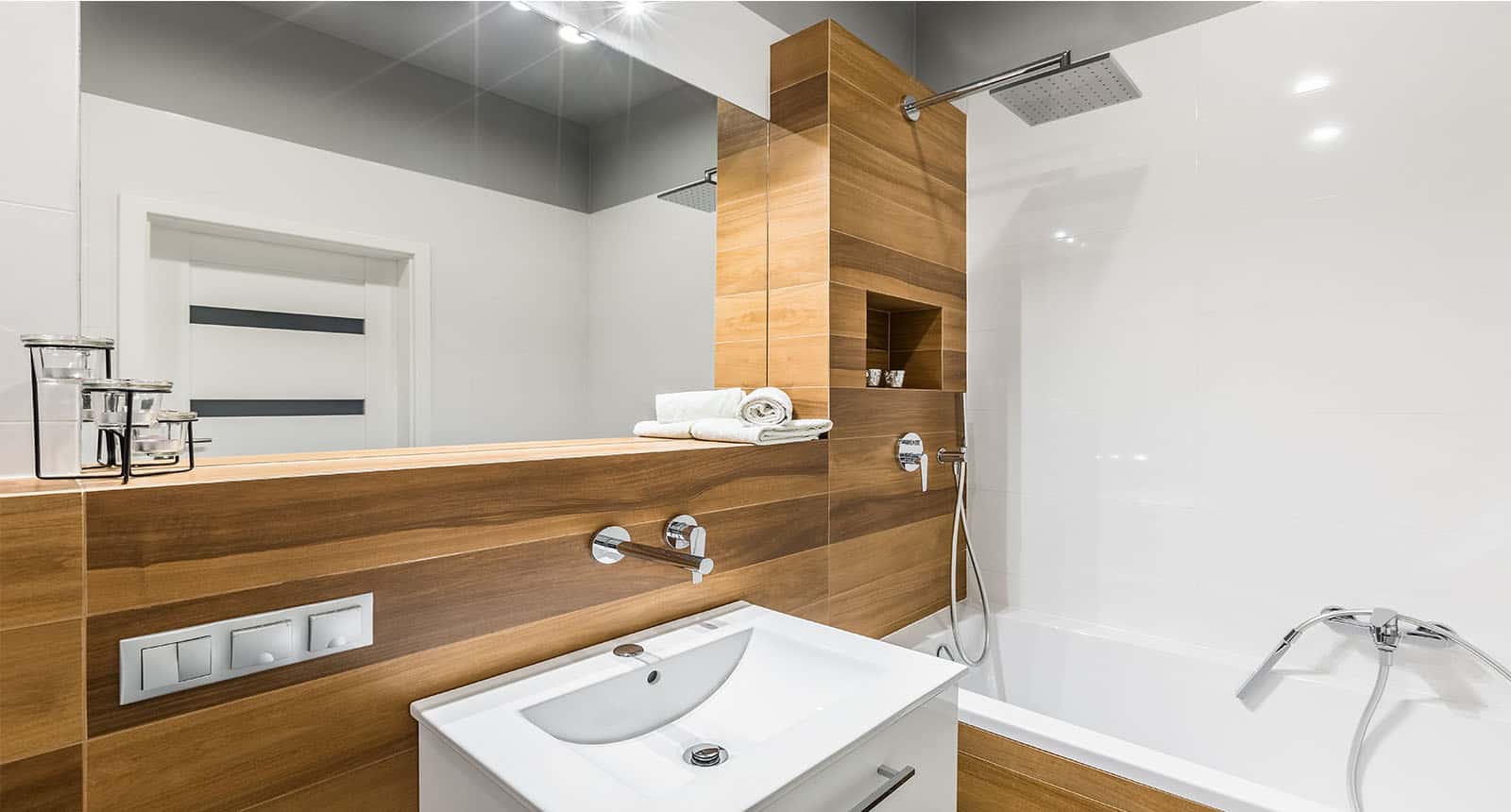 In the last five years, wood-look tile has grown in popularity. This flooring type is commonly used in bathrooms and kitchens. Aside from the apparent benefit of resistance, tiles are both less expensive and more uniform.
While there are certain disadvantages, such as the material's coldness and stiffness, wood-look tiles are a brilliant and trend-forward concept. Wood-look tiles are more environmentally friendly than other types of flooring because you can recycle them. Since there is no rubber or glue to work with, there are no VOCs.
Types
There are two types of wood-look tiles: ceramic and porcelain wood-look tiles.
Ceramic Wood-Look Tiles: Traditionally manufactured from clay, water, and sand. Ceramic tiles are available in a range of colors and designs, and they cost less than porcelain.
Porcelain Wood-Look Tiles: Porcelain wood-look tiles can also be classified into two other types, through-body and color-body. The term "through-body" refers to the color and pattern running across the porcelain wood-look tile. Color-body wood-look porcelain tile preserves only its color in the tile's body. The sheen of the tile is provided by a baked-on coating on the surface layer.
Pros
Durable enough to look like new for 20 years
Easy to maintain; just need a tile mop or tile vacuum to keep it shiny
Can be installed everywhere in your home
Endless textures, styles, and colors to match your likings
Allergy-friendly, resistant to pollens and dust mites
Ideal for home with pets
Eco-friendly, free of VOCs
Cons
More challenging to install compared with other hardwood floor alternatives
You may feel uncomfortable if you stand on tiles for such a long time
Quite slippery when wet
Where To Lay
This is due to the fact that wood-look tile is impervious to moisture and humidity. It can be installed in mudrooms, bathrooms, basements, kitchens, and so on.
Porcelain is thicker and more robust at repelling water, so it is the better option for wet areas. Since porcelain wood-look tiles are tough enough to handle small temperature changes, they can also be used in semi-outdoor areas such as sunrooms or patios.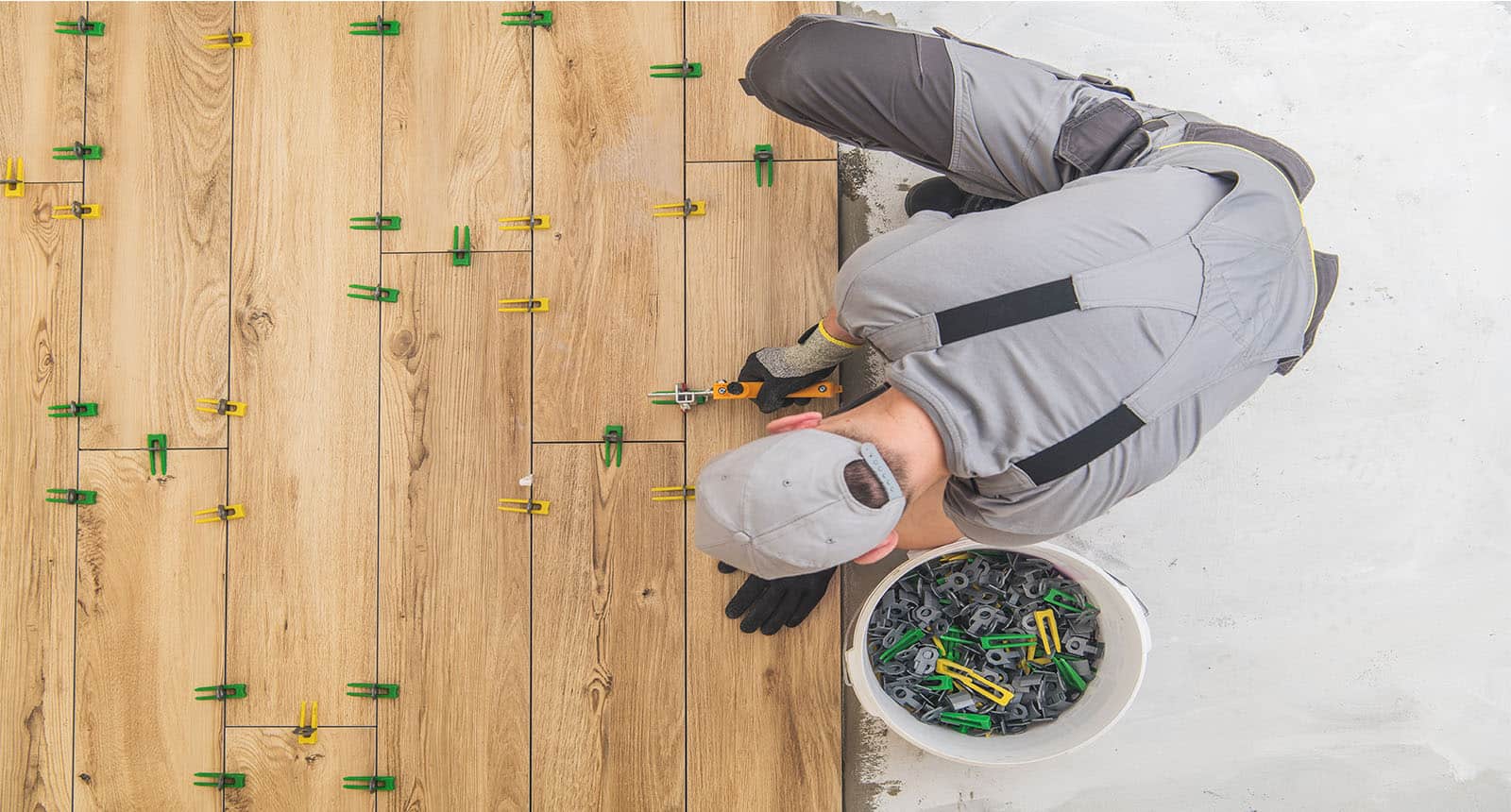 Installation
Unlike other hardwood floor alternatives that allow DIYers easily to carry out the installation task, wood-look tiles require a professional contractor. It may be difficult to arrange the components to create a wood-look pattern.
Are you curious about how to install wood-look tiles? The following video will give you the answer!
Some Notable Brands
Merola provides wood-look tile in more than 40 colors and 20 sizes, with prices starting at $6.00 per square foot. Vitromex comes in 19 distinct wood-look tile colors. Ragno porcelain wood-look tile comes in five separate sets of 17 different colors and designs. You can also consider other brands such as Florim USA, MS International, Daltile, and Porcelanosa.
My Recommendation
If you are in need of a hardwood floor alternative that is cheap, sturdy, and long-lasting, and can withstand water and temperature fluctuations, wood-look tile can be a perfect option. In some cases, spending more on porcelain wood-look tile can be worthwhile, but high-quality ceramic wood-look tile is durable enough for most households.
4. Bamboo – Exquisite Look With Incredible Durability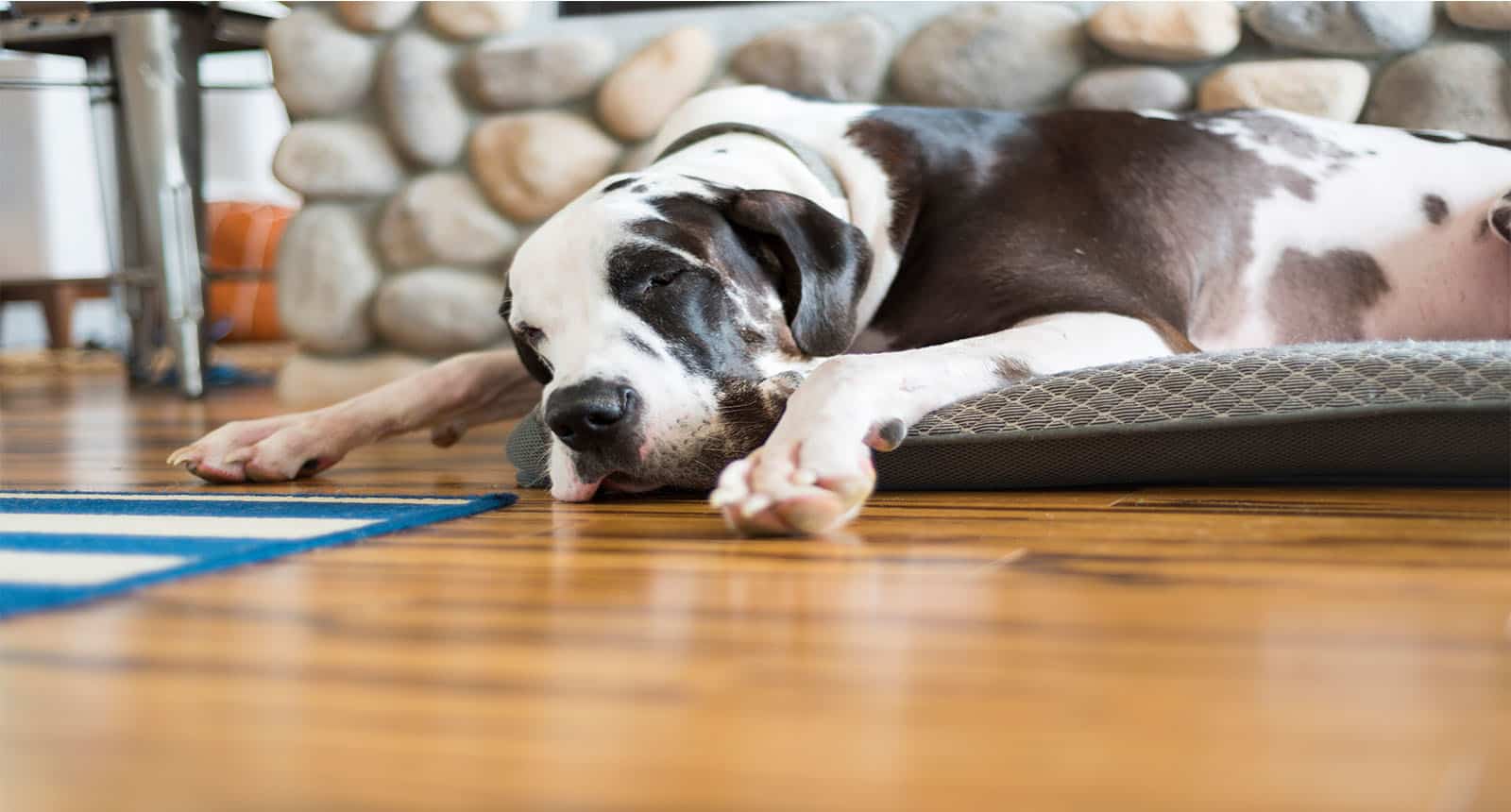 Another alternative for hardwood floors is bamboo flooring. Bamboo flooring is often considered hardwood flooring, but bamboo is a kind of grass. This flooring is constructed from a natural material that can increase your home's real estate value.
Bamboo is more appealing to customers who choose to use sustainable, green resources. A tree takes about 20 years to mature, but bamboo can be harvested every 5 or 6 years. Another good news for you is that the majority of commercial bamboo is responsibly harvested from plantation-like activities. However, bamboo is prone to scratches and vulnerable to cracking in environments where humidity levels fluctuate drastically.
Types
When it comes to types of bamboo flooring, you should go on to get a full view of the three types: strand bamboo, vertical-grain solid strip, and flat-grain solid strip.
Strand bamboo: Created by combining shredded, super-thin bamboo fibers with resins. Then they are pressed to form rock-hard planks.
Vertical-grain solid strip: Is made up of thin bamboo strips that are glued together and stacked on edge, almost like a butcher block.
Flat-grain solid strip: The most popular type, which is made up of small, flat strips stuck on top of one another. After that, they are laminated with each other.
Pros
Effortless to maintain, you just need an excellent broom and dustpan, or a perfect vacuum for hardwood floors to keep the surface clean
The eco-friendly option since bamboo is a sustainable source
Durable and sturdy
Bamboo flooring can be refinished
Modern and gorgeous look
Termite-resistant
Ideal for allergy sufferers
It is possible to install a radiant heating system under bamboo flooring
Cons
Like real hardwood floors, bamboo flooring is prone to scratches
Bamboo is vulnerable to water damage
Some low-quality bamboo flooring may contain urea-formaldehyde
Where To Lay
If you leave too much water on the bamboo flooring, there will be hideous spots, and the flooring can be warped. Moreover, Bacteria and mold will emerge between the bamboo planks if the flooring is damaged by water.
As a result, bamboo flooring is best suited to dry areas of your house. It is not an ideal option for bathrooms or kitchens. And if the flooring has a water-proof covering, it is better to scrub with care and to wash up spills as soon as you see them.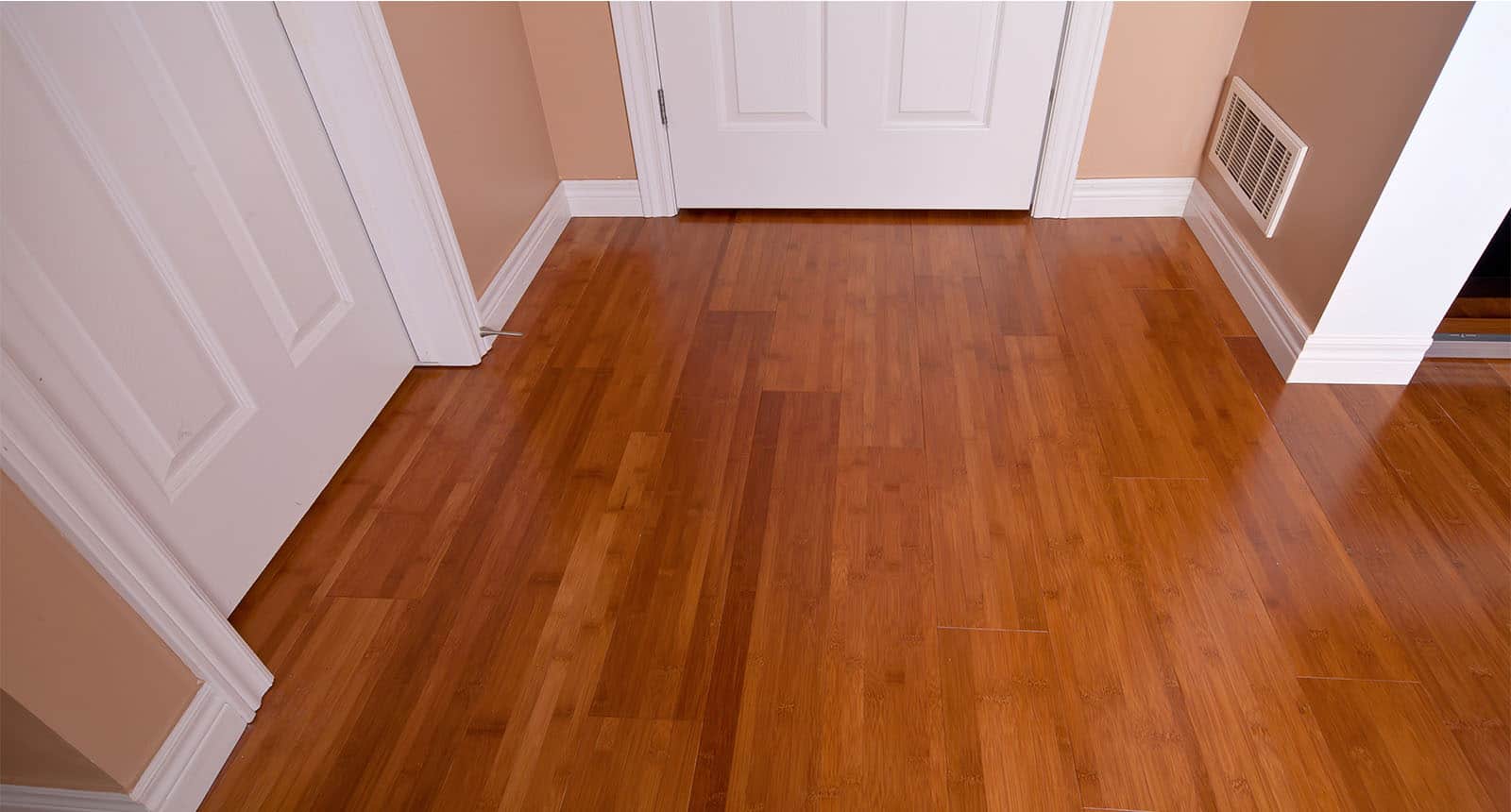 Installation
Bamboo flooring can be installed with nailed-down, glue-down, or floating methods. With the nailed-down method, you should seek the help of a professional contractor. With the glued-down or floating method, you can carry the task by yourself. Check how to install hardwood floors, and you can easily install bamboo flooring after that.
Why don't you watch the video below to know how to install bamboo flooring following the floating method?
Some Notable Brands
Here I will list some best brands of bamboo flooring that you should know. The first brand you can consider is Cali Bamboo, which is one of the market's leading bamboo manufacturers. The second brand is Trinity, and this brand has offered low-cost bamboo flooring since 2016.
Ecofusion is also one of the global leaders in the production of bamboo flooring. You can easily see products of this brand in luxurious hotels and universities across the USA.
My Recommendation
Bamboo flooring is a great hardwood floor alternative that is more common and widely accessible. With a modern look, but a lower price, bamboo flooring is worth considering. Bamboo can be refinished, and it comes from a sustainable source.
However, this type is prone to scratches, and some cheap options can contain VOCs. Therefore, you should find a high-quality product to enjoy its attractive look for years to come.
5. Cork – Allergy-Friendly, Soft, And Comfortable
Another eco-friendly hardwood floor alternative is Cork. This flooring is made from cork bark, which can be harvested every decade. As a result, cork farmers can reuse the same trees for decades.
Since cork flooring is resistant to mold and mildew, it is ideal for those who suffer from allergies. Cork is gentle for your ears and feet and also friendly for your budget. Installation is also worry-free if you follow the instructions carefully.
Pros
Ideal for people with allergies or asthma
Durable construction with a modern look
Soft underfoot and gentle for your ears
Material from the sustainable source
Can be refinished
Cons
Sensitive to changes in temperatures
May fade as time flies
Not water-proof
Where To Lay
One of the best aspects of cork flooring is how gentle and satisfying it feels underfoot. As a result, cork flooring is commonly found in areas where you want to stand on it for a long time like kitchens. Moreover, the soft surface also makes it ideal for children's bedrooms, playrooms, and elderly's rooms.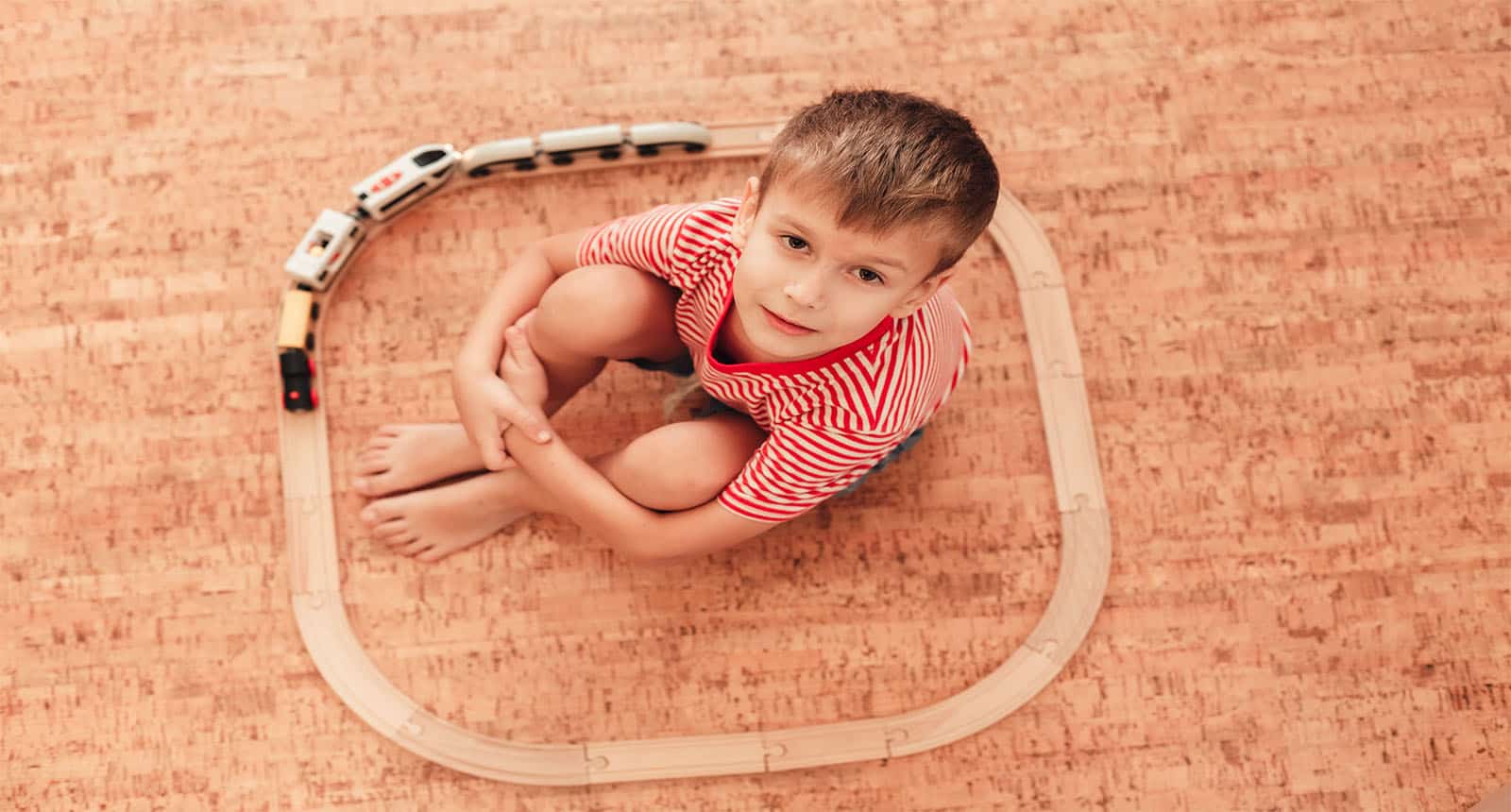 Installation
Cork flooring is often installed with lock-lock edges for floating floor construction, like laminate or luxury vinyl planks. In most cases, floating cork flooring is built on a thin, foam underlayment pad.
Do you want to know how to install cork flooring? The video below is worth watching!
Some Notable Brands
Globus Cork Flooring has been one of the best cork flooring brands since the 1990s. This brand provides pre-finished, pre-glued, 4mm thick cork planks. Another notable brand is WE Cork, which offers 3 different lines of cork flooring in different styles and sizes.
The leading manufacturer of cork flooring is CorksRibas, and this brand offers products that are ideal for both residential and commercial uses.
My Recommendation
If you want a soft, attractive hardwood floor alternative with a comfortable, warm, casual look, cork flooring is a good option. In case you need a completely pristine surface, you should consider other options since cork is a very soft material that forms a worn patina as time flies.
6. Hemp Wood – New Hardwood Alternative Made From Hemp Fibers
Like bamboo, Hemp wood flooring is the natural building material that is becoming more and more common for those seeking healthier homes built with renewable, environmentally-friendly building materials.
A hemp crop can be harvested in as few as 120 days. With such a short growing season, hemp wood quickly appeals to environmentally-conscious individuals. Do you know that hemp wood is also a durable option when it comes to alternatives for hardwood floors? On the Janka hardness scale, hemp wood planks score a staggering 2750.
Pros:
Sustainable hardwood floor alternative
Hemp absorbs 4 times more carbon than a tree
100% naturally non-toxic, free of VOCs
Sturdy and durable construction
Highly water-proof
25% harder than other hardwood floorings
Cons:
Cannot be refinished like other engineered floorings
Where To Lay
HempWood is a relatively water-resistant hardwood floor alternative. However, it means that HempWood flooring is not fully water-proof, so you should not install it in bathrooms, laundry, kitchen, or other areas that are prone to water damage.
Installation
Since Hemp Wood flooring is one of the newest forms in the market, there is just one installation method: tongue and groove. Since this installation method is not kind of easy, you will need to hire a professional contractor.
Some Notable Brands
Nowadays, you can only find Hemp Wood flooring from its manufacturer, Fibonacci LLC, at HempWood.com.
My Recommendation
HempWood flooring is new, so there is not much information about it. What I can provide you with is that this flooring has the potential to revolutionize the flooring market. The raw materials mature fast, the final product surpasses oak, and it is incredibly renewable.
7. Plywood – Large Sizes, Value For Money
Since the early twentieth century, plywood has come on leaps and bounds. For several years, plywood has been seen as merely a replacement for solid hardwood floors, and it is also an ideal option for both home builders and homeowners.
While plywood is an excellent subflooring material, you can also use it as top flooring. The perfect plywood flooring is constructed from durable wood species such as cherry, walnut, and oak.
Therefore, plywood flooring can withstand heavy traffic and becomes a worthy option. To produce a decent wood look-alike, the plywood must be coated with polyurethane and then painted or stained.
Types
Plywood may be made from soft trees, hardwoods, or a combination of the two. Douglas fir is the most commonly used softwood in the production of plywood. Other traditional woods include cedar, oak, redwood, ash, birch, mahogany, and pine.
Pros
Stunning and attractive look
Durable and robust construction for both residential and commercial applications
Much lighter than hardwood floors
Come in large size to cover large areas
Ideal for curved surfaces
Eco-friendly option
Cons
Compared to hardwood floors, plywood flooring is less likely to increase the value of your home in the real estate market.
Though plywood features water-resistant ability, moisture can still degrade it. If you want to use plywood outside, you must purchase exterior-glued plywood.
Where To Lay
Plywood is available in a variety of thicknesses and can be used for a variety of tasks such as shipbuilding or decorative lawn ornaments. Moreover, it is also used in the construction of homes for walls, closets, floors, doors, cabinets, and shutters.
Plywood floors are appropriate for any space where hardwood will be installed, but kitchens and bathrooms are not very suitable due to the likelihood of repeated water spills. Moreover, basements are also not an ideal option.
Installation
Installing the plywood floor is quite easy, and you can carry the task by yourself. Your work is just limited to sanding the sheets, gluing/nailing them flat, and staining/finishing the floor. It takes about 2 days to lay out all of the boards and cut the little pieces to size.
In case you prefer installing plywood flooring yourself, you should watch the video for more ideas!
Some Notable Brands
Murphy is a top supplier of softwood plywood, hardwood plywood, and other wood products. Roseburg plywood is an excellent option for plywood flooring in applications that suit the area with a high moisture level. Tolko also offers a variety of plywood products.
My Recommendation
With all of the advantages of plywood, using it for your project is such a wise choice. There will be little waste when you use plywood on every project since about any square inch of a regular plywood sheet can be used. Transporting plywood flooring is also easy since this type is lightweight.
8. Wood-Look Concrete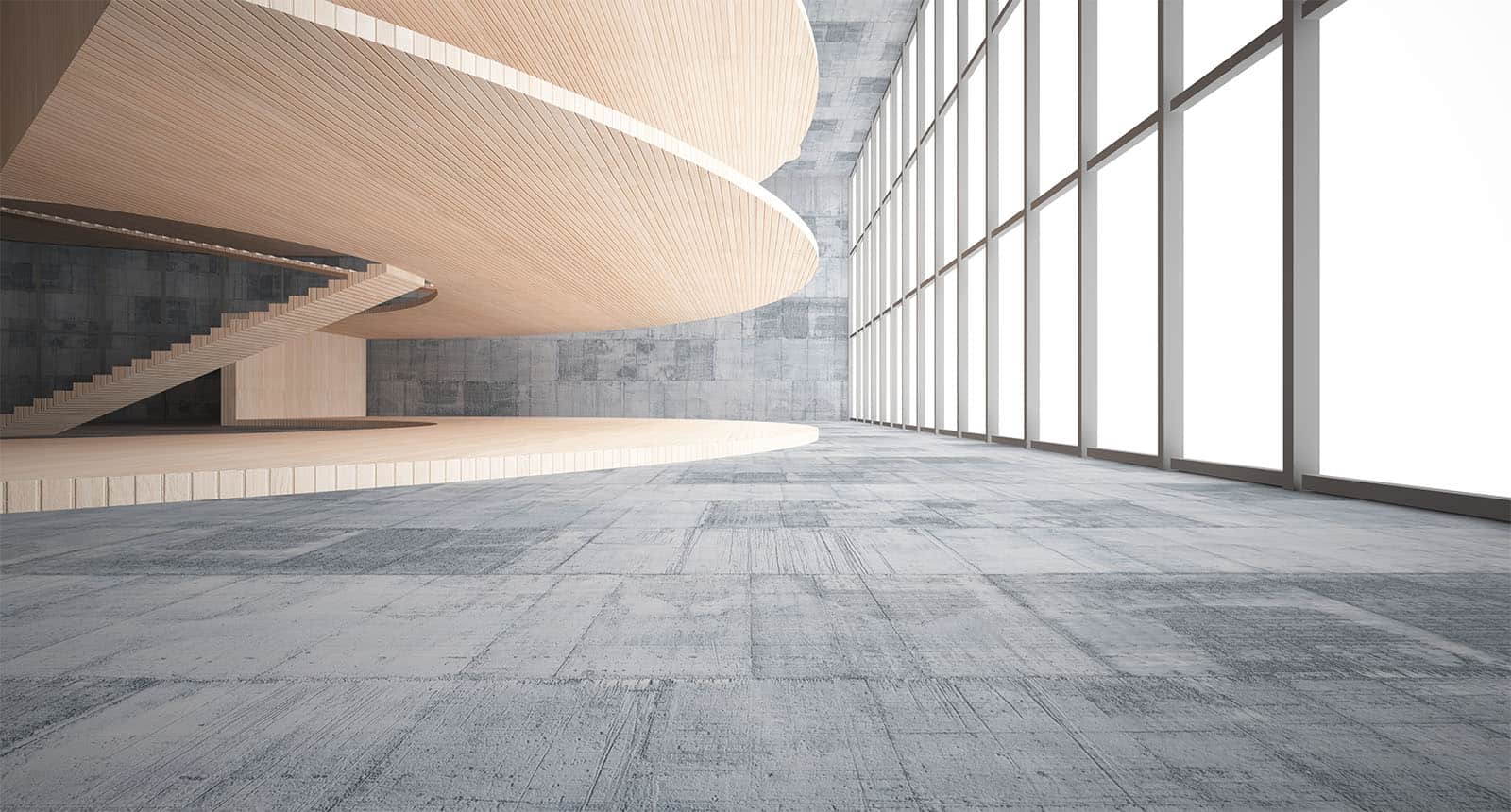 There are a number of ways to mimic the appearance of wood from concrete. Some contractors use the stamping method, while others score and stain the concrete. Here are 3 other common methods for achieving a wood-like look with concrete:
Scoring and staining: Are excellent methods for coating concrete to look like hardwood floors.
Board forming: Is useful for producing poured concrete walls with realistic wood grain.
Vertical stamping or carving: Is ideal for creating faux bois tree stumps, roots, and other details.
Pros
Better durability compared with real hardwood
Low-maintenance
Economical choice for your budget
A work of art
Cons
Achieving the wood look may be quite challenging
Where To Lay
Since wood-look concrete flooring is water-resistant, it can be used in places where real hardwood floors cannot. You can install wood-look concrete flooring in patios, moisture-prone areas such as bathrooms, laundry rooms, etc. Moreover, this hardwood floor alternative can also be used in garages and sunrooms, where extreme temperature fluctuations can cause damage to real hardwood floors.
Installation
You can choose to hire a professional contractor, or you can also carry out the task yourself. You can paint and stain the existing concrete in your house. There are several YouTube videos that show how to achieve wood-look concrete flooring with just a few common household products.
And the following video is a good example!
My Recommendation
If you love DIY project ideas, installing wood-look concrete is a good choice. Concrete floors can be stained, polished, stamped, and textured in whatever way you choose. The only constraint is your own creativity!
Where To Purchase Hardwood Floor Alternatives?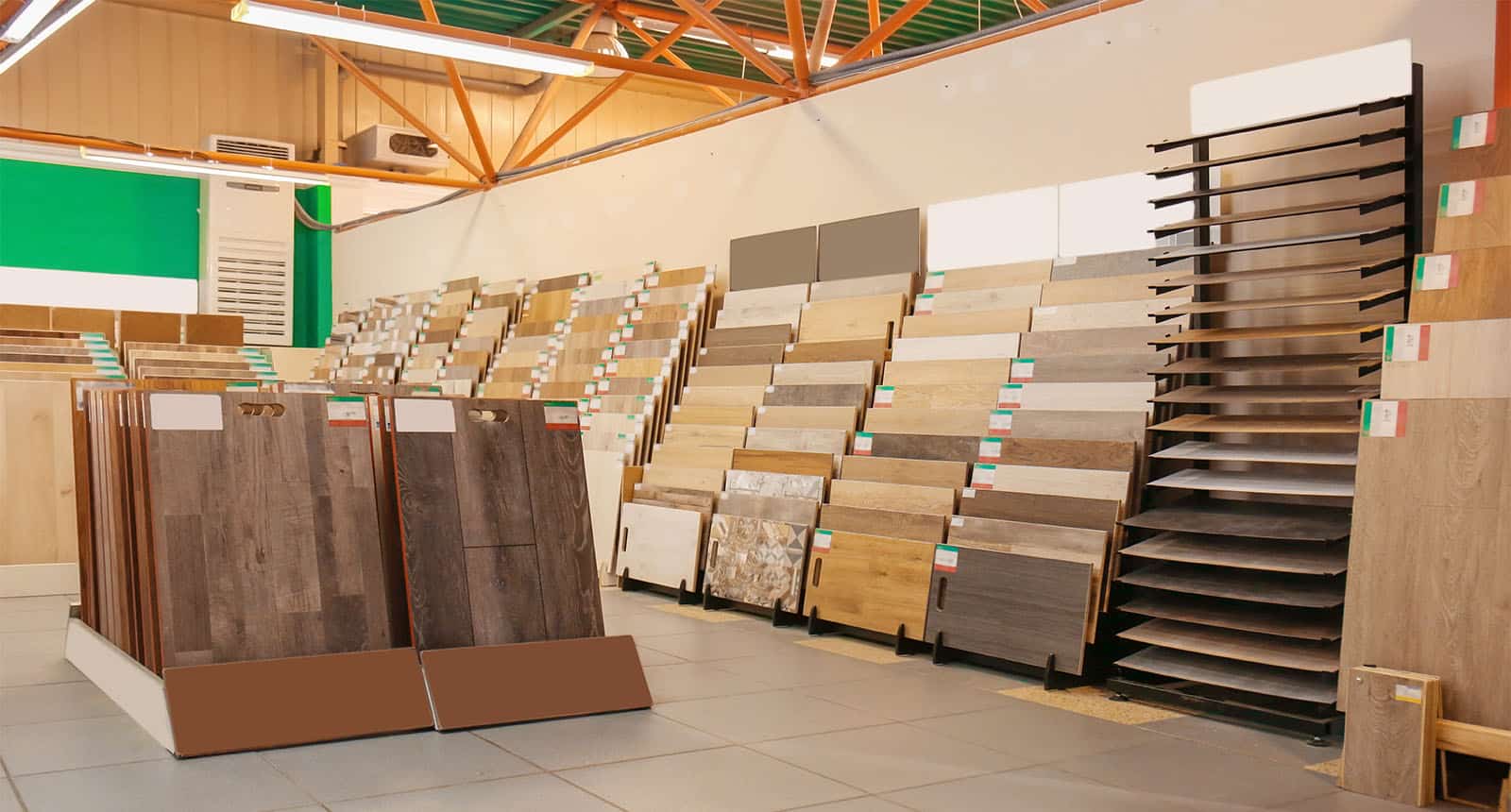 Hardwood floor alternatives can easily be found in most flooring stores and home improvement stores. Local or national flooring contractors around you are also the best places to purchase the flooring, and they can also negotiate lower manufacturing costs.
Many of the hardwood floor alternatives are available at very low prices via BuildDirect. Home Depot and Lowe's also have discount sales for boxes with overstocked products. So, if you can find plenty of what you're searching for to fill your floor. What a fantastic deal!
Lumber Liquidators (LL) is also an excellent source for low-cost laminate flooring. LL also sells low-cost LVP (luxury vinyl plank flooring). You can also look into the choices available by Floor & Décor if you're looking for very cheap ceramic tile.
FAQs
Here are some commonly asked questions about hardwood floor alternatives that you should look through.
Which Hardwood Floor Alternative Is Right For You?
Pick up one of the 8 hardwood alternatives I recommend above if you want the flooring that will outlast the wear and tear in your beloved house. You can choose the vinyl planks for a realistic look or laminate for ease of installation.
Besides, you can get the real deal by purchasing cork, bamboo, hemp wood, or plywood. And boasting your creativity with wood-look concrete is also a great choice. Let's breathe a new life into your house with the perfect hardwood floor alternative!
Which hardwood floor alternative appeals to your needs the most? Do you know other alternatives for hardwood floors? Feel free to share your thoughts with me via the comment, and remember to share your post with your family and friends! Thanks for reading, have a nice day, and stay safe!