Discovering the best care practices on how to clean travertine floors is the ultimate way to keep your investment dazzling like from the first place. It's no coincidence that travertine has become one of the most favorable flooring materials in modern household designs.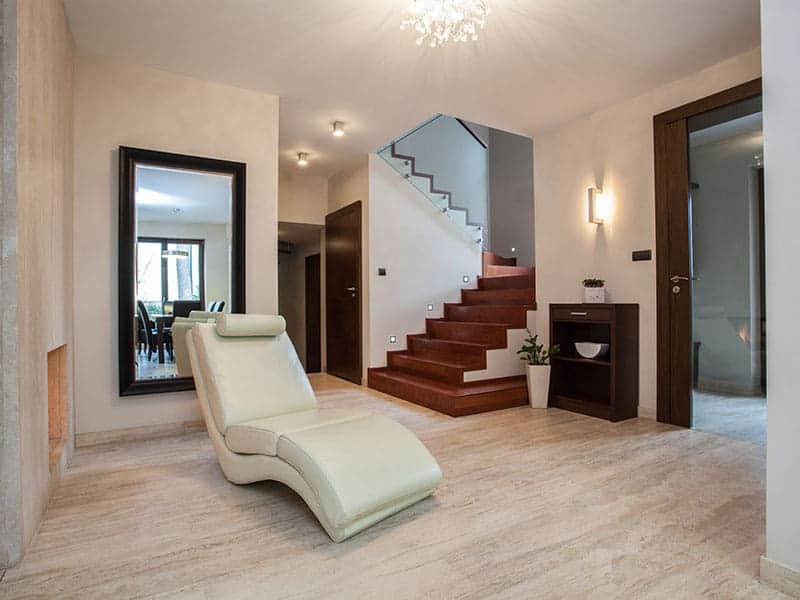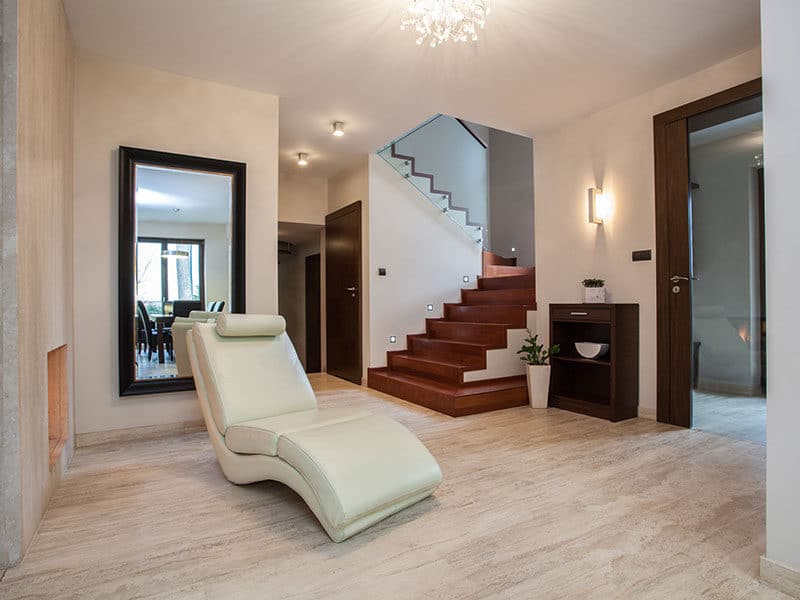 Not only does travertine serves a stunning earth-tone appearance, but it can also take lots of beating in everyday wear and tear to be the top-notch choice for many homeowners. As a result, this natural stone is installed in lots of high-traffic room applications.
Though travertine is easy and straightforward to clean, this flooring material still needs some attention when it comes to repairing damages and restoring its former shine. Without further ado, let's get into the most crucial things to keep in mind when caring for your travertine floors.
What Is Travertine Floor?
Travertine is a natural stone formed by mineral deposits in hot springs. This sedimentary rock bears a unique earth-like beauty with a vast range of color variations like beige, tan, and brown. Though often mistaken for marble, travertine ends up being more durable and porous.
Most commonly sold in tile cuts, travertine is a stunning flooring material used in both interior designs and outdoor spaces. From high-traffic areas like kitchen and living rooms to pavers near patios and pool decks, this natural stone brings a lifetime of beauty to your dwellings.
In comparison with other stone floorings, lots of homeowners show a preference towards travertine floors, owing to their superior longevity. Under everyday use and abuse, you can rest assured that this stone isn't likely to be scratched, cracked, or chipped.
If you need a general introduction on travertine floors, here's a helpful guide from the experts!
What's the Best Cleaner for Travertine Floors?
Keeping a gorgeous travertine floor clean is fairly simple, provided that you fully understand its properties and have a good idea of which product is the best to use.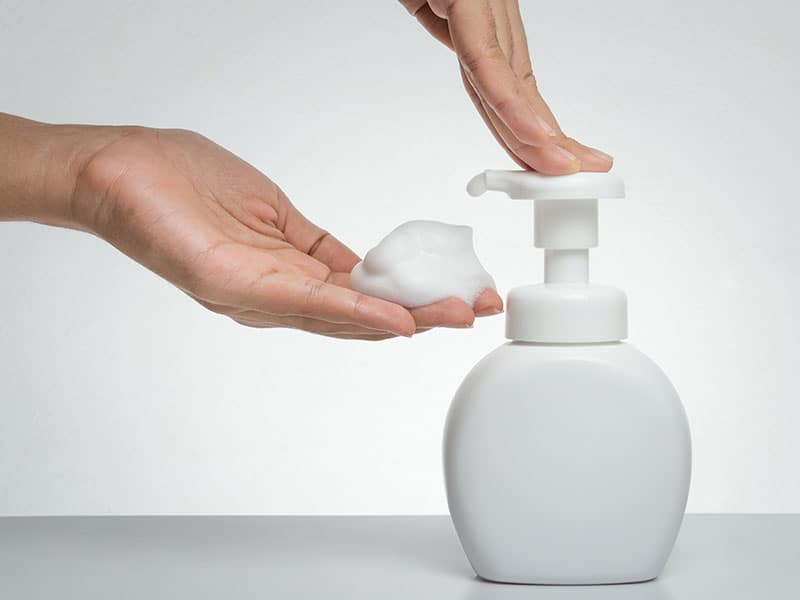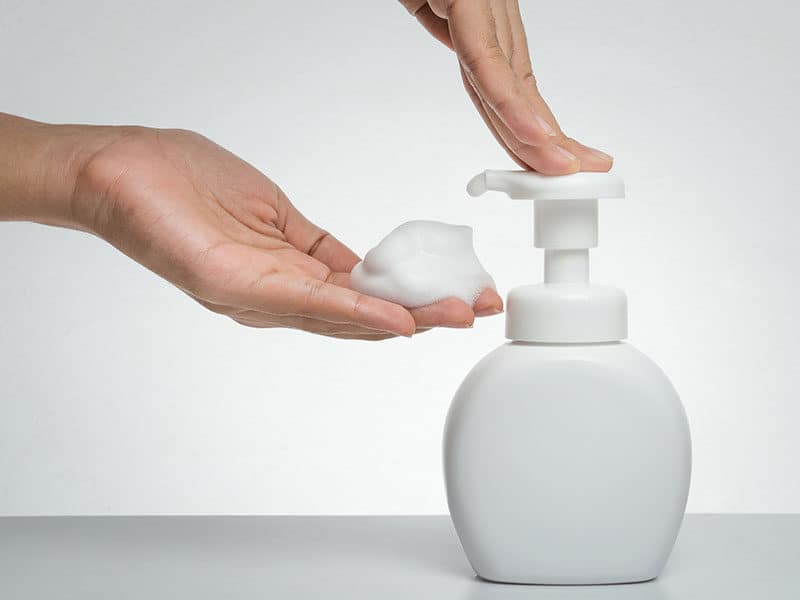 Though vinegar and lemon are two universal homemade remedies for flooring materials, their acidities turn out to be too harsh on travertine. Instead, opt for a pH-neutral or a stone-safe cleaner specifically designed for travertine to maintain its brilliant look.
In addition, you should also try to avoid household chemicals since this natural stone has lots of pores, which easily absorb those chemicals. As a result, your floor can deteriorate and even break down much faster than its expected lifespan of almost a century.
Finally, if you plan to clean the travertine floor with some dish soap on an annual basis, you should make sure that it's a non-acidic and mild type of soap. This application is best to be carried out only 3-4 times per year.
For homeowners who are still doubting about which cleaner to use with your floor, discover a few recommendations in this video!
Best Tools & Equipment for Cleaning Travertine Floors
Although travertine is an extremely long-lasting and resistant material, it contains lots of unsightly microscopic pores. Thusly, choosing high-quality and well-suited tools will make the clean-up much easier and more efficient.
Steam Mop
A steam mop is undoubtedly one of the most efficient equipment to clean stone and glazed floors, including travertine. This tool works by heating up water and penetrating the tiniest pores on the floor's surface to remove all the remaining grime and debris particles.
Thusly, cleaning travertine tiles with a premium steam mop helps homeowners get rid of lots of headaches. However, you should keep in mind not to keep the mop's pad on a single spot for more than 10 seconds since its high heat may loosen the tiles and damage the grout lines.
Although this modern tool typically falls around a mid-range price, there're many cheaper steam mops under $100 out there for your flexibility. With these affordable yet efficient mops at your disposal, you can breeze through house cleaning without breaking the bank.
Broom
Like any other flooring materials, travertine tiles call for frequent sweeping to collect surface grime. Though this is a traditional cleaning essential, your choice of broom, in fact, matters when it comes to treating travertine floors.
Ideally, you should use a non-abrasive broom with soft bristles so that you don't accidentally scratch or scuff the floor while sweeping. Whether you have a wide or small floor area, carefully pick a gentle broom for hardwood floors that'll ensure a long travertine floor lifespan.
Microfiber Mop
Whether wet or dry cleaning, a microfiber mop is sure to be the most efficient tool among all catalogs of commercial floor mops. This is because of its optimal ultra-small fabric strands, giving it the flexibility to get into deep nooks and crannies.
Plus, this type of mop is super easy to clean for storage and re-use as well as long-lasting to last for years to come. If you plan to switch from dust or wet mops to this variety, make sure to opt for a microfiber mop, so you can bet on a clean travertine floor with peace of mind.
If this particular utensil isn't available in your home cleaning kit, replace it with other kinds of mops such as spin mops and sponge mops based on your needs and personal experiences.
Vacuum Cleaner
Though vacuum cleaners are generally claimed to suit all types of floor and furniture, this electric gadget required extra caution when gliding on bare floors. Some old-fashioned vacuums have worn parts, or roller brushes with harsh bristles stand a chance of scratching the finish.
To damaging your floor with every pass, you shouldn't forget to set the vacuum at a Hard Floors mode, where the machine turns off its brush roll. Otherwise, a lightweight vacuum cleaner with soft attachments is the best bet for your floorings.
How to Clean Travertine Floors Without Streaks
If you're all set to give your travertine floor a little makeover, here're a few steps to note in mind so that a dazzling-clean floor is right at your fingertips.
Step 1: Prepare the Area
First and foremost, before starting the cleaning session, you should prepare the area by outing away clothes or toys on the floor. Especially if it's a high-traffic room, you may want to move furniture and chairs to minimize obstacles and make cleaning more efficient.
Step 2: Clear Surface Debris
You can either use a dust mop for hardwood floors, a classic broom, or a vacuum cleaner to collect all the visible dirt, grime, and hair strands. If you plan to wield a dust mop, make sure it features a microfiber head or pad so that it'll easily attract fine dirt as it glides smoothly on the floor.
For homeowners who prefer the convenience of a vacuum, it's noteworthy to let the gadget suction up all the grime in hard-to-reach edges and corners as well as most walked-on parts.
Without thoroughly sweeping prior to mopping, dry dirt poses a risk of getting damp and stuck to the floor, creating a filthy scene that most homeowners despise.
Step 3: Make a Cleaning Solution
To give travertine floors a quick clean-up, it's best to put together a few drops of pH-neutral cleaner or stone-safe soap with plain lukewarm water in a bucket. If these cleaners aren't available in your household, feel free to use a mild and phosphate-free dishwashing soap.
Also, strictly follow the cleaner's instructions from the manufacturers, so you can be sure of the proper amount to use. Warm water is optimal for the job since it excels at cutting through most greases and soil without damaging the floor's polished finish like steaming hot water.
Step 4: Mop the Floor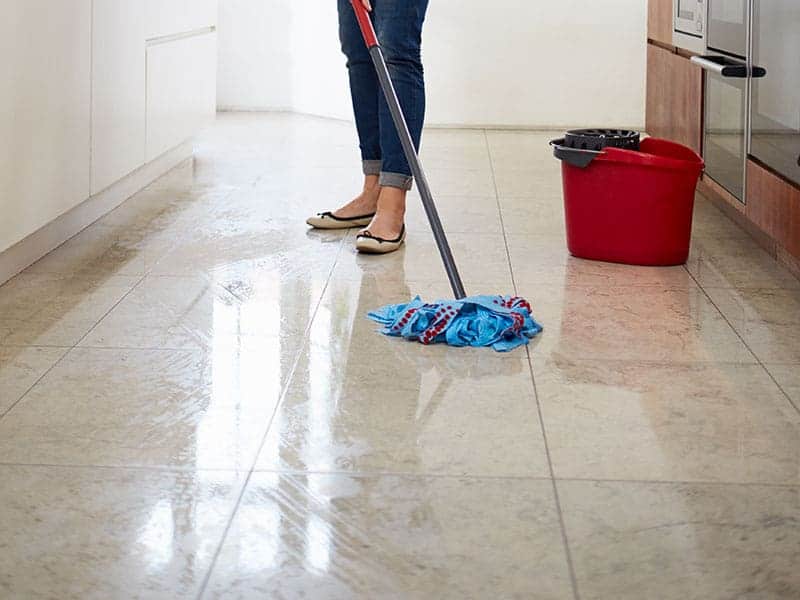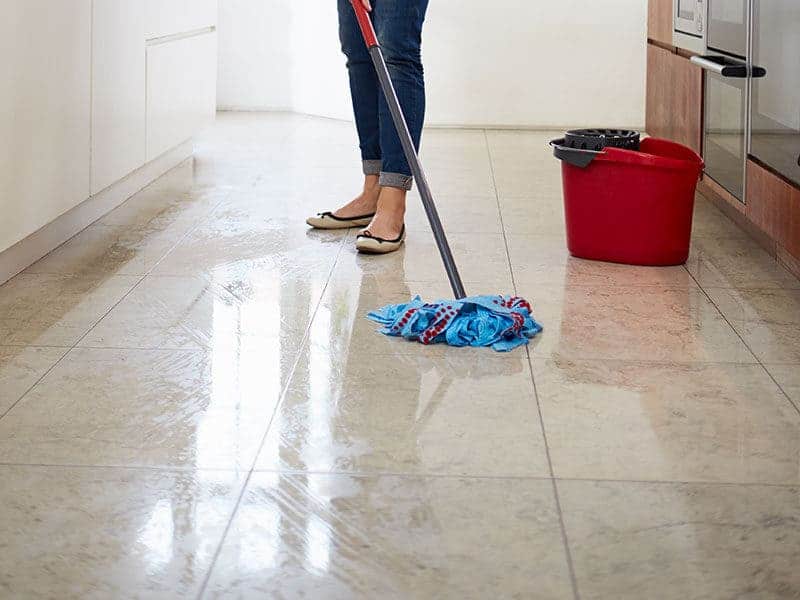 Immerse the mop into the bucket and wring it out to get rid of all the excess water. Mopping travertine floors with a damp mop instead of a soaking wet one is crucial.
This is because oversaturating the floor with water often causes the excess to leach into the grout and sealant, thusly makes it discolored or deteriorated more quickly.
Additionally, many people tend to make mistakes by setting out to mopping the entire area at once. Instead, you should tackle the area in small sections. After passing a few lines, rinse the mop in the bucket, wring it out, and repeat the process with a bit of patience.
The best path to work your way through a large room is to start from the furthest part of the room and work backward to the door or entryway.
On the other hand, if you're someone who constantly rolls on a hectic lifestyle with little effort to spend on housework, another convenient cleaning accessory to consider is a good electric mop for the money. This gadget allows for more efficient work in less amount of time.
Although mopping is a classic home cleaning routine, you may want to discover some ultimate tips to get the work done with ease!
Step 5: Rinse the Floor
This next step plays a key role in avoiding a streaky floor after mopping. Prepare a bucket of clean, cold water and start working again with a clean mop through the entire area.
This will help to remove the cleaner residue and minimize any visible streak that tends to occur if too much cleaner or dirty water is used in mopping. Once the bucket starts to turn dirty, you should immediately pour it away and replace it with a new bucket of clear freshwater.
Step 6: Let Everything Dry
Finally, it's important that you rinse all the cleaning tools after cleaning and let them dry before putting them away in the utility storage to avoid spreading dirt and germs around. Also, let your family know not to step on the floor until it's completely dried.
If you plan to speed up the drying process, wipe the floor with a towel or soft cloth. Though this task may call for some extra manual effort, it's more effective in eliminating standing water and possible streaks.
What's the Best Way to Clean Travertine Floors Naturally?
It goes without saying that natural home cleaning recipes have their advantages against commercial cleaners. Not only are DIY recipes are oftentimes cheaper, but they also give you the flexibility to control the abrasiveness of each batch that you plan to apply on the floors.
Therefore, let's check out this homemade cleaning recipe for travertine floors that actually works to care for and enhance its stunning earth-tone beauty.
What you need:
Rubbing alcohol
Mild, non-abrasive dish soap
Essential oil
Water
Spray bottle
Microfiber mop (or dry, soft cloth)
#1: Put together ¼ cup of rubbing alcohol, 1 teaspoon of liquid dishwashing soap, ¾ cups of water, and some drops of essential oil into a 16-ounce spray bottle. If you don't have any rubbing alcohol at hand, feel free to replace it with vodka in a pinch.
Also, the amount of essential oil in this recipe can be flexible up to 20 drops to help mask the intense odor produced by alcohol. Whether lavender or basil fragrances, home cleaning remedies with essential oils create a pleasant environment while you disinfect your properties.
#2: Once all the ingredients are assembled, simply shake the bottle thoroughly a couple of times. Then, gently spray it on the floor area that needs some extra shine and wait a bit before wiping it off with your cloth or microfiber mop if you want to save some time and backaches.
Since this recipe leaves no residue after use, rinsing is not necessary. Plus, what makes this two-in-one recipe stands out from the crowd is its capability to restore the shine along with disinfecting your travertine floorings.
How to Clean Travertine Floor' Grout?
Similar to other natural stone floors, travertine floors are installed with grout lines filling in the gaps between tiles. Grout is a paste of cement, sand, and water used to reduce the chances of travertine tiles' cracking due to temperature variation.
However, if poorly maintained, these grout lines can be vulnerable to the buildup of grime, moisture, and bacteria, which eventually lead to rapid discoloration and degradation in the travertine floor's surface, starting from its pores.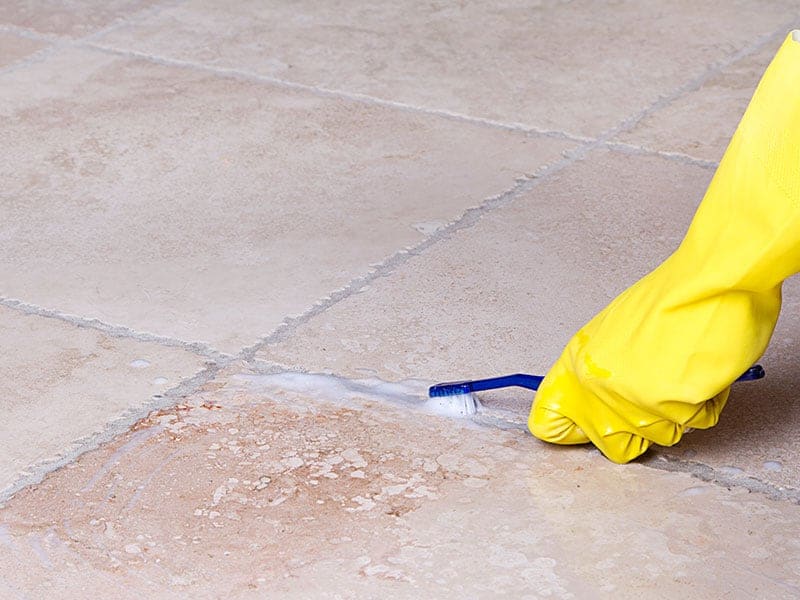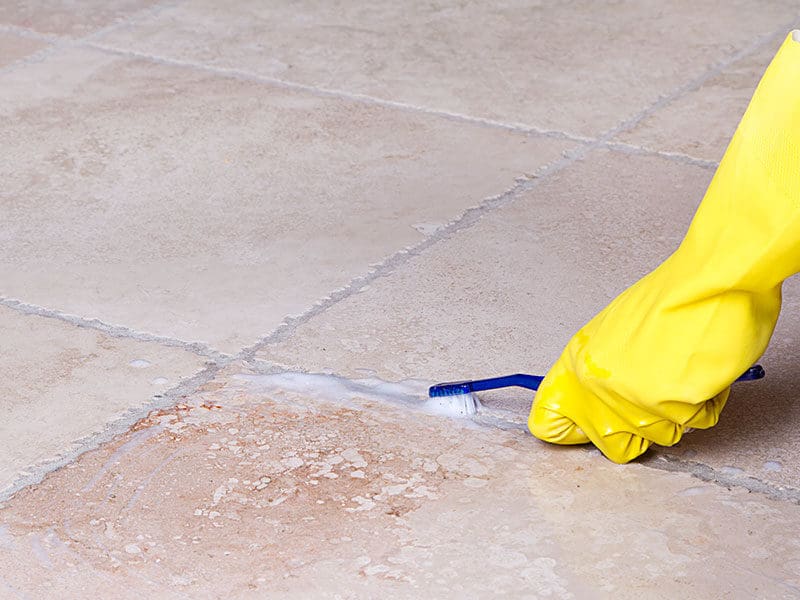 Generally, sealing these grout to get them well-covered is the best way to prevent the accumulation of dirt and germs in the long run. On the other hand, if your floor is unsealed, you can still preserve its appearance with the following unsealed grout cleaning practices.
#1: Vacuum your floor's grouts on a daily basis or twice a week if the area is especially high traffic to remove loose surface hair, grime, and dirt particles.
For large restrooms that call for deep grout cleaning, consider investing in an advanced vacuum cleaner that incorporates a high-pressure system or strong suctioning capabilities.
These systems are designed to penetrate and collect ground-in dirt without leaving unsightly residues, making the job less labor-intensive and practical for any room.
#2: Use the right cleaning solution that has low levels of sodium salts and potassium. It's important to use a cleaner that has enough scouring power to float up contamination from the ground without being over-abrasive that it may mar the floor.
For added versatility, you can consider buying a tile and grout cleaner to efficiently give your entire floor a makeover with fewer cleaning remedies to mix.
With the cleaner in hand, mix a recommended amount well in a bucket of hot water. In case you want to go natural with a DIY recipe, you can mix an equal part of hot water and baking soda to create a grainy paste.
#3: Apply it on the grout lines and let the mixture sit for roughly 20 minutes. This dwell time will allow the stuck-on and stubborn contaminants to loosen up, thusly saves you some labor in the next step.
#4: Gently scrub the grouts with a specialized grout brush to remove all the dirt, excess cleaner, and liquid. If this tool isn't available in your storage, feel free to wield a soft toothbrush in place. In this process, try your best to avoid scratching the tiles' surfaces and edges.
#5: Wipe it all clean with a microfiber mop or some soft cotton. Make sure that all excess water, chemicals, and loose dirt are completely removed. If you don't have lots of manual effort or patience to spare, have a look at comprehensive wet-dry shop vac reviews to find your pick.
This is innovative equipment to get this work done for you in no time. Finally, to prevent possible streaks from forming, you should use a dry cloth to wipe the lines off thoroughly and ensure that no standing water is left on the ground.
For a more vivid demonstration on how to clean travertine grouts like a pro, you should spare a few minutes for the following video.
Caring for Exterior Travertine Floors
Travertine is one of the most long-lasting natural stones with high durability against natural elements like water and weather variations. As a result, this flooring material is widely used in exterior applications like pavers, poolside patios, and other outdoor spaces.
Although exterior travertine pavers require less frequent maintenance rituals compared to interior floors, they still require at least one deep clean-up per year to maintain their glossy finish and cleanliness.
Whether you're putting down travertine tiles around the pool or refreshing an old patio with lots of weeds and grass, let's go throw these tried-and-true rituals to keep your exterior travertine floors looking like new for years to come.
Cleaning the Surface
In general, a deep-cleaning session for travertine floors installed in outdoor areas should be carried out at least once every year. Also, if possible, it's best to sweep regularly and gently rinse away all the dirt and mildew buildup, thusly improves both aesthetic and safety properties.
For exterior tiles that haven't been washed in a long period of time, you can use a mixture of warm water and stone-safe soap to lightly scrub away the caked-on and stubborn stains. Otherwise, using a pressurized hose at a high-pressure level will do with less time and labor.
However, pressure washing is not always the best option for deep-cleaning pavers and pool patios. If done incorrectly or with little care, high-pressure washers stand a chance of damaging travertine's surface, usually by forming pits, lines, and other surface degradations.
If you're curious, here's how a thorough exterior travertine clean-up session looks like!
Sealing the Pavers
Since travertine pavers and pool copings are constantly exposed to harsh sunlight, saltwater, and weathering variations, these exterior applications call for extra protection beyond frequent sweeping and cleaning.
The best way to maintain its quality over the years is to add a layer of external protective sealant onto the tiles and grouts. Not only offers more water resistance and wards off discolorations, but travertine paver sealers can also enhance a natural look to the surface.
Nevertheless, travertine sealing is not a one-time event. Depending on the traffic level, it often takes roughly 3-5 years before your outdoor pavers need resealing. Or else, you can start resealing the paver's surface whenever the sealant seems to wear thin.
Remove Weeds and Grass
Since travertine pavers are installed in outdoor spaces, they can be easily disrupted by wild grass and weeds growing from the cracks between tiles. Thusly, you should keep these exterior designs in check, especially when they're located near lawns, patios, or gardens.
For these hard-to-reach areas, a weed whacker is the best tool to help you clear out these pesky grasses like a pro. Besides keeping these paving travertines separated from your garden and lawn, you can also consider filling in the grouts with specialized sand to ward off future growth.
Handle Furniture With Care
Once you've decided to upgrade your dwelling with some stunning travertine pavers, it's easily understandable to match these with your favorable pieces of furniture to create a gorgeous display.
As you're doing this, make sure to handle hefty and large furniture with extra caution by not dropping or letting it hit the floors.
Plus, try to avoid furnishings with wheels or plastic attachments, since these parts stand a chance of scratching and causing wear in patterns of travertine pavers.
How to Remove Stubborn Stains on Travertine Floors
We've all seen it; stains are inevitable on travertine and any other stone floors. These stains first appear as minor dark spots that may come and go. However, some spills and spots, if treated improperly, can change the mineral structure of travertine and stay permanently.
For that matter, it's important for every homeowner to learn a few things on how to tackle different types of stains. From greasy oil-based marks to firing and smoke damages, there're quite a few simple stain removal tricks to maintain a fresh and polished look on your floors.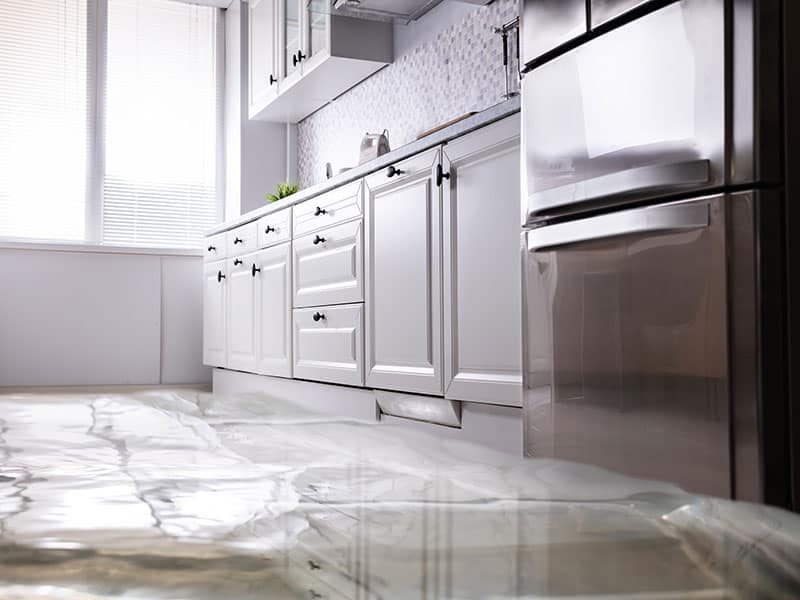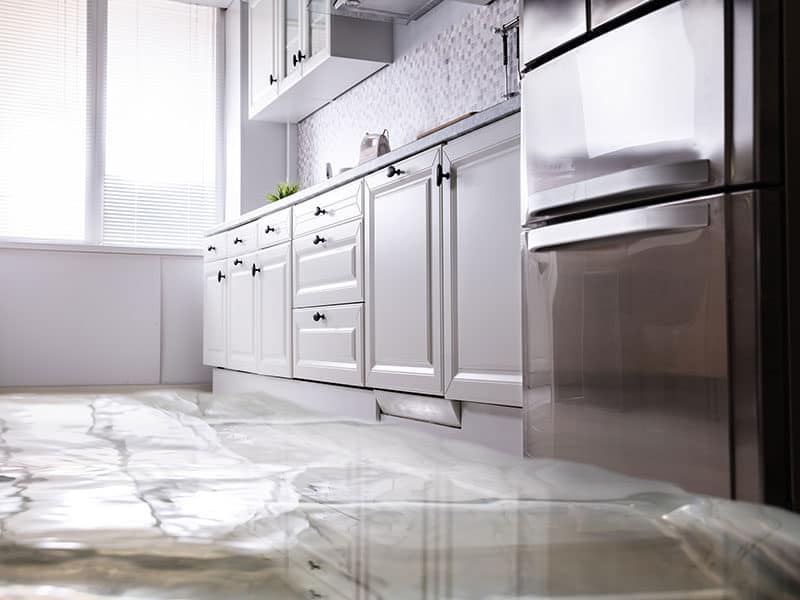 What's a Poultice?
Normally, the best way to get rid of a stuck-on stain is by using poultices. In simple words, a poultice is a paste comprised of a liquid cleaner or a chemical and a white absorbent material that offers the capabilities to pull up and suck out the stains in virtually all cases.
While store-bought poultices are easily found in lots of grocery stores, you can go natural by putting together your own poultice mix at home. This will ensure to maximize removal effectiveness due to the specific kind of stain found on your floor.
Discover a basic poultice recipe recommended by the expert right here!
Oil-Based Stains
Method #1:
Method #2:
One of the powdered absorbent materials
Mineral spirits (or a commercial degreaser)
Asides from cooking-oil spills and splatters out of pots in the kitchen, you'll be surprised to know that numerous oil-based products in your daily life are likely to leave stubborn stains if dropped on the floor. This includes dairy items, makeup products, and coloring agents.
However, with great care and a proper solution, cleaning oil off travertine floors surface can be done easily and efficiently. As soon as the stains happen, you need to quickly grab a white cloth or a paper towel and blot up the oil and leave it for a few minutes while the oil is being absorbed.
Next, wet another cloth with a soft liquid cleanser or one of the two poultice recipes recommended above and place it on top of the stain. Gently rub inward from the area's exterior to avoid spreading the oil around and rinse it all clean with clean water to prevent streaks.
To speed up the process, you can consult a quick and effective oil removal product here.
Ink Stains
Method #1: Acetone or Rubbing Alcohol
For the majority of ink stain causes such as ball-point ink pens, sharpie pens, or even wax pencils, acetone and rubbing alcohol are the most effective ingredients to eliminate the dark spots.
If the mark is considered light and hasn't been absorbed deep into the stone, you can try soaking the area with one of the two and lightly scrub it off with a non-abrasive pad or brush.
Method #2: Poultice
One of the absorbent materials
Mineral spirits
In cases where the stain is deeply seeped into the ground and doesn't seem to disappear upon the previous method, your best bet is a poultice made of mineral spirits and one of the absorbent materials like baby powder, chalk, or untreated flour.
Apply this mixture on the ink mark, cover it up thoroughly, and give it the dwell time of a day. Then, remove the plastic wraps and let the poultice air-dry for another day or two. The pen mark should be gone after this process. If not, you'd be better off leaving it for the professionals.
Rust Stains
Method #1: Poultice
Diatomaceous earth
Commercial rust remover
This recipe works well for most rust stain removal applications. However, commercial rust removers have a tendency to leave your floor's finish with etch marks if used in improper amounts and manners.
As a result, if the stain looks like it's floating beneath the travertine surface, you may need to consult some professionals to tackle the job.
Method #2: Hydrogen Peroxide
For lightly rusted areas, start by spraying or pouring 3-4 percent hydrogen peroxide directly onto the stains and gently agitate it with a stone-safe cleaning pad or a soft nylon brush. Then, let the mixture sit for as much as 24 hours before rinsing the area with clean water.
Organic Stains
Method #1:
Method #2:
12% hydrogen peroxide
Ammonia
As its name suggests, organic stains are caused by familiar organic materials like food spillages, teas, juices, and even urine. When dropped on the floor without being picked up or cleaned immediately, these substances often leave ugly brown stains.
It's safe to say that organic stains are inevitable, especially for busy cooks. To banish this type of stain, you can use a store-bought commercial cleaner or a poultice solution of twelve percent hydrogen peroxide with a couple of drops of ammonia.
Paint Stains
What You Need:
Razorblade (or a plastic putty knife)
Lacquer thinner
Paint stains are likely to occur during many DIY painting and plastering projects. Even if you have already laid drop clothes beforehand under your work area, small pieces of paint can still fall down on the floor.
Though paint stain clean-up are seemingly straightforward, you'll still need to act fast and with caution to avoid damaging the floor while restoring its former look.
If only a small portion of paint is dropped, you should lightly scrape it off with a razorblade or a plastic putty knife with moderate pressure. For small and fresh stains, a bit of lacquer thinner can be added to speed up the process and avoid scratching the surface.
Otherwise, if the stain covers a large area, a stone-safe paint remover might be what you need. Apply this paint remover to a scouring pad and mildly scrub off the stain to minimize damages to your floor. If this method doesn't work either, it's time to consult professional cleaners.
Etch Marks
What You Need:
Stone-safe polishing powder
Buffing pad
The most common culprits for terrible etch marks on travertine floors are acidic household items like lemons, juices, and vinegar. Often mistaken for stains, etch marks, in fact, are a kind of physical damage with visible dulling on the floor's finish, especially if they remained for long.
Etch mark removal tends to be a delicate process requiring a decent level of expertise skills to fully restore the floor. If you're there when the etching happens, quickly draw out the acid with a clean cloth.
Then, wet the surface with clean water and apply polishing powder specifically designed for stone or travertine floors onto a buffing pad. Buff the etched spots in multiple rounds to reveal its restored shine. Finally, floor honing and polishing are optional to avoid future damages.
Fire and Smoke Damages
What You Need:
Commercial smoke removal cleaner
Vacuum cleaner
Soft-bristled brush
These damages often happen after a fire or on travertine floors near a fireplace in your house. With some common household ingredients, you can be sure to get your stones clean.
First and foremost, make sure to air-dry the wet soot by opening the windows or run a dehumidifier since dried ashes and soot are always easier to clean.
Next, vacuum all the surface soot and ashes with a vacuum cleaner at an appropriate setting. While you're doing this, thoroughly vacuum all the soot in nearby furnishings and carpets to prevent the debris from getting in the way.
Then, thoroughly clean the tiles using a commercial smoke removal agent. Don't forget to use a soft-bristled brush to rub over the grout lines. At the final step, rinse the area with warm water before letting it dry.
Biological Stains
What You Need:
Diluted ammonia
Hydrogen peroxide (or sodium hypochlorite)
Biological stains are caused by mold, mildew, lichens, and algae. These stains can be eliminated with a simple remedy of ½ cup of ammonia or hydrogen peroxide diluted in one gallon of water.
You can replace these chemicals with bleach, but keep in mind not to mix these ingredients since this combination can produce chemical reactions, causing harmful and toxic gas.
Travertine Floor Maintenance – Do's and Don'ts
Compared to other natural stones, travertine has certain vulnerabilities to consider. Thusly, besides knowing the basics in proper care and maintenance, let's take a peek behind the curtains and discover the best-proven tips to keep your travertine floors dazzling clean.
Tips for Proper Care of Travertine Floors
As a homeowner, here are the best no-sweat tips from professional cleaners to help keep your travertine floorings looking spotless for years on end.
1. Choose a Stone-Safe Cleaner
Similar to other natural stones, travertine floors are susceptible to acidic cleaners. When picking cleaning products for this material, you should opt for a pH-neutral cleaning agent. This type of cleaner is not too alkaline or acidic to be gentle on both the floor and your hands.
If you don't have a specialized travertine cleaner at your disposal, it's entirely possible to use another stone cleaner like marble cleaners and granite cleaners in a pinch. However, in the long run, it's best to invest in a specific cleaning treatment for your specific flooring option.
2. Mop Frequently
Mop, sweep, or vacuum on a regular basis ensures to get rid of abrasive materials like dust and debris particles that stand a chance of scratching travertine tiles.
If you have doubts about how often you should vacuum your home, take each room's usage and traffic into consideration to ensure a squeaky-clean house every single day.
Not only does this act prevent your stunning stone floors from looking dull, but it also improves the safety of people who enter the area, such as your family members, pets, and guests.
Additionally, make sure to clean the tiles with a soft-bristled broom or a microfiber mop since these utensils are designed to minimize damages on the floor during the clean-up sessions. Plus, when collecting dirt, keep the mop's head moving under gentle pressures.
3. Dry the Floor
Unless you're running out of time for housework, taking a few minutes to wipe the entire floor shows visible advantages over letting the water air-dry. This is because standing water, missed spots, and the overuse of cleaners can leak to forming blotchy and streaky residues on the floor.
After a mopping session, you should wipe the floor using a dry towel or mop while heading toward the distant wall until there's no remaining water on the floor.
4. Treat Spills Right Away
If you happen to be there when the spillage occurs, it's crucial that you act as fast as possible. Or else, spills left untreated for a certain amount of time on the floor are likely to cause permanent stains and physical damages to travertine tiles.
However, if you notice a stuck-on stain that's been there for a while, make sure to choose an appropriate removal remedy that doesn't scratch or damage the floor as you restore its shine.
If you plan to mix a homemade poultice, it's best to consult a professional cleaner beforehand to avoid creating toxic fumes or harmful side effects to the floor's finish.
5. Seal the Grouts
With all these solutions provided, it's safe to say that cleaning unsealed grouts still take lots of time and hard work. Sealing the grouts doesn't only allow for effortless clean-up but also facilitates a timeless look and texture with minimal chances of dirt or bacteria buildup.
When you're doing this, be sure to choose a proper sealant based on the type of travertine tiles that you have and the location where these tiles are placed. You can either finish this task on your own or call for professional helps to get your grouts sealed with ease of mind.
6. Use Floor Protections
Protective rug pads for hardwood floors and runners are no longer unfamiliar in most modern households. These items are meant to serve as protective barriers against everyday wear and tear from foot traffics, furnishings' legs, and spills.
The designs, sizes, and shapes of your rugs should largely depend on the size of your home area that you plan to incorporate it and your personal taste in home decoration. All in all, assure that the items you get are comfortable, free of rubber legs, and durable enough to take a beating.
7. Use Trays and Coasters
Pairing your drinks with trays and coasters around the house, especially on travertine vanity tops, is the ultimate way to prevent knocking your cups over and ward off acidic spills. Besides the floors, these items also excel in protecting any surface that you bring your drinks.
Top 5 Don'Ts for Travertine Floors Maintenance
Caring for travertine floors seems like an easy-breezy task with the following tips and tricks. But in reality, there are certain things you need to avoid at all costs so that you won't mar your investment by accidents.
1. Don't Use Harsh Chemical Cleaners
Harsh chemicals like bleaches are undoubtedly hard passes for natural stones like travertine. What's more, travertine tiles feature lots of pores that are able to absorb these chemicals, which likely leads to permanent damages, deteriorations, and eventually breakdowns.
2. Don't Use Acidic Floor Cleaners
General floor cleansers and other homemade recipes, including vinegar, bleach, and ammonia, are high in acidity. Since travertine is very sensitive to acidic-based substances, its smooth surface can be dull or etched rather quickly if exposed to these cleaners regularly.
3. Don't Use Too Much Water
Since travertine is a porous stone, as a rule, it easily absorbs the water if too much is used during the clean-ups. Therefore, you should always wring out most of the water excess from the mop head to avoid saturating the floor with water.
What's more, if too much water is absorbed deep into the tiles, it may cause unwanted discolorations, and the tiles will then need to be sealed.
4. Don't Use Polish and Wax
Like any other natural stone floor, polish and wax are never good ideas for travertine floors. One potential issue that these products can cause is that they can make the floors look dull in the long run by attracting more grime and dust.
Furthermore, applying polishing products onto travertine floors without professional help tends to make the floor extremely slippery, causing hazards for everyone in the family.
5. Don't Use Abrasive Pads
Abrasive cleaning utensils like steel wool, brushes, and hard-bristled brooms stand an excessively high chance of scratching the floor's finish. Unless your floor is professionally sealed, light clean-up should be performed using only gentle tools like microfiber mops and soft towels.
FAQs
Before you get set to take the work straight on, let's get into some of the most common questions from homeowners on how to clean travertine floors.
Keep Your Floors Looking Pristine!
And that was every care practice you need to know to keep your flooring investment looking its best over the years. From the solutions above, you can have the flexibility to tackle virtually all stains and issues occurring on your travertine floors.
It's safe to say the travertine can be the last flooring material that you purchase in a lifetime. However, you should be diligent and careful in its care and maintenance routines to avoid accidental damages that may take some work to repair.
Do you clean your floor that often? Any effective homemade recipe you'd like to add up? Please feel entirely free to share your thoughts and experiences with me right down below. If there's a question you'd want to pose, I'll be ready and eager to help!