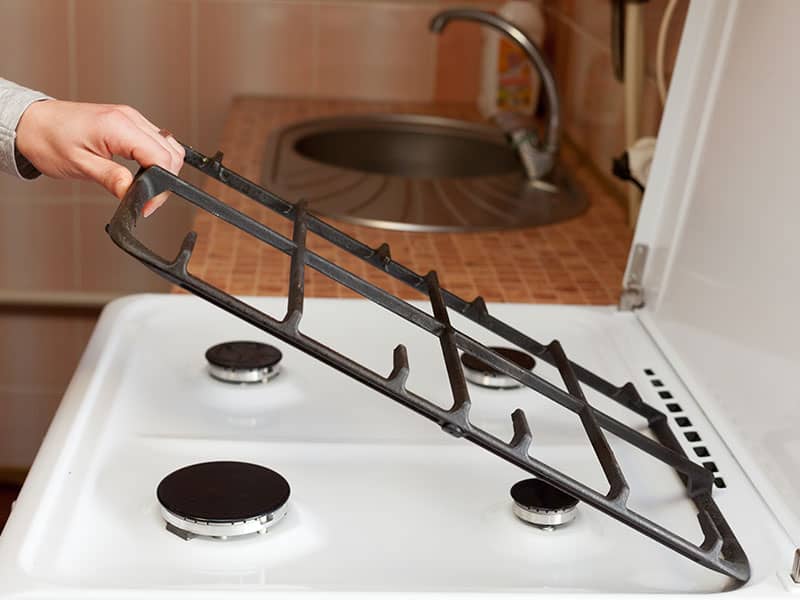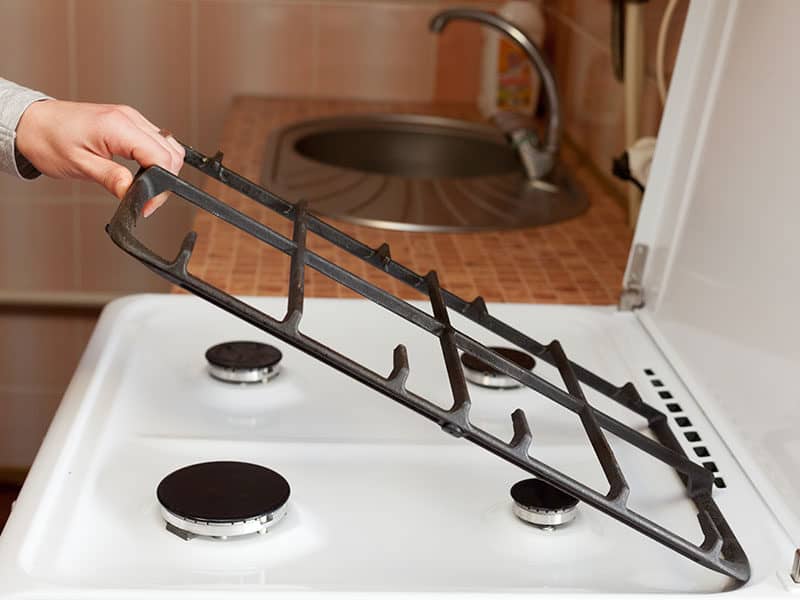 In the ideal world, you would wipe up cooking spills as you make them. But since that's not the case, you probably wonder, how to clean gas stove grates? Is there a cheap and effective cleaner?
Below, I have listed 10 common cleaning agents you probably already have sitting around the home that you can use to clean your kitchen. Without further ado, let's make your stove clean again.
What Is the Best Way to Clean the Cast Iron Grates on a Gas Stove?
It depends on different factors. For instance, how often do you clean your cast iron grates on the stove? If you're doing it daily, you will be able to clean your gas stove in no time.
I highly recommend having a couple of daily methods of cleaning grates and stoves to keep your kitchen appliances looking their best and prevent time-consuming cleaning and damage.
The following section contains 10 low-impact and gentle cleaners that won't damage your gas stove but deliver excellent results. They're all earth-friendly, cheap, and safe methods.
How to Clean Gas Stove Grates?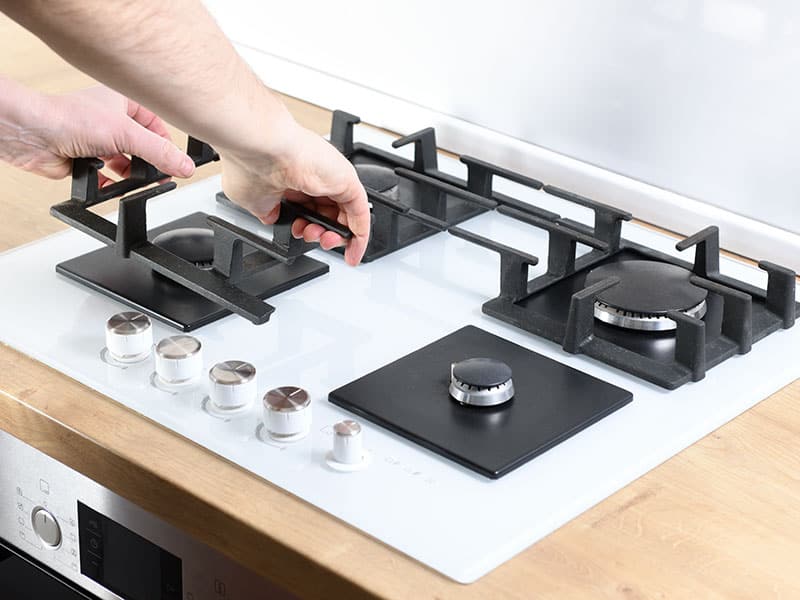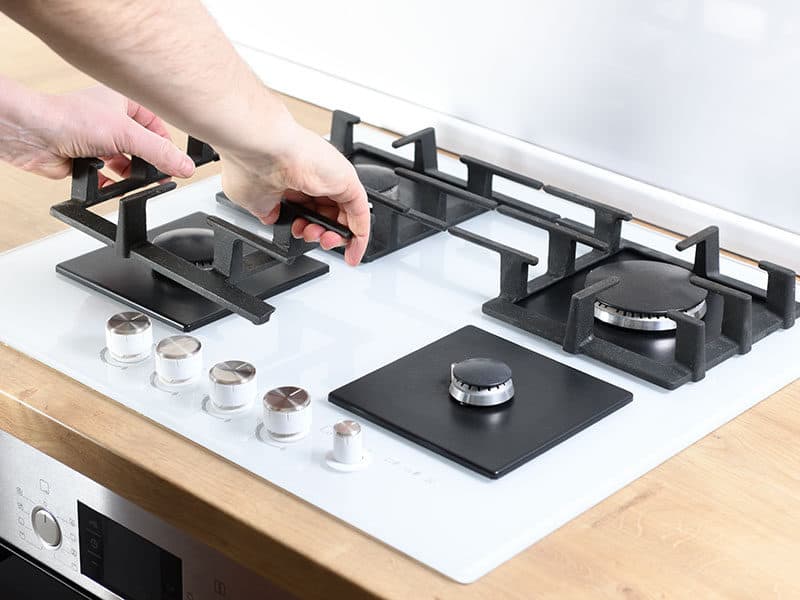 First and foremost, check your user guide or manual because every gas stove is different. Perhaps yours requires special cleaning methods and cleaning agents.
I will share a secret with you. When I'm not in the mood for cleaning anything but I want to make my gas stove at least appear clean, I use disinfecting cleaning wipes.
Therefore, if you're tired or don't have time for a cleaning spree, use these wipes. They can do wonders for your home. Otherwise, utilize the following products.
1. Daily Vinegar Spray
If you're familiar with homemade baking soda and vinegar cleaners, you're probably also aware of what vinegar can do for your home. It's a common cleaning agent due to acetic acid. The best part? It's cheap and non-toxic, so it's perfect for daily cleaning routines.
Ingredients:
A spray bottle
Clean microfiber cloth
Protective rubber gloves
White vinegar
Instructions:
Put your rubber gloves on and fill your spray bottle with vinegar. Spray the stove burners and grates. Let the vinegar sit for 10-15 minutes before you wipe everything with a microfiber cloth. Repeat the process if necessary to lift grease spots and stubborn stains.
2. Baking Soda and Water
As I already mentioned, baking soda is another excellent cleaning agent. You can clean different kitchen and home appliances with baking soda, including dishes, clothes, and even your teeth.
This product has an abrasive scrubbing power that makes it perfect for cleaning grates without worrying about causing damage. Baking soda paste also makes a great homemade oven cleaner.
Ingredients:
Protective rubber gloves
3 tablespoons baking soda
A clean cloth or paper towels
Soft-bristled scrub brush
3 tablespoons cold water
Instructions:
Prepare a paste with baking soda and water in a bowl. Then, apply the mixture to all grates and burners. Let it sit for 20 minutes before you scrub the paste off with a brush. Finally, wipe the surface clean using paper towels or cloth. Repeat the process if necessary.
3. Baking Soda and Vinegar
If white vinegar and baking soda don't work on their own, maybe it's time to join their forces. When you combine these two powerful cleaning agents, you get a powerful cleaner.
They have strong reactions when mixed. It's ideal for cleaning cast iron accessories and gas stove grates. Cleaning with this combo is both inexpensive, simple, and super effective.
Ingredients:
Baking soda
Brush or scrub pad
Paper towel or microfiber cloth
Protective rubber gloves
2 cups of white vinegar
Spray bottle
Instructions:
Just sprinkle the baking soda on the gas stove grates and burners. Then, fill the spray bottle with vinegar and spray the grates. Put on your gloves and scrub everything with a brush.
Finally, wipe everything clean with paper towels or a microfiber cloth. You can also utilize this recipe for cleaning grill grates. Or use a grill cleaner for faster and more effective results.
4. Dish Soap
Dish soap is capable of a lot more than just cleaning your dirty dishes and cutlery. It's great for lifting the grease stains off your cast iron grates. It does the same for grease on pans and pots.
This common household product works well on cast-iron, enamel-coasted grates. However, you can also wash your grates in the dishwasher for a wash cycle to accomplish the same results.
Ingredients:
Microfiber cloth
A large pot of boiling water
Protective rubber gloves
Brush or scrub pad
Liquid dish soap
Instructions:
Enable the grates to cool down after use. Then, put them in your sink. Keep the drain open. Add boiling water over them to loosen any grime and grease. Close the drain. After, fill the sink with hot water until they're submerged. Add a few drops of dish soap and let the grates soak for 15 minutes.
Lastly, put on your protective rubber gloves. Open the drain. Scrub your gas stove grates with a brush or scrub pad until clean. Rinse them in warm water and wipe dry before you reinstall them.
5. Wire Brush and Water
If you don't have any of the mentioned products above at hand, you can clean your stove grates with a wire brush and water. This method is perfect for buildup and aging signs like rust.
If you have enamel-coated cast iron, avoid this technique. Otherwise, you will damage the finish. Since you're removing a protective coating, season your cast iron after scrubbing with a brush.
Forcefully scrub your grates with the wire brush until you lift all rust and grime. Then, rinse them under hot water. Repeat the process if necessary until they're completely clean and super shiny.
Dry them thoroughly. Then, coat them with vegetable oil. Place them in your oven over a layer of foil to prevent drips. Heat at 350°F for 60 minutes. Recoat and cook for another hour at 450°F.
6. Ammonia
Nothing can clean your gas stove grates as ammonia can. It's one of the most effective cleaning agents on this list. You can use ammonia to clean coins, clothes, and all types of outdoor items.
But here's the kicker. Ammonia will make your kitchen appliances look new, especially gas stove grates. When using ammonia, always wear protective gear and work in a well-ventilated area.
Ingredients:
Respirator
Protective rubber gloves
Large garbage bag or Ziplock bag
Safety goggles or glasses
1 cup of ammonia
Instructions:
Put on your protective gear and pour the ammonia in a trash bag or plastic bag. Then, place the grates in the bag and seal it. Make sure the grates aren't soaking in the product.
The ammonia fumes will do the cleaning. Also, make sure there are no holes in the bag to prevent leaks. Let them sit for 10-12 hours. Then, take them off and rinse underwater.
7. Oven
Some stoves and ovens work hand-in-hand to remain sparkly and clean. Many brands make their grates so that, when they get super dirty, you can put them in the oven for cleaning.
However, check your user manual to determine if this is the case with your kitchen appliances. If not, it's not recommended to try this option. Otherwise, you will damage your appliances.
If allowed in the user manual, utilize a self-cleaning oven to bring back the shine of your grates. First and foremost, remove the grates from the gas stove. Then, situate them on oven racks.
Turn on the self-clean option and follow the manual for the length of the cleaning time and handling the grates when the process is over. Lastly, let them cool down and wipe them clean.
8. Commercial Degreaser
If none of the homemade cleaning recipes work for you and your kitchen, opt for a stove top cleaner. When you clean your stove occasionally, some stains will be acting hard to get. And stubborn stains are something that homemade cleaners can't handle but a commercial degreaser can.
They act by breaking down grime, dirt, and other greasy stains into separate parts so you can clean them faster. I prefer citrus-based commercial cleaners because they act exceptionally well.
Ingredients:
Brush or scrub pad
Professional cleaning agents such as Bar Keepers Friend or Zep
Protective rubber gloves
Microfiber cloth
Instructions:
Spray your stainless steel burners, burner caps, and grates with the professional degreaser. Let it sit for 15-30 minutes for stubborn spots. Scrub everything with your brush or pad until you lift dirt and debris. Repeat the process until every bit of grime is gone. Then, wipe down with a clean cloth.
9. Oven Cleaner
Oven cleaners aren't intended for oven cleaning only. You can also clean your stove grates with an over cleaner. It's a perfect product for cleaning your stove grates and keeping up clean burners.
This product can cut through dirt and grease with great ease and can handle any challenge you throw at it. Make sure to wear safety gear when using oven cleaners and work in a ventilated room.
Ingredients:
Respirator
Microfiber cloth
Safety glasses or goggles
Professional oven cleaners such as TurboChef or Merrychef
Protective rubber gloves
Scrub pad or scrubber
Instructions:
First and foremost, put on your rubber gloves and safety goggles. Then, spray the oven cleaner on your burners and stove grates. Check the instructions for the suggested soak time.
After, scrub everything with the pad or brush. Repeat the process if necessary until all your equipment is clean. When the gas stove grates are clean, wipe them with a soft clean cloth.
10. Cleaning Kit
If you haven't cleaned your kitchen in a while, the best way to tackle stubborn stains and grease spots is with a cleaning kit. I'm not judging your cleaning choices, I'm just trying to help.
To make sure that you hit your kitchen appliances with the strongest cleaning agents, invest in a quality cleaning kit. Brands make their cleaning kits to remove the strongest stains if used properly.
Always follow the instructions for each cleaning kit to make sure that you clean as intended and achieve excellent results. Also, don't forget to put on your safety glasses and protective gloves.
Watch this video to know more:
How Do You Clean Black Grates on a Gas Stove?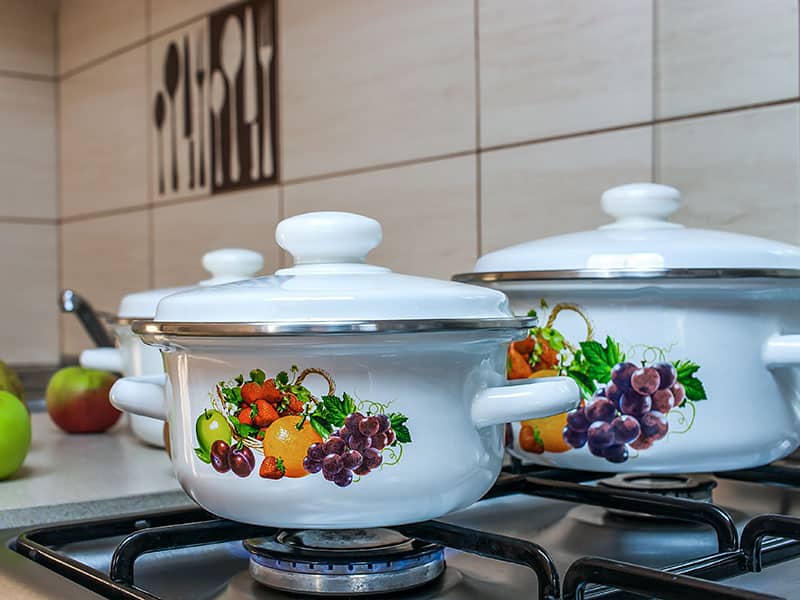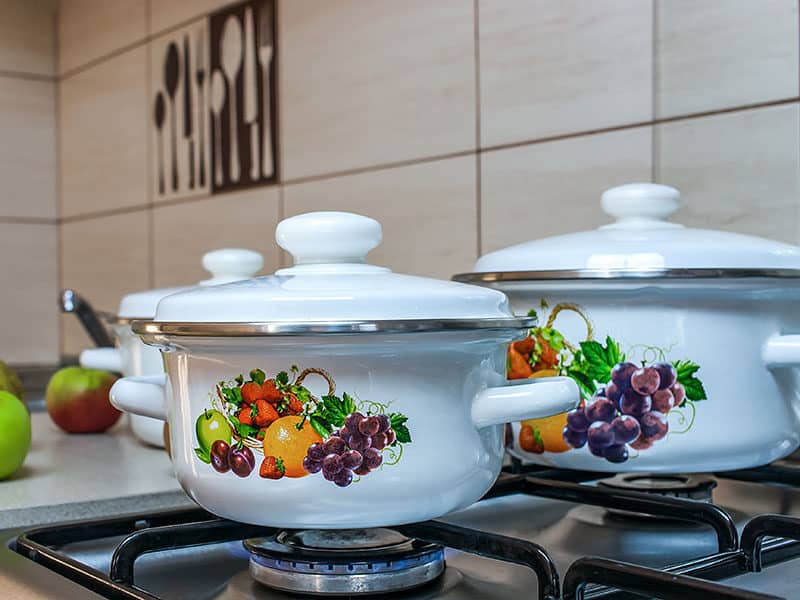 You can clean black grates on a gas stove with ammonia. The great thing about this ingredient is that it's powerful and works well without scrubbing. The dirt and debris just rinse off the next day.
Ammonia is the perfect cleaning agent for the inside of your stove too! Thus, why not kill two birds with one stone? I'm just kidding. Don't kill any birds. Instead, put on your gloves and get to work.
If you're worried about utilizing such a powerful chemical for cleaning, use baking soda and vinegar. It's a popular combo for cleaning. However, keep in mind that they require a lot of scrubbing.
Ingredients:
Ammonia
Respirator
Rubber gloves
Ziplock bags
Goggles
Instructions:
Cleaning gas stove grates with ammonia is a walk in the park if you follow the next steps.
Remove the dirty grates and put them into a Ziploc bag. If you have a regular-sized burner, a gallon-sized bag should be large enough. However, if the grates are oversized just put them in a trash bag. Then, add ¼ to ½ cup of ammonia to the Ziploc bag and seal it.
If you're utilizing a trash bag, just tie it closed. It's not necessary to submerge the grates in ammonia. It's the ammonia fumes that get the job done, not the liquid.
Also, make sure there's a little bit of air in the bag when you seal it so the fumes can circle inside. Place the rest of the grates in trash bags and let them sit overnight.
In the morning, open the trash bags over the sink and release the contents. You can either do this inside and open some windows or do this outside in the fresh air.
Rinse the grates under lukewarm running water. Help loosen the dirt and debris by rubbing them a little with your fingers. You can also use a scrubby sponge. All the grease should rinse right off and you won't believe the results. Ammonia does wonders for grates.
Have you tried this method before? If so, share your experience in the comments.
Let's see this video to collect more understandings:
Your Gas Stove Grates Will Be Grateful
I hope you enjoyed these cleaning tips and tricks. If you have any tips and tricks of your own, feel free to share them in the comments along with your personal experiences.
Regular grease splashes and food spills can make your gas stove messy in no time and if you're someone who doesn't tackle stains right away, this detailed cleaning guide is for you.
The household cleaning agents I listed above can help you clean the gas stove grates. And get their shine back quickly. Thanks for reading this article and sticking up till the very end.
If you found this information valuable and want to teach other people how to clean gas stove grates, I'd appreciate it if you would share it with your social media friends.