Household tasks can keep you really busy and hectic, or sometimes make you a bit slammed. That's why small accidents happen all the time. You may forgetfully leave an iron on the carpet, or your guests carelessly drop their cigarette ash on it.
Sometimes, the burn can leave small, unnoticeable spots on the carpet, but in the worst cases, it can create a large hole and completely ruin the carpet.
Luckily, there are many effective and easy ways to get those unwanted burns out of your carpet. This post will lead you through a step-to-step guide to fix a burn on your carpet, and give some useful information for your next carpet cleaning and maintenance.
First Thing You'll Need to Know About Your Carpet
To fix even a small part of the carpet, you will need to learn several things about it first. Why?
Carpet is a textile floor covering made of specific fibers and materials, and its installation is fairly complicated. Learning about your carpet will help you find a cleaning agenda that is best to keep it clean while maintaining its beautiful look and durability.
Identify the Carpet Fiber
Carpets might look similar in appearance, but they are made out of different materials. There are four main types of carpet fiber that are popular in the market, each one of them has different characteristics and requires a different treatment.
Understanding the carpet fibers is necessary to effectively treat a carpet burn without further destroying the fibers, decrease its resistance or cause discoloration.
If you have no clue what materials your carpet is made of, then it's worth doing a fiber test to identify it. All you need to do is cut a small strand of fiber in an unnoticeable area (corners or low-traffic) and burn it. Watch the burn qualities closely, each type of fiber will show a different sign to help you identify them.
Nylon
A strand of nylon fiber will appear blue at the base and orange at the tip when it burns. It gives off a wax or celery smell and burns all the way down into a hard, round, dark bead.
Polyester Fiber
A polyester fiber will create an orange flame and smell of a sweet, overripe fruit when it burns. This fiber can reproduce the feel and look of many other luxurious and delicate fibers like silk.
Olefin
A flame of an olefin fiber appears quite similar as a nylon fiber, with an orange-tipped flame with a blue base. However, the flame will burn evenly and rapidly. It has an distinguishable smell of asphalt or hot tar and leaves behind a hard, round, light color bead.
Wool
When you burn a wool fiber, its flame will appear orange and sputter slowly. It doesn't give out any smoke, and the smell is similar to that of a burning hair.
Identify the Carpet Texture
Now you finally understand carpet fibers and might have in mind a working solution. But don't rush, there is still one more thing you need to know: carpet texture. Once you know the texture, you can choose the right solution to maintain the look of the carpet as much as possible.
Loop Pile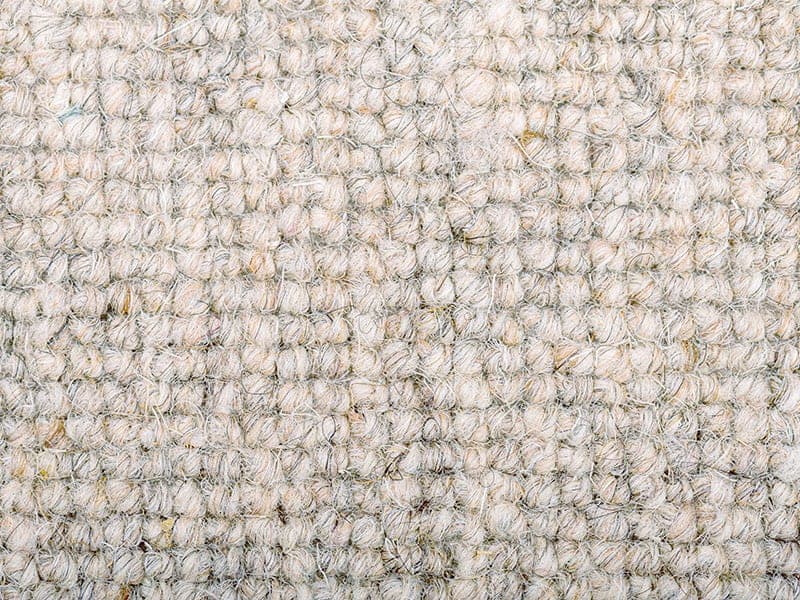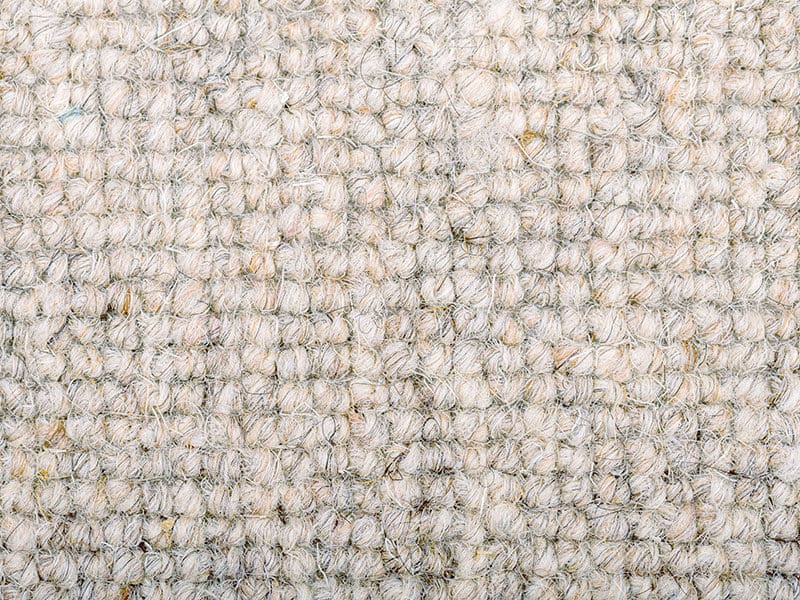 Just as stated in the name, loop pile carpets contain a group of fibers with its end sewn back to the backing to create loops. So they feel quite firm underfoot and not as soft as cut pile ones. Loop pile carpets are usually made of nylon, wool or olefin. The most popular styles for loop piles are Sisal and Berber.
Fixing a burn on a loop pile carpet is the most tricky and complicated job since the burn appears quite noticeable, even if it's just a tiny spot. Normally you would have to remove the burn and patch it up.
Also, the loops can be pulled out from the backing by sharp objects and fibers become disheveled. So in repairing, you'd better avoid using knives or any other sharp objects.
Cut Pile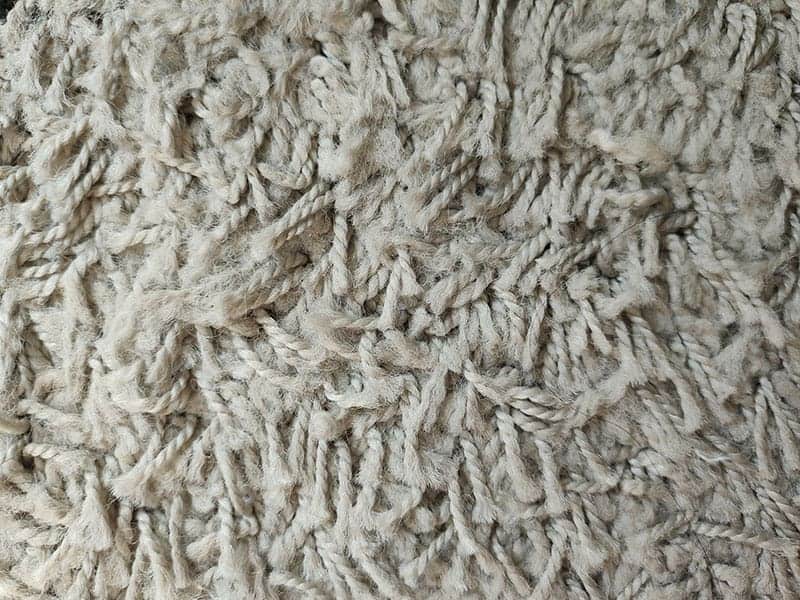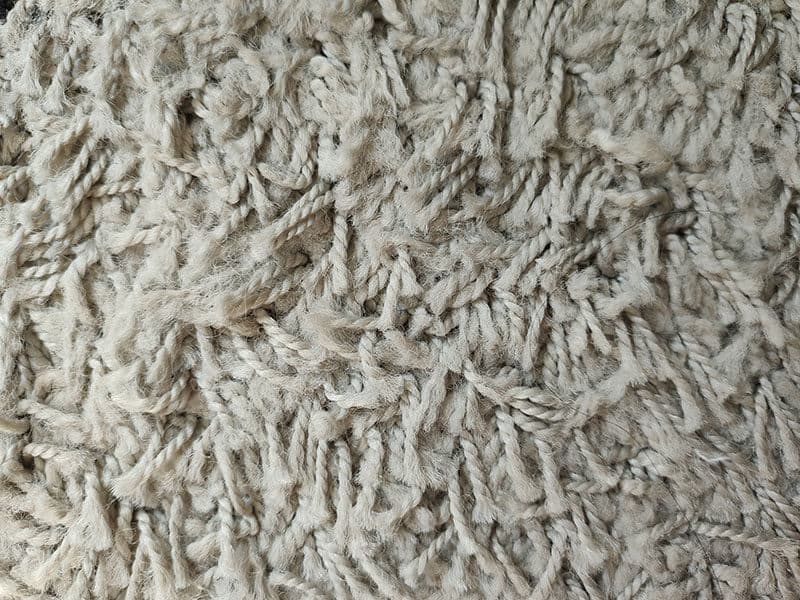 A cut pile carpet is one with its yarn loops sheared and fibers shredded to create an upright look. It feels really soft and smooth. Over time, fibers from a cut pile carpet would be more shredded and lose its softness. The most popular loop pile carpets in the marketplace are Frieze and Saxony.
A slight burn on a cut pile carpet can darken the fibers, scorch their tips or just mars the carpet surface. Severer burns usually destroy the fibers, get deeper in the backing and leave the burn area naked.
Identifying Types of Burns
Now you have learned everything about your carpet, it's time to get to know its burn and repairing solutions.
A burn on carpets is caused by too much heat contacting the fibers. A burn is usually caused by an iron, hair straightener, burning charcoal or cigarette ash. These burns look very different, they can be scorch marks, small burns and large burns. So are their treatments.
How to Get Scorch Marks Out of Carpet
Below are several homemade methods usually used to treat a scorch. Choose one that applies well for the carpet materials and texture. You may repeat the process or choose another method if not successful at the first attempt.
Heavy-Duty Detergent Method
Apply a generous amount of heavy duty detergent on the scorch mark, use your finger to stroke it in a circular motion. Leave it there for 5 to 10 minutes before rinsing with clean water.
Vinegar Method
This is another productive method to get rid of scorch marks on carpet, and it is also a safe way to clean color dyed and natural fiber carpets without degrading it.
Prepare ¼ cup of water and ¼ cup of white vinegar and mix them in a spray bottle. Spray it over the scorch mark, wait for 5 to 10 minutes then blot it with clean water and let it air-dry.
Fabric Paint Method
Here is another super easy, quick fix for your scorched carpet. Choose a fabric paint spray that has the same color with your carpet, and paint over the scorch area. You must clean the area with a powerful carpet stain remover first before applying the paint for a long-lasting effect.
How to Remove Small Burns on Carpet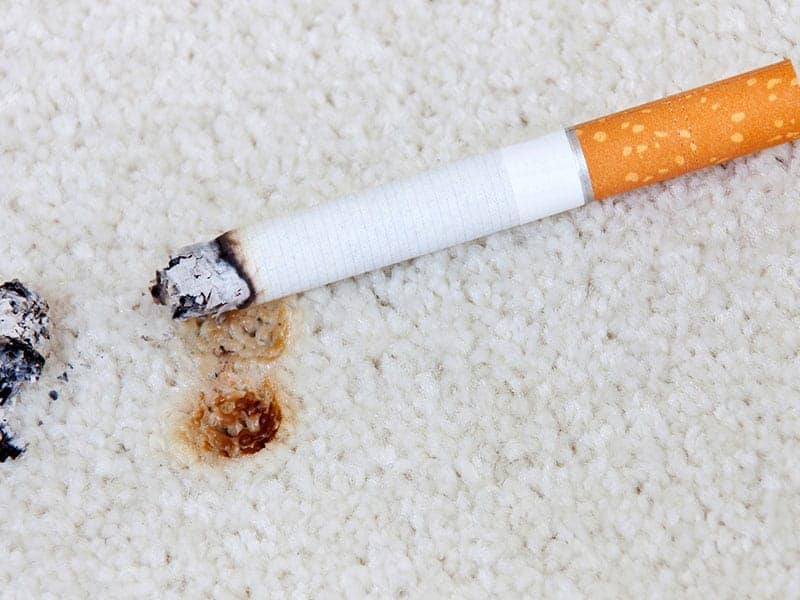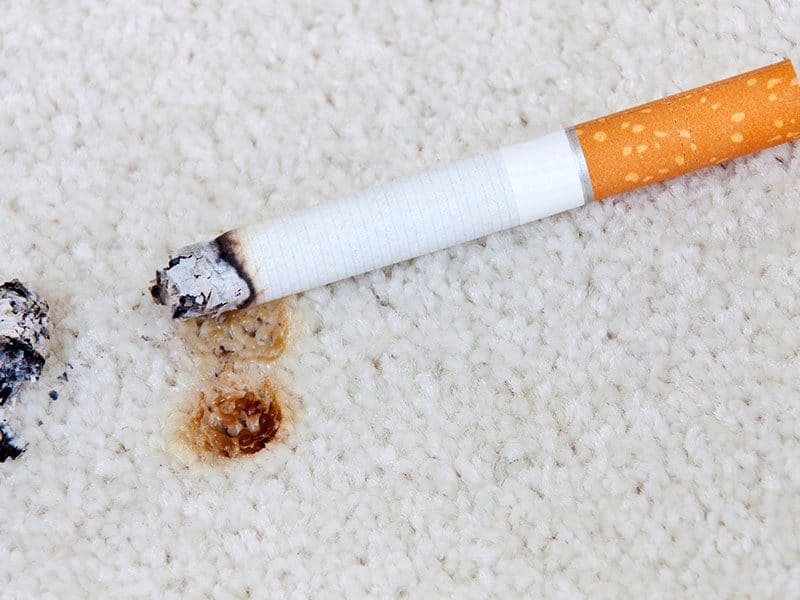 Small burns on carpet are usually dark spots caused by cigarette ash or charcoals. Some people might choose to ignore them, but trust me, it doesn't take much time to fix these burns.
With a fresh burn by cigarette ash on the carpet, you should immediately and carefully pick up the ash before the flame gets deeper into the backing and causes more serious problems. Flames usually spread out quite rapidly on an olefin carpet, as this fiber is highly oil absorbent and catches on fire more quickly than other fibers.
Once the burn spot is clear of fire and cooled off, you can start the repairing process.
What To Prepare
First of all, I will tell you some vital tools to prepare to make your cleaning process easy.
Sandpaper or a pair of scissors: Working with these small burns requires small tools. You would find it hard and frustrating to get rid of tiny burn fibers with a big tool. So find something small and convenient.
Note: Use sandpaper on a loop pile carpet and a knife or scissors on a cut pile one. If you don't own either of those two, remember that a manicure knife or razor blade could also do the work.
Vacuum: You should find a small, convenient handheld vacuum that works well on carpet. Or if you want, just choose a simple spot cleaning vacuum.
Mild detergent: A mild detergent would be the best choice to clean any carpet without the fear of causing discoloration or degradation to its fiber.
Cleaning solution/Stain remover: There are a lot of effective cleaning solutions for carpet.
Prepare a mixture of one part of hydroperoxide, ten parts of water. Remember to wear gloves and not touch hydroperoxide with your bare hand.
Hydroperoxide is an effective bleaching agent and very much recommended for household purposes. Remember to use the 3% hydroperoxide solution, any higher percentage can lead to an overpower bleaching effect.
Besides hydroperoxide, there are other stain removing solutions that can yield the same results, such as chlorine bleach (not for some specific types of fiber).
A clean cloth or cotton swab: Whatever you have, choose one that is absorbent to soak it with the cleaning solution.
Clean water: Depending on the type of fiber, you can choose cold, lukewarm or hot water that is best for it.
Step 1: Sand Away The Burns
Use sandpaper to sand away the burn spots. Work in the direction of the fibers until the charred fibers come off. Remember don't scrub too hard or else the unharm part of fibers will loosen and detach from the backing.
Step 2: Vacuum The Carpet
Use the vacuum to remove all the debris and fibers. Move it in multiple directions to suck all the dirt out. You should take extra care on a cut pile carpet since the tiny burn pieces are usually stuck between the fibers. Your burn spot should look less noticeable by now.
Step 3: Cut Burned Fibers
Use the scissor to cut out any visible burned fibers left in sight.
Step 4: Soak The Burn Area
Soak the cloth or the cotton swab in the cleaning solution. Then gently blot it all over the burn area. Start from the outside and then move towards the center.
If you spot any bleaching or discoloration, immediately stop the process. You might choose to use water to dilute the bleach agent, but be careful since the water can carry the bleach further around, especially in highly water absorbent fibers like wool.
Step 5: Rinse The Carpet
Rinse the burn area with clean water and blot it gently to remove residue cleaner. Hydro peroxide can weaken the fibers so make sure to rinse it out thoroughly.
Step 6: Let It Air-Dry
You can find more detailed information and instructions here in this video:
How to Patch Severe Burns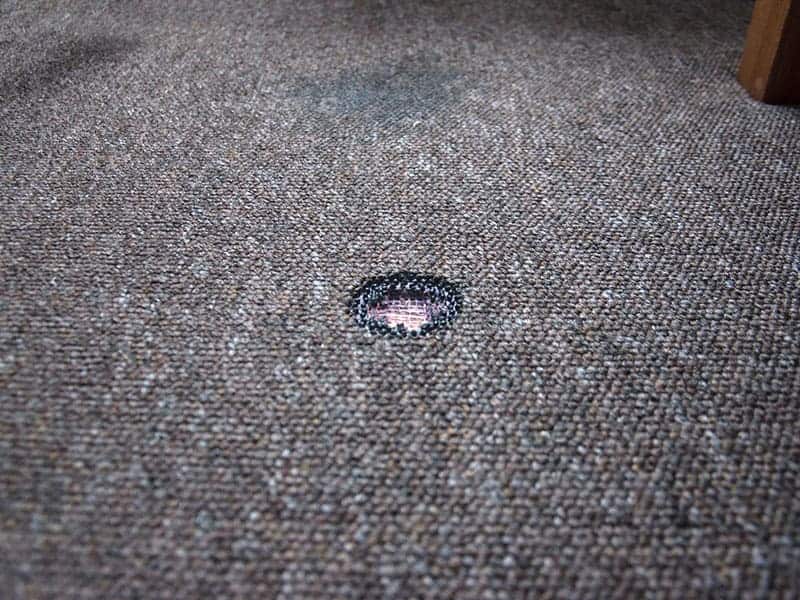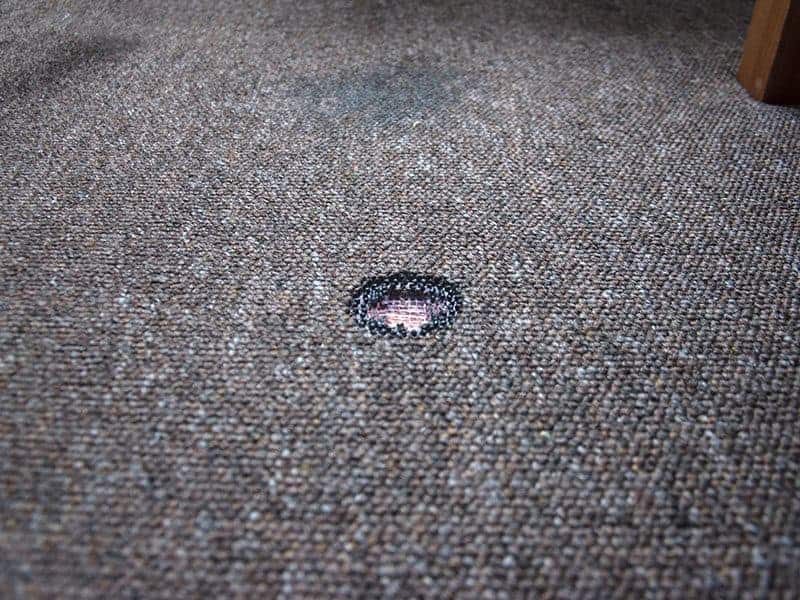 Severe burns on carpet would cause all fibers to turn intensely dark that removal is necessary. Natural fibers like wool would burn down into ash and leave the area naked and uneven.
In worse situations, the flame gets deep down in the backing and forms a hole. In this case you have no option but to remove the burn area and patch it up.
What To Prepare
A pair of scissors or utility knife: Your goal is to cut the burn area out easily without leaving the edges too rough, so make sure the blade is sharp enough.
Mild detergent or carpet stain remover: If you feel necessary, use a carpet stain remover to clean the whole area before patching.
A piece of matching carpet: Find a donor piece elsewhere most negligible. It can be around the room's corners or under the wardrobe or somewhere least noticeable. If you don't find one, look for a sample piece from the carpet store.
Handheld vacuum: It's better to vacuum the area before proceeding the patching, for extra care.
Super glue or double-sided tape: Both work well in gluing stuff. Superglue is reliable and always effective, but if you use a tape, you should choose a heavy-duty type of tape that is specifically made for fabric.
A comb: You should use a plastic comb with a medium width tooth. The tip must not be too sharp or else you will dishevel the fabric when you brush it.
A heavy book: Find a thick book that has the same size as the patching area. Maybe you will need more than one to cover a larger area.
Step 1: Remove Burn Areas
Use the knife and carefully remove the burn area from the carpet. Cut deep into the baking to detach the whole burn area from its padding.
Step 2: Find Extra Carpet
Now you need to cut a new carpet piece out of the donor piece. Use the removed piece as the sample.
Place the removed piece on the donor one so as the seam and pile of the two pieces are in the same direction. Then use the knife and follow the edge. Now you have a nice, smooth-edged brand new piece.
Step 3: Vacuum The Section
Use the vacuum to remove any burn fabric or debris from the open section.
Step 4: Apply New Piece of Carpet
Place the new carpet piece in the burn hole and trim it if necessary. Adjust it to match the seam and pile direction.
Step 5: Glue It
Stick the new piece to the padding with a superglue gun or double-sided tape. If you use glue, side all the fibers off so that glue doesn't get to them. And use just the right amount of glue to avoid lumpiness in the fixed area.
Step 6: Dry the Patch
Place a heavy book (or more if necessary) on the newly patched area to make it even. Leave it overnight to dry.
Step 7: Finishing
Use the comb and gently brush along the direction of the pile or fibers (this tip works amazingly in a cut pile carpet) to blend the piece with the surrounding.
Watch this video to find out how effective this patching method is:
FAQs
Since this post cannot solve all the mysteries on this topic, I have gathered some frequently asked questions so that you can refer to and gain more information for your next carpet cleaning.
Expectation Vs Reality
While removing a scorch mark from the carpet does not take much effort from you and can be done quite easily with various methods, fixing burn areas or patching holes can be complicated and quite risky. But if you are someone who loves crafting and making stuff, you can be successful at the very first attempt.
For loop pile or Berber carpets, fixing burns can be very tricky and there is even less guarantee that these solutions will work out well.
But it doesn't take much from trying, does it? You should definitely try these solutions before turning your thoughts to calling for a professional carpet repair service or even buying a whole new carpet.
I hope you find this guide helpful and successfully repair your burn carpet. If you have any questions, or any experience with fixing burns on carpet, don't hesitate to share with us in the comment section down below. And don't forget to share this post with your friends and family!