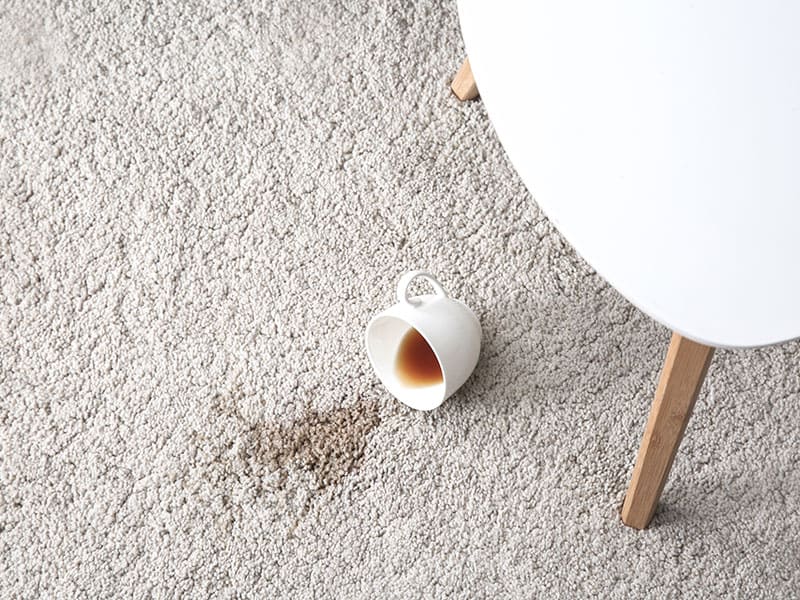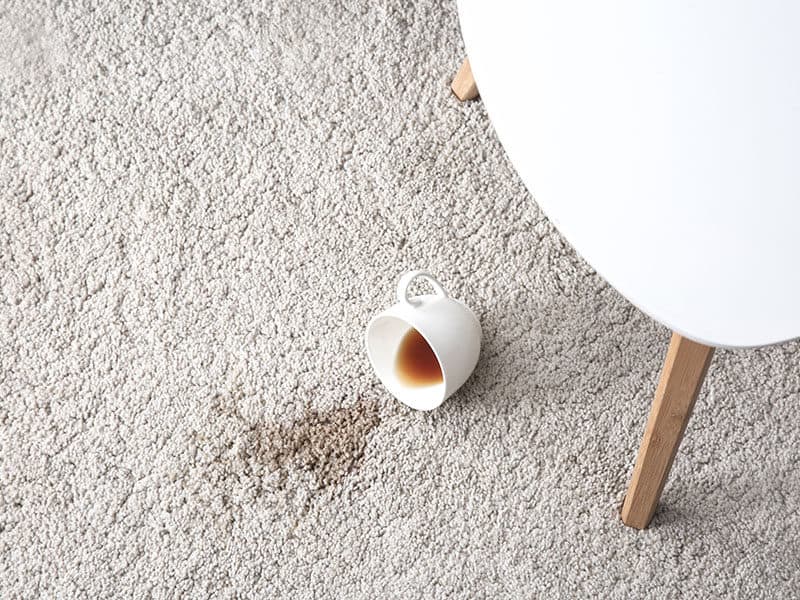 If you have coffee stains all over your carpet and you wonder how to remove coffee stains from carpet, you're probably a caffeine addict like me who spills coffee everywhere, every single time.
If this is true, this article is for you. Today's cleaning guide will teach you how to remove both fresh and old coffee stains from carpets using different methods including common household products.
Without further ado, let's learn how to lift those stains off your carpet because you and I know that you will spill your coffee again and again. And when that happens, the next 5 methods can help.
Can Coffee Stains be Removed?
Coming from a coffee freak who's also clumsy and spills it on the carpet or floor almost every time, yes, coffee stains can be removed. They're not permanent but can be hard to remove.
It depends on the size of the stain and the time to soak. Typically, all coffee stains can be lifted from the carpet. However, this differs and can be a time-consuming and very annoying process.
Just blot up excess coffee with a cloth. Presoak the stains in a mix of 1-quart warm water, 1/2 teaspoon dishwashing detergent, and 1 tablespoon of vinegar for 15 minutes before you rinse.
Watch this video to know more:
How to Remove Coffee Stains from Carpet?
The faster you tackle any stain on your carpet, the easier it will be to remove it. The same rule applies to coffee stains. Treat coffee spills while they're still wet by blotting them with a cloth.
Then, clean any leftovers as necessary. However, if you need to catch a deadline at the same moment or you have a hectic schedule and can't clean the stains right after, they will dry and set in.
When that happens, try the following 5 methods for the results you're hoping for. No matter what type of stain you're dealing with, always test the waters in some hidden spot or corner first.
The rule applies to both commercial stain removers and homemade cleaning recipes. You never know if some substance can cause discoloration or any other change in the look of your carpet.
If anything like this occurs, opt for another solution. Your carpet could be sensitive to cleaning solutions, especially if it's a dark-colored carpet. Without further ado, let's remove those stains.
Method 1: Utilize a DIY or Commercial Coffee Stain Remover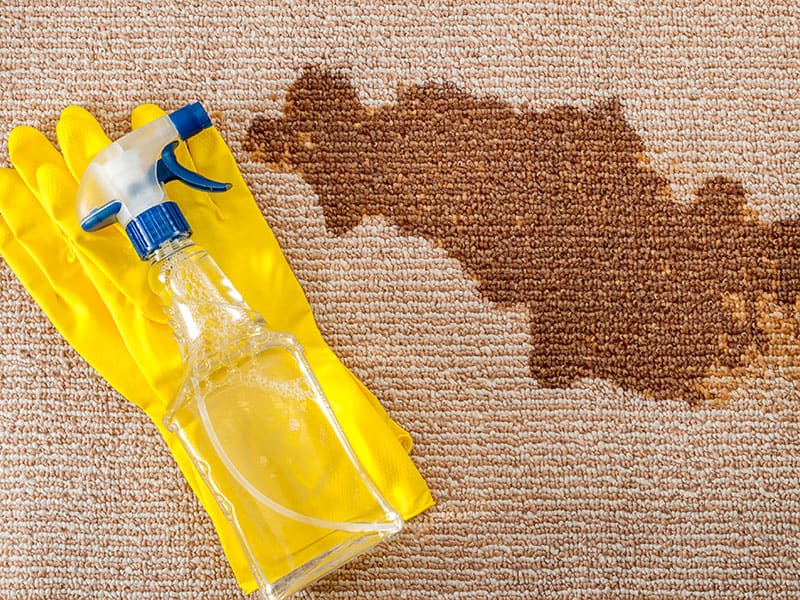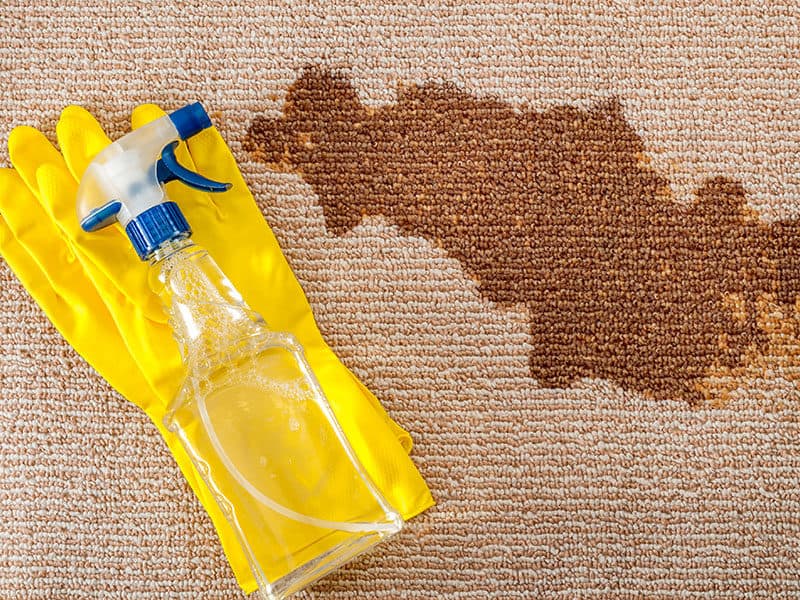 Wet the Stain With Warm Water
First, lightly dampen the stain with lukewarm water to loosen the dried coffee. Then, blot the place with a white and dry cloth starting at the corners of the stain and going inward to prevent it from transferring to surrounding fibers. Repeat the process until no more coffee transfers onto your cloth.
Prepare a Coffee Stain Remover
Utilizing items you already have under the kitchen sink, you can lift coffee stains from your carpet just as successfully as with commercial stain cleaners.
That said, take a tablespoon of liquid dish soap, 2 cups of lukewarm water, and 1 tablespoon of vinegar. Stir the ingredients well in a bowl with a spoon.
Use a Clean Cloth to Apply the Cleaner
Apply the homemade carpet cleaner with a dry cloth. Blot from the corners of the coffee stain and move inward. Apply as much carpet cleaner as required.
For Sugar or Cream Stains, Use an Enzyme Laundry Detergent
If your coffee had sugar or cream, mix one cup of warm water and one cup of enzyme laundry detergent in a bowl. Blend the ingredients well and use a dry cloth to apply them. Apply the cleaning solution onto the stain to help loosen the stickiness of the sugar and cream.
Rinse the Carpet With Cold Water
Rinse your carpet with cold water. Then, blot as much liquid as possible with a dry towel. Let the carpet air-dry. Avoid walking on it until the place has dried fully.
Method 2: Utilize a Wet Vacuum Cleaner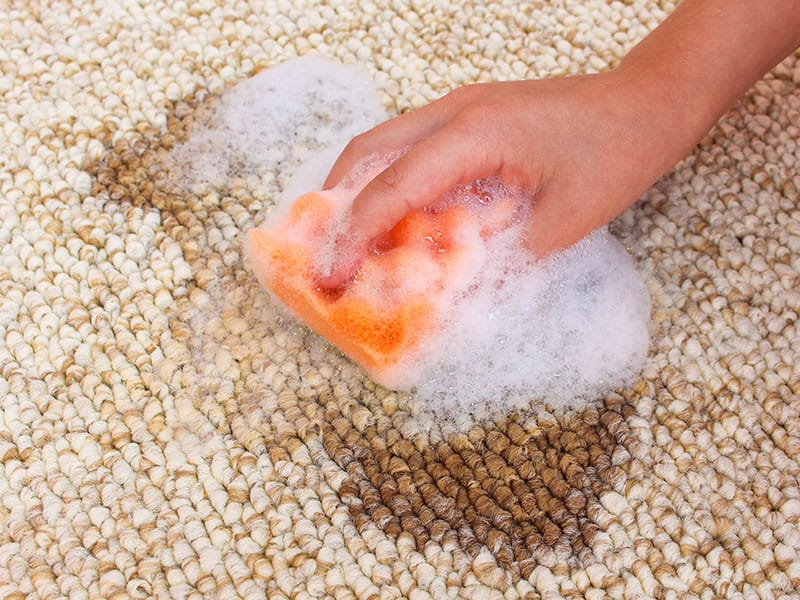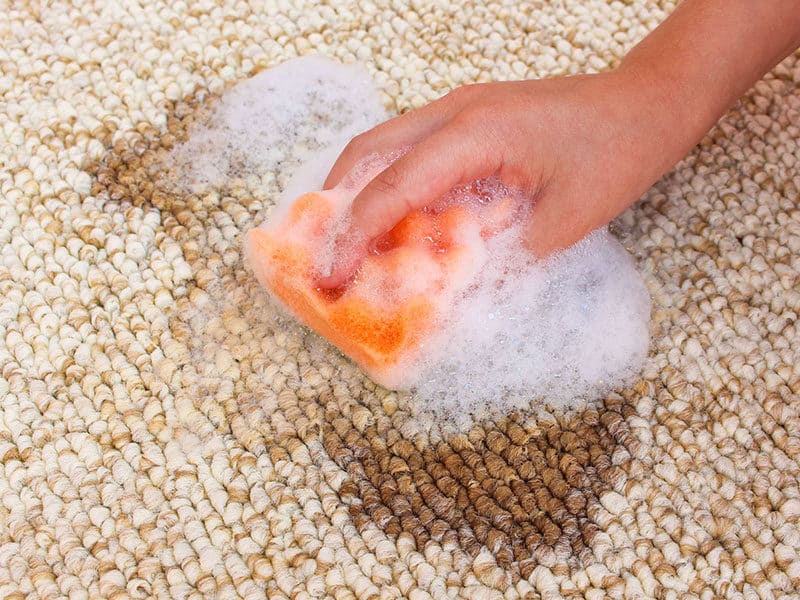 Fast action is vital in stain removal. The same applies to coffee stains. Meaning, if you have just spilled a cup of coffee on your carpet, act fast.
First and foremost, blot as much of the liquid up as possible utilizing a rag, towel, or paper towels. Work from the outside to the center so the liquid doesn't extend.
Don't rub the carpet, just blot the liquid up. Once you've absorbed as much as possible, pour cold water on the coffee stain, and blot to dilute it.
Utilize a Cleaning Solution
If blotting doesn't do anything for you, prepare a cleaning solution. Combine 1 cup hydrogen peroxide with 1/2 teaspoon dish soap in a clean bowl.
Then, dap the homemade cleaner onto the coffee stain utilizing a light-colored towel or sponge. Let the solution sit for 5-10 minutes before you absorb it with a towel or paper towels.
Most carpets feature a solution dye. Meaning, they won't discolor and change in any way with hydrogen peroxide. However, if you're uncertain, spot test.
If the cleaning solution doesn't do much, then you will need to step it up a notch. First, apply a cleaning solution to the stains, making sure the entire place is saturated. Let it sit for 10 minutes before you use a wet vacuum cleaner to absorb all of the liquid. Repeat if necessary.
You can also dampen a towel and apply it over the coffee stain. Put the heated iron on the towel for 15-20 seconds. Take off the heat and remove the towel to check the stain.
Repeat the process until the coffee stain is completely removed. For dark-colored carpets, you will want to test the carpet cleaner in a hidden place to prevent discoloration.
Method 3: Give Ammonia a Try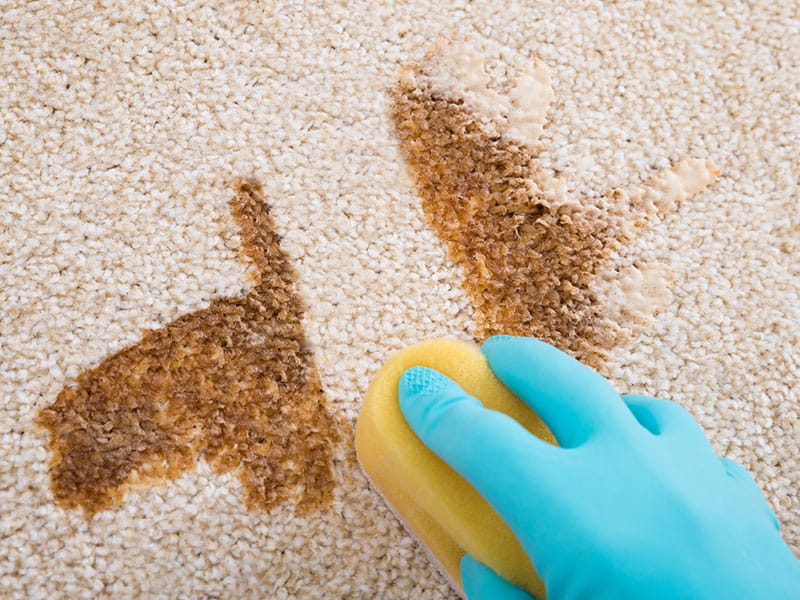 If your carpet isn't made of wool blend or wool, use an ammonia solution. Just combine a cup of water and a tablespoon of ammonia. Then, proceed with the following step.
Look for a hidden area of your carpet and make a patch test. Not all carpets work well with ammonia, so make sure that yours does before you apply it.
If everything goes well, add a small amount of the cleaning solution to the affected place. Let it sit for 20 minutes before you proceed with the next step.
Use a Clean Cloth To Apply the Ammonia Solution
Take a clean cloth and soak it in the homemade cleaning solution. Then, blot the affected area gently to saturate it. Let it sit for 3-5 minutes.
Lastly, get two clean towels, a dry one, and the other soaked in water. Switch between the two, blotting with the dry, then with the damp one.
Method 4: Do You Have a Bottle of Club Soda in the Fridge?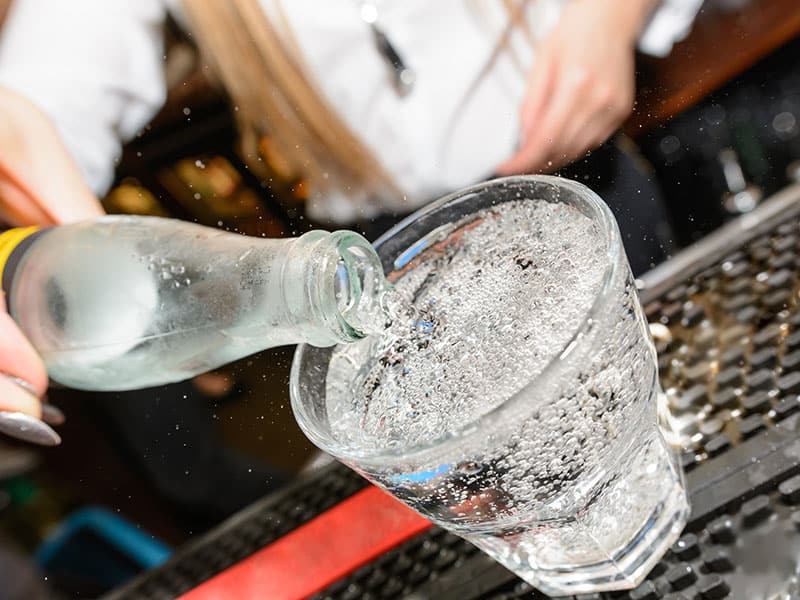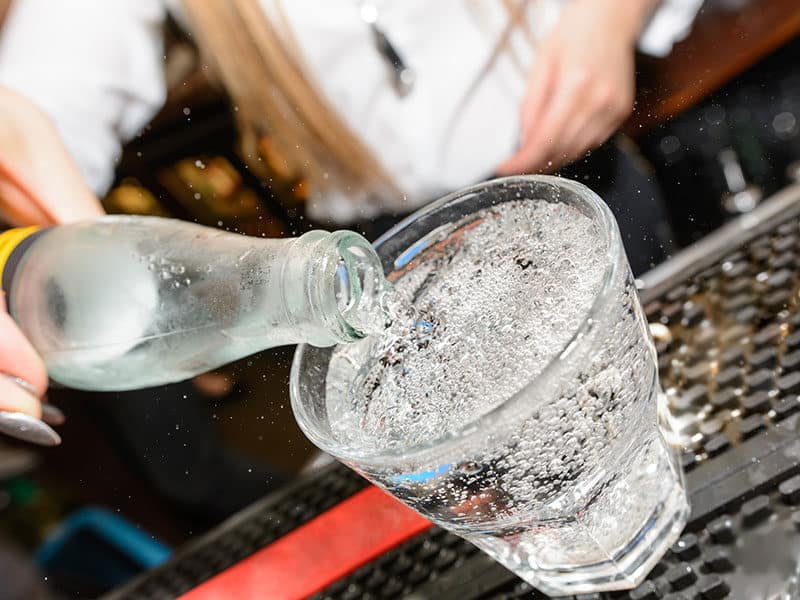 If you love club soda and you have some hanging around in the refrigerator, you already have a solution for your coffee stain. Use plain soda because carpets don't care for extra colors or flavors.
You will only need club soda that can be either sprayed or poured directly onto the stain. Allow the soda to act for a few minutes before utilizing a dry, clean cloth to blot it and repeat if necessary.
Method 5: Purchase a Professional Carpet Cleaner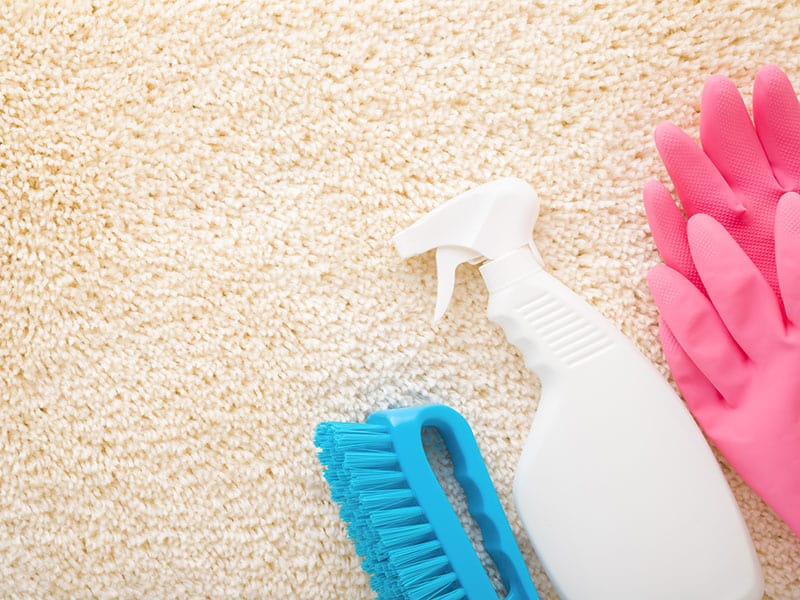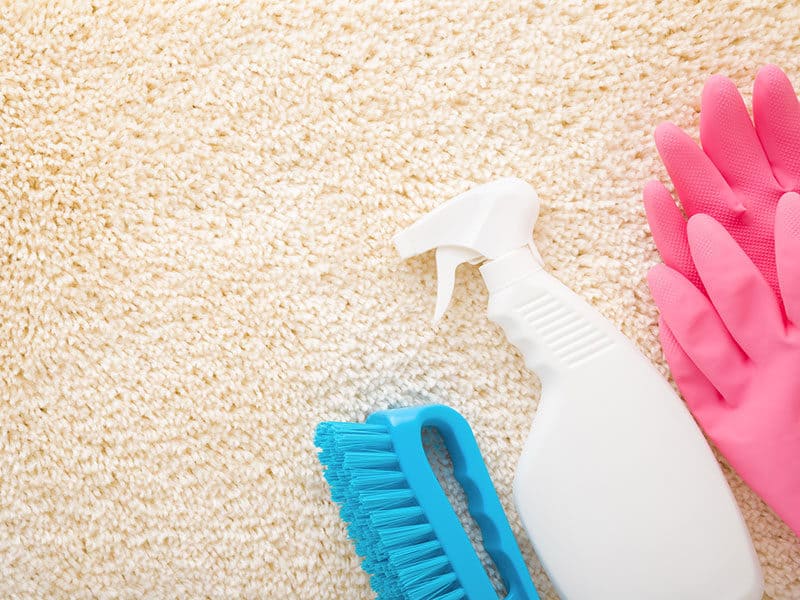 If you have dry coffee stains or stubborn coffee spills, you can either use a homemade carpet cleaner or a commercial carpet cleaner to remove it. If nothing else works, utilize a professional cleaner.
Sometimes, homemade carpet cleaners can't deliver the same results as commercial products. Dampen the area, apply the carpet cleaner, and follow the manufacturer's instructions on the package.
How Do You Remove Old Coffee Stains?
I don't know about you, but I always spill my hot coffee at the most inconvenient moment, like when I'm rushing out the door, or in the middle of a home party. Meaning, it's harder for me to tackle the spills at the moment they happen which leads to old, set coffee stains that resist removal.
If coffee stains have made a home of your carpet and they're hard to remove, utilize the next method to remove them. It's a natural carpet cleaner because coffee is a natural-type stain.
Ingredients:
Water – 2 tablespoons
Baking soda – 2 tablespoons
Instructions:
Combine the water and baking soda. Stir the ingredients well to make a thick paste. Dampen the coffee spills with the paste and massage them to cover as much of the fibers as possible.
Let it sit for a while. Once it's dry, sweep up the residue with a soft bristle brush and vacuum the carpet with a good household vacuum cleaner or whatever vacuum cleaner you have on hand.
If the coffee stains aren't completely removed, repeat the process until they're gone. Prevent old, dried, coffee stains by handling the spills right after they occur. Use the same recipe for removing stains out of clothes. After treating the stains on your fabrics, toss them in the washer afterward.
Let's see this video to collect more understandings:
How to Remove Coffee Creamer Stains?
If you love your coffee with a cleaner like I do (not that 3-in-1 coffee but coffee with individual creamer, either liquid or powder), you probably have coffee creamer stains on your carpet.
For this type of stains, you need to use something stronger like a carpet stain remover. It's stronger than regular cleaners. And it's perfect for any stain because it can break down the proteins.
The best part? It can also neutralize odors. If you have a carpet stain cleaner on hand, add it to the stains and follow the instructions on the label. Rinse it off and let it dry completely.
How to Get Coffee Smell Out of Carpet?
I'm sure that you enjoy the amazing, well-known smell of coffee in the morning. However, once you spill it onto the carpet, it doesn't smell so pleasantly. But don't worry. You can easily neutralize the odor with a commercial carpet deodorizer or some baking soda and a vacuum cleaner.
Step 1: Prep Your Carpet
Once you remove the coffee stains with some of the methods mentioned above and your carpet is fully dry, prep your carpet with your regular vacuum cleaner. Get as much dirt and debris as possible as they could interfere with the following cleaning treatment.
Step 2: Sprinkle With Baking Soda
Once you're done vacuuming, sprinkle some baking soda across your carpet. Cover as much as possible. Let it sit for a few hours. Or if you can, let it sit overnight. Baking soda has the power to neutralize odors, whether it's from vomit stains, pets, or your favorite coffee.
Step 3: Vacuum Your Carpet
Last but not least, vacuum your carpet thoroughly, so there's no remaining powder. If you follow these 3 steps, you will enjoy a coffee-free and fresh carpet in no time.
Extra tip: If you utilized a vinegar stain remover, perform the baking soda treatment afterward to get rid of the strong smell of vinegar. Vinegar and baking soda recipes can do wonders for your home.
Watch this video to know more:
Extra Tips and Tricks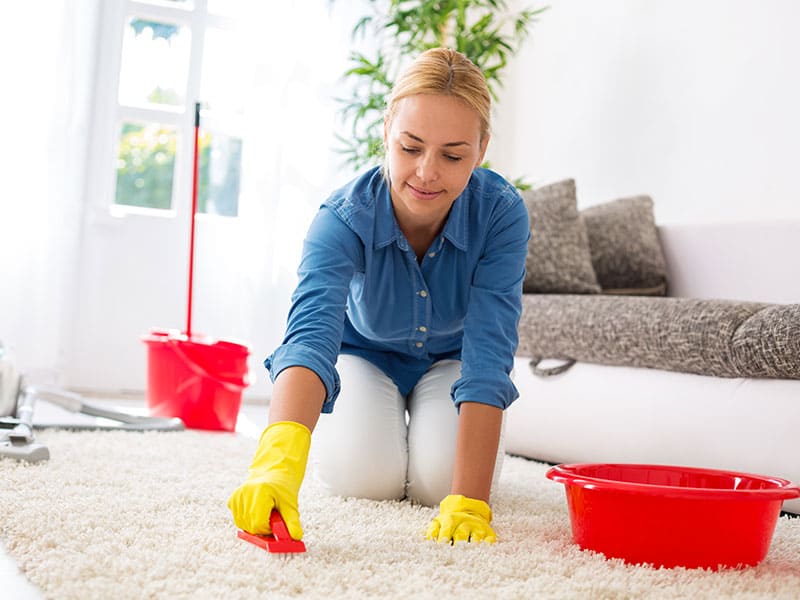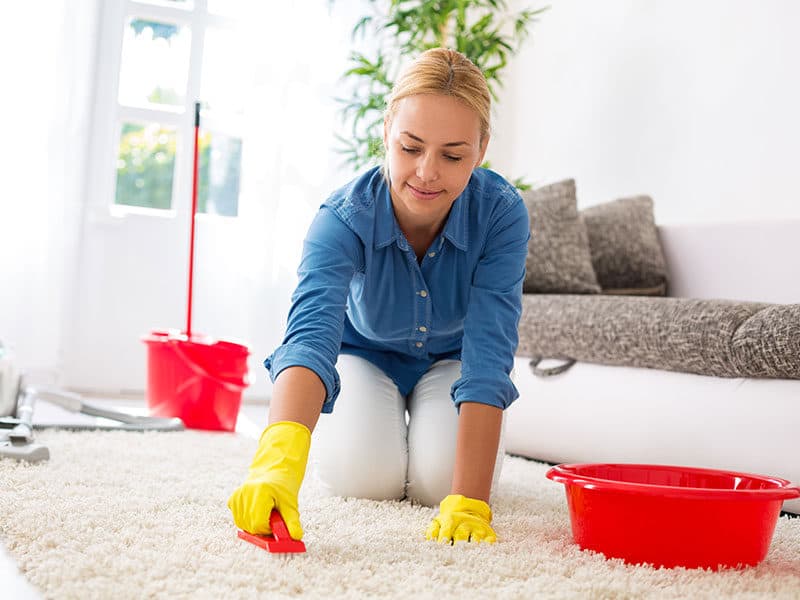 If you don't have the tools and ingredients mentioned above, you can always try something else, like salt for example. Salt can help absorb both the moisture and coffee from your carpet.
This will lighten the area so it will be easier for you to see what you're cleaning. First, dampen the stains with cold water. Then, apply the salt. Let it sit for a while and vacuum the carpet thoroughly.
You can also utilize lemon for stain removal. It's helpful if you're out and accidentally spilled some coffee on your shirt. Or you can add lemon juice to your usual carpet cleaner for faster stain removal.
Besides coffee, I also like beer. It's my go-to drink at the bar. And I recently found out that beer can help lift stains. Apply some beer to the stains and use a cloth to blot away the moisture.
Let's Grab a Coffee Sometimes
Or exchange coffee recipes in the comments. Also, share your tips on how to remove coffee stains from carpet. I would love to chat with you and hear your experiences and recommendations.
Hopefully, this cleaning guide can help you and others clean their carpets, and enjoy a fresh carpet in no time. If you liked today's article, don't forget to share it with other coffee addicts online.