There must be at least one vacuum cleaner in your home. It is one of the essential and handy cleaning items in the home.
However, how long will a vacuum cleaner last? Most manufacturers will talk about the use, power, design of the machine, as well as the specifications that highlight the product. And of course, they often forget to mention the expiration date of the product.
Circumstances that cause damage to the machine cannot be excluded such as improper use, improper storage, cleaning of the machine, etc. Machine care is also part of maintaining longevity. Nothing is everlasting, and there is no exact number for how long a machine will last. But above all, you should read this article to get an approximate number for a vacuum cleaner and offer a solution for yourself if you feel your machine is in an over-date condition.
Commonly Types Of Vacuum Cleaners And Estimated Service Life
You should know clearly about the types of your vacuum cleaners because each type has an exact birth. Knowing clearly will make it easier for you to keep track of your machine.
1. Upright Vacuums
Upright vacuum cleaners can be one of the top choices for many homes today. This is a good vacuum cleaner to remove dirt from the carpet and can clean large carpet areas quickly. Moreover, they can also work well on other surfaces like hard floors and some special carpets.
However, you should also be aware that not all upright vacuums can be used on hard floors, otherwise knowing how to use them correctly can damage some floors and even your vacuum cleaner, reducing its service life. You may refer to vacuum cleaners with adjustable heights.
You will have to be very careful when researching the brand of vacuum cleaner you are considering, to make sure it also works well on hard floors.
Some of the other things you need to look for when deciding on an upright vacuum are the components that go into the machine, whether the machine has bag-less or not. The weight of the device is important because its design may quite "original" and " bulky". Some vertical vacuum cleaners include edge cleaning, which helps clean dirt under the entire area of ​​the head. Another feature is the suction control to clean the curtains and upholstery.
Because of the features above, certainly, upright vacuum cleaners may not be easy to store or flexible to carry. But they are often built to last, usually have more attraction, and are more solidly constructed. The machine that can last for many years could be 8 years or more depending on how you use it. Another plus for these machines is that you don't need to worry about battery life as they are usually connected to a power source.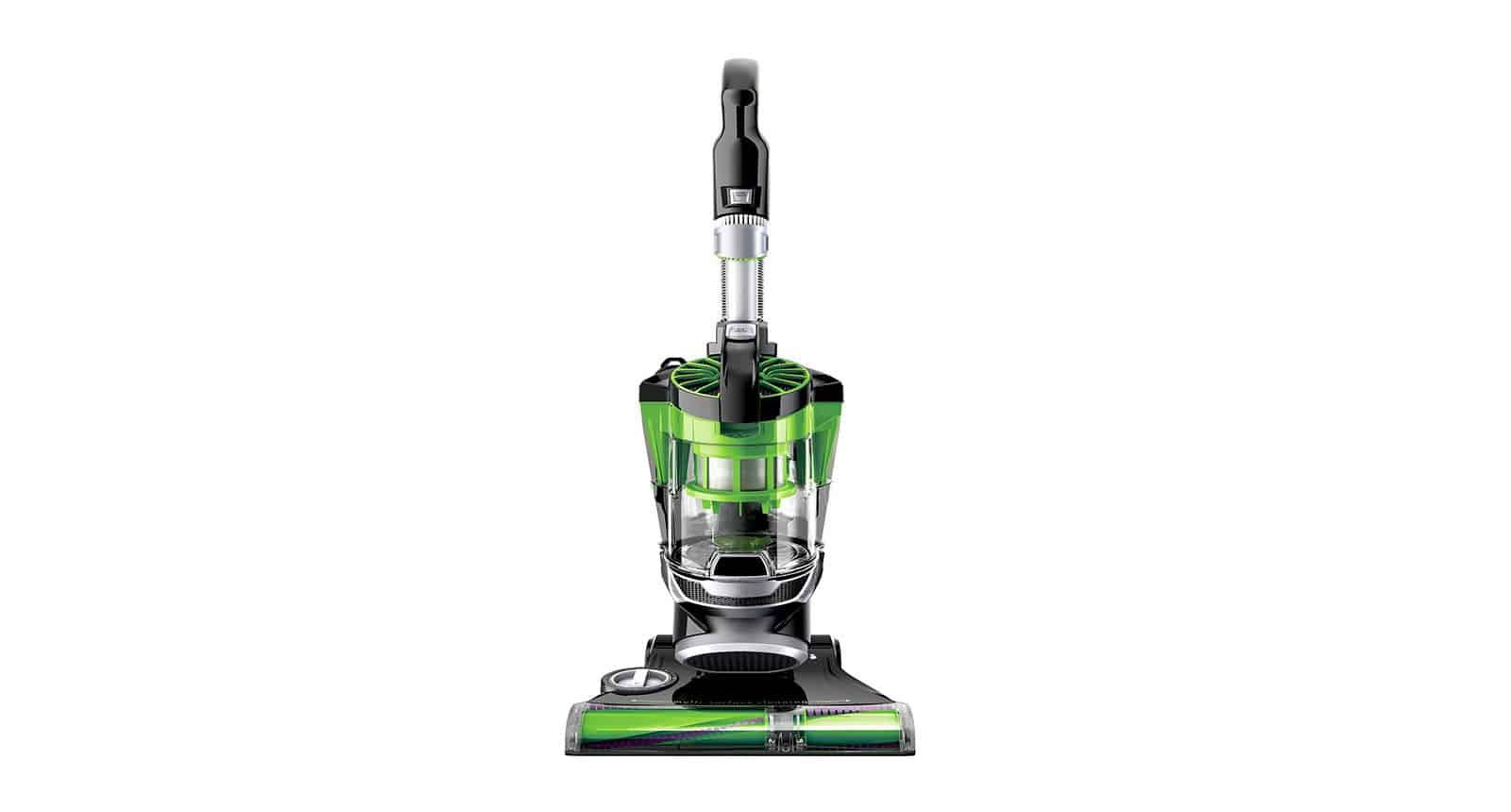 2. Canister Vacuums
Canister Vacuums are more portable than upright vacuum cleaners and easy to use. They are suitable for people who like to clean a variety of surfaces but are most popular for those who like to vacuum hard floors. They tend to be lighter than other vacuum designs, in addition, they have a highly maneuverable headwater with easy access to tight spots.
The vacuum cleaner has a motor and the bag comes in a separate unit, usually mounted on the wheels to help with mobility. The canister itself is connected to the vacuum end through a hose. It can knock dirt particles out of the carpet, which is useful when picking up things like pet hair. The canister vacuum uses straight suction for cleaning because it does not have an integrated rotary brush. Most canister vacuums come with bags, but there are still models without bags, eliminating the extra cost of dust bag purchases.
In short, the canister vacuum cleaner has the same suction power as the upright vacuum cleaner, it's perfect for vacuuming hard-to-reach spots, it's also great for cleaning cars and curtains. You can expect the same lifespan of up to or more than eight years.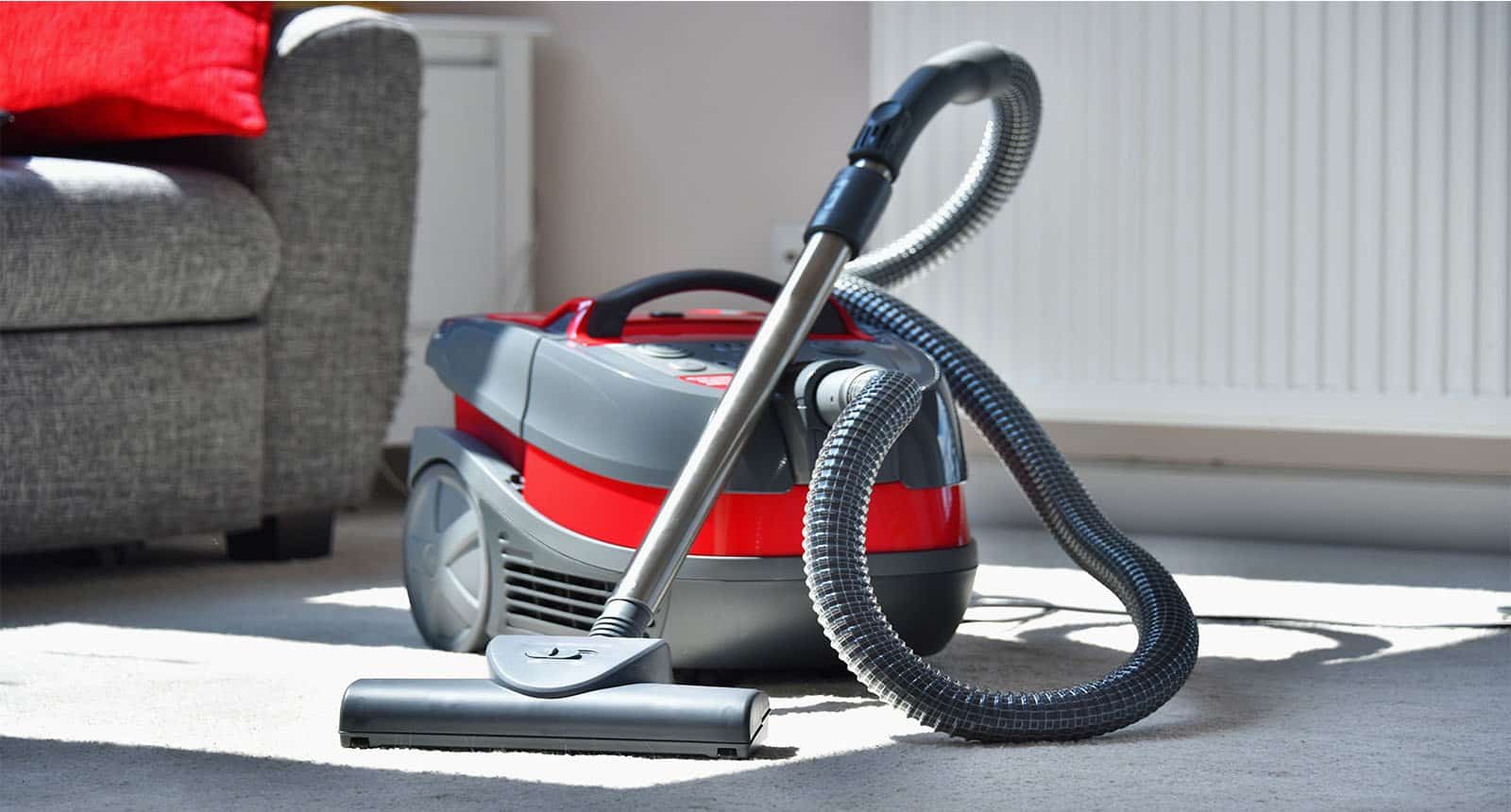 3. Handheld And Stick Vacuums
These vacuum cleaners often have a compact, handy design that is easy to take anywhere. They are usually very light and cordless so are usually battery operated. They will be a great assistant for you when cleaning around the house.
Just like the name suggests, the handheld vacuum cleaner is very compact and perfectly suited for cleaning wardrobes as well as bookshelves, vanity, etc. It is also preferred when cleaning sofas, car interiors and certainly carpet or floor is indispensable. Handheld vacuum cleaners are often used to clean small spills, cobwebs in corners, or dust on bookshelves. Handheld vacuums may be produced for cleaning the swimming pool.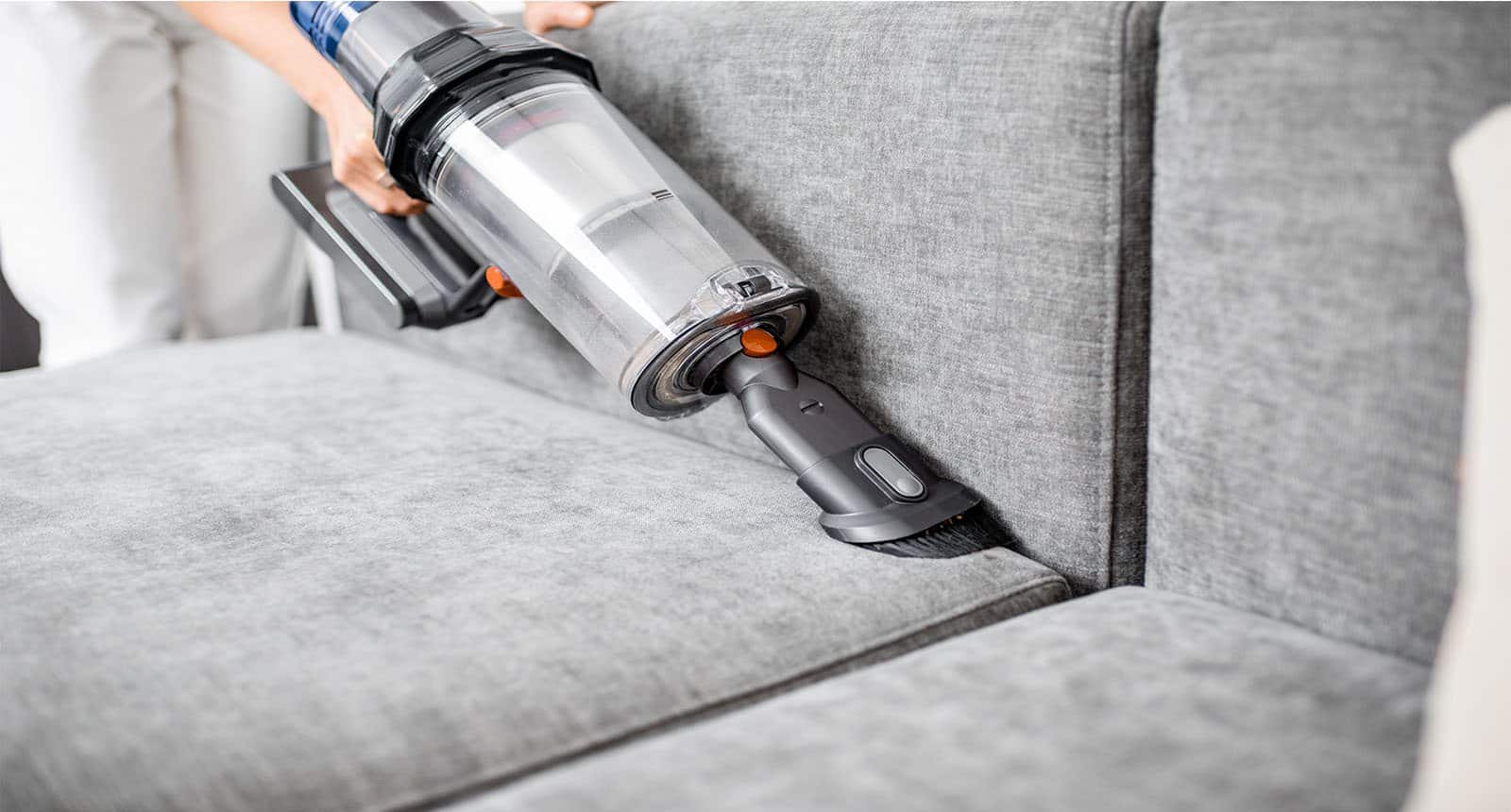 Stick vacuum cleaner is similar in design to the upright vacuum cleaner. However, the design of stick vacuums is more compact and usually does not come with any attachments. If your home has multiple floors, stick vacuums can be a perfect choice to make cleaning easier because you don't have to worry about its weight on the go. Not to mention, several current models have been designed with a handheld feature, making it easy to clean stairs and ceiling fans. You can consider buying these 2 in 1 cordless stick vacuum. Otherwise, cordless vacuum cleaners under 100$ may be another option for you.
Stick vacuum cleaner is estimated to be able to last around 5 to 8 years. Meanwhile, because the motors are not as powerful as other types of vacuum cleaners and they also run on batteries, the handheld vacuum cleaner can last for about two to three years, depending on how you take care of it.
4. Robot Vacuums
The cleaning robot vacuums and mails the house for you and is fully automatic, battery-operated, and able to find a charging source on its own. They find and collect dirt, from carpets to hard surface floors. So this type of robot is very popular with modern families especially families with pets, busy households, or anyone who wants their floors to stay clean.
The robot vacuum cleaner is self-propelled and programmable, so you don't have to do any extra work. They usually have sensors to avoid obstacles and stairs. If you are someone who is not home regularly doing cleaning tasks, robot vacuums can help you with this problem. You can read about the best robotic vacuum cleaners under 100$ to have more options when buying.
However, the vacuum cleaner robot may not be as durable as the above types of vacuums because you do not directly operate them. Because robot vacuums use batteries built into the vacuum, it is most likely that you cannot replace them. So the life of the vacuum cleaner may depend on the type of battery used (Lithium-ion batteries can be used longer than others). However, in my experience, robot vacuum cleaners can only last three to five years.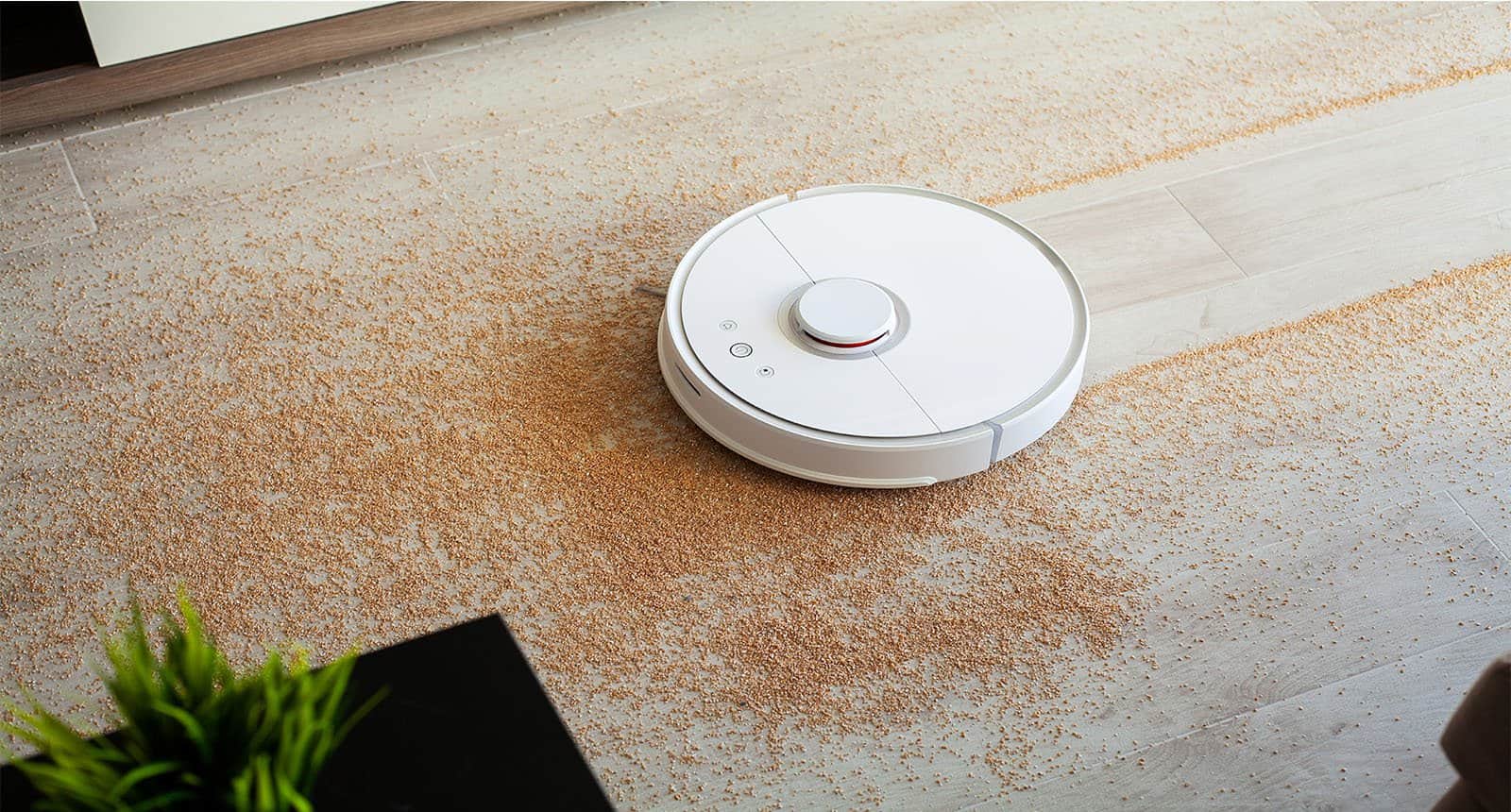 The Influences Of How Long Does A Vacuum Last
Many factors can decide the length of your vacuum cleaner. Now I will show you some of them.
1. Manufacturers
Currently, there are many vacuum cleaner manufacturers on the market, each offering different styles of designs, features, and specifications that may be limited to their model. And also, the manufacturer plays a huge role in controlling the life of the machine. As a general rule, long-established and reputable vacuums tend to outperform products that are floating in the market, without a label. And of course, this is not always the case.
Some brands may focus solely on specific products like vacuum cleaners or robot vacuums. However, there is no one sure answer for the best vacuum cleaner brands for your needs. But sorting by the brand can be a useful way to understand the types of designs and specifications currently available. Even more so, it can tell you the minimum time they expect the product to last. There are some brands that I can review for you.
Miele: Miele is a German producer of home apparatuses, including stoves, dishwashers, and coffee makers, just as vacuum cleaners. Their principal item is canister vacuum cleaners, yet additionally offers different sorts, like stick or handheld vacuum cleaners and surprisingly automated vacuums. They frequently arrive in a wide range of items to suit an alternate reason, for example, a gadget appropriate for a specific kind of surface or different surfaces. They offer residue pack models just as bagless vacuum cleaners. Miele vacuum cleaners will in general look premium and are all around worked, just as simple to keep up.The producer has broadly planned and tried its vacuums and they say they can last as long as 20 years. Frequently the client remarks that Miele's machines are solid and tough. Be that as it may, their administration just gives 2 years guarantee, which is somewhat badly designed.
Hoover: Another comparable perspective that many Hoover vacuum cleaner proprietors share with Miele proprietors is that both of their items can keep going quite a while.Assuming we are discussing any sort of pack that Hoover offers, a similar regular lifespan could apply to numerous different brands. You should transform them as regularly as conceivable over half a month, possibly a month or more. The size of the pack may influence the vacuuming limit of the machine. A Hoover sack can keep going for a while relying upon the power you use.You can expect the life expectancy of a vacuum cleaner from Hoover somewhere in the range of five and fifteen years, contingent upon the particular model and the reason for which they are used.
Dyson: If there's one image everybody knows with regards to vacuum cleaners, it's Dyson, a British producer known for delivering vacuum cleaners with great tornado innovation and incredible motors. They additionally sell other home machines like fans and hair dryers.These corporate vacuums arrive in an assortment of tones and snappy plans, regularly use a pocket-free design, and accompany a plethora of accessories. Using a licensed unique or computerized typhoon engine plan, the diffusive power creates the pulling power that separates Dyson vacuums from different brands. Its vacuums are normally handheld or cordless models, yet the organization likewise makes canister and upstanding models, among others. They are normally made totally of plastic, which implies they are typically not weighty, but rather some of the time feel somewhat wobbly.I'm exceptionally dazzled with their items and as per research that appraises that the Dyson vacuum cleaner can keep going for around 7 to 10 years, even with a 5-year guarantee.
Bissell: BISSELL is an American organization known to have been fabricating items since 1876, so they have a ton of involvement. This is a budget-friendly home vacuum cleaner company, they offer a wide assortment of vacuums so you can track down the one that best suits your requirements. At a lower value point than its rivals, the organization's items frequently get noticed and judged for quality and sometimes feel a bit flimsy, however this material assists with keeping them light, furthermore, portable. A large number of their models have a without-pocket design, so you don't need to stress over supplanting this part except if it's wrecked. In any case, they generally do not have a HEPA channel to channel allergens, and regularly need power-managing highlights.I guess you can appreciate the Bissell vacuum for around eight years. Notwithstanding, the organization just offers a two-year guarantee. So you can take a smidgen of hazard with your vacuum cleaner.
Shark: Shark, an American organization, is a notable brand of vacuum cleaners and is particularly useful for upright machines. They are more reasonable than some other significant brands. Shark makes numerous other family things like cleans and irons, blenders, and espresso producers. Shark siphons arrive in an assortment of models and designs, including an assortment of vacuums. You can discover vacuums in any size with the most consolidated highlights like wired or remote and with or without pocket. Likewise, they arrive at an assortment of costs, so you can discover a vacuum that accommodates your spending plan. Shark has many vacuum products for exact use, you can see the Shark vacuum cleaners for pet hair or vacuum cleaners for hardwood floors.Be that as it may, the organization assemble quality is for the most part, not the best as the vacuum cleaner frequently feels the shell is very flexible. Luckily, most Shark vacuums will in general have less repeating costs.I think that you can appreciate the great Shark vacuum cleaner for around 5 to 7 years.
iRobot: iRobot was established by the Massachusetts Institute of Technology in 1990 and at first, centered around making an assortment of robots for logical and clinical purposes. Their first robot vacuum cleaner, Roomba, was delivered in 2002, and today, iRobot fundamentally creates robot vacuum cleaners, just as robot mop.They for the most part have various product offerings accessible at various costs, so you can discover one to suit your necessities and financial plan. The majority of its vacuum cleaners are well made and are frequently outfitted with a HEPA channel that traps allergens. Astounding battery execution and quick re-energizing contrasted with other robot vacuums are an or more for the organization's robot item. Nonetheless, as most vacuum cleaners, they frequently have severe upkeep needs and high repeating costs. So the normal life expectancy of the vacuum cleaner robot iRobot is around 3-8 years.
2.Conservation
Whether a machine is working well or not, you should not only talk about the manufacturer but also the maintenance of the machine yourself. If you were to only use the machine with a room as small as 20 to 30 square meters, it would be different from how you would use the same machine with a room of about 100 square meters. So the life of a vacuum cleaner also depends on you.
One of the most important things you can do to control the life of a machine is maintenance. Once you take good care of your vacuum, you can use it longer for many years. You should clean it at least once a month.
Also, if a machine crashes, don't ignore it. For example, if the machine makes a strange noise, you can repair it yourself or call a service company. I am going to recommend to you some tips that you can do to maintain your vacuum.
Dust Canister And Bag
Whether or not your machine has a bag, be careful to clean it regularly. If excess dust and trash are allowed, it can cause shutdowns if you continue to vacuum. Moreover, the machine can reduce its vacuuming capacity if the trash in the cage is too much, making your cleaning ineffective. Depending on the purpose of use, you can choose bagless canister vacuums or bagged vacuums.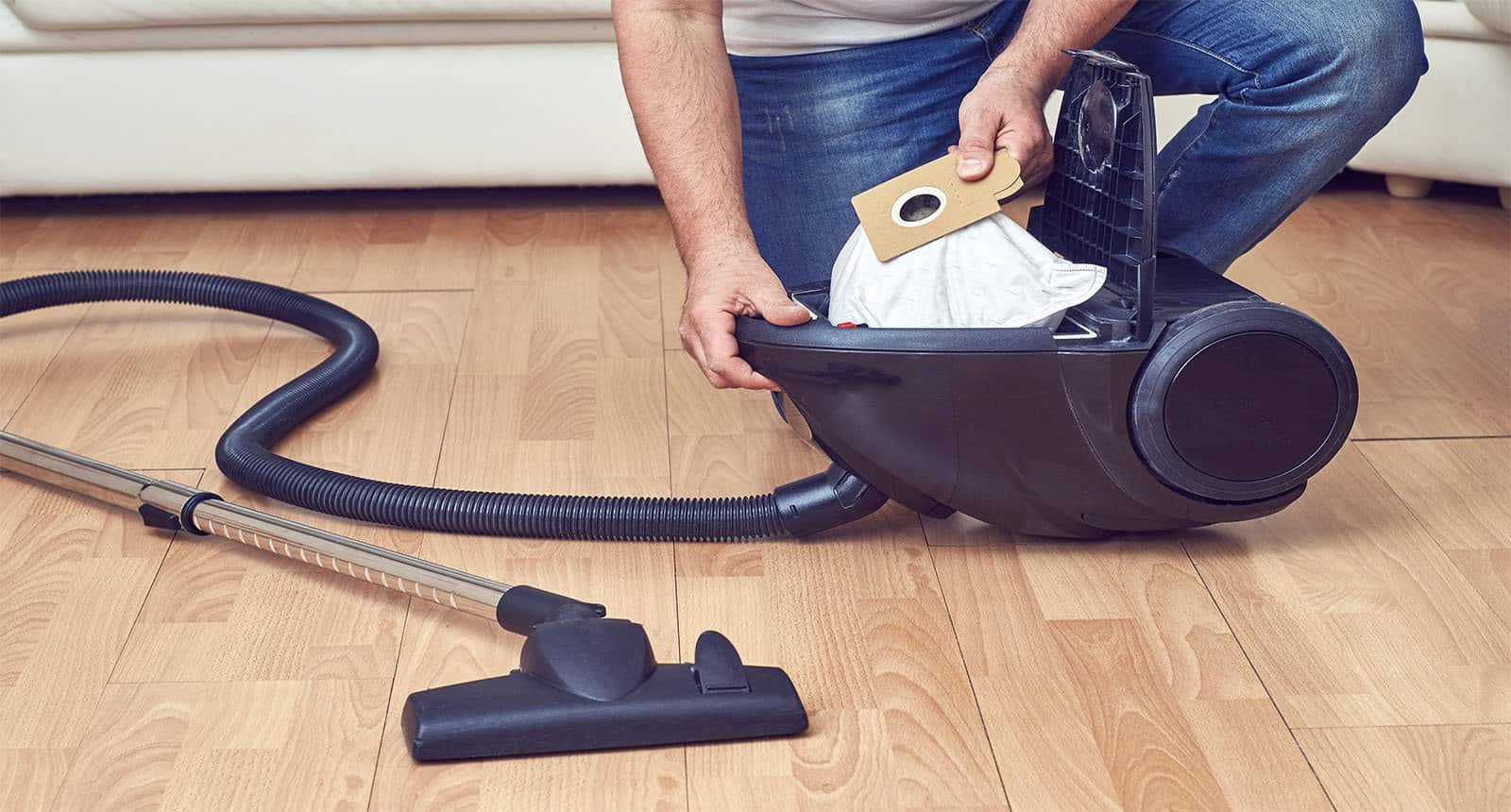 Filter Maintenance
Indeed, the filter is perhaps the main piece of a vacuum cleaner. The filter on your vacuum cleaner will ordinarily trap dust, microbes particles, and smoke. Normally,  they'll get grimy and stop up. You should consistently stay up with the latest by cleaning the filters.
In the event that your channel isn't working as expected or is past its life expectancy, at whatever point you vacuum, it will deliver residue, soil and get back to your current circumstance as it isn't gained as expected.
On the off chance that you feel like your vacuum cleaner isn't working any longer or begins to smell, the filter might be obstructed or need supplanting.
A few filters will be launderable, while others can't be washed. Today, however, a lot of vacuums accompany launderable and reusable filters. So it's ideal to make them a normal routine. At the point when they become filthy with residue and trash kindly wash them under running water.
There is no compelling reason to use any synthetic substances – water is sufficient to wash off the dirt. Simply make a point to dry them completely prior to returning them to the vacuum cleaner. You don't want mold to develop and allow the spores to spread into the air.
Finally, you should focus on supplanting filters following 2-3 years of use since it will help your machine work all the more effectively.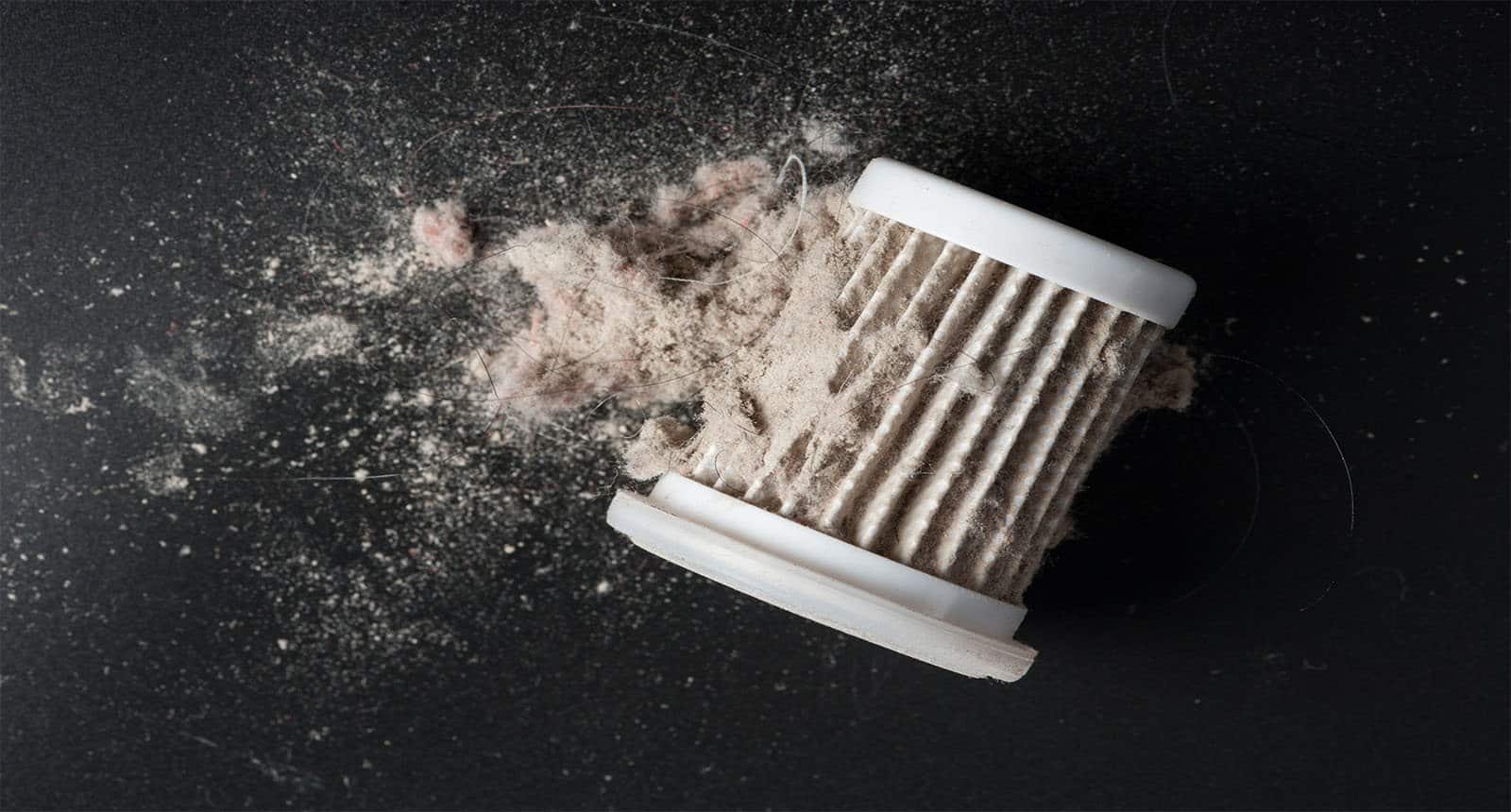 The Belt Of The Vacuum Cleaner
Something else you need to know is that your vacuum cleaner belts likewise should be supplanted. Contingent upon how you use it, the existence of the vacuum cleaner belt will change, yet normally one year or more.
The vacuum cleaner belt can serve an assortment of employments, including turning the vacuum cleaner roll or in any event, pivoting or moving it.
As I said above, in general use and upkeep of different parts will influence the existence of your vacuum cleaner belt. In the event that you notice that your vacuum cleaner smells like consumed plastic, decreased pull power, or your vacuum cleaner can presently don't vacuum, your vacuum cleaner belt might be cut off.
Not all vacuum cleaners use belts, so relying upon your model and the kind of vacuum cleaner you probably won't need to stress over evolving belts.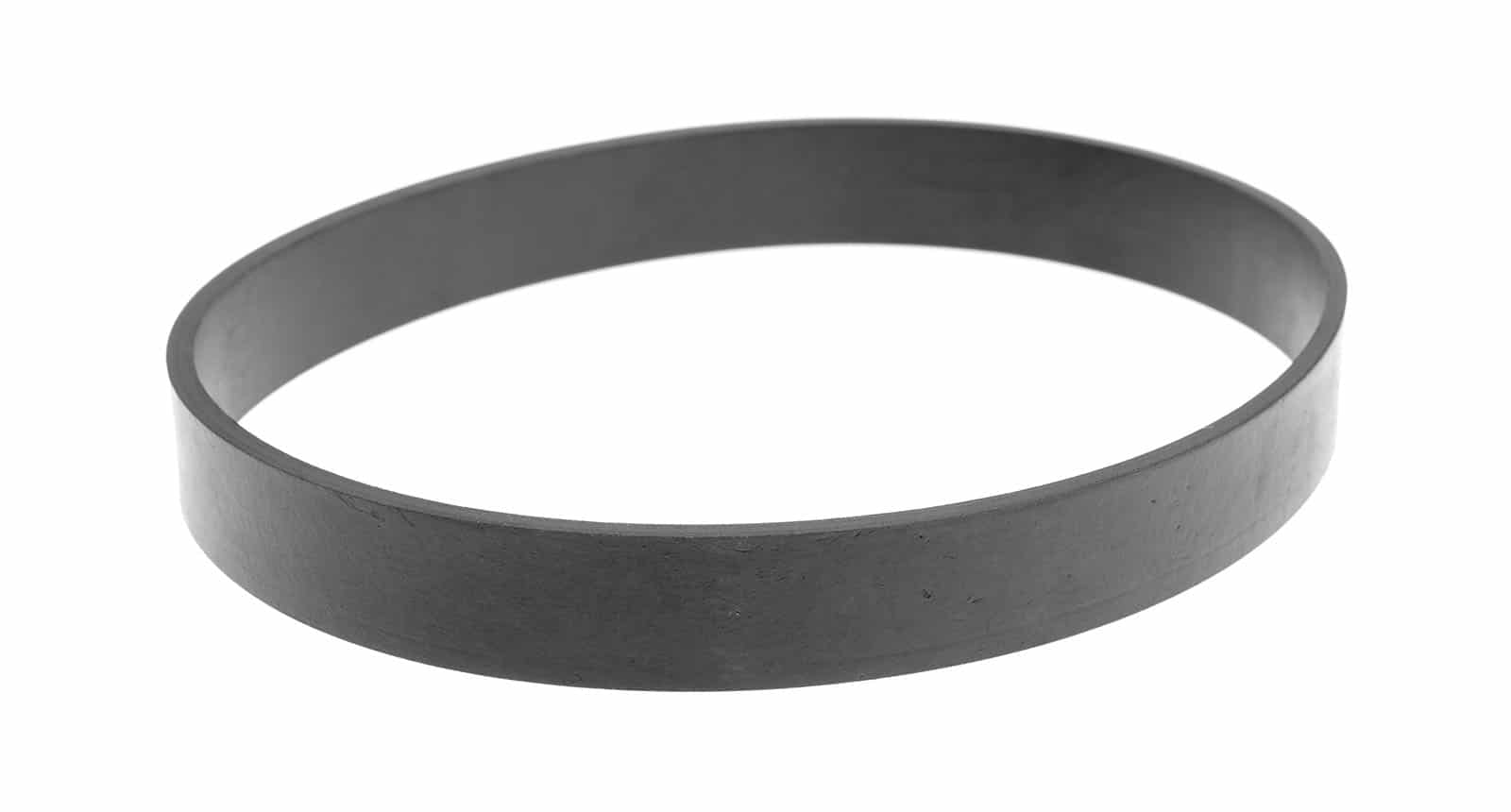 Brush Roll
The brush roll is perhaps the main piece of a vacuum cleaner, so if the brush roll doesn't work as expected, the vacuum cleaner's exhibition will endure.
Soil can fold over the tip of the brush making it shut off, stay adhered, and unfit to work at its full limit. This could, at last, keep the engine brush from turning and cleaning your home.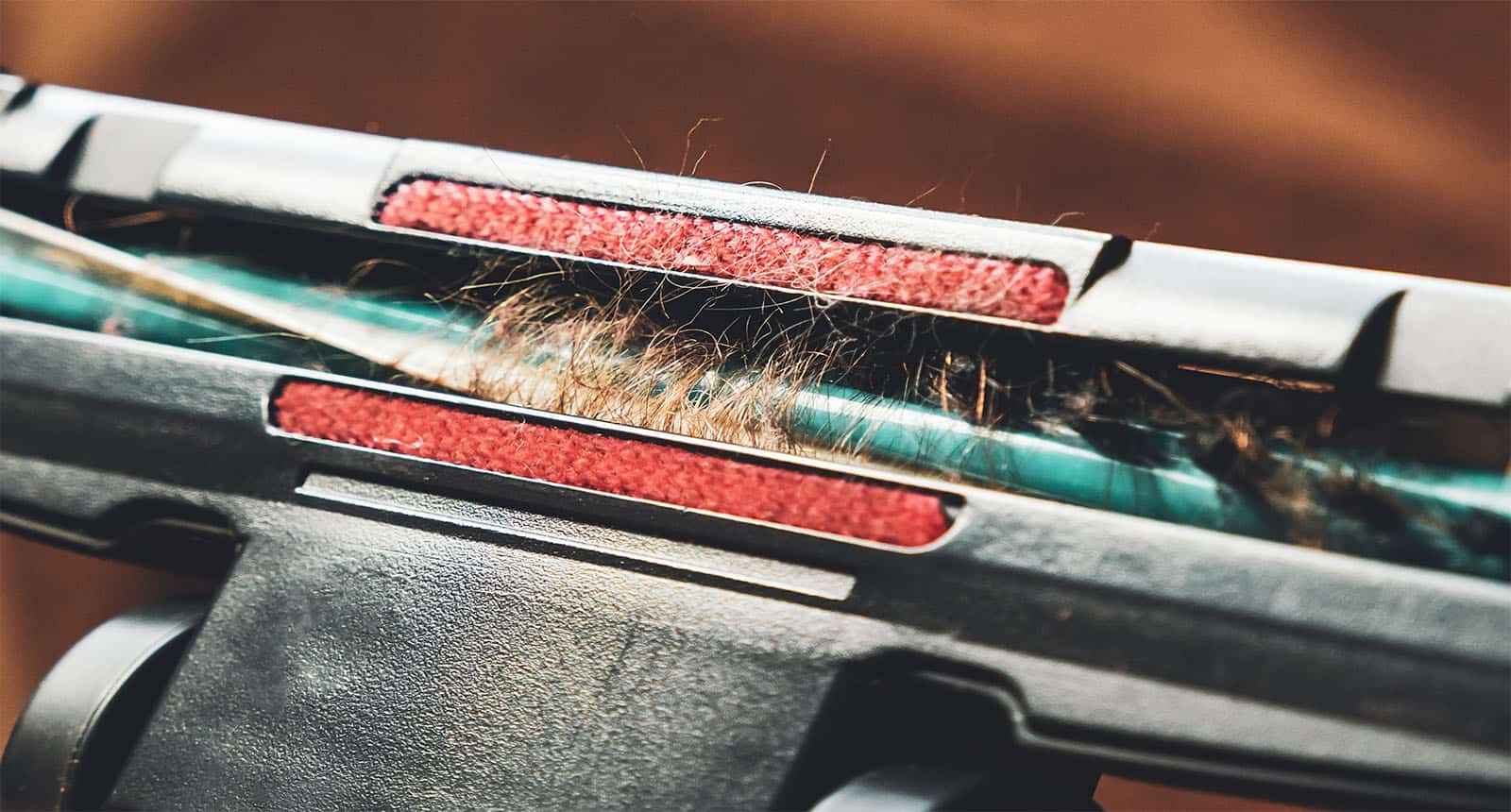 To keep away from this, you should trim off hair and garbage on the engine brush like clockwork. You can do this with scissors.
This is a video example of cleaning the brush roll. I think it will be a piece of helpful information for you.
3. Usage
How to use a vacuum cleaner is very important in maintaining the longevity of the machine. If you use a vacuum regularly, its service life will be shortened. In case you use your vacuum on the wrong surface, it will also reduce the life of your vacuum.
If your floor or carpet is too dirty, the vacuum will have to work harder, it is like misuse of the machine's model texture. An example for you to easily imagine is a stick vacuum cleaner, handheld machine, and vacuum cleaner that are not suitable for hard floors. Instead, use a vertical vacuum.
Try Not To Attempt To Clean The Fluid
Some hand-held vacuum cleaners are known to have the option to vacuum wet/dry residue. They are intended to clean gentle spills and minor mishaps.
Be that as it may, most upright vacuums, stick and canister types don't. If you attempt to suck fluid, this may harm your machine. You are additionally in danger of electric stun.
Hence, you should take a mop or paper towel to clean the fluid before vacuuming.
Be Cautious With The Force Line
You should focus not to contact the vacuum cleaner power string during use, it very well might be cut and frayed by the engine brush, which may cause electrical spillage. At last, this will make your vacuum cleaner undependable to use, with the contact of the force string.
Additionally, make an effort not to pull on your vacuum with a string.
Eliminate Superfluous Furniture Before Vacuuming
You might need to complete all the family errands rapidly. Nonetheless, you skip the tidy-up stage, which can harm your vacuum.
Little articles like toys and coins, just as broken glass and screws, can break your vacuum. This incorporates sacks or much more dreadful, the motor. In this way, for quite a long time to keep your machine running easily, make certain to eliminate little articles that fall on the floor/cover before vacuuming. If you are a person who likes to use a conventional vacuum cleaner that uses many surfaces, you can refer to multi-surface vacuum cleaners.
When Do You Need To Replace Your Vacuum?
Before you decide to replace your vacuum cleaner, think carefully about issues like: Can you fix it? Is the repair cost too much? Maybe just replacing certain parts of the machine, etc.
Before you decide to replace your old machine, check the following:
Ensure that the vacuum tubes are not obstructed. On the off chance that you investigate and discover an obstruct, eliminate it with a squeeze.
Filter test. As I said over, a stopped-up filter controls the wind current and decreases attractions' capacity to gather soil. Thus you ought to painstakingly check the filter of the machine.
A brush roll gathers all garbage, pet hair, and filaments from the rug. You need to check the machine's engine brush, if the engine brush isn't working, it very well might be an ideal opportunity to clean or supplant another one.
Ensure the principal parts of the machine are cleaned routinely, it may not work as expected on account of an absence of firm cleaning.
The belts can likewise be extended or diverted. You should simply supplant it.
Ensure the residue sack isn't over-burden, regardless of you won a pack-free vacuum cleaner, clean the residue container likewise.
There are numerous interesting points when you need to purchase another vacuum. Life span ought to be the principal factor in burning through cash on an item.
Upright vacuum cleaners can last the longest because of their hearty and strong design. Be that as it may, some different elements assume a part in the machine's life expectancy like what I referenced previously.
Brands affect how the machine is fabricated. Miele vacuum cleaners can last as long as 20 years. Yet, customary upkeep is vital, just as utilizing the vacuum appropriately.
FAQs
You may have a few questions about the lifespan and how to use the vacuum properly, you can see some frequently asked questions below.
In Conclusion
The life of a vacuum cleaner depends on many factors as I mentioned above. And everyone wants a good vacuum cleaner that makes cleaning their home easier. In my experience, when I need to buy a vacuum cleaner where longevity is important, I will prioritize reputable manufacturers, reliable brands to optimize my time.
Furthermore, proper care and maintenance of the machine will help maintain a longer lifespan. By following the manufacturer's instructions and cleaning tips, you can keep your machine in top performance.
Also, if you are concerned about the problem, please carefully check the warranty period before buying. You can also purchase additional machine warranty packages if you are more careful.
In short, there are many aspects to deciding if your old vacuum cleaner is about to be replaced and how to choose a long-lasting one. Always be wise when buying.